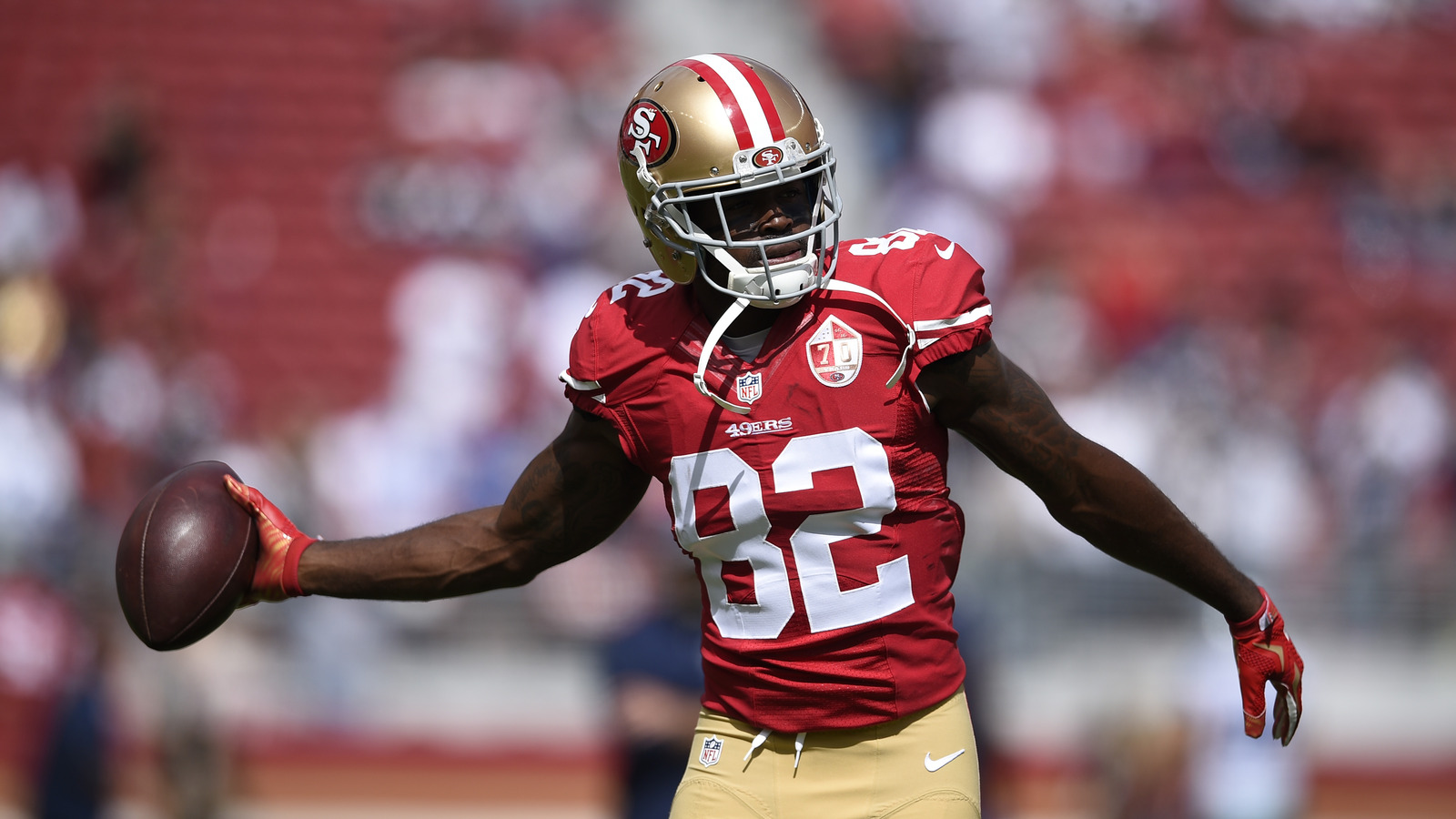 Torrey Smith is sure to bolster the Eagles' receiving corps.
Kelvin Kuo-USA TODAY Sports
Most of the focus during NFL free agency has been on the ridiculous contracts top-end players received on the open market. More than that, we've covered in detail players who simply might not live up to expectations on new teams.
It's the nature of the beast in an NFL world where teams have a vast amount of cash to throw around. Overpaying for castoffs on other squads was surely prevalent during the first wave of free agency.
With that said, there were some top-notch under-the-radar signings. These are players that helped certain teams fill a need — creating a potential trickle-down effect in the process.
By signing veteran Pro Bowler Andrew Whitworth to take over as their left tackle, the Rams are now able to move former first-round bust Greg Robinson to guard. How will that define the team's 2017 free agency period moving forward?
On the same note, the Philadelphia Eagles added a big-play threat in Torrey Smith to go with No. 1 receiver Alshon Jeffery. How will Smith help the latter become a dynamic playmaker on his new team?
These are among the top-10 unheralded signings that will define NFL free agency this year. Here's a look at the rest.
1. Torrey Smith, wide receiver, Philadelphia Eagles
Smith's two-year tenure in San Francisco was about as disastrous as it gets. After putting up nearly 1,900 yards with 15 touchdowns in his final two seasons in Baltimore, some figured Smith would take advantage of Colin Kaepernick's strong arm with the 49ers. It never materialized.
The receiver was released just two seasons into the five-year deal he signed with San Francisco, tallying a grand total of 53 receptions during that span.
Some will say Smith was more a product of Joe Flacco in Baltimore. That he's a player that will never make much of an impact without a true No. 1 receiver teaming up with him. These criticisms are more than warranted. What we do know here is that San Francisco's coaching and quarterback situations were dumpster fires over the past two seasons. That surely played a role in Smith's overall lack of production.
Despite this, he still found a way to lead the NFL at 20.1 yards per reception in 2015. Still only 28, it's not like Smith has lost his explosiveness. Now that he'll be teaming up with Carson Wentz in Philadelphia, it wouldn't be a surprise to see Smith return to pre-49er form. Add in the presence of Alshon Jeffery as a big-bodied possession receiver next to him, and this is only magnified further.
Defenses in the NFC East are going to have a difficult time defending Philadelphia's receiver group. Smith and Jeffery will line up outside with Jordan Matthews acting as the team's top slot guy. This will lead to a ton of opportunities for Smith down the field. It should also help Jeffery build up his free-agent portfolio for next March after signing a one-year deal with the Eagles earlier this month.
2. Andrew Whitworth, offensive tackle, Los Angeles Rams
Greg Robinson has been a massive bust for the Rams since they selected him second overall back in 2014. Never really suited to play left tackle, that's a role Los Angeles has asked him to play over the past two seasons. That's led to a starting role for the former Auburn standout on an offensive line that allowed a whopping 49 sacks last season.
Surely some of those sacks were due to rookie No. 1 pick Jared Goff hanging on to the ball too long. But Robinson's tape was just brutal this past season.
Now that the Rams have added veteran left tackle Andrew Whitworth to the mix, Robinson will move inside to guard. It seems to be a better fit for the 6-foot-5, 332-pound mountain of a man. That's where this one signing will define the Rams' heading into 2017. It really is killing two birds with one stone.
Not only is Robinson better suited to play inside, but Whitworth has been among the most-consistent left tackles in the game. The former second-round pick of the Cincinnati Bengals back in 2006 started 164 games with the team in 11 seasons, earning three Pro Bowl trips in the process. He's also anchored an offensive line that's allowed an average of less than 30 sacks over the past four seasons.
Sure, Whitworth is 35 years old and saw some regression last season. This doesn't mean he's not a marked upgrade from Robinson at left tackle. That will surely help Goff improve off a horrendous rookie season under first-year head coach Sean McVay.
3. A.J. Klein, linebacker, New Orleans Saints
Klein didn't get a whole lot of coverage in Carolina with the likes of Luke Kuechly and Thomas Davis playing linebacker for that squad. But make no mistake about it, he's as solid a middle linebacker as New Orleans could have hoped for in free agency.
A former fifth-round pick out of Iowa State, Klein started seven games for the injury Kuechly this past season. He responded by putting up 29 tackles and two forced fumbles in a solid all-around effort. This led to the four-year pro receiving a much-deserved four-year, $24 million deal from the Saints in free agency.
He immediately becomes the team's starting middle linebacker and should work well next to 2016 first-round pick Stephone Anthony, who will man the strong-side position in the Bayou. This signing also enables surprise performer Craig Robertson to move from the inside spot to weak-side linebacker. That's the trickle-down effect of New Orleans targeting a position of need and coming away with a solid performer.
4. Marquise Goodwin, wide receiver, San Francisco 49ers
Speed, and a whole lot of it. That's something first-year 49ers general manager John Lynch and rookie head coach Kyle Shanahan targeted out of the gate in free agency. And in reality, they might have acquired the fastest wide receiver in the NFL.
An Olympic-caliber athlete (literally), Goodwin provides a down-field threat San Francisco thought it had in the aforementioned Torrey Smith. Some might say Goodwin represents fool's gold due to his lackluster overall numbers and injury-plagued history in Buffalo. That's fine and dandy. It's a legitimate concern.
What we do know about Shanahan's offense is that it enables receivers to run free more than any other offense in the NFL. Add in Goodwin's all-world speed, and there's a whole heck of a lot to like about this signing. We'll just point to what Taylor Gabriel did for the Falcons under then offensive coordinator Kyle Shanahan last season.
That's pretty much the role Goodwin will fill for San Francisco this upcoming season. If he can stay healthy, it will be a major jolt for high-priced free-agent signing Pierre Garcon, who excelled in Shanahan's system with Washington back in 2013. Remember, that season saw him lead the NFL with 113 catches.
It's not a coincidence that Washington had a burner in Aldrick Robinson to help keep defenses honest. Oh, we should also note here that the 49ers added Robinson to the mix as well.
That's the thing. If defenses have to worry about both Goodwin and Robinson down the field, it will put Garcon in one-on-one situations on the outside. Considering Garcon's large catch radius and ability to make the contested catch, this could very well become a dynamic receiving trio for Brian Hoyer. The addition of Goodwin is the one denominator that could make it work big time.
5. T.J. Lang, guard, Detroit Lions
Two new Lions additions consecutively. There's a reason we went this route. It's hard to really focus on just how much Detroit dominated free agency without pretty much lumping the two together.
In letting starting right tackle Riley Reiff depart to the Vikings in free agency, Detroit was able to spend an additional $6.2 million annually while adding two plus-level offensive line starters to the mix. We'll focus on Rick Wagner a bit below, but the addition of Lang is about as good as it gets.
Lang, 29, saw his market take a little bit of a hit after he suffered a hip injury late in the 2016 season. Instead of demanding north of $12 million annually, he settled on a three-year, $28.5 million deal with Detroit.
A six-year starter with the Green Bay Packers, Lang is coming off his first Pro Bowl performance. In reality, it was the best performance of his already stellar career.
Lang is a marked upgrade over free-agent departure Larry Warford, who seemed to top out as a slightly above-average right guard during his tenure with the Lions. That's a pretty big deal for Matthew Stafford, who is coming off the best season of his career as well.
6. Rick Wagner, offensive tackle, Detroit Lions
A fifth-round pick out of Wisconsin back in 2013, Wagner has steadily morphed into one of the top right tackles in the game.
According to Pro Football Focus, this past season saw Wagner rank 18th-best among offensive tackles with a ranking in the top 10 in pass protection. That includes all tackles, even those tasked with protecting their quarterback's blindside. This right here is where Wagner himself is an upgrade over Riley Reiff.
It also gives Detroit two tremendous bookends with 2016 first-round pick Taylor Decker tasked with holding down the fort at left tackle.
Both Lang and Wagner are seen as upgrades over the guys they replaced. Add in Decker, Laken Tomlinson and Travis Swanson, and it wouldn't be a reach to conclude that Detroit boasts the best offensive line in the NFL outside of Dallas. That's a pretty big coup for second-year Lions general manager Bob Quinn.
It also tells us a story of a front office that knows how to target specific needs and get who they want to fill those holes. This bodes well for Detroit moving into draft season and could very well lead to the team's ascension up the ranks in the NFC North in 2017. The addition of a tremendous right tackle in Wagner magnified this to a T.
7. Jabaal Sheard, EDGE, Indianapolis Colts
Sheard, a former second-round pick of the Cleveland Browns, turned two ultra-productive seasons with New England into a three-year, $25.5 million contract. He has put up five-plus sacks in five of his first NFL seasons.
That's not overwhelming by any stretch of the imagination, but it gives Indianapolis another pass-rush threat to go with value signing John Simon. Remember, Indy has to replace the retired Robert Mathis and will likely watch 2016 sack leader Erik Walden depart in free agency.
This is where the addition of Sheard can act as a defining moment for a Colts team that has struggled in the past finding fits for their 3-4 defense. Walden led the team with 11 sacks last season. Mathis came in second at five. After that, not another member of this defense recorded more than three quarterback take downs.
Much like very team that runs a variation of the 3-4, the biggest key is getting consistent pressure from the EDGE position. More than anything, Sheard has proven he's able to do this.
Now set to play his more natural outside linebacker position, it wouldn't be a surprise to see this former Pittsburgh standout match the production we saw early in his career when he put up a combined 15.5 sacks in his first two seasons with Cleveland. If so, the Colts' defense should show a marked improvement from a season ago.
8. Cordarrelle Patterson, wide receiver, Oakland Raiders
Whether it's at running back, wide receiver or as a gunner on special teams, Patterson has proven himself to be a rare talent. And while he did struggle for a couple seasons in Minnesota, the two-time Pro Bowler was back to his old self last season.
He put up a career-best 52 receptions and a tremendous 74 percent catch rate for Sam Bradford and Co. in 2016. All said, Patterson gained over 1,300 all-purpose yards en route to earning his second trip to the Pro Bowl.
Now that he's on an offense with a much improved quarterback and a better set of receivers, it wouldn't be a surprise to see Patterson break out even more. In reality, opposing AFC West defenses are going to have a heck of time game-planning for what the Raiders do on offense in 2017.
Just imagine the ultra shifty Patterson lining up in trips formation with Amari Cooper and Michael Crabtree. We already know Crabtree himself is one of the best route runners in the game. Add in Cooper's physicality and Patterson's speed, and this is a scary proposition for defenses.
It really does make an already dynamic Raiders offense that much more unstoppable. Who will defenses throw double teams to? If it's not Patterson over the top, can any nickel back or safety keep up with the speedster? And when they decide to help with coverage over the top, who can stay with the two 1,000-yard receivers this team boasts?
Adding to this potential off-season defining free agent signing is Patterson's elite-level ability as a gunner on special teams. His presence there will help Oakland create advantages in the field position game, especially with Pro Bowl-caliber punter Marquette King doing his thing. We simply couldn't imagine a better fit for either the player or the team here.
9. Jonathan Cyprien, safety, Tennessee Titans
After watching their offense improve a great deal under the leadership of young quarterback Marcus Mariota last season, the Titans set off to improve a pedestrian defense this offseason. They did exactly that by adding two starters in the secondary.
Cornerback Logan Ryan might get the most play among Tennessee's additions considering he was a key contributor for the defending Super Bowl champion New England Patriots last season. However, the addition of this former second-round pick has to be noted.
Cyprien will never be an above-average cover guy. As a strong safety, that's surely not his role. Instead, he is an in-the-box headhunter that will play a huge role against the run.
This past season with Jacksonville, the 26-year-old defensive back recorded 126 tackles (96 solo). It was his fourth consecutive 100-plus tackle season to start his NFL career. Of note, those 96 solo tackles represented a league high for a defensive back in 2016.
The key here for Cyprien will be to get to the first level with the majority of his tackles. That should be aided by Tennessee's plus-level pass rush and the presence of fellow safety Da'Norris Searcy, who has a wide range of coverage ability.
This right here is what makes this signing so defining for the Titans. Not only do they fit what Cyprien does on the field, his plus-level in-the-box ability will impact everyone else on defense. Again, it's the trickle-down effect that's been a theme in this article.
10. Kyle Juszczyk, fullback/tight end, San Francisco 49ers
When San Francisco handed a fullback $21 million over four seasons on the first day of free agency, it was met with widespread criticism and shock. After all, Juszczyk's annual salary doubles that of the second highest-paid fullback in the NFL.
As with everything in free agency, instant reaction was more surfaced based than anything. First off, Juszczyk is considered the best blocking fullback in the NFL. It's what helped him earn a Pro Bowl spot for the Baltimore Ravens last season.
Secondly, he fits exactly what new 49ers head coach Kyle Shanahan looks for in this position.
Lastly, the 49ers plan on using the former fourth-round pick more as an offensive weapon than a true fullback. That should go over well considering the Harvard grad recorded a combined 78 receptions in his final two seasons with Baltimore.
Now add in the fact that Juszczyk turned down larger offers from other teams, and this doesn't seem to be too much of a reach here in terms of salary.
From an on-field standpoint, what Juszczyk will bring to the table for San Francisco is undeniable. When lined up at fullback, he will surely provide the necessary blocking to help talented youngster Carlos Hyde with holes on the ground.
The more interesting dynamic here is that Juszczyk will also be split off tackle as a tight end and in the slot. It's a scheme offenses rarely use in the NFL today. It was also the MO of great 49ers offenses of the past under Bill Walsh. Remember, fullback Tom Rathman put up 73 receptions during San Francisco's 1989 Super Bowl winning campaign.
With Shanahan running a variation of that well-known west coast offense, it wouldn't be a surprise to see Juszczyk match that number in 2017. That's the value in adding a tool like this on offense.
MORE FROM YARDBARKER
NFL News

Delivered to your inbox

You'll also receive Yardbarker's daily Top 10, featuring the best sports stories from around the web. Customize your newsletter to get articles on your favorite sports and teams. And the best part? It's free!