Found August 07, 2012 on CJ Sports NFL Talk:
Terrell Owens.  His name alone attracts attention from both sides of the field.  Some say he has too many problems for the NFL while others say that he is a pure playmaker.  Yet, a lot of people can't argue with the fact that he's been bounced around the league more than a beach ball at the beach. 
        Lately, many sources have reported that T.O has been talking things over (and maybe even working out) with the Seattle Seahawks in hopes of coming back on to the NFL field.  (Keep in mind that he also played in the Indoor Football League and sadly things didn't go so well over there either.)
        When the story broke, many people gave mixed opinions with the situation from "he needs to let it go and retire" to "he deserves a second chance".
        So the sixty-four million dollar question:
       "Is T.O worth the second chance or not?"
        To answer this question, both sides of the coin have to be carefully examined.
        On one side, Owens is quite an impressive football player.  His skills on the field will leave many people in awe as well as the fact that he comes with many talents that a wide amount of teams can benefit from.  His height, speed, arm and leg span are true gifts.  In many situations, those attributes can help make some serious and unforgettable plays on the field.
        However, on the flip side of that same coin is the fact of both his attitude as well as his off-the-field issues.  Many will say (including me) that he's quite the attention seeker (among other things).
So, after examining all of this info, the question still stands: should he be given a second chance by ANY team or should he just "throw up the deuces" and say goodbye?
Well, it depends on a few things.  For one, it will depend on whether he's ready to shed all of that old stuff, turn over a new leaf, and become more mature.  Another factor will be in the team itself.  If the franchise want him to show those special talents he has, they will have to break him down in order to build him back up. 
Let's face it: he needs a lot of work.  Is it possible to change him?  Well, yes.  In fact, there was a player that was in the same boat as Owens is in-just worse.  NO, it's not Chad Johnson…it was actually Randy Moss.
Once upon a time, Moss bounced around the NFL just as much as Owens. He played on quite a few teams and no matter what happened, his name was always in a negative light both on and off the field.  (Now for the record, when I say a negative light, it's not in reference to anything legal.  It was just that many people were focused on his antics and not his talents.) Then, a drastic move was made: he was signed to the New England Patriots family.  After that, his attitude both on and off the field improved tremendously.  The only time you heard his name in the news was they talked about his on the field performance.  Finally, his talents were able to be at the forefront versus his bad behavior.  From my perspective, one huge reason for the turnaround was that the Patriots were able to break him down, analyze his strengths and weaknesses and build him up using those talents.  Regardless of what is was, IT WORKED!  Personally, the main reason why any other team decided to take a second look at Moss was because of the fact that he changed.
One major point that we all have to keep in mind is the fact that all thirty-two franchises have one common denominator: they are all sick and tired of handing out huge contracts and feeling that they aren't getting their "money's worth" from "mixed players": players that have a lot of talent yet come with a whole lot of baggage.  Now with the franchise tag craze going on, they want to make sure that they are TRULY getting their money's worth.  (I will be posting a blog on the Franchise Tag Craze, so stay tuned!)
Personally, I am mixed about giving Owens a second chance.  On one hand, he does with many talents. Yet, he comes with a lot of baggage and it needs to be sorted out so he can truly be in the game 100 percent.   Sometimes, a second chance is what we need.  
Ah, the name Terrell Owens.  Some may like him and some many not.  No matter what, he has some true hidden talents.  It will just take right team to pull it out of him.
Thoughts?  Comments? I welcome them all.
Until we meet again, may your days be sweet and your nights are sinful and delicious.
-Sophia Stanton-Cross
Related articles
Original Story:
http://110sportztalk.com/terrell-owen...
THE BACKYARD
BEST OF MAXIM
RELATED ARTICLES
The sideshow that is Terrell Owens has taken another unsuspected turn, this time it may be for the good. The Seattle Seahawks who are in dire need of help at the wide receiver position have called in Owens for a workout on Monday. Owens has been attempting to get back into the NFL since his last stint with the Cincinnati Bengals back in 2010. Although he had a pretty productive season...
Terrell Owens could have run his way onto the Seattle Seahawks' preseason roster with a 40-yard dash time below 4.5 seconds in a private workout on Monday. ESPN.com reported Owens' "impressive" workout with Seattle and said the team will try to sign the 38-year-old, 15-year NFL veteran to a contract. Owens, who'll be 39 in December, didn't play last...
Terrell Owens is the newest member of the Seattle Seahawks this morning. Several news outlets reported late last evening that the veteran wide receiver has agreed to a one-year contract with the Seahawks. This marks Owens' return to the NFL after sitting out the 2011 regular season while recovering from a knee injury. The Seahawks have signed a trio of veteran pass catchers in...
RENTON, Wash. (AP) -- Terrell Owens was back in Los Angeles packing up some belongings while the Seattle Seahawks were on the practice field Tuesday morning. Even though he was away from his new team, Owens was still the talk of training camp. Owens agreed to a one-year deal with the Seahawks on Monday. He returned to Los Angeles late Monday night, was expected back at the team...
Pete Carroll and the Seattle Seahawks continue their quest to bring in as many over the hill wide receivers as possible, as Terrell Owens is reportedly headed to the Pacific Northwest for a tryout. As reported by Mike Florio of PFT.com, Owens is heading to Seattle for what is assumed to be a tryout. Florio writes: For now, it's just a visit.  It's unknown whether Owens is getting...
Terrell Owens is back in the NFL - at least for now. Owens agreed to terms on a one-year contract with the Seattle Seahawks on Monday, multiple media outlets reported Monday. The 38-yrear-old Owens has not played in the NFL since 2010, when he caught 72 passes for 983 yards and nine touchdowns in 14 games for the Cincinnati Bengals. Owens suffered a torn anterior cruciate ligament...
Get your popcorn ready. Terrell Owens is set to make his return and to the team that he famously embarrassed by pulling a sharpie out of his sock to autograph a ball. T.O. blew the Seattle Seahawks away in a tryout on Monday. The 38-year old receiver ran the 40-yard dash in 4.5 seconds. Owens [...]
Terrell Owens did some surprising and impressing Monday during his workout for the Seattle Seahwawks. He was so impressive that according to ESPN's Ed Werder, Terrell Owens and the Seahawks are already engaged in contract negotiations and expected to complete a deal soon. The 38-year old who is coming off of surgery for a torn ACL reportedly ran a blazing 4.45 second 40-yard...
GOING BACK WEST
Get your popcorn ready, Seattle! Terrell Owens has agreed to a one-year deal to join the Seahawks.
Per Danny O'Neil of the Seattle Times twitter feed this AM, we've learned the Seattle Seahawks have released CB Donny Lisowski to open roster spot for Terrell Owens. #Seahawks release CB Donny Lisowski to open roster spot for Terrell Owens.— Danny O'Neil (@dannyoneil) August 7, 2012 We were really pulling for Donny. The local kid from Seattle by way of Montana. ...
NFL News

Delivered to your inbox

You'll also receive Yardbarker's daily Top 10, featuring the best sports stories from around the web. Customize your newsletter to get articles on your favorite sports and teams. And the best part? It's free!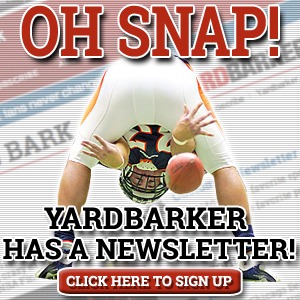 Latest Rumors
The Backyard

Today's Best Stuff

For Bloggers

Join the Yardbarker Network for more promotion, traffic, and money.

Company Info

Help

What is Yardbarker?

Yardbarker is the largest network of sports blogs and pro athlete blogs on the web. This site is the hub of the Yardbarker Network, where our editors and algorithms curate the best sports content from our network and beyond.