Found February 12, 2012 on Pro Football Zone:
Via Pro Football Zone: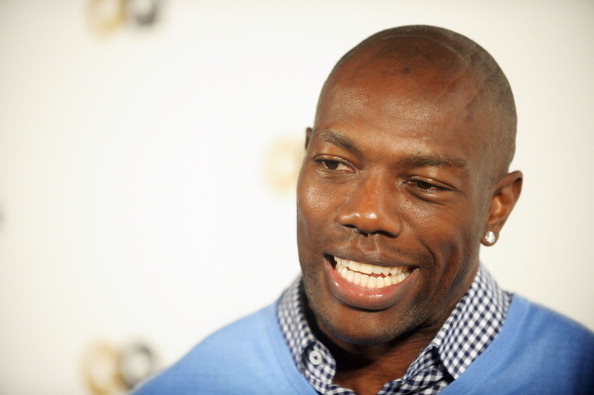 Former Dallas Cowboys wide receiver Terrell Owens made an appearance on the Ben & Skin show on KESN-FM 103.3 per the Dallas Morning News. He was asked what people should expect from him playing for the Allen Wranglers in the Indoor Football League.
"I'm gonna have fun with it. I'm using this as a platform to keep myself in shape. The business end of it is something that intrigued me, being a co-owner with the team. This is me transitioning to life after football. I feel I'm physically fit and can play at a productive level to where I can play a couple of more years in the National Football League. That's what I'm pushing for. I'm not going to give up hope just because I'm 38 and just had a knee injury."
"I think a lot of why I probably didn't play this year, everybody keeps talking about the 'character' issues. The last two or three years relatively I was quiet, knowing that everybody was saying that I had a character issue, I'm disruptive, there's a lot of hype that comes with me, they're saying I'm a distraction here and there. That's all hearsay. If you ask a bunch of my teammates, a lot of it is basically blown out of proportion, the media making me into a fall guy."
"Overall, will I ever admit that I was a bad teammate? Never. I wasn't a bad teammate. Was I disruptive. No I wasn't disruptive. I feel like I have a lot of football left and I'm looking forward to getting back to playing. I think the thing … I didn't get picked up was that a lot of general managers bought into the fact that the media thinks that I'm this bad guy, this rebel guy, this disruptive guy that divides and messes up team's chemistry. They won't allow me to turn over a new leaf. They won't allow me to be a better person."
"Anytime anything is brought up about me, they keep talking about things that happened five, six, seven years ago. Why don't I get a pass? I've kind of fallen into that villain category and I can't get out of that box."
I do agree wth Owens that the incidents that he was involved in during his career were likely blown out of proportion, but there's a reason they occurred and he is that reason. In the end I don't feel sorry for him and feel like he made his bed and it's time for him to lay in it.
Also from Pro Football Zone
Eagles will franchise disgruntled wide receiver
Colts WR wants to be a Patriot?
Original Story:
http://profootballzone.com/nfl/terrel...
THE BACKYARD
BEST OF MAXIM
AROUND THE WEB
RELATED ARTICLES
Um, Terrible?I know you don't actually listen to anything that doesn't come out of your own mouth, but hope springs eternal. Christian charity, and all that.The media didn't stick a gun in your mouth and make you do sit ups in your driveway.The media didn't kidnap your family so that you would bury every QB you ever worked with.The media didn't cause you to crap...
The world is talking about Terrell Owens again for all of the wrong reasons. T.O. is and was a gifted NFL caliber player and we believe he can still be a force on an NFL team. But as time goes on and he makes statement after statement after statement, what has not either been conveyed to Terrell or what he refuses to see is that his current behavior is exactly what teams are running...
The Chicago Bears need wide receivers.  Randy Moss and Terrell Owens are future Hall of Fame receivers who still have game in them and are seeking employment.  The Bears need Moss and Owens.  Sound rational?  Sure.  Is it true?  You better believe it.  The Chicago Bears should make a bold move and bring in Moss and Owens for the 2012 NFL season. If I've said it once Iâ...
(source feed provided no summary content for this entry)
Former NFL wide receiver Randy Moss has made an announcement via Ustream that he want's to make a comeback and play football in 2012. "I just wanna go to a team and play some football," said Moss. "I said I had a surprise for y'all," Moss added. Moss said that he retired because of  things that were going on off the field, but his family has told him that, "Itâ...
Terrell Owens is not happy these days. He's a thirty-eight-year-old receiver that's out of the NFL recovering from a serious knee injury that he might have suffered while filming his VH1 show. Many would argue his questionable injury status, diminishing stats, age and negative reputation make it quite obvious why TO's future NFL prospects are bleak. According to Owens...
Major kudos to Nancy Hass for her well written Feb. 2012 GQ Magazine piece on unemployed WR Terrell Owens. He's blown through $80 million … Has no friends. Four kids by four women to support. No team wants him. Here's a guy who has first ballot Hall of Fame credentials. His not being a hall of fame caliber teammate has hurt him tremendously. This is yet one more story of an...
When Randy Moss announced back in 2011 that he was going to retire from the NFL, few believed that it would actually last. Well, on Monday, during his 35th birthday celebration, Moss abruptly ended his short retirement by proclaiming that he intends on making a comeback. "I just wanna go to a team and play some football," Moss said on a Ustream.tv live video. "Your boy...
The news on Saturday night about Tiger Woods was that his late push had put him in position to challenge for the Pebble Beach National Pro-Am. He fell far short, shooting a three-over 75 to finish 11 shots behind the winner, Phil Mickelson. The Cowboys' angle for this story was that Woods teamed up with amateur golfer and Dallas QB Tony Romo. There was some chatter about Woods...
Our panel lists many reasons to stay away from these free-agent receivers.
  At one time Hines Ward, Terrell Owens and Randy Moss were the best at their position.  Now these NFL wide receivers have been shunned or are reportedly tapped out. The problem is, they think that they still have something left to contribute to a NFL team. What do you think? 1) Randy Moss 6-4, 210 lbs age 35: In his day was one of the most dynamic wide receivers of his time posting...
Latest Rumors
The Backyard

Today's Best Stuff

For Bloggers

Join the Yardbarker Network for more promotion, traffic, and money.

Company Info

Help

What is Yardbarker?

Yardbarker is the largest network of sports blogs and pro athlete blogs on the web. This site is the hub of the Yardbarker Network, where our editors and algorithms curate the best sports content from our network and beyond.