Found February 27, 2013 on AFC East Daily:
When you've won three Super bowls since 2000 and nine division titles in the last 10 years, you're bound make some enemies in the NFL.According to Baltimore Ravens linebacker Terrell Suggs, however, the reason the New England Patriots are the most hated team in the league is much deeper than that. Suggs was a guest on the 93.7 WEEI's The Big Show on Wednesday, where he elaborated on some of the comments that were made after Baltimore's victory over the Pats in the AFC Championship game. Even more interesting was the fact that he "guarantees the other 31 teams hate the New England Patriots," and that even former New England players have had negative things to say about the organization."The NFL is not very big," Suggs said, via D.J. Bean of WEEI's website. "You think we don't talk to guys that have played for the New England Patriots, that have been on the New England Patriots that have been like, 'Oh, it's been like this.'"It ain't just me. Why did Bart Scott say the same thing
Original Story:
http://www.afceastdaily.com/2013/02/s...
THE BACKYARD
BEST OF MAXIM
RELATED ARTICLES
RIGHT BACK AT YA
Things Terrell Suggs says continue to be a hot topic of conversation, as 49ers tackle Anthony Davis took to Twitter to respond to comments the Ravens linebacker made about him.
Terrell Suggs is a lot of things. Depending on whom you ask will decipher on what they choose to label him as.  Yesterday on The Dan LeBatard Show, Terrell Suggs opened up and gave some insight into who he is. The top 5 interesting facts about Terrell Suggs: He is an emotional movie watcher. He cried while watching Lion King, along with a handful of other movies. He has co-written...
Terrell Suggs was in New York yesterday doing a little radio and different things, and was stopped by TMZ before going on about his business. One of the questions they asked Suggs was in regard to if he'd be a willing teammate of overly scrutinized Manti Te'o.  Suggs stated that not only would he be cool being a teammate, but that "Te'o would be welcomed in the Ravens locker...
Never mind being catfished, at least one NFL star doesn't even care if Manti Te'o floundered at the NFL Scouting Combine this week and would welcome the former Notre Dame star into his team's locker room. Terrell Suggs of the Super Bowl champion Baltimore Ravens was in New York City when TMZ asked the former-Defensive Player of the Year if it would be alright if the...
Terrell Suggs isn't the only one who despises the New England new england patriots., http://juicedsportsblog.com/sports-news/news/suggs-guarantees-other-31-teams-hate-pats
Terrell Suggs is on a roll. In addition to providing his typical anti-Patriots remarks to WEEI on Wednesday, the Baltimore linebacker also took some shots at the 49ers — the team his Ravens defeated in the Super Bowl earlier this month. During an interview with KNBR 680-AM in San Francisco, Suggs was asked his opinion on cornerback Cary Williams' assertion that the Niners were...
TERRELL SUGGS: 'I GUARANTEE THE OTHER 31 TEAMS HATE THE NEW ENGLAND PATRIOTS'
San Francisco 49ers offensive lineman Anthony Davis took offense to Terrell Suggs suggesting that he was a "fake tough guy," and hit back at the Baltimore Ravens linebacker via Twitter Wednesday. Suggs joined Gary Radnich and Larry Krueger on KNBR 680 in San Francisco Wednesday to promote his movie, "The Coalition." After talking about his movie, Suggs was asked about the...
Baltimore Ravens linebacker Terrell Suggs was on The Big Show on WEEI and said he "guarantees the other 31 [NFL] teams hate the New England Patriots." He also said that he doesn't believe the Patriots "respect anybody." "The NFL is not very big," Suggs said. "You think we don't talk to guys that have played for the New England Patriots, that have been on the New...
Terrell Suggs is making the rounds saying controversial things. He joined "The Big Show" on WEEI and said he "guarantees the other 31 [NFL] teams hate the New England Patriots." He then goes on and on about how players throughout the league tell stories of what's wrong with the Patriots. Okay. He then follows that appearance up with an appearance on WFAN in New York with...
It's not a question of if the Patriots would want Darrelle Revis in a New England uniform. It's a question of how, and when. No team would turn down the talent of Revis, one of the best cornerbacks in the league and a player who has caused serious trouble for the Pats in recent years. And no one in New England would feel bad if the Jets couldn't afford to keep Revis, and he...
Packer fans and fellow losers:  The Packers draft needs are pretty simple.  Actually we only need one ingredient to our pot of stew. The Ravens and 49ers had one thing in common the Packers sorely lack.   Bad ass Mother Fers.   I don't care at all about the position.  We are pretty loaded everywhere, just need bad asses. Watch Bart Scott's famous passion. Click here to...
NFL News

Delivered to your inbox

You'll also receive Yardbarker's daily Top 10, featuring the best sports stories from around the web. Customize your newsletter to get articles on your favorite sports and teams. And the best part? It's free!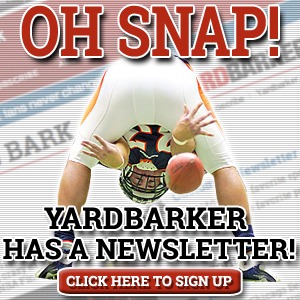 Latest Rumors
Best of Yardbarker

Today's Best Stuff

For Bloggers

Join the Yardbarker Network for more promotion, traffic, and money.

Company Info

Help

What is Yardbarker?

Yardbarker is the largest network of sports blogs and pro athlete blogs on the web. This site is the hub of the Yardbarker Network, where our editors and algorithms curate the best sports content from our network and beyond.