Found August 30, 2013 on Bay Sports Report:
Strapped with a play calling wristband and the determination to improve every day, Terrelle Pryor started tonight for the Oakland Raiders in their final preseason game against the Seattle Seahawks. It has been a tumultuous preseason for the Raiders whose first team performances in the two previous games against the New Orleans Saints and Chicago Bears was nothing short of calamitous crap. But there was a bright spot when the substitutes took over and Pryor was a leading factor. Fast forward to tonight. While Matt Flynn sat on the bench with a tendonitis ailment in his right elbow and thoughts of being a benchwarmer once again swarming inside his head, Pryor took the reigns and looked average against a Seattle defense that was a tamer than their usual starting unit. Pryor's first series did end in a three and out but it was not a total disaster on his part. After handing off the ball to Rashad Jennings for little gain, Pryor was able to show his abilities in the next two plays. On a play action bootleg, Pryor barely avoided the rush in time to jump and throw a short gain to Tight End, Jeron Mastrud. Mastrud had great ability to bring the pass down with one, outstretched, hand. But Mastrud's technique on that play failed him in the next. In the gun, Pryor stood confidently, knowing that the pressure was bearing down on the young Quarterback, he saw Mastrud and gunned the ball right to his chest. Mastrud failed to haul it in amid considerable pressure. The second outing for Pryor was much more fruitful. In this drive, Pryor was able to march down the field and show some of the dynamic, galloping runs, Raiders fans have become excited about when Pryor has the ball in his hands. He started with a play action and found Rod Streater on a hook route. His release was quick and the execution on that play was assured. After a running play up the middle, Pryor took control on the next play, rolling out to the right and connecting with Streater again. If he starts for the Raiders, a Pryor –Streater relationship looks likely and, dare I say, promising. From here, Pryor starting to show his energetic youth, the both good and the bad. He attempted to give it to Moore on a fade route but misjudged the press coverage in an incompletion. But on the ensuing play, he saw the line and broke out in a scramble for 25 yards. Pryor's long strides propelled him pass the safety and into Seattle's 20 yard line. Unfortunately, Pryor followed up with a terrible throw off his back foot, a move that highlighted his need to remain patient and careful with the pigskin in his palms. What followed was a solid back shoulder throw to Denarius Moore, which sadly resulted in a drop. Then after lining up in the bunch formation, Pryor got swarmed and taken to the ground. A field goal followed and Pryor went back with a mix bag kind of drive. And that was rather good, because when he came back in on the next series, Pryor immediately threw a preventable interception. He went deep to Jacoby Ford but the long bomb was unleashed too late. In addition to being under thrown. Mix it all up and Seattle's Walter Thurmond walked away with the pick. Pryor would get a shot at redemption before the half but the conclusion was rather tepid. Yes he did complete another play action roll out to the left for a first down, but his pocket failed thereafter and came face to face with the potent brutality of Bruce Irvin. Tonight's performance, which was only a half, wasn't exactly glowing for Pyror but it was not terrible either. He showed some of his known talents, but still has plenty to learn in terms of timing and patience. And I believe that he will get more opportunities to learn and practice that patience when he starts the regular season.  Raider fans will just need to reciprocate those virtues as well, because as this preseason has showed us, this could be a long season for the silver and black.
Original Story:
http://www.baysportsreport.com/2013/0...
THE BACKYARD
BEST OF MAXIM
RELATED ARTICLES
The other day I was watching SportsCenter and to my surprise they actually had a segment on the Oakland Raiders. I am usually skeptical of anything ESPN does on the Raiders because anytime they mention the Raiders or their fans it is in a condescending tone. However, they spent the segment interviewing quarterback Terrelle Pryor and showing some of his highlights from the preseason...
LEAPS AND BOUNDS
Some of the Raiders went out to celebrate Darren McFadden's 26th birthday Tuesday night. (It looked like a swell night, BTW.) At some point of the evening cornerback Taiwan Jones was dared to jump over a car. Jones is the freak of an athlete who wasn't even playing on defense last year and who, more notably, jumped out of a swimming pool backward once upon a time. If he completed...
Terrelle Pryor had it, right there in his grasp. After showing flashes of being able to lead the Raiders during the regular season, Pryor bombed last night during the Raiders final preseason game against the Seahawks. That sound you just heard was Pryor's opportunity to start for the Raiders crashing down in flames.  Pryor went 3-8 for 31 yards, and an  interception, and seemed...
After last night's poor performance by quarterback Terrelle Pryor,  Raiders head coach Dennis Allen isn't ready to name a starter yet. Allen said he'll withhold an announcement of the starting quarterback "until the appropriate time," and when asked if he might wait until the season opener, said, "We'll see." Flynn, Allen said, is expected to be back at practice...
What up RaiderNation? Welcome to this week's edition of My Two Cents, with your favorite archaic Raider fan, Old Timer. This week, we are going to talk about Greg Manusky. OK, you might be saying: What does that have to do with who the Raider starting QB is? Well in case you don't know who Greg Manusky is, he is […]
Oakland Raiders cornerback Taiwan Jones was out for runningback Darren McFadden's birthday when he was bet $200 he couldn't jump over a BMW.  Raiders safety Tyvon Branch recorded the jump and posted it to his Instagram page and as you can see, Jones was successful.  Good thing for Jones that the car wasn't moving and that he was able to do it without getting injured.  I'm...
Third round pick Sio Moore has the makings of the next great Oakland Raiders linebacker. I'm not even talking about potential greatness that we will see in a few years, I believe Sio Moore will become one of the Raiders best defenders  from the very first snap against the Indianapolis Colts (If his toe injury keeps him out week one, it will be against the Jaguars). Even when it...
Tonight is the Raiders' final preseason game.  While usually the fourth preseason game holds very little importance, that isn't the case for this young and unproven Raiders team.  This game is very important for several players, and I'm going to look at a few of them here. Terrelle Pryor This one is a no-brainer.  Due to Flynn's poor performance this preseason...
  This comes to us via the Kansas City Chiefs fan page. The tattoo is fine until you get to that bottom line, when you just have to wonder why the last part is necessary. To each his own. Article found on: Next Impulse Sports
Because the leap over the car by cornerback Taiwan Jones was successful, it prevents this stunt from ranking high on most Raiders things ever, but it's nice that he's trying, though. The jump was recorded by Tyvon Branch, the person who bet Jones to try the jump. I could see the Jets doing the same thing, only the car is on fire and Mark Sanchez is locked in the front seat.[via]
Despite the score, there were some good things to come out of the fourth preseason game. Of course, there was also much that was bad. The Good: Menelik Watson started at left tackle for the first time in his career Thursday versus the Seahawks and by all accounts acquitted himself well. The most important voice of approval came from head coach Dennis Allen today when he said...
Raiders News

Delivered to your inbox

You'll also receive Yardbarker's daily Top 10, featuring the best sports stories from around the web. Customize your newsletter to get articles on your favorite sports and teams. And the best part? It's free!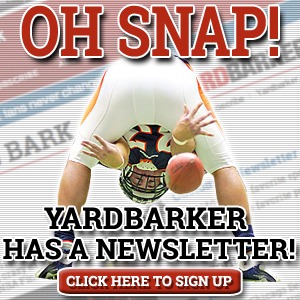 Latest Rumors
The Backyard

Today's Best Stuff

For Bloggers

Join the Yardbarker Network for more promotion, traffic, and money.

Company Info

Help

What is Yardbarker?

Yardbarker is the largest network of sports blogs and pro athlete blogs on the web. This site is the hub of the Yardbarker Network, where our editors and algorithms curate the best sports content from our network and beyond.