Found June 16, 2013 on State of the Texans:
PLAYERS:
Matt Schaub
,
T.J. Yates
,
Case Keenum
,
Arian Foster
,
Ben Tate
,
Cierre Wood
,
Greg Jones
,
Ryan Griffin
,
Owen Daniels
,
Garrett Graham
,
Andre Johnson
,
DeAndre Hopkins
,
Lestar Jean
,
Alan Bonner
,
DeVier Posey
,
Keshawn Martin
,
Duane Brown
,
Derek Newton
,
David Quessenberry
,
Brennan Williams
,
Ryan Harris
,
Brandon Brooks
,
Wade Smith
,
Ben Jones
,
Cody White
,
Chris Myers
,
J.J. Watt
,
Antonio Smith
,
Jared Crick
,
Tim Jamison
,
Delano Johnson
,
Terrell McClain
,
Earl Mitchell
,
Chris Jones
,
David Hunter
,
Brooks Reed
,
Whitney Mercilus
,
Bryan Braman
,
Sam Montgomery
,
Trevardo Williams
,
Brian Cushing
,
Darryl Sharpton
,
Tim Dobbins
,
Cameron Collins
,
Roc Carmichael
,
Brandon Harris
,
Johnathan Joseph
,
Kareem Jackson
,
Brice McCain
,
A.J. Bouye
,
Ed Reed
,
Danieal Manning
,
D.J. Swearinger
,
Shiloh Keo
,
Randy Bullock
,
Shane Lechler
,
Jon Weeks
TEAMS:
Houston Texans
The Houston Texans have finished rookie mini camp, OTAs and mandatory mini camp and currently have 90 players in uniform. It is still early, but there is still the roster is slowly taking shape with training camp and preseason games to set it for week one. Before all of the practices opened we took an early look at the Texans 53 man roster and in this version seeing practices and players we take another look at the potential roster for the Texans.     Texans 53 Man Roster 2.0 Green Denotes Rookies   Offense (24) Quarterback: Matt Schaub, T.J. Yates, Case Keenum The first two are set in stone, but the Case Keenum train is gaining momentum. Keenum is starting to understand the offense and looks much better as a quarterback in the offense. His celing as a quarterback doesn't look much more than a backup in the NFL, but he has taken a good step as a player in this offense.   Runningback: Arian Foster, Ben Tate, Cierre Wood The Texans go with Cierre Wood here to replace Ben Tate in 2014. Wood has been a good addition to the team at a bargain basement price via the free agent market. Considered a draftable Wood has shown some positive signs to make a good start to a career in Houston. There is still preseason games to be played, but Wood has a strangle hold on the 3rd running back spot.   Fullback: Greg Jones Most underrated signing for the Texans this off-season, Jones will make a big difference for this offense.   Ryan Griffin, TE, #84 Tight End: Owen Daniels, Garrett Graham, Ryan Griffin The youth of the Texans at the position are in place with Garrett Graham and Ryan Griffin. Owen Daniels is still a top offensive weapon for the Texans and this year could be a big season for the 8 year veteran, and possibly one of his last.   Wide Receiver: Andre Johnson, DeAndre Hopkins, Keshawn Martin, Lestar Jean, Alan Bonner The strongest wide receiving group top to bottom the Texans have ever assembled and this is without the injured DeVier Posey. With the addition of DeAndre Hopkins the combinations the Texans can put on the field personnel wise will be fun to watch for the upcoming season. Rookie wide receiver Alan Bonner and second year Keshawn Martin are two to watch for the offense, both have shown some signs of making the offense more explosive.   Offensive Tackles: Duane Brown, Derek Newton, David Quessenberry, Brennan Williams Derek Newton and rookie Brennan Williams should both be healthy during training camp and ease some minds on the right tackle situation. If they are not healthy or have a set back, expect the Texans to keep Ryan Harris and use rookie David Quessenberry at right tackle to fill the void. If both Newton and Williams can remain healthy expect a rotation at right tackle for the second season in a row.   Brandon Brooks, #79, Guard Offensive Guards: Wade Smith, Ben Jones, Brandon Brooks, Cody White Brandon Brooks takes control of the right guard position and will add consistency to the position that was not there in 2012. Cody White, at the moment, is one of the more undervalued players for the Texans, because he can fill in at center or either of the guard positions.   Center: Chris Myers Still one of the best in the business, and this season should be no different.   PUP: DeVier Posey This is an interesting one, training camp is five weeks away and DeVier Posey was looking good running for an Achilles injury. If Posey keeps progressing like this, do not be surprised if he forces the Texans to make a decision on his PUP status for the 2013 season.   Defense (26) Defensive End: J.J. Watt, Antonio Smith, Jared Crick, Tim Jamison, Delano Johnson The Texans could be looking at Jared Crick to make a jump in play from his rookie season, while Tim Jamison returns from an Achilles injury. If those two can take a good step as defensive players, the defensive end rotation will be solid. The Texans might also be inclined to keep Delano Johnson to help out at defensive end with the injury risk to Jamison, Johnson is a height and weight specimen that can run and help out on special teams.   Terrell McClain, NT, #97 Nose Tackle: Earl Mitchell, Terrell McClain Terrell McClain looks good in in the small sample size and has the versatility to also help at defensive end. He looks exactly like what the defense looks for in nose tackles, a quick 300 lbs. body that can play low. Right now he has the edge heading into training camp over drafted rookie Chris Jones and second year player David Hunter.   Outside Linebacker: Brooks Reed, Whitney Mercilus, Bryan Braman, Sam Montgomery, Trevardo Williams A new look position group that is much faster than last year's group. Brooks Reed needs to stay on the edge for the Texans to give the defense an edge presence that knows how to play the run. Reed will also have the versatility to be used on the inside if needed. The defense will be much faster on the field with Whitney Mericlus, Sam Montgomery and Trevardo Williams. This will be a new trait that the defense did not have last season with starters Connor Barwin and Reed.    Inside Linebackers: Brian Cushing, Darryl Sharpton, Tim Dobbins, Cameron Collins Health will define this position group in 2013, and the Texans are banking on Brian Cushing and Darryl Sharpton to come back with no issues. If the Texans can get them through the season with minimal issues, they can be a one of the better starting linebacking groups on the inside.   Roc Carmichael #22 and Brandon Harris #26 Cornerback: Johnathan Joseph, Kareem Jackson, Brice McCain, Brandon Harris, Roc Carmichael, A.J. Bouye The deepest position group for the Texans and they are a seasoned group. Very little turnover is expected from last season, just expect the addition of another young player in A.J. Bouye. Bouye has been impressive for the Texans in the early part of the off-season and he will have time to develop behind the veteran group.   Safety: Ed Reed, Danieal Manning, D.J. Swearinger, Shiloh Keo The injury issues of Ed Reed will cause the Texans to make some adjustments in the secondary, and possibly get a cornerback to help the safety position in a pinch until his return. Don't expect Shiloh Keo to go anywhere soon, the special teams captain will stay with the Texans despite what people think.   Specialty (3) Kicker: Randy Bullock Punter: Shane Lechler Long Snapper: Jon Weeks   You can follow Patrick on Twitter.  He is the Editor of State of the Texans.  
Original Story:
http://www.stateofthetexans.com/texan...
THE BACKYARD
BEST OF MAXIM
RELATED ARTICLES
Five games into the 2012 season the Houston Texans defense took the first of many hits that it never really recovered from when linebacker Brian Cushing was lost for the season with a torn ACL in his left knee. Months later it appears that he is finally getting close to being cleared for duty, and the timing couldn't be better with training 
After being released by the Baltimore Ravens, fullback Vonta Leach has his share of suitors. Now comes the hard part - deciding where to go... "I know I can play in this league and I've got some teams that are courting me," Leach said, via the Greenville (N.C.) Daily Reflector.  "In the next two weeks, I know where I'll be playing." "There are a lot of teams out...
Brian Cushing (ACL) said he'll be cleared July 17 by Dr. James Andrews in Pensacola, FL. Training camp starts 7/26 #Texans — Nick Scurfield (@NickScurfield) June 14, 2013   "I'm basically doing everything I could be doing right now. I feel great and very confident heading into camp." -@briancushing56 — Nick Scurfield (@NickScurfield) June 14, 2013   "I have a lot...
According to FOXSports.com's Laces Out blog, Texans running back Arian Foster says he'll likely be ready for training camp after straining his calf during OTA's. "Yeah, it's going good man," Foster told FOXSports.com in an exclusive interview on the set of a Foot Locker Under Armour commercial. "It's just a small calf strain. News is dry in the offseason, so it made...
Houston Texans running back Arian Foster was carted off the field earlier this offseason due to a strained calf. While the injury didn't appear to be severe, it's always noticed when a star player is carted off the field. While coach Gary Kubiak seemed to indicate that the injury might not be as minor as previously thought, Foster came out recently and called the ailment "small...
Texans News

Delivered to your inbox

You'll also receive Yardbarker's daily Top 10, featuring the best sports stories from around the web. Customize your newsletter to get articles on your favorite sports and teams. And the best part? It's free!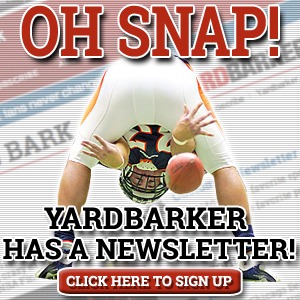 Latest Rumors
Best of Yardbarker

Today's Best Stuff

For Bloggers

Join the Yardbarker Network for more promotion, traffic, and money.

Company Info

Help

What is Yardbarker?

Yardbarker is the largest network of sports blogs and pro athlete blogs on the web. This site is the hub of the Yardbarker Network, where our editors and algorithms curate the best sports content from our network and beyond.