Found December 03, 2011 on Fox Sports:
PLAYERS:
Andre Johnson
,
Mario Williams
,
Matt Schaub
,
Matt Leinart
,
T.J. Yates
,
Gary Kubiak
,
Michael Vick
,
Kyle Orton
,
Donovan McNabb
,
Jake Delhomme
,
Neil Rackers
,
Arian Foster
,
Ben Tate
,
Owen Daniels
,
Matt Ryan
,
Julio Jones
,
Roddy White
,
Michael Turner
,
Jared Allen
,
Dunta Robinson
,
Tim Tebow
,
Willis McGahee
,
Tom Brady
,
Ben Roethlisberger
,
Christian Ponder
,
Adrian Peterson
,
Toby Gerhart
,
Von Miller
,
Percy Harvin
,
Champ Bailey
,
Joe Webb
,
Josh Johnson
,
Cam Newton
,
Steve Smith
,
DeAngelo Williams
,
Angelo Williams
,
Ahmad Bradshaw
,
D.J. Smith
,
A.J. Hawk
,
Desmond Bishop
,
Osi Umenyiora
,
Justin Tuck
,
Aaron Rodgers
,
Drew Brees
,
Marshall Newhouse
,
Bryan Bulaga
,
Jason Pierre-Paul
,
Greg Jennings
,
Jermichael Finley
,
Eli Manning
,
Tom Coughlin
,
Bill Cowher
,
Jeff Fisher
,
Erik Walden
,
Perry Fewell
,
Chad Clifton
,
Kevin Kolb
,
Beanie Wells
,
Mike Jenkins
,
Larry Fitzgerald
,
Patrick Peterson
,
DeMarco Murray
,
Jason Witten
,
Dan Bailey
,
Miles Austin
,
Tony Fiammetta
,
Sam Acho
,
Joey Porter
,
A.J. Feeley
,
Sam Bradford
,
Justin Smith
,
Adam Goldberg
,
Frank Gore
,
Chris Long
,
Ben Leber
,
Tom Brandstater
,
Jim Harbaugh
,
Phil Hellmuth
,
Rex Grossman
,
Roy Helu
,
Mark Sanchez
,
Rex Ryan
,
Tyler Palko
,
Matt Forte
,
Marion Barber
,
Todd Haley
,
Chris Johnson
,
Ryan Fitzpatrick
,
Michael Bush
,
Carson Palmer
,
Colt McCoy
,
Joe Flacco
,
Leon Hall
,
Rashard Mendenhall
,
Andrew Luck
,
Peyton Manning
,
Jim Caldwell
,
Bill Polian
,
Wes Welker
,
Ndamukong Suh
,
Nick Fairley
,
Jimmy Graham
,
Louis Delmas
TEAMS:
Houston Texans
,
Philadelphia Eagles
,
Kansas City Chiefs
,
Minnesota Vikings
,
Atlanta Falcons
,
Denver Broncos
,
Detroit Lions
,
New England Patriots
,
Pittsburgh Steelers
,
Carolina Panthers
,
New York Giants
,
Green Bay Packers
,
New Orleans Saints
,
Arizona Cardinals
,
Dallas Cowboys
,
St. Louis Rams
,
San Francisco 49ers
,
Baltimore Ravens
,
New York Jets
,
Buffalo Bills
,
Washington Redskins
,
Chicago Bears
,
Tennessee Titans
,
Oakland Raiders
,
Cleveland Browns
,
Cincinnati Bengals
,
Indianapolis Colts
,
Oklahoma State Cowboys
,
Stanford Cardinal
Football can be a cruel business. Just when the Houston Texans thought, in their 10th season of existence, that the road to their first division title and initial playoff experience was going to be a piece of cake, their stars started dropping. First, receiver Andre Johnson went down with a hamstring injury in Week 4 which cost him six games. Then a week later, Mario Williams was lost for the season with a pectoral injury. And recently, the injury bug has bitten Houston at the worst possible position, with QBs Matt Schaub and Matt Leinart going down in consecutive games, both lost for the season. Yes, the Texans are 8-3, two games in front of Tennessee for first place in the AFC South. But with five weeks left in the regular season, their starting quarterback Sunday is rookie T.J. Yates, a fifth-round pick from basketball school North Carolina. Yes, Yates didn't bungle his relief effort last week against Jacksonville, but can he do enough to keep the Texans on track? And we all know you typically don't win in the playoffs without a playmaking quarterback at the controls. Texans coach Gary Kubiak is proud of his team's fortitude in the face of such adversity, but it seems illogical that Yates, if he can get the Texans to the playoffs, will take them deep into the postseason. Sunday's home game against Atlanta, which needs to keep winning to stay close to the Saints in the NFC South, will be something of a playoff game for the rookie who grew up a Falcons fan in Marietta, Ga., even sporting a Michael Vick jersey. Houston supposedly had an interest in Denver's Kyle Orton, but he was claimed off waivers by the Chiefs late last month. This past week, they passed on Donovan McNabb and signed Jake Delhomme, whose career crashed in Carolina and then in Cleveland, to salvage the season should Yates become overwhelmed. One good thing right now is Delhomme is familiar with Atlanta's defensive personnel and he's already passing along tips to Kubiak and Yates. Kubiak has liked Yates from Day 1 of training camp, mostly because the kid worked out as much as he could during the lockout with Schaub, who didn't mind helping the rookie and giving him insight into Houston's offense while graciously spending extra time after practice. With Leinart unsigned, too, Yates got plenty of work once camp opened with the second- and third-team players. This is when Kubiak started to believe that Yates had NFL potential. When Yates entered the game in Jacksonville late in the first half, the Texans were on their own 45-yard line, running a two-minute offense. He led them to a 33-yard Neil Rackers field goal with 6 seconds to go before halftime. "When I first went out there the game was going 100 miles per hour," Yates said on a conference call. "As the game went on it kind of started to slow down, and go at a normal pace. One thing that has really helped me make the transition to the field is that every day for the last 10 weeks, I've been going against our defense in practice every day as the scout team quarterback. Those reps with the defense going full speed have really helped my transition." For the moment, even with Delhomme signed to help babysit Yates, the Texans are saying all the right things about their young QB, believing their running game will be the perfect crutch for him. Houston is the only team in the NFL with multiple rushers with at least 700 yards (Arian Foster has 805, Ben Tate has 712). But Atlanta's defense is very good against the run, and invariably the kid will be asked to beat the Falcons' secondary. I think it often is easier coming in unknown off the bench, but once an opposing defensive coordinator knows a rookie's strengths and weaknesses, the game will become compressed for Yates. This is no doubt a huge opportunity for him. "It's hard not to look at it in that way because I never expected to be playing this early in my career, especially under these unfortunate circumstances." Yates said. "But you have to take every opportunity you get and run with it. I'm trying not to look too much outside the box this week. I'm trying to take it meeting by meeting, practice by practice and game by game. I'm just trying to get better every day." Game: Atlanta at Houston Time: 1 p.m. ET What to watch for: The Falcons haven't allowed a 100-yard rusher in 14 consecutive regular-season games and they must continue that dominating style in order to stuff Foster and Tate and keep their playoff hopes alive. Houston must rely on its running game -- 14 rushing touchdowns on the season -- with Yates making his first NFL start. Yes, Yates has a big-play receiver back in Johnson, but you know he will focus more on TE Owen Daniels; Johnson was targeted only three times last Sunday in his first game back from the injury. On the other side of the ball, the Falcons have embraced the no-huddle offense, albeit a very deliberate one. QB Matt Ryan is coming off his best game of the season (27 of 34 passing for 262 yards and three touchdowns for a season-best 128.2 quarterback rating against the Vikings). The Falcons hoped that rookie WR Julio Jones would really open up their offense, but injuries have slowed him down. However, Ryan is hooking up with Roddy White again as the big-play receiver has quit dropping the ball. Look for RB Michael Turner (52 yards shy of another 1,000 season) to help offset the Texans' excellent pass rush. Czar's scoop: Vikings DE Jared Allen said the Falcons don't run a true no-huddle offense. "They just keep you in your stance forever. . . . To be honest, you would think that it is picking the tempo up, but it's really slowing it down. They make the call, then they make dummy calls, and next thing you know, it's been 30 seconds. Everything they do is methodical. They either run or have quick passes. They don't vary much from that." Falcons CB Dunta Robinson spent his first six NFL seasons with the Texans before signing a six-year, $57 million ($22.5 million guaranteed) free-agent deal before last season. Robinson, who still owns a home in Houston, knew this day would eventually come. "I'm pretty sure it's going to be a different feeling," Robinson said. The cornerbacks asked some of his teammates what it would be like and the consensus was that it would be a "weird" feeling. Robinson has 37 tackles and an interception this season as the Falcons have won five of their last six games. Most pro scouts were shocked that the Texans signed Delhomme; now he could be a starter depending on the size of the Texans' lead over Tennessee at the end of the day. Game: Denver at Minnesota Time: 1 p.m. ET What to watch for: The Broncos aren't about to alter their running strategy. With Tim Tebow leading a smash-mouth offense, the Broncos have rushed for more than 200 yards in three of their last four games. This controlled, field-position game has enabled Denver to win four in a row -- three of those while scoring fewer than 20 points. However, this style's inability to overcome a large deficit was exposed in a 45-10 loss at home to the Detroit Lions. If the Vikings can limit the chances of WR Erik Decker and RB Willis McGahee, they have a chance to beat Tebow, who currently has received the third most fan votes for the Pro Bowl behind Tom Brady and Ben Roethlisberger. Therefore, the Vikings must maintain lane control while also forcing Tebow to throw. Minnesota's best chance is to get an early lead with rookie QB Christian Ponder under center without star RB Adrian Peterson (out again with a sprained ankle). Minnesota simply does not have a powerful offensive line to open many holes for backup RB Toby Gerhart. On defense, Broncos rookie OLB Von Miller hopes to play despite recent thumb surgery. Miller leads all rookies with 10-1/2 sacks. Czar's scoop: Tebow is 5-1 as a starter this season, plus he has led 11 scoring drives in the fourth quarter and overtime in the last seven games. Minnesota's Percy Harvin was a teammate with Tebow on Florida's 2008 BCS national championship team. With Peterson out, Harvin is the Vikings' best offensive weapon (though he did miss practice time this week with an illness). The Vikings are always trying to get him involved in the passing, rushing and return games. Look for Denver CB Champ Bailey to lock onto Harvin whenever he lines up wide. This is also the Vikings' first game since releasing QB Donovan McNabb -- with him going unclaimed on waivers, it is unknown whether the Vikings are on the hook for the remainder of his salary, considering he's a vested veteran. McNabb asked for his release when Joe Webb moved ahead of him on the depth chart. If the Bears or Texans lose on Sunday, it will be interesting if they give McNabb a call. Game: Carolina at Tampa Bay Time: 1 p.m. ET What to watch for: Bucs QB Josh Freeman will test his bruised throwing shoulder in warm-ups, but it looks like he wants to start and see how far he can go. Freeman had his shoulder examined by several doctors who say he hasn't suffered a tear or a dislocation. Freeman also admitted this week that he suffered a cut to the thumb on his throwing hand on Oct. 31 while shooting a semi-automatic pistol at a local shooting range, which required five stitches. The stitches came eight days after he sprained the same thumb in a loss to Chicago in London, but Freeman said he could still grip and throw a football. Freeman said he had fired that weapon "countless," times and had been to the gun range during an off-day two weeks before the mishap, but after meeting with Bucs GM Mark Dominik, he said will not go to the firing range during the season. "It's a bit of an escape," Freeman said. "I grew up shooting guns with my dad and I've always enjoyed shooting guns as a recreational thing. In hindsight, it wasn't the smartest decision." Backup Josh Johnson, who can run, took all the practice work during the week and is prepared to play. Czar's scoop: The Panthers have gone through five linebackers this season and start two rookie defensive tackles -- is anybody smiling bigger than Bucs RB LeGarrette Blount? Tampa Bay will utilize Blount not only to pick up yards, but to chew up clock and keep Cam Newton and the Panthers well-balanced offense at bay. Defensively, the Bucs will put Aqib Talib on WR Steve Smith (who is only 56 receiving yards shy of 10,000 for his career) and they believe their secondary can control Newton's passing attack. Like the Panthers, the Bucs are vulnerable to the running game and DeAngelo Williams & Co. could be the difference, especially if Tampa Bay gets erratic quarterback play, which pretty much sums up Freeman's season. Game: Green Bay at N.Y. Giants Time: 4:15 p.m. ET What to watch for: The Giants are hopeful that RB Ahmad Bradshaw, who has missed four games with a broken foot, can play and resuscitate their dormant running game and short-passing games. The Lions found success last week against the Packers utilizing screens, and the Giants could find some room with rookie D.J. Smith and second-year player Rob Francois starting at inside linebacker in place of injured Packers starters A.J. Hawk and Desmond Bishop. On the other side of the ball, with pass-rushing specialist Osi Umenyiora out, the Giants need Justin Tuck to step up his game and put some pressure on Packers QB Aaron Rodgers. He didn't get to Drew Brees on Monday night, a huge reason why New York lost. The Packers have young offensive tackles in Marshall Newhouse and Bryan Bulaga, so there should be some openings for Tuck and Jason Pierre-Paul. Both of these teams love to throw the ball and the Giants have matchup issues with both WR Greg Jennings and TE Jermichael Finley. The Packers last lost 351 days ago; the Giants have lost three straight. Czar's scoop: The Giants look geared to pull another December fade. Last season, they helped Green Bay to its Super Bowl run with a 45-17 loss in Lambeau the day after Christmas, a game featuring four Eli Manning interceptions. If the Giants miss the playoffs again, coach Tom Coughlin's future will be in jeopardy and Giants ownership could take a run at big-name former coaches Bill Cowher and Jeff Fisher. The Packers and the NFL apparently are going to wait to see Brown County decides to charge starting Packers OLB Erik Walden, who spent Thanksgiving weekend in jail after being arrested on suspicion of domestic abuse against his girlfriend. Walden will start today. Giants defensive coordinator Perry Fewell wants his cornerbacks banging the Packers' receivers at the line of scrimmage; Fewell has been unhappy with his players' effort of late and this game will give them a chance to prove to him they can still get the job done. Packers LT Chad Clifton suffered a back injury while rehabbing a pulled hamstring and could be sidelined another two weeks. The Giants know something about injuries, having placed 10 players on injured reserve this season. Game: Dallas at Arizona Time: 4:15 p.m. ET What to watch for: Well, the Cowboys have taken advantage of their soft schedule to win four straight and take the lead in the NFC East (leading the Giants by a game). However, the Cardinals have won their last two meetings with the Cowboys. This is one of those games in which the Cowboys, if they are going to really be a factor in the playoffs, might want to blow the other team away. QB Kevin Kolb will start for the Cardinals after missing four consecutive games; the Cowboys must contain Beanie Wells (849 yards) and force Kolb to beat them. The Cowboys will get CB Mike Jenkins back in the lineup and that should help against WR Larry Fitzgerald. The other key for Dallas is to punt away from Arizona rookie Patrick Peterson, whose four punt return touchdowns this season are tied for the most in one season in NFL history -- and all of them have been for 80 yards or more. Cowboys rookie RB DeMarco Murray rushed for 434 yards in November, winning offensive rookie of the month. The Cardinals' biggest worry may be stopping Dallas TE Jason Witten, who had eight catches and a touchdown against them last season. Czar's scoop: Where would the Cowboys be without rookie K Dan Bailey, who has made 26 straight field goals? Dallas WR Miles Austin (hamstring) hopes to return next weekend. Dallas FB Tony Fiammetta, however, remains sidelined by an unknown illness, but he says he is feeling better and hopes to return this season. On defense, Arizona is pleased with rookie OLB Sam Acho, who has five sacks in the last six games. He has also forced two fumbles and his play means that Joey Porter won't return next season. Game: St. Louis at San Francisco Time: 4:15 p.m. ET What to watch for: Just about everything that could go wrong has gone wrong for the Rams this season. Now, it looks like 34-year-old A.J. Feeley will start as Sam Bradford re-aggravated a high ankle injury that caused him to miss two starts earlier this season. Feeley did start when the Rams upset the high-flying Saints, but St. Louis still has a shaky offensive line and that's never good against San Francisco's talented front seven. San Francisco DE Justin Smith could be too much for Rams LT Adam Goldberg. Both teams love to run the ball, but the 49ers could be running a little harder knowing a win clinches their first playoff berth since 2002. What's more, the Rams are allowing a league-worst 159 rushing yards a game (calling Frank Gore). And finally, Rams DE Chris Long is bothered by an ankle injury and the amount of snaps he can play remains in question. Czar's scoop: The Rams released LB Ben Leber in order to activate QB Tom Brandstater from the practice squad just in case Bradford can't play. San Francisco coach Jim Harbaugh had been reluctant to talk to his players about playoff scenarios, but now he's actually encouraging the conversation. Harbaugh is definitely an odd duck at times, but now he wants to make sure his goal is clear: At 9-2 San Francisco still has a shot at the No. 2 seed in the NFC behind the unbeaten Packers. World Series of Poker Hall of Famer Phil Hellmuth talked to the team on Wednesday. Hellmuth became friends with Harbaugh when he was coaching at Stanford. Hellmuth is known for his "poker-brat" personality. The 49ers are also looking for payback against St. Louis after last season's loss at St. Louis, one that dropped them from the playoff race. This is the 49ers first game since the defensive domination the Baltimore Ravens served them on Thanksgiving night. There are many who wonder if the 49ers have enough offense to even win a playoff game come January. Other Games: N.Y. Jets at Washington: The Jets survived a scare from the Buffalo Bills last weekend and now they must deal with Rex Grossman, who passed for 314 yards and two touchdowns in a road win at Seattle to end a six-game losing streak for Washington. The Redskins have also found a running back in rookie Roy Helu, who rushed for 108 yards in that Seahawks game. Jets QB Mark Sanchez is coming off a four-touchdown game, but New York's running game still doesn't scare anybody. The Redskins are getting healthy on offense, so the key is Rex Ryan's pass rush and defensive scheme against Grossman. Kansas City at Chicago: The Chiefs have failed to score a touchdown on their last 45 possessions, but they will start Tyler Palko once again even though Kyle Orton says he's ready to play and knows the offense. It could be snowy and cold at game time, another reason why both teams should be running a lot. Matt Forte leads the NFL with 1,475 yards from scrimmage while Marion Barber has been adding some power runs of late. The Bears need a win to maintain a wild-card chance in the NFC; the Chiefs may be playing for coach Todd Haley's job. Tennessee at Buffalo: The bad news for the Bills is that Chris Johnson got untracked last Sunday with 190 yards rushing in a win over the Bucs. The Titans still have eyes on the AFC South title with the Texans two games ahead but starting a rookie QB. Buffalo is 4-1 at home this season but needs to control the tempo and give QB Ryan Fitzpatrick a shot at 10,000 career passing yards (meaning a 347-plus yard day). Oakland at Miami: The Raiders have won three straight but suddenly the AFC West leaders find themselves in a playoff race with Tebow's Broncos. The Dolphins have been playing well lately for coach Tony Sparano, winning three of their last four. The key matchup will be Miami's No. 7 rush defense against Oakland's fourth-ranked ground attack. Michael Bush has two 100-yard rushing games in his last three outings while Carson Palmer is getting real comfortable with the Oakland offense. Raiders are 4-1 on the road this season. Baltimore at Cleveland: Browns QB Colt McCoy has gotten very little support this season with his receivers sporting a league-high 30 dropped passes. The news stands to get worse for McCoy because the Ravens are very efficient at sacking quarterbacks on third-and-long. Baltimore has 27 sacks this season either on third or fourth down, or that result in a turnover or a safety. Ravens QB Joe Flacco is 6-0 vs. Cleveland with eight TDs and only three interceptions. Cincinnati at Pittsburgh: The Bengals lost consecutive games to the Steelers and Ravens in November; if they have any playoff aspirations they must beat one of them. Despite their lofty defensive rankings, the Bengals ranks last in play-action defense, having surrendered seven TD passes. And here comes Ben Roethlisberger, who excels at play action with eight TDs versus no interceptions on play fakes. Ever since the Bengals lost star CB Leon Hall in the first game against the Steelers, their pass defense has struggled. On the ground, Steelers RB Rashard Mendenhall scored two touchdowns in Nov. 13's seven-point Pittsburgh win. Indianapolis at New England: This is no longer a marquee game as the Colts continue on their Suck for Luck season. Yes, they would draft Stanford's Andrew Luck based on all the uncertainty with Peyton Manning's neck surgery. Owner Jimmy Irsay has a list of big-time decisions to make in the off-season, starting with Manning, followed by what do with coach Jim Caldwell and whether he wants Bill Polian to play a major role in picking the next head coach should there be a change. There seems to be more wrong in Indy than recently fired defensive coordinator Larry Coyer. Pats WR Wes Welker leads the league with 547 yards after the catch. Detroit at New Orleans: The Lions have a very good defensive line rotation despite the loss of Ndamukong Suh to a two-game suspension. Rookie DT Nick Fairley has started to play well and he better be on his toes tonight as the Saints have revved up their running game to complement Drew Brees. Detroit should struggle in pass coverage against Saints TE Jimmy Graham, the NFC's No. 1 pass catcher with 67, with safety Louis Delmas likely out. Plus, Detroit's linebackers struggle in coverage and no one throws more to his running backs than Brees.
Original Story:
http://msn.foxsports.com/nfl/story/We...
THE BACKYARD
BEST OF MAXIM
RELATED ARTICLES
HOUSTON The Houston Texans thought T.J. Yates could play, of course. That is sort of the whole point of having him on an NFL roster. "He's an NFL quarterback," running back Arian Foster said. That establishes the baseline expectation. Yates' trade is quarterbacking, and he would be expected to competently ply that trade for the Houston Texans against the Atlanta...
Rookie T.J. Yates threw a touchdown pass in his first NFL start, Arian Foster rushed for 111 yards and Houston overcame another hamstring injury to Andre Johnson to beat Atlanta 17-10 on Sunday. The Texans (9-3) have won a franchise-record six straight games, a remarkable feat considering they're down to their third-string quarterback and have played the bulk of their streak...
HOUSTON (AP) -- Houston Texans coach Gary Kubiak says Jake Delhomme will back up rookie T.J. Yates in Sunday's game against Atlanta. The Texans (8-3) signed the 36-year-old Delhomme on Tuesday, after Matt Leinart broke his left collarbone in Sunday's 20-13 win at Jacksonville. Leinart had his scheduled surgery moved from Thursday to next Tuesday because he has an illness...
HOUSTON (AP) -- Rookie T.J. Yates threw a touchdown pass in his first NFL start, Arian Foster rushed for 111 yards and Houston overcame another hamstring injury to Andre Johnson to beat Atlanta 17-10 on Sunday. The Texans (9-3) have won a franchise-record six straight games, a remarkable feat considering they're down to their third-string quarterback and have played the bulk...
Houston Texans coach Gary Kubiak said Friday that Jake Delhomme will back up rookie T.J. Yates in Sunday's game against Atlanta.
Atlanta Falcons – 10, Houston Texans – 17 Right when the Falcons needed a win the most, Matt Ryan (277 total yards, 1 TD, 2 INTs) just wasn't able to deliver in a hostile road environment.  The Falcons now fall into a position where they'll have to fight and scrap to try to grab a wildcard with the Saints winning yet again.  TJ Yates (198 total yards, 1 TD) actually looked...
This week the Houston Texans will face their toughest opponent yet this season. Not that the Atlanta Falcons are the best team that the Texans have had to play this year, just that the Texans are entering new territory behind the leadership of rookie QB T.J. Yates. The Texans have played beaten up and battered for most of the 2011 season but this game will prove to be a monumental...
HOUSTON — Apparently, it's going to take more than injuries to star players to derail the Houston Texans. Rookie T.J. Yates threw a touchdown pass in his first NFL start, Arian Foster rushed for 111 yards and Houston overcame another injury to Andre Johnson to beat Atlanta 17-10 on Sunday. ...
The Houston Texans look like they can win the AFC South no matter who's at quarterback. And the Atlanta Falcons look like they're just about out of the NFC South race. Down to third-string quarterback T.J. Yates, Houston had a heavy dose of Arian Foster and a great defensive effort and managed to pull off…
NFL News

Delivered to your inbox

You'll also receive Yardbarker's daily Top 10, featuring the best sports stories from around the web. Customize your newsletter to get articles on your favorite sports and teams. And the best part? It's free!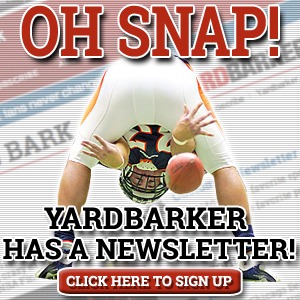 Latest Rumors
The Backyard

Today's Best Stuff

For Bloggers

Join the Yardbarker Network for more promotion, traffic, and money.

Company Info

Help

What is Yardbarker?

Yardbarker is the largest network of sports blogs and pro athlete blogs on the web. This site is the hub of the Yardbarker Network, where our editors and algorithms curate the best sports content from our network and beyond.