Found October 08, 2012 on Kissing Suzy Kolber:
If you happen to enjoy watching the Jets get annihilated so much that you will listen through three hours of Tebow talk to get it, then I suppose this evening will be a celebration for you. Otherwise, it's really a zero-sum contest for neutral observers. The Texans winning a huge boring blowout is the best possible outcome. Anything less than that and the narrative will be flooded with cries for more Tebow, as well as folks decrying Houston as clownfrauds for only having outmuscling a bunch of pushovers before finally being expose by Gang Green.
Oh, and it's the 666th installment of Monday Night Football. THIS NUMBER! I CALL IT THE MARK OF THE BEAST! Anyway, Tebow is scheduled to incite holy way with Satan's minions at halftime. Dark Prince heavily favored to take that one as well.



Looking forward to giving God all the glory in tonight's 666th Monday Night Football game. Romans 8:37-39




— Tim Tebow (@TimTebow) October 8, 2012
In other trolling developments, Jason Whitlock let out a watery word shart with a half-ass argument that Roger Goodell should cancel the remainder of the Jets season. Reading it, I thought at first that the premise was just a lighthearted joke that would eventually lead to a more serious, less insane point. Nope! Quickly, you realize that this is Whitlock, of whom nothing is light, nor does it not involve trolling.
Goodell should Just Say No to the Jets. Put them out of their misery. Spare the league the embarrassment of such a high-profile dysfunctional team. The Jets are doing far more damage to the NFL's rep than "Playmakers" ever did.
Yup, the entire piece is a half-baked plea for the commissioner to actually cancel the rest of the Jets season. The sole underpinning logic offered to justify what would be an unwieldy and highly problematic solution to a problem that doesn't exist is that Paul Tagliabue in 2004 forced the TV show "Playmakers" off the air because the NFL founds its depiction of the league objectionable. Really? That's not even trying. Because a TV show is just as easy to replace as an NFL franchise IN THE MIDDLE OF A SEASON WITH 11 MORE GAMES STILL SCHEDULED AND TICKETS PAID FOR. That wouldn't be IMPOSSIBLE at all. OH GOD, WHY AM I TAKING SOMETHING WHITLOCK WROTE SERIOUSLY!?
Anyway, I'll be here all evening if you wanna watch this NFL torture porn together.
The post Texans-Jets Live Blog, First Half appeared first on Kissing Suzy Kolber.
Original Story:
http://kissingsuzykolber.uproxx.com/2...
THE BACKYARD
BEST OF MAXIM
RELATED ARTICLES
Via Larry Brown Sports: Tim Tebow stoked some religious fires before the "Monday Night Football" game between the Jets and Texans by recognizing that this was the 666th edition of the program.
Last night's Texans-Jets game wasn't just an opportunity for the country to see the NFL's best team in the national spotlight. (That would be the Texans in case you were wondering.) No. Naturally, with the New York Jets involved, it was an opportunity to revisit TebowMania. Shockingly, ESPN was realtively reserved yesterday compared to their summer when SportsCenter...
The New York Jets will take on the Houston Texans on Monday Night Football, and they will do so with Mark Sanchez as the starting quarterback. How much longer he holds that position atop the Jets' depth chart remains to be seen. New York signed Sanchez to a ridiculous contract extension this offseason, one in which they may be regretting right now. He has played rather poorly to...
After Arizona's loss on Thursday night, the Texans, along with the Falcons, are one of the two undefeated teams left in the NFL. Tonight, they take on the 2-2 Jets, who are coming into this game after a 34-0 loss to San Francisco last week. The calls for Tim Tebow will surely be heard tonight if Mark Sanchez struggles. Houston and New York square off tonight on Monday Night Football...
Mark Sanchez had his moments - good and bad - for the Jets. Tim Tebow, too. But some of the Jets' biggest flaws were on full display in their 23-17 loss to the Houston Texans. They couldn't run the ball, the defense couldn't stop the run and Tebow still isn't running on the field much. Rex Ryan says the Jets need to get their running game going for the offense to...
Rob Carpenter: Former New York Jet If you're a New York Jets fan, you probably have a lot of concerns right now. Injuries have sidelined Darrelle Revis and Santonio Holmes for the season, many fans and media are calling for Tebow to start, Mike Tannenbaum's job may be on the line, and the list goes on and on. I recently spoke with former New York Jets wide receiver, Rob Carpenter...
According to Mike Florio of ProFootballTalk.com, Jay Glazer of FOX Sports reported that the New York Jets plan on using Tim Tebow more on Monday night against the Texans. Glazer also says that Tebow got more practice time this past week .  I wonder how much of that time was spent under center.  Mark Sanchez has to be on thin ice right now.
At this point the Jets have no answers on offense at all. Tebow or Sanchez? Where's first round pick from a few years ago in Shonne Greene. Santonio Holmes was their best offensive weapon and he's done for the season. I think Antonio Cromartie was right when he said he was the second best receiver on the team. He beat Johnathan Joseph badly on a stop and go route on Monday...
If you don't play Fantasy Football, at least admire this photo of a cute puppy in Tim Tebow's arms.
What isn't there to say that's already been said about this victory for the Colts? Indianapolis played on emotion and had the heart of a champion to get the "W."
With what looked like a decent Monday Night Football match up on paper when the 2012 NFL schedule was first released, the Texans at the Jets now looks like it could see the mercy rule invoked. With the Texans on the rise, consistently beating teams by double digits, the flailing Jets, who were embarrassed at home last week by a 34-0 thrashing, look to be heading in the opposite direction...
NFL News

Delivered to your inbox

You'll also receive Yardbarker's daily Top 10, featuring the best sports stories from around the web. Customize your newsletter to get articles on your favorite sports and teams. And the best part? It's free!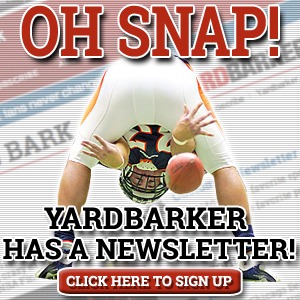 Latest Rumors
Best of Yardbarker

Today's Best Stuff

For Bloggers

Join the Yardbarker Network for more promotion, traffic, and money.

Company Info

Help

What is Yardbarker?

Yardbarker is the largest network of sports blogs and pro athlete blogs on the web. This site is the hub of the Yardbarker Network, where our editors and algorithms curate the best sports content from our network and beyond.