Found January 01, 2012 on Fox Sports Houston:
PLAYERS:
Garrett Graham
,
Brooks Reed
,
Bryan Braman
,
DeMeco Ryans
,
Gary Kubiak
,
Arian Foster
,
Johnathan Joseph
,
Owen Daniels
,
T.J. Yates
,
Andre Johnson
,
Thomas Austin
,
Jake Delhomme
,
Derek Newton
,
Eric Winston
,
Tim Dobbins
,
Jesse Nading
,
Bryant Johnson
,
Ben Tate
,
James Casey
,
Brian Cushing
TEAMS:
Houston Texans
HOUSTON -- Garrett Graham already had his number called, contributing in an expected capacity as the Texans' third-string-turned-backup tight end with a 24-yard catch in the third quarter Sunday at Reliant Stadium. Late in the fourth quarter, Graham experienced the unexpected. Starting outside linebacker Brooks Reed had played way too many snaps in a game that meant little to the Texans, and reserve Bryan Braman had departed prematurely due to a stinger. Graham was drafted as the "next man up" despite not having taken a snap on defense since high school. "I was excited. I didn't know what was going on at first," Texans inside linebacker DeMeco Ryans said while flashing a broad smile. "I was like, OK, we're going to throw him out there at outside linebacker.' He did a good job staying outside. He did his job and we got a caused fumble on there. He's our secret weapon to get us that turnover there at the end." As Ryans noted, the Texans earned the right to tinker with rotations, to rest starters who would have played otherwise and to attempt a two-point conversion with 14 seconds left when an extra point would have sufficed. What were dire straits for the Titans was anything but for the Texans, who lost 23-22 and will lug a three-game skid into the playoffs. Texans coach Gary Kubiak took a glance at the big picture and embraced its beauty. Pro-Bowl selections Arian Foster and Johnathan Joseph were given the afternoon off, and tight end Owen Daniels was inactive with a bothersome knee injury that won't be nearly as debilitating next week. Starters were pulled as the game unfolded, leaving the outcome to be decided by backups. Quarterback T.J. Yates played one series, dinged his non-throwing (left) shoulder, and was relieved. Receiver Andre Johnson returned from a left hamstring injury and played 18-20 snaps before spending the second half on the sideline. The two particulars on the failed two-point conversion - center Thomas Austin and quarterback Jake Delhomme - were not on the roster when the Texans broke camp. "The question I had, I wanted to play Andre 15 plays, so you play Andre 15 plays, Arian 15, we have somebody play in the game, some guys to play in the game," Kubiak said. "Those decisions were made more with J-Joe (Joseph) and Arian from problems that we had in other areas, playing guys in the second half of the game, trying to suit up eight offensive linemen, trying to suit up five wide receivers." It was fitting that even the Texans' depth was compromised by injuries. Rookie tackle Derek Newton, a seventh-round pick out of Arkansas State, replaced right tackle Eric Winston and was subsequently lost to a leg injury. There were some tense moments when Yates, the Texans' third starter under center this season, retreated to the locker room after leading the team on a near-flawless 13-play, 90-yard touchdown drive. Even in the defeat, the Texans took solace in the performance of their reserves. Linebackers Tim Dobbins and Jesse Nading combined to force the turnover that gave the Texans the football at the Tennessee 36 with 1:49 remaining. Delhomme and Bryant Johnson combined on the five-yard scoring play that pulled the Texans to within one with 14 seconds left. Running back Ben Tate and fullback James Casey were exceptional. "It says that we have depth. It says that we have quality players all across the locker room," Foster said. "And I think that's a tribute to this organization and our talent scouting. We have guys that can play." Foster dismissed talk about flagging momentum. By winning seven consecutive games and claiming the AFC South title four weeks ago, the Texans (10-6) positioned themselves to play a game like this. Victory is always the primary objective, but allotting rest for key contributors took precedent against the win-starved Titans (9-7). That decision was prudent in advance of the most significant game in franchise history. The Texans had turned the page on this loss by the time they were asked to discuss it. They have bigger goals in mind, and if playing a third-string tight end at outside linebacker benefited those goals then so be it. "Rest or not I don't think the team is going to have a problem with adrenaline next week," Texans inside linebacker Brian Cushing said. "You know what's at stake. Guys are going to be so intense and so pumped up to play in a playoff game that you're really not going to think about how you feel." Said Foster, who was informed of his inactive status on Sunday: "I know you have to be healthy to play games. Some of our best players were resting. You have to be as healthy as you can going into the playoffs." Follow me on Twitter @moisekapenda
Original Story:
http://www.foxsportshouston.com/01/01...
THE BACKYARD
BEST OF MAXIM
RELATED ARTICLES
The Houston Texans had the AFC South division clinched, so their playoff fate was pretty much sealed. They were penciled in as the #3 seed in the AFC and were hosting a playoff game next week despite the outcome of today's tilt with the Tennessee Titans. Apparently Texans rookie linebacker Bryan Braman didn't get that memo. But hey, when you are an undrafted rookie out...
Ready or not, the Houston Texans are only days away from the franchise's first playoff game. Houston (10-6) was locked into the No. 3 seed in the AFC playoffs before Sunday's finale against Tennessee. The Texans will face the Bengals (9-7), who got into the postseason despite losing to Baltimore in their finale. Last week, Texans players talked about the importance of regaining...
If there's one thing that we can take away from Sunday's Texans-Titans game, it's that Bryan Braman is a mad man. Braman lost his helmet while covering a punt in the first quarter, but the Houston linebacker didn't let it stop him from making a play. Braman continued to pursue Marc Mariani, and he eventually tracked him down. Rather than going low or simply pushing...
HOUSTON -- The Houston Texans didn't need to win, and did not. The Tennessee Titans needed to win, and did. It was the game that smoothly combined the principles of both American football and socialism. It wasn't exactly Utopia -- it wasn't exactly interesting the whole time, even -- but the Titans left the stadium happy and the Texans left it not all that sad, and...
The NFL rescinded the $7,500 fine it had levied against Houston Texans tackle Duane Brown for unnecessary roughness in a 24-14 win over the Jacksonville Jaguars in October, according to the Houston Chronicle.
According to ESPN's Adam Schefter,  Houston Texans quarterback T.J. Yates should be able to play this week against the Bengals in the Wild Card round of the playoffs despite suffering a bruised left Shoulder during Sunday's loss to the Titans. This is good news for the Texans,  since the last thing they would want at this [...]
Don't expect Jake Delhomme to start a playoff game next week. Texans starting quarterback T.J. Yates left Houston's game in the first quarter on Sunday, but the Texans say he could have re-entered the game. It's no surprise, then, that Yates said after the game he would be ready to start next week. Coach Gary…
Head coach Gary Kubiak noted that wide receiver Andre Johnson will be on a snap count in the 45-50 range in Houston's opening round playoff tilt vs. Cincinnati. Fantasy Spin: Johnson is still recovering from his hamstring injury, and Kubiak does not feel that the star receiver is ready to handle a full game yet.
Texans coach Gary Kubiak talked all week about playing to win this week against the Titans. His actions on Sunday morning indicate a different approach. The Texans declared Arian Foster, Owen Daniels, and Johnathan Joseph among others inactive for Sunday's game against Tennessee. None of the above have serious injuries. This is disastrous news for the Jets,…
Texans running back Arian Foster and cornerback Johnathan Joseph, both selected to the Pro Bowl this week, are inactive for Sunday's regular-season finale against Tennessee. Tight end Owen Daniels is also inactive for the Texans (10-5), who are locked into the No. 3 seed for the AFC playoffs, regardless of the outcome of their game.
Over the last two weeks Texans fans have come down harder than an ecstasy fueled rave on the beaches of Ibiza. The serotonin rush has evaporated.  The energy has been sucked out. The sun is up. Nothing looks quite as fantastical. Reality has set in.   We have no quarterback. We've lost to two inferior teams. Our thoroughbred receiver has a bum leg and our defensive mastermind...
Texans News

Delivered to your inbox

You'll also receive Yardbarker's daily Top 10, featuring the best sports stories from around the web. Customize your newsletter to get articles on your favorite sports and teams. And the best part? It's free!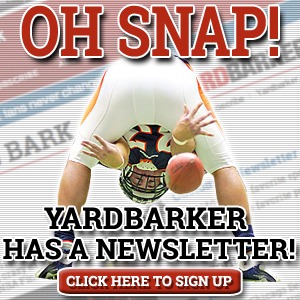 Latest Rumors
The Backyard

Today's Best Stuff

For Bloggers

Join the Yardbarker Network for more promotion, traffic, and money.

Company Info

Help

What is Yardbarker?

Yardbarker is the largest network of sports blogs and pro athlete blogs on the web. This site is the hub of the Yardbarker Network, where our editors and algorithms curate the best sports content from our network and beyond.