Found March 06, 2013 on State of the Texans:
PLAYERS:
Brian Cushing
,
Connor Barwin
,
Brice McCain
,
Glover Quin
,
Shaun Cody
,
Bradie James
,
Quintin Demps
,
Tim Dobbins
,
Alan Ball
,
J.J. Watt
,
Johnathan Joseph
,
Earl Mitchell
,
Antonio Smith
,
Tim Jamison
,
Jared Crick
,
Whitney Mercilus
,
Brooks Reed
,
Bryan Braman
,
Darryl Sharpton
,
Kareem Jackson
,
Brandon Harris
,
Roc Carmichael
,
Danieal Manning
,
Shiloh Keo
,
David Hunter
,
Eddie Pleasant
,
Delano Johnson
,
Cameron Collins
,
Keith Browner
,
Mike Mohamed
TEAMS:
Houston Texans
Brian Cushing The off-season is fast approaching. The draft board and the free agent targets are being set for the Houston Texans. It looks like the consensus feels that the Texans will be headed for offensive help especially with the wide receiver and offensive line. Only time will tell, but the offense seems to be the one side of the ball that needs fewer pieces to upgrade it. If you look at the Texans defense, it needs the most retooling heading into the 2013 season, especially with Connor Barwin, Brice McCain and Glover Quin looking like they will be headed to the open market. The Texans are on the verge of losing five players who see significant playing time, plus Shaun Cody and Bradie James, but all are going to be spots that will be needed to be filled. Also throw in players like Quintin Demps, Tim Dobbins and Alan Ball the defense is going to need to really look at what they need to do to make sure they do not take a step back as a unit. Having the likes of J.J. Watt, Johnathan Joseph and hopefully a healthy Brian Cushing will help, but there is reason for concern for this defense. Take a look at the current depth chart going into the 2013 season.   Nose Tackles: Earl Mitchell, ???? Defensive Ends: J.J. Watt, Antonio Smith, Tim Jamison, Jared Crick Outside Linebackers: Whitney Mercilus, Brooks Reed, Bryan Braman , ???? Inside Linebackers: Brian Cushing, Darryl Sharpton, ????, ????, ???? Cornerbacks: Johnathan Joseph, Kareem Jackson, Brandon Harris, Roc Carmichael, ???? Safeties: Danieal Manning, Shiloh Keo, ????, ????   Spots on the defensive roster but unproven  David Hunter, Defensive End Sonny Harris, Nose Tackle Eddie Pleasant, Safety DeLano Johnson, Outside Linebacker Cameron Collins, Inside Linebacker Keith Browner, Defensive End Mike Mohamed, Inside Linebacker   Looking at the defense there are at least EIGHT roster spots that need to be filled for the 2013 season. As much as fans want to see offensive weapons added, it would not be a surprise if the Texans once again look to fill some big needs in the draft to help the defense. Free agency will bring in some low-grade veterans to help fill the roster, but there are some serious issues with the depth on defense. The Texans front office and General Manager Rick Smith are going to have to make some calculated moves to keep this defense up with the success they have had the past two seasons. Nose tackle, inside linebacker and safety are the biggest needs for the team (not in that order) in 2013 and beyond. Add it the need for another outside linebacker to help Reed and Mercilus with the defensive snaps, the Texans need list is growing as we speak. It is hard to say exactly where the Texans will look to find help on the defensive side of the ball, but finding players that can contribute is the key to keep this defense tops in the league.   You can follow Patrick on Twitter.  He is the Editor of State of the Texans.    
Original Story:
http://www.stateofthetexans.com/?p=10676
THE BACKYARD
BEST OF MAXIM
RELATED ARTICLES
Houston Texans defensive end Antonio Smith was asked on Pro Football Talk on NBC Sports Network how Manti Te'o would be greeted if he were to be drafted by the Houston Texans and Smith said that he would be laughed at. "Our locker room is full of clowns and, oh, man people would kill him. I mean he would be the butt of every joke for at least two, three years," Smith said....
If Manti Te'o intends to enjoy a successful NFL career, he is going to have to carry with him some pretty thick skin. No matter what the former Notre Dame linebacker says or does, he is never going to escape the embarrassment of the fake girlfriend hoax he supposedly fell victim to. Houston Texans defensive end Antonio Smith reminded us of that this week. According to Smith, Te'o...
The Houston Texans cheerleading squad is twice as good these days, and it's because of twins.  Twin beauties Schuyler and Dresdynn Warnell are on Houston Texans Cheerleaders squad and turning heads.  Make sure to keep a look out for them on the sidelines next season, and take a look at the pics below. Check out...
Houston Texans star linebacker Brian Cushing is in the midst of a courageous rehab from ACL surgery and trying to be ready for the Texans opener in September. Cushing has a little free time and he's using that to politic to the NFL and rules committee to ban the chop block that ended his season early in October after Jets lineman Matt Slauson hit Cushing with a chop block that...
NFL superstar Arian Foster is finished with Twitter. In a tweet by the Houston Texans running back, Foster let the world know that their social media access to him is winding down. "Got about a week left on twitter, then I'm shutter her down," Foster tweeted on Monday. But, like all great decisions, the sudden end to Foster's Twitter account came in the wee hours...
Well, somebody had to say it and Antonio Smith tends to be that somebody whenever something needs to be said. Yeah, Manti Te'o is going to get clowned in a NFL locker room. "Our locker room is full of clowns and, oh, man people would kill him," the Houston Texans defensive end told Pro Football Talk. "I mean he would be the butt of every joke for at least two...
The Houston Texans not only have one gorgeous cheerleader with the last name Warnell, but they have two! And they're not only sexy sisters, but twins! Scintillating twins Schuyler and Dresdynn Warnell are on Houston Texans Cheerleaders squad and turning heads.
The Houston Texans running back who's used the social media platform for everything from updating the world on his dietary habits to posting locker room bulletin board material in the form of Dan Shaughnessy columns, is quitting twitter.  Around 4:15 yesterday morning, Foster tweeted the following: It's been fun, twitter! Time for me to leave the digital realm. Be the light...
Manti Te'o is about a month and a half from finding out what team will draft him, more importantly, who's locker room will he frequent on a daily. NFL locker rooms and professional locker rooms can be notorious for jokes, pranks and rookie hazing.  Manti Te'o will most likely absorb a lot of all three of things. Houston Texans defensive end Antonio Smith says his teams lockerroom...
According to Les Bowen of Philly.com, both the Eagles and Texans have reached out to Eric Winston following his release from the Chiefs last night. Word is, the Eagles were one of the first two teams to reach out to Drew Rosenhaus, who represents Winston, and so many other former Miami Hurricanes. The other team to express immediate interest apparently was the Texans, who drafted...
Count the days down, guys: It's a week to go until the 2013 NFL season kicks off. Sort of. Free agency begins on the 12th of March, and the rumor mill is running near to capacity. The latest involving the New England Patriots involves the possible addition on Houston Texans Outside Linebacker Connor Barwin, who has come out with some interesting quotes on SiriusXM Radio.  If...
Texans News

Delivered to your inbox

You'll also receive Yardbarker's daily Top 10, featuring the best sports stories from around the web. Customize your newsletter to get articles on your favorite sports and teams. And the best part? It's free!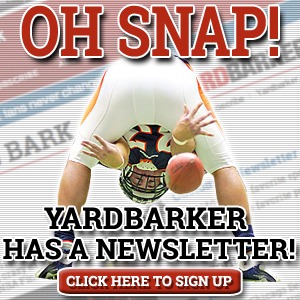 Latest Rumors
Best of Yardbarker

Today's Best Stuff

For Bloggers

Join the Yardbarker Network for more promotion, traffic, and money.

Company Info

Help

What is Yardbarker?

Yardbarker is the largest network of sports blogs and pro athlete blogs on the web. This site is the hub of the Yardbarker Network, where our editors and algorithms curate the best sports content from our network and beyond.