Found October 19, 2012 on State of the Texans:
PLAYERS:
Ray Lewis
,
Terrell Suggs
,
Joe Flacco
,
Ray Rice
,
John Harbaugh
,
Torrey Smith
,
Dennis Pitta
,
Wade Phillips
,
Brooks Reed
,
Connor Barwin
,
Johnathan Joseph
,
Whitney Mercilus
,
Bryan Braman
,
Ed Reed
,
Andre Johnson
,
Keshawn Martin
,
Lestar Jean
,
Bernard Pollard
,
James Casey
,
Owen Daniels
,
Jacoby Jones
,
Jesse Nading
,
Tim Dobbins
TEAMS:
Baltimore Ravens
,
Houston Texans
The 5-1 Baltimore Ravens will roll into Reliant Stadium this Sunday to battle the 5-1 Houston Texans.  These two teams are the only teams with winning records in the entire AFC.  The Ravens lead the all time head to head series 6-0.  As a Texans' fan, this year feels different and may be the first legitimate shot at defeating the Ravens.  On paper, the advantage goes to the Texans, but then again it also appeared that way against the Packers. What was once the strength of the Ravens – their defense – is now their weakness.  The Ravens will be without their best cornerback in Lardarius Webb (torn left ACL) and future Hall of Famer inside linebacker Ray Lewis (torn right tricep).  Even with Webb and Lewis, this Ravens' defense was giving up nearly 400 yards per game and 137 of that to rushing.  Just last week against the Cowboys, the Ravens gave up 481 total yards and a franchise-record 227 yards on the ground. Their best pass rusher, Terrell Suggs, is recovering from a right ACL tear that was incurred during the offseason.  He practiced for the first time this week and will be available for this game, but to what extent is the question.  "There's no plan in place," the five-time Pro-Bowl linebacker said.  "I've got to take it day by day.  Come Sunday I may or may not be out there," said Suggs. The Ravens' offense on the other hand is carrying the load averaging 385 yards per game (second in AFC).  Quarterback Joe Flacco may be the offensive team leader but running back Ray Rice is their biggest weapon.  Rice is averaging 5 yards per carry (97 for 482) and has 5 rushing touchdowns.  Rice makes this offense go because he is an all-around back that can rush or catch the ball (team's 3rd leading receiver).  He accounts for 30 percent of Baltimore's offense.  Look for the Ravens to spread the ball around but also get Rice his 20+ touches. "There have been many, many times where we've won because our defense has carried a heavy, heavy burden over the years," Ravens coach John Harbaugh said.  "For our offense to carry some of that burden, is a great thing."   Texans to Watch:  Defense These two teams are built very similar on offense.  However, this year's Ravens' offense has put more effort into throwing the ball than in the past.  The Ravens have used three-plus wide receiver formations on 43.4% of their plays this season, up from 29.8% last season.  They are even executing alot of their plays from a hurry up offense package.  Wide receiver Torrey Smith is their most dangerous deep threat, while long time veteran Anquan Boldin is their possession guy.  The Ravens also have a very solid pass catching tight end in Dennis Pitta. Knowing what we know about Wade Phillips' defensive scheme, we can expect alot of man to man coverage when the Ravens go to 3+ wide outs.  The Bulls On Parade will play mostly in their nickel package and this will put Bradie James on the field as the lone inside linebacker.  James will need to watch Ray Rice out of the backfield, but the bigger concern is pressuring Flacco.  The outside linebackers Brooks Reed and Connor Barwin – this week's Texans to Watch on Defense - must play big and keep pressure on Flacco in order for the man to man coverage to work.  If they don't, fans can expect a similar Packers outcome.  Flacco will pick the Texans' secondary apart, especially if Johnathan Joseph's groin injury is an issue. Furthermore, it may be time to get first round pick Whitney Mercilus and high motor Bryan Braman into the pass rush rotation to change the look and create a spark. Texans to Watch:  Offense The Texans' offense will once again look to run the ball early and often with Foster and Tate.  With the Ravens giving up huge numbers on the ground, it should give Kubiak confidence to run the ball.  Last week, the Packers defensive line backed off the line of scrimmage, which kept the Texans' offensive line from being able to get to their blocks.  It is a technique used against the zone blocking scheme, however, it does not allow for a quick rush to the quarterback. This is a copy cat league, so look for the Ravens to implement something similar to what the Packers did to gain an edge.  The real time pictures will reveal this strategy and Kubiak will need to make adjustments.  Let's just hope they have made the adjustments in practice this week to combat any Ravens efforts. Free safety and future Hall of Famer Ed Reed has a torn labrum in his shoulder, and that injury may be negatively affecting his play.  Against the Cowboys, Reed shied away from physical contact, however, he down played the injury after practice Thursday.  "The injury is not anything to worry about.  I can still tackle."  Reed is still a ball hawk so Schaub will need to know where he is at all times. With the Ravens' top cornerback out this week, the entire Texans' receiving group are our Texans to Watch on Offense.  Who and how will the Ravens cover Andre Johnson?  Will Keshawn Martin and Lestar Jean be able to beat the Ravens secondary?  Former Texan Bernard Pollard is a coverage liability – surely Kubiak will try to create a match up with James Casey or Owen Daniels on Pollard or the Ravens' linebackers. If by chance the Ravens can stop the Texans' running game, Schaub and Kubiak will need to respond better in the passing game than they did against the Packers.  If the Texans cannot run the ball, then the play action pass does not work – as we witnessed last week.   Texans to Watch:  Special Teams Last week, former Texan Jacoby Jones returned a kickoff for 108 yards versus the Cowboys.  The key this week is – will Bryan Braman, Jesse Nading and Tim Dobbins, the Texans top special teams playmakers, be able to contain Jacoby Jones?  Jones will be amped up and ready to prove the Texans wrong.  You can rest assure if he returns a kick off or punt for a touchdown, the Reliant crowd will be upset.  And, will Keshawn Martin make us forget about Trindon Holliday (and Jacoby Jones)?  A big play from Martin in the return game will go a long way to build his confidence, as well as that of the coaches and fans. For most Texans' fans, this meeting is a revenge game for knocking our beloved Texans out of their first ever playoff trip – and for 10+ years of dominating the Texans.  But, for the Texans players, this appears to be just another stepping stone to the ultimate goal.  When asked if this game was a revenge game, Andre Johnson said, "I wouldn't say it's a revenge game.  Our biggest thing is just going out, winning and trying to go 6-1." After last week's debacle versus the Packers, the Texans better be ready to get back on the field to reclaim their status as the best in the AFC.  This Sunday is their chance.  
Original Story:
http://www.stateofthetexans.com/?p=8655
THE BACKYARD
BEST OF MAXIM
RELATED ARTICLES
According to the Houston Texans, rookie defensive end David Hunter will be out for the season with a torn ligament in his foot.  Hunter was called up this week from the practice squad to take the place of recently injured Tim Jamison (achilles) who was also lost for the season. Hunter has said the injury will keep him sidelined close to three months.  No decision has been made...
According to ESPN's Adam Schefter, Baltimore Ravens linebacker Terrell Suggs expects to play in this week's game against the Texans."Sources said that even Suggs' family and friends have plans to travel to Houston in anticipation of watching him stage one of the quickest returns from this type of significant injury by any athlete," Schefter wrote."Yes, that's still...
Most said he wouldn't play this season, but Terrell Suggs is out prove to them wrong. The Baltimore Ravens activated him today, so he's now officially on the roster, and could possibly play Sunday against the Houston Texans. The team however, is mum about his availability. Suggs, the reigning NFL Defensive Player of the Year, has missed the first six games of the season...
The Ravens do not have an elite QB in Joe Flacco.  I've been saying that for the last few season about Flacco.  However, this season he is starting to show that he can be a solid QB.  He's far from elite but I'll give him credit, he is producing.  Let's see if he can continue it into the post season. Before the season started I predicted each teams record, the...
Prior to this past week, the Baltimore Ravens were one of the more healthier teams in football, but that luck ran out last Sunday as the Ravens lost CB Lardarius Webb and LB Ray Lewis to season ending injuries. Baltimore's injury report yesterday had some names on it that have not been there all season. First we will begin with yesterday's injury report:   Did not...
During an interview with 105.7 FM in Baltimore, Ravens safety Ed Reed revealed that he's been playing with a labrum tear in his shoulder.Reed than admitted that the torn labrum might be affecting how he's been playing.This might be the most banged up the Ravens defense has ever been.  They've already lost Ladarius Webb for the season and Ray Lewis will likely be out for the...
Baltimore linebacker Terrell Suggs (Achilles) is fresh off an activation from the PUP list and he's already expecting to play Sunday against Houston, according to Adam Schefter of ESPN. If there are no setbacks this week, Suggs should play Sunday; his family and friends are planning on making the trip to Houston to watch him, Schefter said.Fantasy Spin:The Ravens desperately...
FLOWERY BRANCH, Ga. For 12 years Mike Smith toiled in a place that would seem to embody the NFL coaching wilderness: Cookeville, Tenn., and Tennessee Tech, first as an assistant and, eventually, defensive coordinator. But, in a way, that period ended up underscoring the saying by Seneca, the ancient Roman philosopher and politician (a saying that Smith, whose parents were teachers...
It seems every year there are a handful of teams that get bitten by the injury bug. Among the victims in 2012 is the Baltimore Ravens, who've lost three key cogs in their defense: cornerback Lardarius Webb and linebackers Terrell Suggs and Ray Lewis. If that's not bad enough, there's a chance Ed Reed could be next. In a radio interview Wednesday (via the Baltimore Sun), the...
Patrick Smith / Getty Images Follow @Dan Vasta and like Gridiron Grit on Facebook  The Baltimore Ravens are on the verge of getting the return of last year's MVP in Terrell Suggs. While he will not be playing this weekend, we may seem in the immediate future. Thank goodness because the losses of Ray Lewis (triceps) and Ladarius Webb (ACL) were true stars for this defense, but...
NFL News

Delivered to your inbox

You'll also receive Yardbarker's daily Top 10, featuring the best sports stories from around the web. Customize your newsletter to get articles on your favorite sports and teams. And the best part? It's free!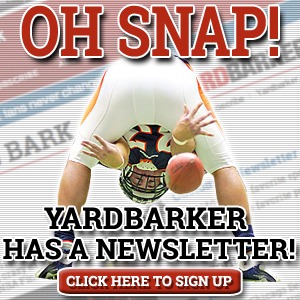 Latest Rumors
The Backyard

Today's Best Stuff

For Bloggers

Join the Yardbarker Network for more promotion, traffic, and money.

Company Info

Help

What is Yardbarker?

Yardbarker is the largest network of sports blogs and pro athlete blogs on the web. This site is the hub of the Yardbarker Network, where our editors and algorithms curate the best sports content from our network and beyond.