Found August 16, 2012 on State of the Texans:
PLAYERS:
Jim Harbaugh
,
Shaun Cody
,
J.J. Watt
,
Trindon Holliday
,
Case Keenum
,
Gary Kubiak
,
Wade Phillips
,
Hebron Fangupo
,
Jared Crick
,
Andre Johnson
,
Matt Schaub
,
Arian Foster
,
Brian Cushing
,
Bradie James
TEAMS:
Houston Texans
,
San Francisco 49ers
,
Carolina Panthers
,
Minnesota Vikings
,
Pittsburgh Steelers
The San Francisco 49ers are coming to Reliant on Saturday and the Houston Texans will get a good test in their second preseason contest. With the starters headed for more work this game (around half of the football game), the Texans will have a real test with one of the NFC favorites to make it to the Super Bowl.
Whispers around camp were pointing out that the Texans are expecting Head Coach Jim Harbaugh to treat this more than a preseason game, especially after last year's embarrassment by the score of 30-7 . The Texans will pull the reigns off the offense, showing a little more than last week, but not opening the complete playbook. Also, expect some questions to be answered on the defensive line with Shaun Cody and J.J. Watt both out for the game.
The veterans will get most of the work with the time for the young players to be very limited.  Let's take a look at the players to watch for Saturday's game.
SOTT Players to Watch
Trindon Holliday (#16, Returner/Wide Receiver)
If there is any bigger "hot button" for the Texans fan base, look no further than the speedy returner who opened some eyes against the Carolina Panthers with his impressive 90 yard kickoff return for a touchdown. Having 182 total return yards (159 kickoff/23 punt) against Carolina, he will have to do something big again this week. He will also need to prove he can do more than just return kicks and he needs to be included in the wide receiver discussion. With all the question marks surrounding Holliday, he will get his second shot at impressing the coaching staff and making a case to get on the final roster of 53.
Case Keenum (#7, Quarterback)
We know we will see him making his debut at Reliant in front of his hometown crowd, and he will get a good amount of work in the second half. Keenum better make the most of this opportunity because there is a high chance that he will not get another snap until the 4th preseason game against the Minnesota Vikings.  There is plenty of speculation that Keenum has a shot at the final roster, but he has to prove he belongs on the NFL stage. Head Coach Gary Kubiak is eager to see what Keenum can do and where his real place on this team is, and his learning curve continues this Saturday.
"Sunny" Harris #91
Ra'Shon "Sunny" Harris (#91, Defensive Lineman)
Not seen in the preseason opener due to an injury, Harris has been a pleasant surprise early in camp. Harris has been active and disruptive against the Texans offense in team sessions at practice, and look for the same type of player this weekend. Harris is 6-5 301 lbs. and has played some nose tackle for the defense.  Despite his long frame, he is drawing comparisons to a former player for Wade Phillips, Jay Ratliff (Cowboys, NT). Built almost identical, both are asked to be disruptive and fast at the point of attack. Well received from his teammates, Harris is possibly the real sleeper of the Texans roster and has a realistic shot to be suited up for the Texans in week 1.
Hebron Fangupo (#73, Nose Tackle)
"Loni" Fangupo didn't have a chance to showcase what he could do against the Panthers because of the pass mentality in the 4th quarter which forced him to be a pass rusher. He did, in his small amount of time, run down a running back on a screen pass and record a fumble recovery. His best asset is not to be a run stuffing plugger eating up offensive lineman, but to cover up the inside linebackers, and when he gets in he will get his chance. Fangupo has still an uphill trek to get more playing time but with his "plus" plays and good work in practice he will get some work.
Jared Crick (#93, Defensive End)
Crick has been out for over a week recovering with a neck issue.  He returned to the field on Monday and got back to work. He has gotten plenty of work trying to get him back into playing shape and to catch up with time he has missed. Expect an extended look at Crick on Saturday so the defensive staff can get a good look of him on film. Coming out of Nebraska into the draft, he was considered a question mark with his injury issues and, now ready to go, expect Crick to try and prove his doubters wrong.
Jared Crick #93 and Loni Fangupo #73
DeVier Posey (#11, Wide Receiver)
Only targeted one time last week, Posey looks to be behind the curve when it comes to the wide receiver competition. It comes with opportunities and with Andre Johnson returning with some limited snaps, they will be taken away from other receivers. Posey will have to make the most of his time, but seeing him catch just one pass might make him lose the tightness he showed in his first game. The player we see in practice is not the player we saw in his first game with the Texans, and we know he can look better than what he showed. Posey has talent and a strong work ethic
 Matt Schaub (#8, Quarterback)
It will be extended time for Schaub on the field and seeing him against a defense as stout as the San Francisco 49ers will be good to see how he will hold up against possibly the top defense in the NFL. We all want to know if he is completely healthy and ready for the 2012 season, but early indications show that he is. This will be the first time in some time that  Arian Foster, Johnson and Schaub  will be on the field at the same time since week 4 against the Pittsburgh Steelers. With new weapons on offense and some familiar faces, it will be good to see Schaub back at the controls for the Texans' offense.
Brian Cushing (#56, Linebacker)
This one is simple.  The leader of the defense is back after coming down with a virus that landed him in the hospital. We are looking forward to seeing him back in action and most of all developing the on-field relationship with fellow linebacker Bradie James. 
* Obviously the right side of the offensive line and a second helping of the wide receivers should be on the list, but everyone knows that. 
Who do you want to see?
You can follow Patrick on 
Twitter
.  He is the Editor of State of the Texans and is a draft analyst on 
Sideline Scouting
.
Original Story:
http://www.stateofthetexans.com/?p=6798
THE BACKYARD
BEST OF MAXIM
RELATED ARTICLES
Second year safety from the Houston Texans, Shiloh Keo took some time out to talk to us after the first week of training camp. He talked to us about his off-season and how he takes nothing for granted despite being on the 2011 team. Take a listen to what else Keo had to say.       You can follow Patrick on Twitter.  He is the Editor of State of the Texans and is a draft analyst...
Back again with my Houston Texans week 2 preview. The Texans take on the San Fransisco 49ers on Saturday night in their week 2 preseason matchup. Head Coach Gary Kubiak said "it will be a good test for us." And he's right. After trouncing a Panthers squad with high hopes for the upcoming season, a team they lost to last season while new Defensive Coordinator Wade Phillips...
At the beginning of the week, word came out of Reliant that the Houston Texans were in talks to resign their starting left tackle, Duane Brown. The rumors became truth today when Brown and the Texans agreed on a new deal.     Duane Brown signed 6-year $53.4 million extension. $22.08 guananteed. $8.9 million average. — John McClain (@McClain_on_NFL) August 16, 2012   The new...
Following the conclusion of the final double session for the Houston Texans, former Pro Bowl wide receiver Andre Johnson appeared on ESPN's First Take via call in from the Texans practice facility. For those able to stomach Skip Bayless and Stephen A. Smith for a couple minutes were treated to a nice interview where the star receiver addressed his team's expectations, his recent...
Alex Smith and Jim Harbaugh have an excellent relationship that has flourished over the past 15 months since Harbaugh took the reigns of the 49ers. The former NFL quarterback and Stanford head coach admired Smith's football intelligence and the way in which he persevered through six difficult seasons. It would not surprise many readers to know that Harbaugh has been gushing over...
According to Comcast Sports Bay Area, 49ers offensive coordinator Greg Roman remarked that wide receiver Michael Crabtree has never looked as fast as he has during this year's training camp.Fantasy Spin:Crabtree is tentatively slotted ahead of Mario Manningham and Randy Moss on San Francisco's receiving depth chart. Crabtree will need to continue to impress his offensive...
According to ESPN's NFC West reporter Mike Sando, 49ers running back Kendall Hunter "has enjoyed a tremendous camp."Fantasy Spin:The 49ers' backfield is crowded, with incumbent starter Frank Gore, free agent signee Brandon Jacobs and rookie LaMichael James on board along with Hunter. Gore may not be on the field enough to even justify his current price tag as an...
AP Photo According to John McClain of the Houston Chronicle, the Texans have signed left tackle Duane Brown to a six-year $53.4 million extension with $22.08 guaranteed. Congratulations to the Texans for getting this deal done, we knew Brown was their top priority since his contract was set to expire after this season. Some other upcoming free agents the Texans will need to focus...
AP Photo According to Dan Arkush of ProFootballWeekly.com, San Francisco 49ers defensive end Justin Smith is looking better than ever this season. "Memo to all the opposing offensive linemen unlucky enough to be facing the 49ers' formidable defensive front this coming season: DT Justin Smith, the line's relentless anchor and undeniable tone setter, is looking nastier than ever...
AP Photo San Francisco 49ers offensive coordinator Greg Roman believes wide receiver Michael Crabtree is faster than he was last season. "He was playing last year on a bad wheel and battled his way through it," Roman said. "I think he's a lot healthier this year, and he certainly appears to be much quicker and faster. Another year under his belt from an experience standpoint...
The 49ers look to be a team on the verge of greatness with hard-nosed Jim Harbaugh as head coach, and Pete Carroll seems to be slowly building a team that can threaten for the playoffs in Seattle. Both teams are built around tough opportunistic defenses with a strong running game. In St Louis , first year coach Jeff Fisher will also rely heavily on the ground game to keep Sam Bradford...
NFL News

Delivered to your inbox

You'll also receive Yardbarker's daily Top 10, featuring the best sports stories from around the web. Customize your newsletter to get articles on your favorite sports and teams. And the best part? It's free!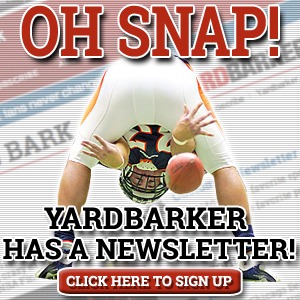 Latest Rumors
Best of Yardbarker

Today's Best Stuff

For Bloggers

Join the Yardbarker Network for more promotion, traffic, and money.

Company Info

Help

What is Yardbarker?

Yardbarker is the largest network of sports blogs and pro athlete blogs on the web. This site is the hub of the Yardbarker Network, where our editors and algorithms curate the best sports content from our network and beyond.