Found August 04, 2013 on State of the Texans:
PLAYERS:
Darryl Sharpton
,
Joe Mays
,
Garrett Graham
,
DeAndre Hopkins
,
Johnathan Joseph
,
Kareem Jackson
,
Randy Bullock
,
Brooks Reed
,
Owen Daniels
,
J.J. Watt
,
Brice McCain
,
T.J. Yates
,
Brian Cushing
,
Sam Montgomery
,
Trevardo Williams
,
Bryan Braman
,
Whitney Mercilus
,
Justin Tuggle
,
Willie Jefferson
,
Antonio Smith
,
Shiloh Keo
TEAMS:
Houston Texans
,
Minnesota Vikings
After a short break for the Houston Texans, they have started preparing for a trip for their first preseason game against the Minnesota Vikings. The day started out in shells and after some contact, they stripped their pads with the Texas heat creeping in.   Camp Notes - The camp day was highlighted with the return of inside linebacker Darryl Sharpton who was activated off of the Non-Football injury list. Sharpton showed up to camp with a groin injury that popped up prior to the first practice and his absence led to the signing of Joe Mays. Sharpton played like this was a playoff game when the first horn opened practice, but this should not be a surprise because he has "officially" been put on notice by the Texans. Sharpton has not been able to stay healthy and this year has not started the best for him trying to win the starting linebacker spot. - Tight end Garrett Graham was impressive today and made some great catches: one sliding, snagging a high pass and some down the seam. He was a good pass catcher last season, but it looks like the has taken a concentrated effort to really work on his hands. He used showed off his soft hands by catching the ball away from his body and looks good as the second tight end of the offense. Graham also is starting to understand the run game in terms of blocking. - DeAndre Hopkins is still proving that the Texans made the right pick in the 1st round. Hopkins is making some big time catches against the likes of Johnathan Joseph and Kareem Jackson. There has been talk that Joseph and Jackson might have lost a step, but that is not the case. The catches that Hopkins is making is with Joseph and Jackson draped all over him in coverage, it the fact that Hopkins is making better catches. It is hard not to get excited to see him against other competition, but he is doing it at a high level against two of the best corners in the league. - Kicker Randy Bullock showed some leg strength today and looked solid when he was asked to kick field goals. He has a strong leg and he put some good strength into kicks making them with ease. Bullock has all you want as a NFL kicker, he will just have to put it together. - The defense suffered a scare when Brooks Reed went out with a knee issue that initially did not look good. They final report is that Reed "banged" knees with Owen Daniels and the Texans used caution not to push Reed too much. He finished practice as a spectator and a big bag of ice on his knee. J.J. Watt - J.J. Watt will return to wearing his famous arm brace from last season on his left arm. Watt worked in individual drills but was held out of contact drills to rest his sore arm. The issue actually occurred last Thursday after a team drill he took himself out after a play he made. He did not return on Thursday and sat out on Friday with some key veterans. This is the first time Watt has missed any stretch of time of practice, but it doesn't look like that big of issue moving forward. - Brice McCain is slowly looking like his old self and today he had a nice interception on a pass against T.J. Yates. McCain got over the top of the route and picked it off in stride, then he decided to take it to turn it into a big return weaving in and out of players. McCain is a key piece of the defense and having him back at 100% will be another upgrade to the defense. - Brian Cushing had his first team work of training camp and there is still some tentativeness from him on the field. Even the offensive players are trying to protect him from knocking him around too much, but as is went on he looked to get into the flow of it. The team is still easing Cushing back into the scheme of things, but they are doing it right, especially in getting his confidence back of what he can do. - Rookie outside linebacker Sam Montgomery went through his group drills and this is this is his first action since day one of training camp. He really did not push it, but it was good to see him out on the field again. Trevardo Williams - Trevardo Williams and Bryan Braman have been disappointments on defense since the start of camp. Both have been outmatched by the offensive line and been non factors in the pass rush. It will be interesting to see exactly what happens with the two, but both have had opportunities to take some key snaps with Whitney Mercilus out with a hamstring issue. If anything they have left the door open for Justin Tuggle and Willie Jefferson to make the positive impressions at outside linebacker which they have. - The Texans pass rush looked good today with Antonio Smith, Shiloh Keo and Tim Jamsion providing some good looks against the offense. All three would have had quarterback sacks today, and this a good sight for a team that had no real consistent pass rush beside Watt in 2012.   You can follow Patrick on Twitter.  He is the Editor of State of the Texans.  
Original Story:
http://www.stateofthetexans.com/texan...
THE BACKYARD
BEST OF MAXIM
RELATED ARTICLES
The first official week is over for the Houston Texans 2013 training camp and there has been plenty of work put in by the team. With some time off before the Texans gets back to work on Sunday, there has been a group of players that seem to have taken a good step to stand out from the group. Veterans on the team will not be on this list because there is a good idea on what they will...
Houston Texans defensive end J.J. Watt is once again dealing with an elbow issue that is limiting his practice time and forcing him into a brace. On Thursday,Watt began to experience soreness in his left elbow that was originally injured during the Texans 2012 training camp. Please click here to read this story. The post J.J. Watt back in elbow brace,limited in practice appeared...
J.J. Watt suffered another setback this week, though this time, it's minor. The Texans' defensive end was limited in practice Sunday due to left elbow soreness returning early in the week. Watt was sporting a brace, and says he would continue wearing it the rest of the season as a precaution. "Cosmetically, I'm just not a huge fan of the way it looks," Watt...
If there is one thing that Houston Texans don't want to hear its that J.J. Watt–the star of the defense and defending Defensive Player of the Year–is hurt. Well, sorry to tell you this Houston fans, but he is. It's that pesky elbow again. However, much like last season it doesn't appear to be anything serious. In Sunday's practice Watt was limited. As it turns out, 
Texans head coach Gary Kubiak told reporters last week that he expected Arian Foster to practice on Sunday.   Well Sunday is here and Foster is still on the sidelines. Foster sat out with sore back. "Expected him out there today but it didn't happen." Kubiak #Texans. — Houston Texans (@HoustonTexans) August 4, 2013 Foster was nursing a calf injury.  Now he's...
The Houston Texans have taken one step closer to the preseason kickoff against the Minnesota Vikings. There are two more practices before they board the flight and then the season will finally kick off for all of the fans to see.     Camp Notes - The offense looked sluggish today against the defense. With a couple of drops from Andre Johnson and misfires from Matt Schaub to...
Andre Johnson had the best year of his career last season. But at 32, Johnson knows his window for winning a championship is closing, and he is determined to do even more this season to help the Houston Texans accomplish their goal of reaching the Super Bowl. ''I think we have a great shot at doing it, but the main thing is we have to go out and do what we have to do to...
Houston Texans rookie defensive tackle Chris Jones talks to us about camp life, Bowling Green State University and more.         You can follow Patrick on Twitter.  He is the Editor of State of the Texans.              
The Houston Texans have some interesting items at the Football Hall of Fame. Texans' stars J.J. Watt, Matt Schaub and Andre Johnson both have items from some impressive seasons they have put together.   Schaub's 500 Yard Passing Game (14th Time in NFL history vs. Jags (527 yards)  Story Here                                         Johnson's 10 catches...
Texans safety Ed Reed told Deion Sanders that he'es 75-80 percent healthy right now and couldn't play in a game, unless it was the Super Bowl. Ed Reed told Deion Sanders that he's 75-80 percent. Wouldn't play if today was the opener. If the Super Bowl was today, "I'd play" — Ian Rapoport (@RapSheet) August 5, 2013 Of course Reed would force himself to...
Jay Foreman talks to linebacker coach Reggie Herring about Brian Cushing, Joe Mays and the surprises of the younger outside linebacker.       You can follow Patrick on Twitter.  He is the Editor of State of the Texans.   You can follow Jay Foreman on Twitter.  He is an 8 year NFL veteran and original Houston Texan.
Folks--I have to apologize to you. After the last dance video these lovely put out I told myself I would look the next Friday for another one in case Freestyle Friday was going to be a regular feature for them. Why? Why not would be the better question. eschipul/Flickr Back me up here guys--can we ever get too much of cheerleaders getting their dance on? I don't...
NFL News

Delivered to your inbox

You'll also receive Yardbarker's daily Top 10, featuring the best sports stories from around the web. Customize your newsletter to get articles on your favorite sports and teams. And the best part? It's free!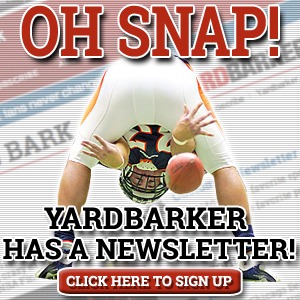 Latest Rumors
Best of Yardbarker

Today's Best Stuff

For Bloggers

Join the Yardbarker Network for more promotion, traffic, and money.

Company Info

Help

What is Yardbarker?

Yardbarker is the largest network of sports blogs and pro athlete blogs on the web. This site is the hub of the Yardbarker Network, where our editors and algorithms curate the best sports content from our network and beyond.