I was bored, ok?   1. Cardinals RB Alfonso Smith asked this: Can u get a ticket for driving sleepy??! — Alfonso Smith  (@FonzoRB29) June 13, 2011   Like is that considered under the influence — Alfonso Smith  (@FonzoRB29) June 13, 2011 No, Alfonso. It's not.    2. Not an athlete, but remember when Dan Gilbert tweeted this: Congrats to Mark C.&entire Mavs org. Mavs NEVER stopped & now entire franchise gets rings. Old Lesson for all:There are NO SHORTCUTS. NONE. — Dan Gilbert (@cavsdan) June 13, 2011 Dan is quieter on Twitter these days.   3. Panther DE Eric Norwood: Retweet if u was on reduced or free lunch!! — Eric Norwood (@ENorwood40) June 12, 2011   4. Alfonso Smith again. This time with words of encouragement for Lebron: They hated on #Jesus too! @kingjamesremember that! — Alfonso Smith  (@FonzoRB29) June 10, 2011 Nice guy.   5. Charlie Villanueva asked this: Does anyone have the answer to this, why do mosquito always bit on the ankle? — Charlie Villanueva (@CV31) June 7, 2011 I hate when they do that.   6. CB Leigh Bodden considered his options: Jail might not be that bad — Leigh Bodden (@LeighBodden) June 7, 2011 I wonder if Leigh consulted Ray Carruth.   7. Shawn Merriman cried during a massage: Anyone else like massages that make you drop a tear? I'm getting one now feel like I'm apart of #teambringit lol — Shawne Merriman (@shawnemerriman) June 2, 2011 Please don't beat me up Shawn.   8. Darnell Dockett became a proud father: Yooooo I just met my son Girl friend in school her name is CRYSTAL. Damn my son has taste she's beautiful whoop whoop #prouddaddymoment — DARNELL DOCKETT (@ddockett) May 31, 2011   9. Glenn Dorsey went through some rough times: Sometimes needing a hug is a understatement … — Glenn Dorsey (@GlennDorsey72) May 30, 2011 Glen plays for the Chiefs. He still needs that hug.   10. Ozzie Guillen got pissed at the Chicago Media: I have the enterviu on tape I whish I can sue then thas a very low blow — Ozzie Guillen (@OzzieGuillen) May 30, 2011   11. Dez Bryant only threw to himself in Madden: Just killed kaylo in madden… yfrog.com/hs6r4wdj — Dez Bryant (@DezBryant) May 23, 2011   12. Another interesting thought from Eric Norwood: Would yall wife Oprah up? — Eric Norwood (@ENorwood40) May 19, 2011 Would you?   13. Daequan Cook came out as a Belieber: I just finished watching "Never Say Never" Justin Beiber movie it was really good can't lie that young man got skills off to bed now…Night — DaequanCook (@DC4Three) May 19, 2011 Have you heard that freestyle? Dude's got some skills.
Original Story:
http://lockersplash.com/?p=275
MORE FROM YARDBARKER
NFL News

Delivered to your inbox

You'll also receive Yardbarker's daily Top 10, featuring the best sports stories from around the web. Customize your newsletter to get articles on your favorite sports and teams. And the best part? It's free!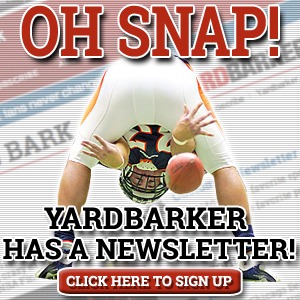 Latest Rumors
Best of Yardbarker

Today's Best Stuff

For Bloggers

Join the Yardbarker Network for more promotion, traffic, and money.

Company Info

Help

What is Yardbarker?

Yardbarker is the largest network of sports blogs and pro athlete blogs on the web. This site is the hub of the Yardbarker Network, where our editors and algorithms curate the best sports content from our network and beyond.