Found March 02, 2013 on Funny Athlete Tweets:
PLAYERS:
Alfonso Smith
,
Dan Gilbert
,
Charlie Villanueva
,
Leigh Bodden
,
Shawne Merriman
,
Darnell Dockett
,
Glenn Dorsey
,
Ozzie Guillen
TEAMS:
Cleveland Cavaliers
,
Detroit Pistons
,
New England Patriots
,
Buffalo Bills
,
Arizona Cardinals
,
Kansas City Chiefs
I was bored, ok?   1. Cardinals RB Alfonso Smith asked this: Can u get a ticket for driving sleepy??! — Alfonso Smith  (@FonzoRB29) June 13, 2011   Like is that considered under the influence — Alfonso Smith  (@FonzoRB29) June 13, 2011 No, Alfonso. It's not.    2. Not an athlete, but remember when Dan Gilbert tweeted this: Congrats to Mark C.&entire Mavs org. Mavs NEVER stopped & now entire franchise gets rings. Old Lesson for all:There are NO SHORTCUTS. NONE. — Dan Gilbert (@cavsdan) June 13, 2011 Dan is quieter on Twitter these days.   3. Panther DE Eric Norwood: Retweet if u was on reduced or free lunch!! — Eric Norwood (@ENorwood40) June 12, 2011   4. Alfonso Smith again. This time with words of encouragement for Lebron: They hated on #Jesus too! @kingjamesremember that! — Alfonso Smith  (@FonzoRB29) June 10, 2011 Nice guy.   5. Charlie Villanueva asked this: Does anyone have the answer to this, why do mosquito always bit on the ankle? — Charlie Villanueva (@CV31) June 7, 2011 I hate when they do that.   6. CB Leigh Bodden considered his options: Jail might not be that bad — Leigh Bodden (@LeighBodden) June 7, 2011 I wonder if Leigh consulted Ray Carruth.   7. Shawn Merriman cried during a massage: Anyone else like massages that make you drop a tear? I'm getting one now feel like I'm apart of #teambringit lol — Shawne Merriman (@shawnemerriman) June 2, 2011 Please don't beat me up Shawn.   8. Darnell Dockett became a proud father: Yooooo I just met my son Girl friend in school her name is CRYSTAL. Damn my son has taste she's beautiful whoop whoop #prouddaddymoment — DARNELL DOCKETT (@ddockett) May 31, 2011   9. Glenn Dorsey went through some rough times: Sometimes needing a hug is a understatement … — Glenn Dorsey (@GlennDorsey72) May 30, 2011 Glen plays for the Chiefs. He still needs that hug.   10. Ozzie Guillen got pissed at the Chicago Media: I have the enterviu on tape I whish I can sue then thas a very low blow — Ozzie Guillen (@OzzieGuillen) May 30, 2011   11. Dez Bryant only threw to himself in Madden: Just killed kaylo in madden… yfrog.com/hs6r4wdj — Dez Bryant (@DezBryant) May 23, 2011   12. Another interesting thought from Eric Norwood: Would yall wife Oprah up? — Eric Norwood (@ENorwood40) May 19, 2011 Would you?   13. Daequan Cook came out as a Belieber: I just finished watching "Never Say Never" Justin Beiber movie it was really good can't lie that young man got skills off to bed now…Night — DaequanCook (@DC4Three) May 19, 2011 Have you heard that freestyle? Dude's got some skills.
Original Story:
http://lockersplash.com/?p=275
THE BACKYARD
BEST OF MAXIM
RELATED ARTICLES
According to Chris Wesseling of NFL.com, the Arizona Cardinals did some house cleaning releasing linebacker Stewart Bradley and cornerback William Gay. Stewart was scheduled to make $5 million in 2013, but he never lived up to expectations after coming over from Philadelphia. Bradley struggled in the 3-4 defense and the Cardinals want to move in another direction. Gay came over...
The Cardinals released linebacker Stewart Bradley and cornerback William Gay on Friday, saving the club an estimated 5.5 million in cap space, with the club still hoping to restructure deals for quarterback Kevin Kolb and, possibly, safety Kerry Rhodes. Aside from the fact that the cuts put the team under the new salary cap that was set at 123 million on Thursday, neither move came...
According to Aditi Kinkhabwala of the NFL Network, the Arizona Cardinals have released linebacker Stewart Bradley. The Cardinals gave LB Stewart Bradley a 5-year, $30-mil deal in 2011. Just told that today, they released him. — Aditi Kinkhabwala (@AKinkhabwala) March 1, 2013 Releasing Bradley will now get the Cardinals under the cap since he had a $6 million cap number.   Need...
The Arizona Cardinals have cleared salary cap room by releasing linebacker Stewart Bradley and cornerback William Gay. Bradley was signed to a five-year, $30 million contract in 2011 but never became the starting inside linebacker the Cardinals envisioned. Bradley had 15 tackles in 16 games last season, six of them on special teams. A year ago, Gay signed a two-year, $4.95 million...
Adiki Kinkhabwala of the NFL Network reports that the Arizona Cardinals have parted ways with LB Stewart Bradley. Bradley, 29, landed in Arizona back in 2011 when he agreed to a five-year deal worth $25 million. He had a base salary of $5 million coming his way this season. Releasing him will free up $3.5 million for the Cardinals to use this offseason. Bradley dealt with concussion...
Four games into the 2012 season, Arizona was undefeated and Kevin Kolb looked like he might be turning into the quarterback the Cardinals hoped he would be when acquiring him from Philadelphia. But a loss to St. Louis in week five and an injury to Kolb during a defeat against Buffalo turned the tide on the season and the Cardinals never recovered, losing 11 of 12 and finishing in...
Former Pittsburgh Steelers cornerback William Gay signed a two-year contract last offseason with the Arizona Cardinals during the free agency signing period. He won't, however, see the second year of that deal as he was released on Friday as the Cardinals attempt to get under the salary cap. Gay, who was an unrestricted free agent last offseason, was rumored to have turned...
NFL News

Delivered to your inbox

You'll also receive Yardbarker's daily Top 10, featuring the best sports stories from around the web. Customize your newsletter to get articles on your favorite sports and teams. And the best part? It's free!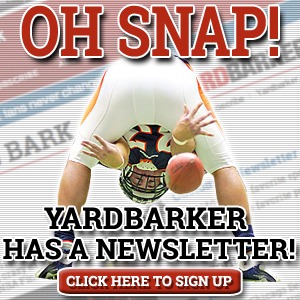 Latest Rumors
Best of Yardbarker

Today's Best Stuff

For Bloggers

Join the Yardbarker Network for more promotion, traffic, and money.

Company Info

Help

What is Yardbarker?

Yardbarker is the largest network of sports blogs and pro athlete blogs on the web. This site is the hub of the Yardbarker Network, where our editors and algorithms curate the best sports content from our network and beyond.