Found November 14, 2011 on Waiting For Next Year:
PLAYERS:
Ryan Pontbriand
,
Alex Mack
,
Brad Maynard
,
Jeff Faine
,
Joe Thomas
,
Colt McCoy
,
Richmond McGee
,
T.J. Ward
,
Usama Young
TEAMS:
Cleveland Browns
,
Tampa Bay Buccaneers
,
Rice Owls
Ever since he was selected in the fifth round of the the 2003 NFL Draft, Cleveland Browns long snapper Ryan Pontbriand has been the personification of questionable draft day tactics.  The highest-drafted player of his position in the history of the league, the eight-year veteran has done nothing but quietly show up for work each and every day of his career, save for a five-game stint in 2005, while executing  his job in exemplary fashion.
Sure, the position of long snapper may be up there with the individual responsible for breaking up the wedge on kickoffs and the guy who hands the quarterback the football during warm-ups when it comes to overall NFL sex appeal, but it is tough to argue that the Rice University product hasn't been worth his weight in gold for a team that has not only had it's fair share of field goal opportunities over the years, but has also frequented the emotionally crippling three-and-out, leading to a punt in the ever-popular game of field position.  At least until he isn't, as was the case on Sunday when the usually automatic center was the first domino in what would ultimately be a comedy of errors with the outcome of a football game on the line. 
Maybe Alex Mack attempted to interlock his right leg with Pontrbriand's left a split second sooner than anticipated.  Perhaps there was movement up front that forced a slight inch of hesitation in the snapping motion.  Free of a defender being lined up directly over him, Pontbriand is already viewing the world upside down if only for a few seconds, eying up this season's target du jour in punter Brad Maynard prior to firing seven- or 15-yard spirals between his legs.  Unfortunately for the team's two-time Pro Bowler, he had to view the fallout of a botched game-winner with the crown of his helmet essentially resting on the earth, blasting Browns fans in attendance with a dunghammer of epic proportions*. He would spend the next several game minutes, which must have seemed like an eternity, with his eyes closed on the sidelines, helmet still on, knowing that his name would be prominently featured in columns retelling the prior 60 minutes of football.
No tables were ever set for for him on national signing day. Nary a discussion surrounding professional compensation. Heck, prior to a local comedian's video, it's worth wondering if some Clevelanders even knew Ryan Pontbriand existed. If anything, he's merely been a referendum on the Butch Davis era as a whole; he wasn't even the first center taken that year as Jeff Faine was selected just two rounds prior. His name rarely in lights, living predominantly as a novelty token of pride in the hearts of diehard Browns – our long snapper is better than your long snapper – Pontbriand is now faced with the weight of a loss, squarely on his shoulders, whether it's wholly his fault or not.
"It was an inopportune time and I pretty much cost our team the victory," said Pontbriand of the missed field goal. "I'm pretty numb right now. It's pretty tough to handle."
Both Pontbriand and Mack repeatedly stated that it will likely take a few cursory views of game tape to see exactly what occurred.  Earlier this week, All-Pro offensive tackle Joe Thomas stated that the line had to do a better job of communicating, but this discussion was largely in the context of protecting quarterback Colt McCoy. In this instance, its something that is essentially taken over by muscle memory. As woeful as the Browns special teams has been this season, the troika of Pontbriand, Maynard and Dawson has been one of the only automatic features of the entire 53-man roster.
While adding salt to the gaping wound was not likely the goal of his postgame statements, Maynard – who did a remarkable job of fielding the four-hopper and getting it somewhat upright regardless of lace placement - called this loss "one of the lows" of his 14-year career. This is a man who was out of a job until friend and former teammate Richmond McGee sustained a back injury during on Opening Day. Dawson, conversely, was quick to come to his longsnapper's defense; special teamers have to stick together after all.  But this relationship goes well beyond being grouped in the same pod for practices on end – these two men have been hand in hand – or hand to foot – since Pontbriand's arrival.
"Ryan tries to be the best and that's why there is no one I'd rather have snapping to me than him," said the point-producing Dawson. "Nobody works harder than he does. It takes quite a guy to step up [and accept blame] when we are not really sure what happened yet. For him to step up and [take the blame for the loss], it shows what kind of guy he is."
Truth is, this lost can fall into the laps of many. Had the Browns been more aggressive in the red zone, the butterfly effect would have been monumental – this game, after all, does not exist in a vacuum.  Had Josh Cribbs not had a very un-Cribbisan moment, fumbling the ball during a punt return, thus setting up a scoring opportunity for the opposition, the Browns would not have been forced to come from behind. Had Dick Jauron's defensive line been able to pressure Sam Bradford in the first half, that touchdown pass to Brandon Lloyd may have never occurred.  Heck, if TJ Ward had not sustained a litany of injuries the week before – even if he opted to not return following the dislocated finger, perhaps saving himself of several weeks of boot-wearing - Usama Young may not have been tasked with keeping Stephen Jackson from amassing 128 yards on the ground. 
This week, the Browns will watch the game tape to see where the wheels began to fall off.  While fans and game recaps throughout the nation will focus on the missed field goal, you can assure yourself that those in Berea will be looking at the first 58 minutes with even more intensity as there are multiple players who could have changed the outcome of the 13-12 loss on the shores of Lake Erie. Yet it is Pontbriand, a man who rarely gets asked questions, who is forced to provide the answers. 
Such is the life of the best long snapper in the NFL.
*Thank you, Charles P. Pierce
–
Photo: John Kuntz / The Plain Dealer 
Original Story:
http://www.waitingfornextyear.com/201...
THE BACKYARD
BEST OF MAXIM
RELATED ARTICLES
The frustration is alive and well.  I would call it paramount, but this football team we root for each and every Sunday between August and early January continues to surprise us all when it comes to ways in which a team finds itself on the losing side of the outcome ledger. And with the continually evolving mediums that allow fans to voice their various levels of displeasure, the...
BEREA -- Browns coach Pat Shurmur tried to bring clarity to a confusing end-of-the-game situation regarding the Browns 13-12 loss to St. Louis on Sunday. In no particular order, Shurmur explained why backup tight end Alex Smith was given the ball on the Browns last drive on a handoff and why he (Shurmur) chose to run the ball only once the Browns got to the 19 on the last drive...
Got a Browns question for Mary Kay Cabot, Terry Pluto or Dennis Manoloff? Want to be part of The Plain Dealer / cleveland.com Browns Insider show? Skype us at clevelanddotcom from 10-11 a.m. or email your video to sports@cleveland.com
Browns play for the field goal, but don't get it after snap is deflected.
We're doing a season-long NFL roundtable with our friends at Slate. Check back here each week as a rotating cast of football watchers discusses the weekend's key plays, coaching decisions, and traumatic brain injuries. More »
CLEVELAND - Browns coach Pat Shurmur thought Phil Dawson would make an easy 22-yard field goal late in the fourth...
CLEVELAND (AP) -- With almost certain victory one short kick and two minutes away, the Cleveland Browns lost -- in a snap. Phil Dawson's 22-yard field goal attempt sailed wide left following a bounced snap from center with just over two minutes left, giving the St. Louis Rams a 13-12 win over the bungling Browns, who again failed to score a touchdown at home and couldn't...
The Cleveland Browns host the St. Louis Rams in a Week 10 clash of last place teams. Pat Shurmur faces his old club, which is a lowly 1-7 and, save for the Colts, could very well be the worst team in the league. The Rams were simply not competitive in the first six weeks of the season, but have improved over the past two weeks with a win over the Saints and an overtime loss to the...
Pat Shurmur reached into his bag of his tricks in an attempt to liven up a dormant offense.
The Rams lost two more players for the season, safety Al Harris and tight end Michael Hoomanawanui, both because of knee injuries suffered in Sunday's 13-12 victory over the Cleveland Browns.
While We're Waiting serves as the early morning gathering of WFNY-esque information for your viewing pleasure. Have something you think we should see? Send it to our tips email at tips@waitingfornextyear.com. "The Indians' primary outfield options, at present, are Shin-Soo Choo, a five-tool talent coming off a one-star season, and Michael Brantley, a bud who still has yet...
NFL News

Delivered to your inbox

You'll also receive Yardbarker's daily Top 10, featuring the best sports stories from around the web. Customize your newsletter to get articles on your favorite sports and teams. And the best part? It's free!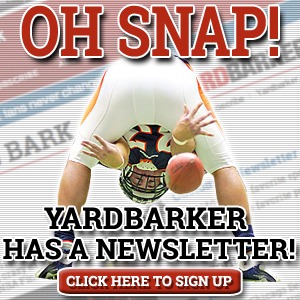 Latest Rumors
The Backyard

Today's Best Stuff

For Bloggers

Join the Yardbarker Network for more promotion, traffic, and money.

Company Info

Help

What is Yardbarker?

Yardbarker is the largest network of sports blogs and pro athlete blogs on the web. This site is the hub of the Yardbarker Network, where our editors and algorithms curate the best sports content from our network and beyond.