Found September 05, 2013 on Sports Blog Net:
The 2013 Chicago Bears' defense is still a very good unit. There's no way around that fact. However, the middle of the Bears' defense will look a whole lot different this season without recently retired Brian Urlacher. Nine-year veteran D.J. Williams was signed this off-season to take Urlacher's place at middle linebacker. Williams returned to practice this week after sitting out with a calf injury since July 31. Rookie linebacker Jon Bostic started in Williams' place and played very well this preseason. He intercepted a Cam Newton pass in Game One and returned it 51 yards for a touchdown. He also made a huge hit on Chargers wide receiver Mike Willie in Game Three which he was eventually fined for. The truth is Bostic is a rookie. He may be one heck of a talent and a solid player already, but Williams has been there and experience trumps inexperience almost everytime. Also, Williams is certainly a better talent in pass coverage, an area where Bostic struggled a bit at during the preseason. Bostic is a big hitter, who will surely be a starter in due time. Williams even agrees that Bostic has tons of talent. "Coming into the league out of college it's a big difference, whether it's scheme-wise or the size and the speed of the game," Williams said via CSNChicago.com. "He adapted pretty well, in preseason made some big plays. He continues: "If I wasn't ready for this week I wouldn't worry about him if he had to be the starter." Clearly Williams expects to start the season opener against the Cincinnati Bengals and go from there. Head coach Marc Trestman hasn't announced who will start just yet Williams or Bostic, but all signs point in Williams' favor. "We have not (made a middle linebacker decision)," Trestman said via ESPNChicago.com on Thursday. "We'll continue to look at that. We're going to wait another day on D.J., who practiced well today." Former Bears' linebacker Brian Urlacher didn't start until the third game of his rookie season in 2001. Obviously he was a mainstay for the next 12 seasons after that racking up over 1,300 tackles, 22 interceptions and eight Pro Bowl selections. "He did well for what they asked him to do, but I like putting D.J. in there," Urlacher said on ESPN 1000 on Tuesday. "He's a vet, he's been there and if he doesn't do well -- which I think he will, but if he doesn't -- then you put the young guy in." Starting weakside linebacker Lance Briggs wasn't a starter from day one either. A third-round pick out of Arizona in 2003, Briggs had a huge preseason, but didn't start until Week Four. Interestingly enough his first regular season game was against the Oakland Raiders and then offensive coordinator Marc Trestman. Briggs strongly believes that Williams will be the starting linebacker on Sunday. "When we opened camp, D.J. Williams was our starting middle linebacker," Briggs said via ESPNChicago.com on Thursday. "D.J. Williams got injured which in turn gave an opportunity for Jon Bostic to not only showcase his skills, but to learn. He got a chance to run with the ones and now D.J. Williams is back from injury and D.J. Williams is our starting (middle linebacker)." Briggs doesn't think that Williams' lack of practice and game play this preseason will hurt him on the field early on this season. "Two years ago I hurt my knee and I think in the fourth or fifth practice, and missed the whole preseason," Briggs said. "My first game was against Atlanta, we came out and played well and beat Atlanta pretty bad. I had a few extra loafs that game, more than I usually did, but technique-wise I was fine." Trestman has a tough decision to make. I think he should use Urlacher's and Briggs' career starts as examples for what is to come. Jon Bostic will be a solid player in this league, but only time will tell if he will be as great as #54 or #55. The smart decision would be to start the veteran Williams, who has 115 starts under his belt. Expect Trestman to make the announcement that D.J. Williams will be the Week One starter in the coming days.   Jake Perper is the founder and head writer of Bearsbacker.com. Follow him on Twitter, @Bearsbacker and on Facebook for up to the minute news about the Chicago Bears.
Original Story:
http://bearsbacker.sportsblognet.com/...
THE BACKYARD
BEST OF MAXIM
RELATED ARTICLES
As the Chicago Bears ramped up preparations for Sunday's season opener against Cincinnati at Soldier Field, a welcome sight took place on the practice fields at Halas Hall. LB D. J. Williams, out since July 31 with a nagging calf injury, worked out with the first-team defense Wednesday, a sign he could definitely start the game against the Bengals. Rookie [...]
Bears coach Marc Trestman says it's possible both Jon Bostic and D.J. Williams will get reps at middle linebacker with the first team in Sunday's regular season opener against the Bengals.
  Former Bears linebacker Brian Urlacher admitted on FOX Sports 1 that they  faked injuries to slow down opposing offenses. "We had a guy who was the designated dive guy," Urlacher said, per NFL.com. Urlacher says an assistant coach would signal from the sideline when to fake an injury. Urlacher went on to describe how a Bears assistant would mimic a swimmer's diving motion...
Faking injuries is a part of football. Most teams would never admit it, but the concept of a player going down and grabbing his leg to slow an opponent's up-tempo attack is nothing new. Now that he has retired, Chicago Bears legend Brian Urlacher feels that he can safely throw his former team under the […]
Brian Urlacher's departure was unceremonious to say the least. Long story short, Urlacher wanted to play another year, but the Bears didn't really want him any longer. So they offered him an one-year, $2 million contract, that Urlacher rejected. So instead of testing free agency and possibly signing with another team, Urlacher retired and took a job as a NFL analyst for Fox Sports...
I totally understand why ESPN and now FOX Sports 1 want to have athletes on as studio analysts. People still remember these players from their playing days and will want to tune in to see their favorite former superstars talk about the game since they can't see them play it anymore. They need to stop it. Too many of these guys just aren't any good at it. @BUrlacher54...
The Chicago Bears had a game plan when they matched up against fast-paced offenses in recent years: to fake it. Former Bears linebacker Brian Urlacher recently said that that his team's defense was instructed to fake injuries when they looked gassed and needed a break, according to the Chicago Sun-Times. Urlacher retired this offseason and made the comments in his new role as an...
There has been a lot of talk in college about players faking injuries and even Kirk Herbstreit claimed that teams are practicing it. We haven't heard that much about it in the NFL though since teams typically aren't able to run quite as many plays as in college. That changed when Brian Urlacher decided to give his thoughts on Fox Sports 1′s Fox Football Daily. "We had a...
Former Bears linebacker Brian Urlacher claims that part of the team's game plan on defense was to fake injuries in order to slow down up-tempo offenses.
Not sure if you heard but the Bears will be without Brian Urlacher this season after their defensive captain retired after last year. In his stead 11th-year veteran Lance Briggs will have to step up as the leader of the defense. "It's a different kind of focus" Briggs said on SportsNet Central Tuesday night. "Making sure everybody is aligned allowing guys to...
Take It On Purpose So, in watching enough NFL football from enough tempo-based offenses -- hell, even Jacksonville looks mildly intriguing in August-- it's becoming increasingly clear that offenses are deriving strong benefits from snapping the ball faster, especially if they've got a veteran QB under center. Which has also led to retired Bears QB Brian Urlacher confessing...
NFL News

Delivered to your inbox

You'll also receive Yardbarker's daily Top 10, featuring the best sports stories from around the web. Customize your newsletter to get articles on your favorite sports and teams. And the best part? It's free!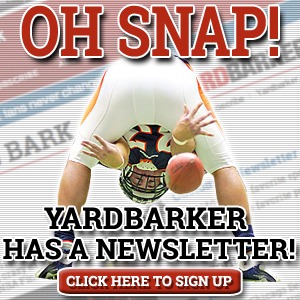 Latest Rumors
The Backyard

Today's Best Stuff

For Bloggers

Join the Yardbarker Network for more promotion, traffic, and money.

Company Info

Help

What is Yardbarker?

Yardbarker is the largest network of sports blogs and pro athlete blogs on the web. This site is the hub of the Yardbarker Network, where our editors and algorithms curate the best sports content from our network and beyond.