Best (and worst) commercials from Super Bowl LII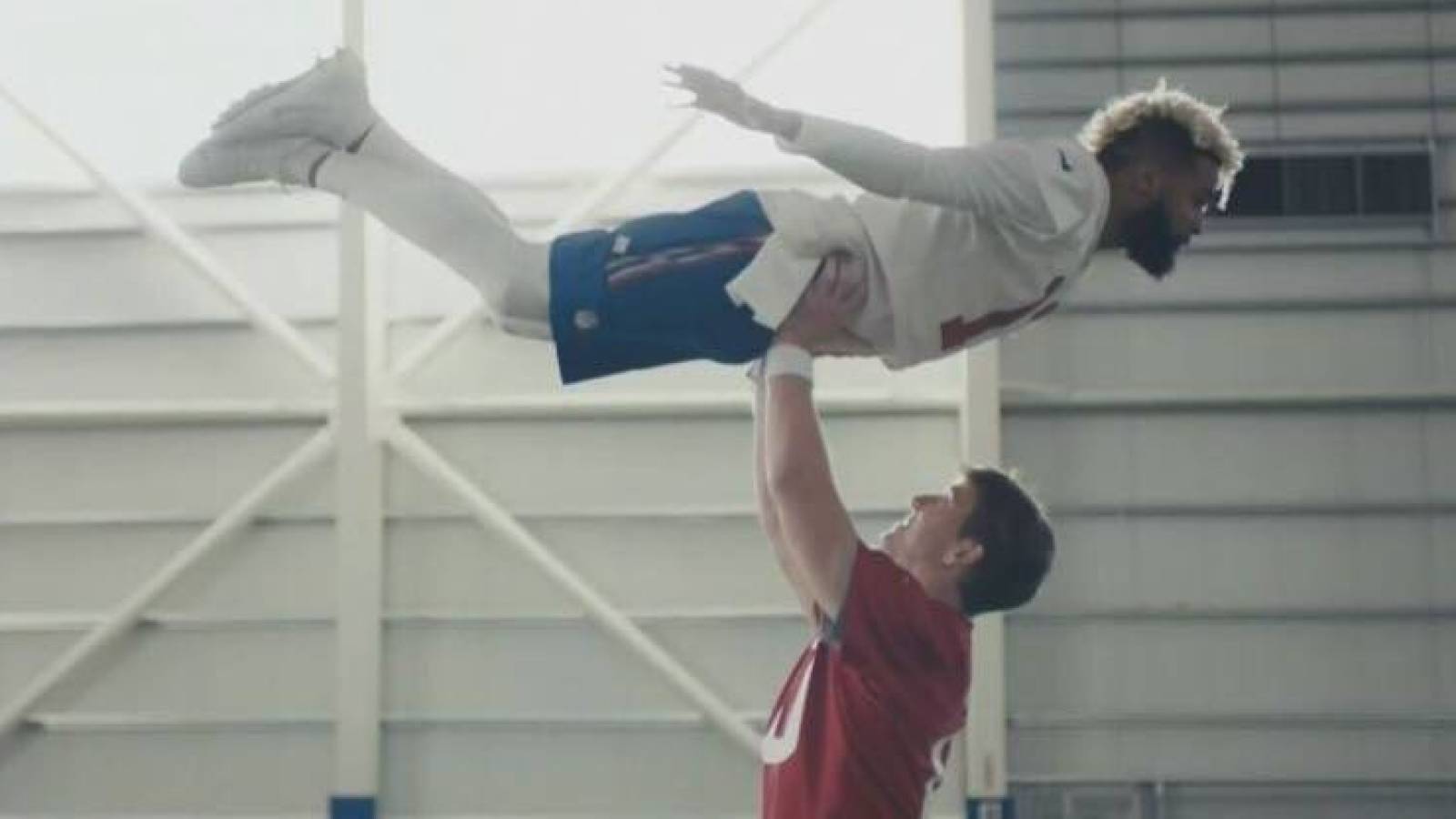 NFL on YouTube
There are three types of Super Bowl fans in this world: those who watch for the game, those who watch for the commercials, and those who enjoy both. We fit into the last category and although we've already written numerous articles about the players, teams, and history behind the big game, we'd now like to focus on what happens when the cameras cut away from the action.
The 2018 Super Bowl provided plenty of entertainment and surprises on the field, but the same can be said of the commercial breaks. In addition to exciting trailers for films like "Red Sparrow," "A Quiet Place," "Jurassic World: Fallen Kingdom," "Solo: A Star Wars Story," "Skyscraper," "Mission Impossible - Fallout," and "The Cloverfield Paradox," there were also many ads for products and services that got us to laugh, cry, and ponder. Others, unfortunately, just left us confused, disappointed, or even a bit ticked off. Without any further ado, here are the 15 best along with the five worst commercials from Super Bowl LII.
Best: Tide - It's a Tide Ad
If you aren't a fan of the Eagles' unlikely victory, then maybe you'll agree with who we believe won the battle of the Super Bowl commercials: Tide. Tide has had some humorous ads in the past, but they not only outdid themselves in 2018, they set the bar for everyone else. It all started in the first quarter with "Stranger Things" actor David Harbour, who is shown driving an automobile in what he called, "Your typical Super Bowl car ad." He then proceeds to spoof commercials for beer, perfume, insurance, soda, razors, and even Amazon's Alexa while informing incredulous viewers that it is, in fact, an ad for tide. And this was just the beginning...
Best: Tide - Everything Else
After nailing their initial 30-second spot, Tide continued to make viewers laugh with a series of additional "fake" ads. This included recruiting the Old Spice guy for a pitch, staging a fake return to Super Bowl coverage (with David Harbor rocking both a Pats and Eagles jersey), being the only commercial to feature the famous Clydesdale horses, and even one with Harbour doing his best Mr. Clean impression. Congrats, Tide, you have solidified your spot atop this list.
Best: Bud Light - The Bud Knight
If Budweiser is the "King of Beers," then Bud Light is the king of Super Bowl commercials. They may not have had the funniest ad of the 2018 event, but in what seems like a yearly tradition that began decades ago, they once again made a memorable impression on viewers. Continuing the "Dilly Dilly" campaign, the now-famous medieval warriors found themselves drastically outnumbered and called on the "Bud Knight" to save them. As it turns out, the knight has other plans, but he still helps out his dedicated followers after some brief but hilarious exchanges with them ("If you survive, come by!") Bonus points: The ad began with the classic Wilhelm Scream sound bite.
Best: 2018 Olympics - Always Be Faster Than the Boys
Like the Super Bowl, the 2018 Olympics will also air on NBC, and the network used that opportunity to broadcast numerous ads in anticipation. Most were pretty generic, but the very first one caught our attention. As Chuck Berry's "Johnny B. Goode" plays in the background, skier Mikaela Shiffrin zooms downhill while reciting her mantra of A.B.F.T.T.B.: Always be faster than the boys. The ad then highlights young girls succeeding in numerous situations, giving the Super Bowl a much-needed jolt of girl power. 
Best: Verizon - Answering the Call
Unlike Budweiser's ad that saluted themselves for canning water as part of 2017 hurricane relief efforts, Verizon used its role as a telecommunications provider to pay tribute to the first responders that answer the most important of calls. In short, the commercial is a montage of phone conversations between ordinary citizens and the extraordinary people who came to their aid in times of crisis. It's simple, heartfelt, and respectable. Bravo, Verizon!
Best: Tourism Australia - Dundee
This ad begins as another preview for "Dundee," a supposed upcoming comedy that stars Chris Hemsworth and Danny McBride in a sequel to the 1986 Aussie classic. However, after several positive comments about Australia—including its ample wineries and top-notch restaurants—McBride (and the audience) realizes this isn't a trailer, it's actually an ad for Tourism Australia. On top of that, the upcoming film isn't even real at all, and the entire campaign was just a ruse executed by the tourism agency. (We've been had!) Throw in a cameo by Paul Hogan, the original Crocodile Dundee, and you have one of the best executed ads of Super Bowl LII.
Best: Amazon - Alexa Loses Her Voice
When Amazon's Alexa suddenly loses her voice, the world begins to fall apart. But Amazon has a plan: Why not use celebrities to fill in for the ailing Alexa? Anthony Hopkins, Rebel Wilson, Cardi B, and Gordon Ramsey all have cameos in the ad, with the famous TV chef owning the best line of the 90-second spot. When someone asks Alexa how to make grilled cheese, an annoyed Ramsey barks back: "Pathetic! You're 32 years of age and you don't know how to make a grilled cheese sandwich?! Its name is the recipe!" Of course, as expected, he also directs an expletive at the unsuspecting user.
Best: Doritos & Mountain Dew - Doritos Blaze vs. Mountain Dew Ice
The two-in-one commercial opens with Peter Dinklage—in full "Game of Thrones" mode—lip-synching to "Look at Me Now" by Chris Brown featuring Lil' Jon and Busta Rhymes. Although it was moderately entertaining, the commercial truly made this list for its second half, which had Morgan Freeman doing a rendition of Missy Elliott's "Get Ur Freak On." Not only was it entertaining to see these two respected actors playing the role of rapper, but Doritos and Mountain Dew both deserve credit for the unique, hybrid format.
Best: NFL - Touchdown Celebrations to Come
Whether it's on the field or off, Odell Beckham Jr. has developed a reputation of taking himself a bit too seriously. Although he probably won't convert many haters with a simple commercial, OBJ gave it a solid try in an NFL ad opposite Eli Manning. While practicing a touchdown celebration, the two break into an elaborate dance routine that ends up being an ode to "Dirty Dancing," complete with Eli holding Beckham high over his head during the finale. Eli appeared in numerous little skits on behalf of the NFL during the Super Bowl LII broadcast, but this was by far the best.
Best: Pizza Hut - Earn Free Pizza Faster feat. Terrell Owens
NFL fans have strong, divisive opinions about former loud-mouthed wide receiver (and now future Hall of Famer) Terrell Owens, but they should all be able to agree that his Pizza Hut commercial was quite funny. As a "professional boaster," T.O. helps a family brag about the restaurant's rewards program while also taking a shot at one of the chain's biggest competitors, Dominos. ("I see what he did there…")
Best: Pringles - WOW
Bill Hader helms this Pringles ad, which suggests mixing and matching different chip varieties to find new flavor combinations. For instance, jalapeno, BBQ, and pizza Pringles makes a spicy BBQ pizza combo. Although the premise isn't especially funny, Hader sells it well with his impeccable comedic timing, at one point chiding someone in the background with a sharp, "Nobody asked you, Kevin!"
Best: Febreze - The Only Man Whose Bleep Don't Stink
We always find it amusing when an ad pushes the envelope in the mind of adults while creating something that seems totally innocent to children. Febreze did that masterfully during Super Bowl LII with their commercial about the only man whose "bleep don't stink." Instead of a metaphor, Febreze uses the phrase in the most literal sense while telling the tale of Dave, a man who has no need for Febreze after using the bathroom.
Best: Michelob Ultra - The Perfect Fit
In Michelob Ultra's Super Bowl LII ad, they attempted to capitalize on a well-known phenomenon: the fact that actor Chris Pratt makes everything better. And (spoiler!) it was a success. Pratt finds out he won a role in an upcoming commercial for the beer brand and begins training for what he believes is a starring gig, only to find out he's just one of many extras. Of course, we laugh at Pratt's expense, because that's another well-known fact of life: Chris is a master of self-deprecating humor.
Best: TD Ameritrade - "All Evening Long"
TD Ameritrade takes a simple concept and surprisingly turns it into an amusing spot. While trying to promote being able to trade 24/7, two TD employees try to trick Lionel Richie into saying he can now trade "all night long," just like he sings in his classic 1983 hit. Of course, the artists dodges every attempt, until one employee gets frank and finally asks, "You're not going to say it, are you?"
Best: Quicken Loans - Rocket Mortgage
When a variety of situations—visiting a hairdresser, meeting with a financial planner, scrolling through online dating profiles—require a translator, Keegan-Michael Key shows up to offer assistance, along with a cameo from Big Sean. Although we feel Key's talents could have been put to better use with a tighter script, this was nevertheless one of the funnier ads of Super Bowl LII...especially at the end, when the comedian summarizes a piece of modern art in five words: "It's just a grey dot."
Worst: Dodge Ram - Built to Serve
We don't want to wade into any of the current debates or issues involving race, but we can't have a list of the worst commercials without mentioning that Dodge used a speech by Dr. Martin Luther King ("The Drum Major Instinct") in order to sell trucks. Not only have viewers taken to social media to express their displeasure and outrage over the ad, but it has also already been rebuked by The King Center. Even in a world where all buzz is good buzz, this was definitely not the response Dodge was hoping for from this ad. 
Worst: Wendy's - Iceberg
Not only did Wendy's explicitly attack McDonald's and the fast food giant's flash-frozen burgers in their Super Bowl ad, but they included an off-color reference to the sinking of the Titanic. Sure, the tragedy was 106 years ago, but was it really necessary to drag this tragedy into a war between burger chains? For two separate reasons, this commercial was simply made in bad taste.
Worst: Diet Coke Twisted Mango - Groove
Diet Coke has created some memorable commercials in recent years—including during the NFL's biggest game of the year—but what the heck was the deal with this one? The soliloquy features a woman who simply can't resist dancing after drinking the new Twisted Mango flavor. Is her dancing especially funny? No. Are her comments? Nope. She may be busting a move, but we're just scratching our heads.
Worst: Kia Stinger - Feel Something Again
Besides the fact that the young, computer-generated Steven Tyler looked straight-up creepy, what was this Kia commercial supposed to be saying? We only concluded two things. First, try as they might, Kia can't convince us that the lead singer of Aerosmith actually drives their affordable cars. Second, it's clear that Tyler wishes he could go back in time, specifically to when he still had legions of crazed fans that worshipped the ground he walked on and could "feel something." That's not inspiring; it's sad.
Worst: Yellow Tail - Big Game Surprise
For the second year in a row, Yellow Tail produced a commercial that is clearly trying to be funny, but has no idea how to execute that goal. Like last year, there's a spokesman, a kangaroo, and a party, but not much else. The Australian wine company says, "We believe in fun," but they still don't know how to show it.
MORE FROM YARDBARKER
Giants News

Delivered to your inbox

You'll also receive Yardbarker's daily Top 10, featuring the best sports stories from around the web. Customize your newsletter to get articles on your favorite sports and teams. And the best part? It's free!