Found November 16, 2012 on Fox Sports Midwest:
PLAYERS:
Tim Tebow
,
Rex Ryan
,
Mark Sanchez
,
Sam Bradford
,
Danny Amendola
,
Brian Schottenheimer
,
Colin Kaepernick
,
Peyton Manning
,
Cortland Finnegan
TEAMS:
New York Jets
,
St. Louis Rams
,
San Francisco 49ers
,
Kansas City Chiefs
ST. LOUIS - Cue the calliope. You thought last weeks tie was a circus? Well, the show must roll on, because the New York Jets land in our fair city with the largest red noses in the NFL. Where to start with the gang thats always green with envy? Theres the 3-6 record, good for last place in the AFC East. There are the three consecutive losses, including a combined 58-16 spanking in the last two. There are the anonymous rips on Tim Tebow, the tears from Rex Ryan, the jeers from a hot fan base and a Dumbo sighting at the team facility in Florham Park, N.J. OK, only one of those is untrue. Its enough to make you laugh if your cheeks werent already numb from snickers along the way. The Jets have offered plenty of laugh-track material through 10 weeks, and were not even to Thanksgiving. Meanwhile, the St. Louis Rams are giving thanks for fate pairing them against the most dysfunctional outfit this side of the Jersey Shore crew Sunday at the Edward Jones Dome. Thats just what the doctor ordered a week after blown chances in the Bay Area. So who ya got? Tebow or Mark Sanchez? Ryan or a fractured locker room? An anonymous source or put your name on it? The undercards are fascinating enough, and theyll all be fought on one sideline. Kick up your feet, and enjoy the 20-car pileup. Start the show already, because this ought to be a scream. On to Week 11 How will the Rams respond after the tie? Its a half-full and half-empty world. On one hand, the Rams stared down the NFC Wests bully in his own backyard by racking up 458 yards and 24 points in a game that few outside their charter plane thought theyd win. On the other, they let a golden chance to earn their first victory since Week 5 slip through their mitts because of errors that would have made the Kansas City Chiefs break out a new dance routine. Still, there are reasons to move forward with an extra bounce in their stride. Sam Bradford completed 26 of 39 passes for 275 yards with two touchdowns Why cant he play like that each week? and wide receiver Danny Amendola totaled 102 yards on 11 catches in his return from a clavicle injury. Heres a key news nugget: Amendola is nowhere to be found on the injury report. Thats good for the guys in navy and gold, because the Rams are like a raft without a paddle when hes gone. They went 0-3 in his absence this season, looking like a group destined to tumble from Niagara Falls without No. 16 scurrying in the slot. Whats the best way to respond after a tie? Loosen the knot in your stomach and move on, especially on offense. How will the Rams keep the Jets off the rails offensively? Perhaps sometime Sunday night, Rams offensive coordinator Brian Schottenheimer will walk into his den, crack a cold one and laugh at the smoke trail he left in his rear-view mirror. He was run from the New York area faster than the Dutch after six seasons, but the Jets still stagger without him. Look at the stats: The Jets are No. 30 in total offense (302.7 yards per game), No. 27 in passing offense (195.8 ypg) and No. 16 in rushing offense (106.9 ypg). They have scored 10 points or fewer four times. Sanchez is a shadow of the quarterback they thought hed be when he was taken fifth overall in the 2009 draft. The wheels are spinning oh, theyre churning but this clown car remains stuck in the mud. Granted, the Rams spent most of October locked in neutral as well. Thats why the outburst in San Francisco was such a surprise. Thats why the production should have led to a victory if the defense hadnt made 49ers reserve quarterback Colin Kaepernick look like Peyton Manning in the fourth quarter. Sanchez is no savior, and his head is a kaleidoscope after Tebowmania seeped into Jets Land. Hes ripe for the picking, which is exactly what Cortland Finnegan and Co. will try to do. What will happen? At some point, this all will end. The Tebow talk. The Ryan stonewalls. The Sanchez glazed looks. If youre supposed to make lemonade out of lifes lemons, then the Jets have done a fine job of turning their sour moments into arsenic. So we get to watch this wounded dog crawl Sunday. This sentence has been typed far too few in the last five years around these parts, but its true: The Rams should win. In fact, it would be a letdown worse than the Candlestick Draw if they don't. Why? A few reasons: The Rams arent schizophrenic behind center, they dont have a locker room where Brutus makes a guest appearance at least once a year, and theyre building with young talent at the same time the Jets are digging a grave. One teams stock is stable, and the others is part of a fire sale. A translation for the Wall Street audience: The Rams could be bulls in the near future while the Jets are nothing but bears. There has been little to praise in this slide to the NFC West basement after a 3-2 start. But Sunday, with the Greatest Spectacle in Sports under the Arch, the W will return. Pick: Rams 21, Jets 7 You can follow Andrew Astleford on Twitter @aastleford or email him at aastleford@gmail.com.
Original Story:
http://www.foxsportsmidwest.com/11/16...
THE BACKYARD
BEST OF MAXIM
RELATED ARTICLES
Rex Ryan is no dummy, and so after he read off the Jets' injury report at his press conference Wednesday, he grinned at the reporters and into the glare of the television cameras crowded into the media room at the Jets' training facility. "Fire away, let's go," Ryan said. "Ask the questions you want to ask." An awkward silence ensued. "I...
The New York Post, much like SportsCenter, has a fascination with Tim Tebow. They would write about him week in and week out as the Jets continue to go down the pooper.The latest story to come out of that circus act of a locker room has "anonymous" Jets player ripping Tebow and calling him terrible. This really isn't much of a surprise because, let's face it, Tebow...
I hope Tim Tebow is breathing this morning because he just got ran over by a green and white bus with the license plate New York Jets.  The New York Daily News published an article with quotes from unnamed players and members of the organization who ripped into Tim Tebow and the thought of him as their number one quarterback. "He's terrible," a defensive starter told the Daily...
It seems like it was several years ago that John Elway stated that Tim Tebow has earned the right to be the starting quarterback heading into training camp this 2012 football season for the Denver Broncos.Actually, Elway made this comment just this January. Elway had plans to work with Tebow in the offseason to improve his throwing mechanics.That all changed when Jim Irsay...
With the news coming out of New York this week regarding Tim Tebow and how his own teammates feel about him got me thinking about another quarterback that never amounted to anything.Ryan Leaf was a quarterback drafted in 1998 that many believed would be the next great one.  He was drafted second overall behind Peyton Manning in that draft.  It was a long debate on which QB should...
New York Jets offensive lineman Matt Slausen was the only Jets' player to openly criticize quarterback Tim Tebow. NFL Network analyst Darren Sharper doesn't believe Slausen has the right to criticize Tebow when he's not a great player himself. "I talked to one of the offensive lineman for the Jets, and they said throughout this season, Matt Slauson has graded out the worst...
Lots of quotes came out of Dallas Cowboys practice in the last 24 hours, including two notable former Browns. Let's start with the fullback. Lawrence Vickers, a 2006 6th-round pick by the Browns, left as a free agent following the 2010 season. Here were his comments on facing his former team, as reported by ESPNDallas.com: "It's personal, why wouldn't it be? It anybody tells...
In Rex Ryan's first season as the New York Jets' head coach, Gang Green overcame two three-game losing streaks and won five of their last six games to make the playoffs and ride an improbable road win streak to the AFC Championship game. Ryan was asked Friday if this year's team, which sits at 3-6, leans on memories of that season for inspiration. "I think from a...
NFL News

Delivered to your inbox

You'll also receive Yardbarker's daily Top 10, featuring the best sports stories from around the web. Customize your newsletter to get articles on your favorite sports and teams. And the best part? It's free!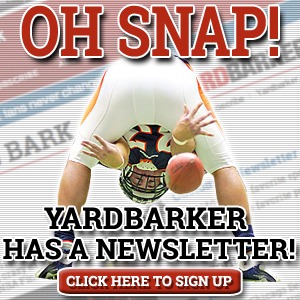 Latest Rumors
The Backyard

Today's Best Stuff

For Bloggers

Join the Yardbarker Network for more promotion, traffic, and money.

Company Info

Help

What is Yardbarker?

Yardbarker is the largest network of sports blogs and pro athlete blogs on the web. This site is the hub of the Yardbarker Network, where our editors and algorithms curate the best sports content from our network and beyond.