Found September 01, 2013 on isportsweb.com:
It's officially one week until the first Sunday of the NFL season, and all teams were required to have their active rosters down to 53 by Saturday night at 6:00 PM EST. The vast majority of teams follow the time-tested method of keeping three specialists – one kicker, one punter, and one long snapper – on their roster, leaving 50 spots for offensive and defensive players. Last night, however, the Cleveland Browns challenged that traditional wisdom when they cut both undrafted rookie Brandon Bogotay and veteran Shayne Graham, leaving them with not a single kicker on their roster. Now, it's folly to pretend that Rob Chudzinski and staff won't add a kicker via waivers from amongst the masses of players cut by other teams on Saturday. At the very least, one of the two released kickers could be brought back if the front office is unsatisfied with their options on the waiver wire. But pretend for a second that the Browns left the kicker position unfilled. They could go one of two routes with this decision. The first and clearly more exciting – if quite ludicrous – strategy is straight out of the Madden NFL video games. The Browns could make the conscious and preemptive decision to avoid kicking the ball. On fourth downs in field goal range, they would simply go for it at every opportunity. Every touchdown would potentially be worth eight points (alternatively, of course, they could also be worth only six). Kickoffs would either be handled by punter Spencer Lanning, or, to add even more excitement, the team could train one player to take onside kicks on every Browns kickoff. This absurd tactic puts an enormous amount of faith in a team's defense, and, though it has been used successfully at the high school level, is probably not a viable option at the NFL level, where game plans are so intricate and teams have much more time each week to prepare than would a high school squad where the players spend eight hours each day in class. The other option, one I have long argued some NFL team should employ, is to keep only one player whose primary contribution to the team is with his foot. At many high schools and even some colleges, one player handles both the punting and placekicking duties. While they use an entirely different ball, even soccer goalies must be proficient in both dropkicks and kicks taken with the ball on the turf, and they have to spend a good deal of time practicing silly things like blocking shots and cutting out crosses. There is no reason an NFL punter or kicker should not be able to learn to handle both kicking functions in the game of football. There are a number of roster benefits to be gained from consolidating the kicking and punting games into one player. First, a team would save a roster spot that could be used to add depth at an offensive or defensive position where there are always high turnover due to injury. Second, that substitution of a third- or fourth-string player instead of a starting specialist could save a team salary dollars that would ease a team's cap constraints, potentially allowing them to upgrade another position. While we're on this topic, why does a team have to keep a long snapper who only plays about ten snaps a game? I don't begrudge long snappers their jobs or mean to minimize the importance of having a reliable long snapper, but defensive lineman Billy Winn is currently listed as the Browns backup at the position. With a few more reps and extra work at practice, there is no reason he shouldn't be able to provide performance equivalent to that of starter Christian Yount. In addition to his punting duties, Lanning served as South Carolina's kicker for two seasons. Returning to the kicking games, the Browns did retain punter Spencer Lanning on the 53-man roster. An undrafted rookie out of South Carolina in 2011, Lanning has spent time with the Bears, Jaguars, Jets, and the UFL's Sacramento Mountain Lions in addition to two separate stints with the Browns. He has yet to appear in an NFL regular season game, but he performed well enough in the preseason to beat out both T.J. Conley and then Colton Schmidt, whom the Browns signed before the fourth preseason game and released on Friday. While it won't happen, Lanning may actually be an ideal candidate to fill the combo kicker-punter role. While in college at South Carolina, he both punted and, during his final two seasons, also handled placekicking duties. In those two seasons, he hit 34 of 44 field goals for a respectable 77 percent while also making 80 of 84 extra points. While he may not have a leg that will make Browns fans forget about Phil Dawson, those numbers prove he is at least proficient as a placekicker. Alas, it does not appear that Rob Chudzinski is the man to challenge standard NFL special teams operating procedure. A number of experienced veterans such as Dan Carpenter, Neil Rackers and Billy Cundiff, remain on the market. If any current NFL coach would try the one-man kicking game, my money would be on a noted innovator like Chip Kelly. So, in spite of the roster deadline's passing, the Browns work remains incomplete. I'll have another piece next week once the dust settles on waiver claims and free agent signings. Hopefully by then there will be at least one player on the Browns roster who can put the ball between the uprights. Related Analyzing the Cleveland Browns roster cuts – Happy Owen Marecic Liberation Day!
Original Story:
http://feedproxy.google.com/~r/isport...
THE BACKYARD
BEST OF MAXIM
RELATED ARTICLES
The Browns are unbelievably busy today. Craig already covered the pair of running backs in Bob Rainey and Dennis Johnson being claimed from the Ravens and Texans respectively. Mary Kay Cabot of The Plain Dealer also adds that the Browns claimed rookie center Patrick Lewis off waivers from Green Bay and have claimed up to three more players that they have yet to announce. Until we...
After an offseason full of front office turnover and roster rearrangements, the Cleveland Browns have now officially made the transition to the 53-man roster phase of the preseason. With just one week remaining before the Browns' season opener against Miami, the front office is still doing everything in its power to finally put a winning team on the field at the newly-named FirstEnergy...
With the six waiver claims from earlier today, the Browns needed to add three more names to the list of released players in tight end Kellen Davis, running back Brandon Jackson, and linebacker L.J. Fort. They came in the form of offensive linemen Jarrod Shaw and Caylin Hauptmann and tight end/back Brad Smelley. Shaw was signed as an undrafted free agent out of Tennessee in 2011 and...
Most Cleveland Browns' observers felt that Tom Heckert did a good job drafting for the Browns the last few seasons. Not so much with Mike Lombardi. They seem to have a good deal of young talent. Heckert's first draft in 2010 brought starters Joe Haden, TJ Ward, and Shaun Lauvao. In 2011, he did especially well, with six starters in Phil Taylor, Jabaal Sheard, Greg Little...
The Cleveland Browns cut Shayne Graham on Saturday leaving no kickers on their 53-man roster. Graham had been brought in to fill the shoes of Phil Dawson who left in the off-season. Instead the Browns opted to get the 12-year veteran go even as he was 4-for-4 in preseason kicks. The Browns also cut rookie Brandon Bogotay. #Browns expected to have kicker competition between Dan Carpenter...
Less than a week before all is right with the world and the NFL kicks off, the odds makers at Bovada have the Browns at 5 to 1 to win the AFC North. The Browns have the worst odds of any team in the division with Bengals (+180), Steelers (+210), and Ravens (+225) bunched towards the top. While few will argue that the Browns should have the worst odds of any team to win the division...
For quarterback Brandon Weeden, it's put up or shut up time. The Cleveland Browns will either invest in him long term after this season, or move on. Unfortunately for Brandon Weeden, he has Norv Turner as his offensive coordinator; but at least Weeden doesn't have Turner as his head coach. So he has that going for him, which is nice. The 2014 NFL Draft class is LOADED at quarterback...
There's nowhere busier than Berea, Ohio right now as the Browns have submitted a whirlwind of transactions already today. It continues with the addition of former Minnesota quarterback MarQueis Gray to the active roster. Gray is now giving it a go as a tight end, and he caught one pass in the preseason for the 49ers. The undrafted rookie is 6'4″ and 240 lbs., boasting a 4.73...
We knew the Browns would be active, and guessed that running back could be addressed. Now, it apparently has. According to Aaron Wilson and Jason La Canfora, the Browns have claimed Bobby Rainey and Dennis Johnson respectively. Bobby Rainey has been claimed by the Cleveland Browns, according to a league source — Aaron Wilson (@RavensInsider) September 1, 2013 The Browns have claimed...
Browns rookie linebacker Barkevious Mingo will not play in the season opener as he continues to recover from a bruised lung. Mingo, who was hospitalized for two days with the unusual injury, said Friday that he's disappointed he won't be on the field Sunday when the Browns open at home against the Miami Dolphins. Mingo was limited in practice this week but said he is feeling...
The preseason is behind us, and the Cleveland Browns are ready (hopefully) for the regular season. To get you ready for the season we are giving away a pair of tickets to the October 3rd game against the Buffalo Bills! To enter, leave a comment on this post answering the question of the day. Make sure that the email address you use to comment is correct, as the winner will be notified...
While We're Waiting is the daily morning link roundup that WFNY has been serving up for breakfast for the last several years. We hope you enjoy the following recent collection of yummy and nutritious Cleveland sports-related articles. Anything else to add? Email us at tips@waitingfornextyear.com. Jose Ramirez joins the Tribe today, but what do we need to know about this 20-year...
Browns News

Delivered to your inbox

You'll also receive Yardbarker's daily Top 10, featuring the best sports stories from around the web. Customize your newsletter to get articles on your favorite sports and teams. And the best part? It's free!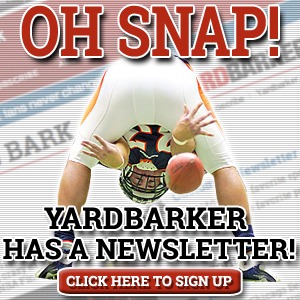 Latest Rumors
Best of Yardbarker

Today's Best Stuff

For Bloggers

Join the Yardbarker Network for more promotion, traffic, and money.

Company Info

Help

What is Yardbarker?

Yardbarker is the largest network of sports blogs and pro athlete blogs on the web. This site is the hub of the Yardbarker Network, where our editors and algorithms curate the best sports content from our network and beyond.