Today, I had a rather heated argument with a coworker. You'll think I'm crazy, but just hear me out. The Eagles should trade LeSean McCoy. Not because he's not good–he's clearly a top 3 running back in the league, and he's one of my favorite players. Because the Eagles have A TON of holes to fill, namely along the offensive and defensive lines, and they basically need an entirely new secondary. LeSean McCoy is the only player on this roster that even remotely has any trade value–and he has a lot of it. I know, he signed a 6 year, 45 million dollar contract in the off-season, but he's a young, stud horse, and surely there's a team out there that could use him. Bryce Brown has shown that he can play at an extremely high level, even behind a garbagio patchwork offensive line. I really like Bryce Brown. At 6′ 225lbs, he is a one-cut, downhill runner with speed to get around the edge and outrun people. I think at the end of the day, he can be as effective as LeSean McCoy numbers wise. Deon Lewis is a capable backup, and although very much unproven, Chris Polk and Stanley Havilli showed enough promise in the preseason for Howie Roseman to keep four running backs on the 53 man roster. So right about now, you are saying, "Bro, are you high? Bryce Brown has played two games, and he's fumbled three times! What the F&*k are you talking about? I hate you. I'm never reading this blog again!" Remember people. Holes. The Eagles have them. A lot of them. This team needs to be rebuilt, and in a league that throws the ball more and more with every passing season, paying a running back, no matter how good they are, 45 million dollars isn't exactly the best use of your money, especially when you have glaring needs elsewhere. Offensive Line I know Jason Peters will be back eventually, but I don't care how much of a freak he is athletically, a 340lb man on a twice-rebuilt achilles tendon is not that appealing to me. Jason Peters will never be the same dominant player as he was before this injury. He just won't be. Remember that guy, what was his name again? Oh yeah, Shawn Andrews. How'd that work out after a couple surgeries? Jason Kelce destroyed his knee, but I'm confident he'll be back. By next, year Danny Watkins will be a 29 year old firefighter. Todd Herremans should be fine, although I'm not thrilled about his injury either. He might not be 100% until week 4 or 5 of next season. So basically, both tackles and your center will be coming off of serious injuries, and your right guard is going to get cut. The only decent lineman you really have that's healthy is Evan Mathis. That ain't good. Defensive Line I'm not sure if I've ever seen a group of men **** their big boy pants like the defensive line did this year. They were one of the leagues top units last year. What the hell happened? Jason Babin turned into a little *****. Trent Cole has literally done nothing except shoot animals and post pictures of them on Instagram. Like they have been for years, the defensive tackles are just too small. Fletcher Cox is definitely a player, but they need some big assed, biscuit eaters in the middle that can demand double teams, shed blocks, and get pressure up the gut. Basically, we need to find Corey Simon's son, and blend his DNA with Hollis Thomas, and draft whatever the result is with their first round pick and sick a drunken Jim Washburn on him. Oh, wait, he just got fired for calling Juan Castillo "Jaunita". God I wish I was a fly on that wall. Secondary The only difference between Nnamdi Asomugha and Bernie Madoff, is that Madoff got caught. Asomugha should be arrested and put in jail for felony paycheck theft. This guy went from Hall-of-Fame status to practice squad talent. I've seen quadriplegics that don't blow as much coverage or miss as many tackles. DRC is fast. That's it. Nate Allen and Kurt Coleman might be the worst safety tandem in the league. Second round pick Jaqwaun Jarrett is……wait……oh yeah, he got cut. Wide Receiver DeSean Jackson had a decent year, but lets face it, he's one dimensional. He can run really fast in a straight line. Cool. He's always going to be afraid to go over the middle, and defenses have figured out how to severely minimize his big plays. You play the corner 12 yards off, and put a safety 40 yards off the ball. Done and done. Or you play man-press and jam his little ass at the line. If he beats the jam, the safety comes down and DeSean alligator-arms an inaccurately thrown ball from Michael Foles. Jeremy Maclin has underachieved like a mofo. What happened? This guy was a first round pick. He's one of the reasons defenses can afford to double team DeSean Jackson all the time. The Eagles haven't had a big receiver since Harold Charmichael. I understand that speed kills, but speed does you no good when it's 5′ 8″, 160lbs, and scared. Rebuilding If all goes well, and the Eagles keep losing, they could end up with a top 5 draft pick, and by trading LeSean McCoy, it's not out of the realm of possibility that they double-down and end up with two top-10 draft picks and a high quality starting player in return. Of course, if Andy Reid comes back, which I believe he will, you have to assume he's going to completely blow one of those picks on oh I don't know, a 27 year old firefighter who started playing football at the age of 23. LeSean McCoy is a good player, and one who we could at least get a high first round pick and another player for. If we can get a top-tier safety or defensive lineman along with a early first round pick, I think the Eagles should definitely do it. They're not going to lose much with Bryce Brown if anything, and having a running back on your roster making 45 million dollars in a passing league, during a potential rebuilding phase just doesn't much sense. Go ahead, let me have it.
Original Story:
http://feedproxy.google.com/~r/thebro...
PLAYERS:
LeSean McCoy
,
Bryce Brown
,
Chris Polk
,
Jason Peters
,
Shawn Andrews
,
Jason Kelce
,
Danny Watkins
,
Todd Herremans
,
Evan Mathis
,
Jason Babin
,
Trent Cole
,
Fletcher Cox
,
Corey Simon
,
Hollis Thomas
,
Nnamdi Asomugha
,
Nate Allen
,
Kurt Coleman
,
DeSean Jackson
,
Jeremy Maclin
,
Andy Reid
TEAMS:
Philadelphia Eagles
,
New York Giants
,
Jacksonville Jaguars
,
Carolina Panthers
MORE FROM YARDBARKER
NFL News

Delivered to your inbox

You'll also receive Yardbarker's daily Top 10, featuring the best sports stories from around the web. Customize your newsletter to get articles on your favorite sports and teams. And the best part? It's free!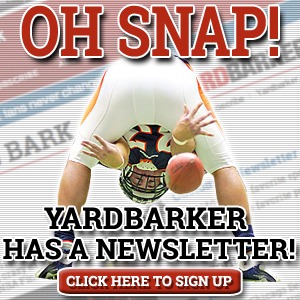 Latest Rumors
Best of Yardbarker

Today's Best Stuff

For Bloggers

Join the Yardbarker Network for more promotion, traffic, and money.

Company Info

Help

What is Yardbarker?

Yardbarker is the largest network of sports blogs and pro athlete blogs on the web. This site is the hub of the Yardbarker Network, where our editors and algorithms curate the best sports content from our network and beyond.