Found March 13, 2013 on Boston's Bettah:
Wes Welker is no longer with the New England Patriots My first experience with Wes Welker came the year before he became a New England Patriot. A friend of mine was, and still is, a huge fan of the Miami Dolphins and it was there where Wes Welker first made a name for himself. The true fans of the Dolphins loved Wes Welker for the same reasons that New England Patriots fans loved him. Welker worked harder than anyone else on the field, had a strange knack for getting open in the middle of the field, and (lets face it) he was a diminutive 5'10″ white wide-receiver putting together a career in the NFL. I was enamored with Welker. Thanks to a couple of strange rules in our fantasy-league scoring (points-per reception and valuing return yardage) Wes Welker actually became a somewhat valuable player in the 2006 season. He caught 67 balls that year and also returned almost 400 yards of return yardage for the Dolphins. Not bad for an extremely undersized wide-receiver. So when the New England Patriots traded for Wes Welker the following off-season, the only two people that seemed to care about the signing were my friend and I. He hated the idea of having to play against Wes Welker, burned because the Dolphins gave him a career and then shipped away to a division rival and sad knowing what his true value could be. I simply loved the fact that this 5'10″ wide-receiver was now on the New England Patriots and with Tom Brady throwing him the football, his statistics and value could only get better. Two weeks before week one, I bought a Wes Welker jersey for the novelty of it and also to make my friend angry. When he came over to watch football on the first Sunday of the NFL season, I was there in my Wes Welker jersey, to the disgust of my friend. It was September 9th, 2007 and none of us had idea the career that was about to unfold in front of us. Randy Moss stole the show that Sunday afternoon, but he did not catch the first touchdown of the season for what would be a record setting offense. It was Wes Welker who came off the line wide left of Tom Brady. He ran a quick curl route to the sticks, turned up field, made one guy miss and scampered into the end-zone. His first touchdown highlighted part of Welker's game that Patriots' fans would come to love over the years. Wes Welker was like watching that old-pro in basketball who continues to get by on little tricks in his game. His lack of size essentially turned Welker into an old pro. He had to learn how to squeeze into gaps between defenders after making catches and dive under safeties to gain a couple extra yardage. Welker always seemed to make a double-move in the slot, make the catch and turn up field before avoiding a big hit. Every time it seemed to happen, well it at least happened 112 times in 2007, 111 times in 2008, and 123 times in 2009. Part of his success came in those first few years because of the attention that Randy Moss required over the top of defenses, but players don't just luck into 110+ catches a year. Wes Welker was good and he had a fantastic chemistry with Tom Brady which lead to his success. After that 2007 season, I got a new Wes Welker jersey. Part of the reason was that old Welker jersey stunk of shame from "Super Bowl that shall not be mentioned I", the other was that the new one was authentic and it looked like Welker was going to be the next hard-working, tough, Patriot for life wide-receiver. Patriot for life, that is what Patriots owner Bob Kraft wanted to do to Wes Welker when he entered unrestricted free-agency this year. The situation around Wes Welker slowly changed. After tearing his ACL at the end of the 2009 season, Welker caught 86 balls in 2010. On one hand, it was obvious that his knee issues were still bothering him, but the numbers also fail to mention another change in the offense. In the middle of the season, the Patriots traded Randy Moss to Minnesota. In addition to Brady, Moss was considered a huge reason for Welker's success because of the attention he garnered from opposing defenses. That attention freed Welker up over the middle of fields. Welker was good, but could he perform without Randy opening up defenses? It was the major question for Wes Welker who was entering a contract season. Surely he was a player that was replaceable and a benefit of the system. Wes Welker responded by catching 122 balls in 2011 performing well in his first contract season. He also was inches away from making one of the biggest catches in Patriots history in "Super Bowl that shall not be mentioned II". Despite his drop, Patriots fans believed that the Patriots and Welker would get a deal done. It just seemed like Welker would be a Patriot for the rest of his career. Something was amiss in the relationship between the Patriots and Welker. Wes Welker wanted a multi-year deal to stay in New England, something the Patirots were not willing to give. Welker quickly signed his franchise tender that off-season, putting a highly vocal trust into the Patriots to get a long-term contract signed. No contract was signed and Welker played under his $9.5 franchise-tender. Something strange happened next. Wes Welker didn't start in week 1 nor did he start in week 2. Julian Edleman took his spot in the starting line-up opposite Brandon Lloyd. A man who caught 122 balls as a slot receiver without the benefit of a true deep threat was not even considered good enough to start the next season for his football season. As Patriots' fans, we should have seen this as the beginning of the end of Wes Welker in New England, but none of us wanted too. Wes Welker had won our hearts with his play in his six year career with the team. We believed he would be a Patriot for life, that the starting line-up meant really little in the grand-scheme of things in the Belichick system. The wheels of change were already spinning. Welker felt jerked around by the franchise. They didn't sign him to a long-term deal and they did not start him for two weeks. Eventually he ended up starting and put together a typical Wes Welker season. The long-term deal had to be coming, but Welker was betrayed by the franchise. There are certain guys where the idea of sports being a business is thrown out and Welker seemed to be one of those guys. Even Bob Kraft, the Patriots owner, said Welker would be a Patriot for life, at least he wanted him too. All he had to do was open the check-book. It was obvious Welker felt like he had been jerked around enough by the Patriots. When news broke on Wednesday that Welker was down to the Broncos and the Patriots and was leaning towards the Broncos, Patriots fans still thought he would sign with the Patriots. The Patriots realized that Welker was not bluffing about having other offers and they would give him whatever they wanted. They offered less than what Denver wanted. For an organization that would seem to value the intangibles of Welker, they seemed to not care anymore. That is why Welker is gone. The Patriots no longer valued his skills. The Patriot for life was not to be. It's time to retire another jersey, at least, for now.
Original Story:
http://www.bostonsbettah.com/?p=5829
THE BACKYARD
BEST OF MAXIM
RELATED ARTICLES
How Wes Welker Went from Tom Brady's Favorite Weapon to Just Another Free Agent: Taking a look back...
"Wes Welker must look at Danny Amendola and shake his head. A younger — and likelier cheaper —...
There are actually reports surfacing that Touchdown Tommy was enraged that the Patriots let Wes Welker escape to Denver. Granted the two of them have some serious chemistry, but I don't think Danny Amendola should be overlooked. If that guy can stay healthy, he's pretty damn good. It's too early to tell, but the Patriots offense was a juggernaut and Welker seemed like a perfect...
These need to go up in Denver Juan… The 50 Cent team over at SK Energy Shots inked a sponsorship deal with New England Patriots wide receiver Wes Welker. This helped lead to a big boost in sales in the North East region of the U.S.  The marketing strategy included Wes on tons of garbage cans throughout the Boston are — Now that he's officially heading to Denver, we'll see...
Wes Welker may be hooking up with a future Hall of Fame QB after all. The former New England Patriots standout wide receiver is in "serious talks" with the Denver Broncos today, the second day of free agency, ESPN's Adam Schefter reports.  The team reportedly wants to "hammer out a deal" with the All-Pro slot receiver. Welker, 31, had 118 catches for 1,354 yards last year...
Just before I left work today a co-worker interrupted my conversation to tell me that Wes Welker was gone, on his way to Denver.  A minute later, thanks to the wonders of twitter, I saw that it was a two-year deal.  I became puzzled, wasn't that what the Pats offered Welker last year, a deal he rejected?  I rationalized that Welker surely got two years and $16 million or more...
Wes Welker Wired (by amaris574)
http://boston.cbslocal.com/2013/03/15/felger-mazz-mike-reiss-calls-in-to-challenge-felger/ Mike Felger (Comcast Sports TV Anchor and Radio Host) had allegedly called out Mike Reiss (Patriots Beat Writer for ESPN Boston) for being "in the bag of the team." Felger is referring to Reiss's comment about Wes Welker's agent being partially at fault for the mishap in...
I'm as heartbroken as anybody right now. Watching Wes Welker leave for nothing more than an average contract has to make you think that the Patriots have something up their sleeves... RIGHT?? Well according to SI.com, Bill Belichick's master plan will not include free agent CB Nnamdi Asomugha. The teams interested include the 49ers (seriously, where are they getting...
So, Danny Amendola wasn't a reaction to Wes Welker's exit, after all. According to Tom E. Curran, the Patriots and the former Rams receiver agreed to the five-year deal on Tuesday — not Wednesday when the signing was leaked. That being said, Curran believes that the Pats had likely already moved on from Welker and went after Amendola when No. 83 went on the market. Check...
The call that pushed the Patriots to the top of the football world 11 years ago may now be getting scrapped.   The "tuck rule" headlined Thursday's announcement by the NFL's Competition Committee that there will be six proposed rule changes, three proposed bylaw changes, and two proposed points of emphasis. Yes, Raider fans, they are finally proposing to change it.   It's...
The easy thing is not always the right thing. That is the hardest part about running a successful NFL franchise. Unless you're Bill Belichick, that is. The hoodie and his minions — and/or staff — have always been very much about putting the business first. While some teams add players to try and liven up their fan base or re-sign guys based off emotion and sentimentalism, Belichick...
Patriots News

Delivered to your inbox

You'll also receive Yardbarker's daily Top 10, featuring the best sports stories from around the web. Customize your newsletter to get articles on your favorite sports and teams. And the best part? It's free!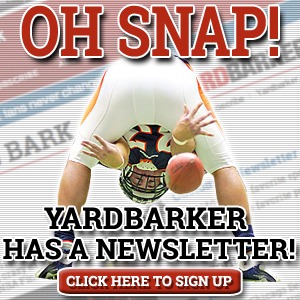 Latest Rumors
The Backyard

Today's Best Stuff

For Bloggers

Join the Yardbarker Network for more promotion, traffic, and money.

Company Info

Help

What is Yardbarker?

Yardbarker is the largest network of sports blogs and pro athlete blogs on the web. This site is the hub of the Yardbarker Network, where our editors and algorithms curate the best sports content from our network and beyond.