Obviously, I have given a lot of thought to being a fan. How else could I have come up with a whole book on the topic? I think being a fan is important. So important that I have some rules that help all of us real fans weed out the pretenders. First, fan is short for fanatic. Webster defines fanatic as – excessive enthusiasm and often intense and extreme devotion. The word itself comes from the modern Latin fanaticus, meaning "insanely but divinely inspired." The word originally pertained to a temple or sacred place. With that in mind, there is no such thing as a casual fan. You are not sometimes divinely inspired. Or "kind of" extreme or "only on Tuesdays" intensely devoted. Your team is sacred and where they play is a temple. That said, here are 6 basic rules for being the fan of a sports team Rule #1. If that's where your family originated from, then that's your team! You don't get to pick. Part of proper upbringing is making sure your children know their ancestry and where they come from. I am from Buffalo. My family is from Buffalo. Therefore I am a Bills fan. I had no choice in the matter. I can't change that any more than I can change the fact that I have blue eyes.  Being from Buffalo is who I am. Rule #2. Being a fan is an illness. Illness is defined as an unhealthy condition of body and mind.  Nothing describes a fan better than an unhealthy condition of body and mind.  Is it healthy as a 48 year old male to wear a jersey with the number 12 and another man's name on my back? Of course not!  Is it healthy to have your stomach in knots as Scott Norwood is lining up to kick a football at the end of the Super Bowl.  If you say so.  When my wife tried throwing out my AFC Championship hats, I rummaged through the garbage, fished them out and was relieved that the coffee grounds had not ruined them.  Is that the textbook definition of a mentally healthy well-adjusted middle aged American? Of course not.  It is insane!  It is sick! Hell, when I lost my wedding ring at the Disney water park on my honeymoon, I spent 30 seconds looking around and said, "Well, we will have to replace it when we get home."  That object represented the love for the women I declared I was going to spend the rest of my life with.  I damn near chased the garbage truck down the street for my ball caps. That's sick. Rule #3. You only watch your team with loved ones or friends. Only friends understand the importance of game day.  I only watch the Bills in two places; my living room with my son or he and I go to a Bills Backers Club at a local bar that on Sundays is filled with other crazed Bills fans who understand. That's it…nobody else! Rule #4.  If your team leaves town, it's over! Here's the deal. If you live in Baltimore you now hate the Colts. If you live in Cleveland you hate the Ravens. I am not a fan of the Bills, I am a fan of the Buffalo Bills. They represent me, my town, my heritage, my ancestry. Rule #5. If your hometown does not have a team in that sport, than you're not a fan of that sport. Here is how this works.  I now live in Tampa, Florida.  A nice place to live.  I love the warm weather and white sand beaches.  I like watching baseball.  My son and I will occasionally head out to Tropicana Field and catch a Tampa Rays game.  We cheer when they score; we have fun and always want the Rays to win. It would be nice if the Rays win the World Series someday. But that is not being a fan.  That really is nothing more than entertainment.  When the Rays lose, my son and I shrug our shoulders, grab our things and head out to the car.  Why?  Because they are not the Buffalo Rays. If the Rays never win the World Series who cares?  I need the Bills to win the Super Bowl in my lifetime!  My son and I have already discussed how we would get back to Buffalo for the parade when the Bills finally win it all.  I know, it's nuts…see Rule #2. Rule #6. If you are a fan, then you know everything about your team. Again, there is no such thing as a casual fan. There is nothing about the Buffalo Bills I don't know.  Listen, I am not going to bombard you with Buffalo Bills facts and trivia.  Trust me; you will not be able to stump me on any Bills fact.  I can tell you anything you ever wanted to know up to an including the starting offensive line for the Super Bowl XXV team, their jersey numbers, their college and when they were drafted.  If you claim to be a fan than you'd should be pursuing a PhD in your team's history and trivia. That's the rulebook, and I am glad I got that off my chest. Because some people really annoy me with their: I am originally from Detroit but I grew up a 49ers fan. Then Joe Montana was traded so I started rooting for the Cowboys.  I became a Cowboys fan because my grandmother moved to Florida when Jimmy Johnson coached the Miami Hurricanes and I liked the 'Canes cool uniforms. So, when Johnson became the coach of the Cowboys I started rooting for Dallas. No , stop talking…you are a Lions fan!! The post The Fan Rulebook appeared first on Queen City Sports.
Original Story:
http://queencitysports.net/the-rulebook/
MORE FROM YARDBARKER
Bills News

Delivered to your inbox

You'll also receive Yardbarker's daily Top 10, featuring the best sports stories from around the web. Customize your newsletter to get articles on your favorite sports and teams. And the best part? It's free!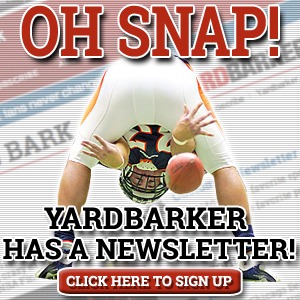 Latest Rumors
Best of Yardbarker

Today's Best Stuff

For Bloggers

Join the Yardbarker Network for more promotion, traffic, and money.

Company Info

Help

What is Yardbarker?

Yardbarker is the largest network of sports blogs and pro athlete blogs on the web. This site is the hub of the Yardbarker Network, where our editors and algorithms curate the best sports content from our network and beyond.