Found January 19, 2013 on NorthWest Sports Beat:
PLAYERS:
Chris Clemons
,
Matt Ryan
,
Marcus Trufant
,
Bobby Wagner
,
Bruce Irvin
,
Julio Jones
,
Pete Carroll
,
Robert Turbin
,
Michael Robinson
,
Breno Giacomini
,
John Moffitt
,
Zach Miller
,
William Moore
,
Marshawn Lynch
,
JR Sweezy
,
Sean Weatherspoon
,
Kam Chancellor
,
Roddy White
,
Richard Sherman
,
Sidney Rice
,
Russell Wilson
TEAMS:
Seattle Seahawks
,
Atlanta Falcons
It isn't about pointing fingers One of my favorite teachers in high school used to say, "Those who forget the past are doomed to repeat it." I know that it isn't an original quote from him, however he is the one who ingrained it into my being. I could not believe my eyes as I watched the Seahawks play in the Georgia Dome on Sunday.   I went from complete shock, to complete jubilation, and then absolute gut-wrenching heartache. We all did. When I look at the final game the 2012 Seahawks played there are 5 things that I can point to and say, "What if?" What if…. Chris Clemons hadn't tore his ACL in Washington? The Seahawks could not get any pass rush against the Falcons on Sunday. Not only were the Seahawks unable to sack Matt Ryan, they were only able to hit him once during the entire game. That hit was from Marcus Trufant on an overload blitz to the right side of the offense. On that play Bobby Wagner intercepted that Ball. Bruce Irvin was more than just a situational rusher? Bruce Irvin was unable to get anything going with added playing time. Being asked to be the Seahawks starting defensive end neutralized him. Irvin's only tackle came on a screen pass where he dropped back into coverage and ran Julio Jones out of bounds after Jones picked up 6 yards. During the Season Chris Clemons took a lot of the pressure off of Bruce. Chris would take on double teams and still create havoc. On Sunday Bruce was manhandled. The Falcons had no trouble with his pass rush, nor did they have trouble moving him out of the way in the running game. He just isn't an every-down player at this point in his career. Maybe he will be able to bulk up enough to be an effective defensive end without losing the speed that makes him an effective pass rusher. Until then he is what he is, a situational pass rusher. Chris Clemons presence was definitely missed Sunday (Photo: Total Pro Sports) Pete Carroll had decided to kick a field goal On third and 1 from the 11-yard line the Seahawks ran a draw out of the shotgun formation with Robert Turbin. Turbin was hit at or about the 10-yard line where he was stopped and immediately dropped. The officials marked the ball just inside the Falcon 11, but then one official ran in and set it at the 11 for 4th down. Pete Carroll probably should have challenged the spot of the ball at that point because there is a good chance they would have seen that Turbin gained enough for the first down. On 4th and 1 the Seahawks should have kicked the field goal and got some points on the board in my opinion. I know Atlanta has a high powered offense, nevertheless with a little over 5:30 left in the half, teams really need to think about getting rid of that giant goose egg to end the half. That is one of those plays where I believe they should kick the field goal on the road and go for it at home. Instead the Seahawks ran the ball with fullback Michael Robinson who had no where to run. Breno Giacomini crashed down inside to help John Moffitt block the defensive end while Zach Miller took on the outside linebacker. The three Seahawks blockers blocked those two Falcons well, however that left Falcons safety William Moore unblocked with a straight shot into the gap. Moore never even needed to move laterally because he was lined up where the running lane opened. At the snap Moore was at the 10-yard line and it took him two steps to hit Robinson in the backfield and take him down. The Lynch fumble killed momentum for the Hawks (Photo: seahawks.com) Marshawn Lynch doesn't fumble For the second playoff game in a row Marshawn Lynch lost a fumble in opponent's territory. This time Lynch had avoided a tackle for a loss when JR Sweezy missed a run block. Lynch was caught from behind after picking up a first down at the Falcon's 40-yard line. Marshawn had been holding the ball at his side instead of up in his chest, so when Sean Weatherspoon swatted at the ball, with his right hand, the ball came out and hit the turf and the Falcons recovered. The Seahawks were down by three points at that point of the game and had just gotten the ball from the Falcons When Bobby Wagner intercepted a Matt Ryan pass. The Seahawks had the momentum turned in their favor. They could have changed the entire complex of the first half had they been able to put points on the boards. Instead Atlanta drove the ball down the field and extended their lead to 10. Kam Chancellor drops deep enough While playing single high safety, it is imperative that the safety remain deeper than that of the deepest receiver. Kam Chancellor not only allowed Matt Ryan to look him out of the middle of the field, Kam also failed to drop as deep as Roddy White was running his route. Richard Sherman was expecting to have deep help inside. You can tell by the way Sherman lined up about three yards outside of white White and played him outside in. When Chancellor failed to be in the position he was supposed to be in there was nothing Richard could do. Sherman may have fallen down on the play, however it was Kam's blown assignment that led to the touchdown. Also, I'd like to give a dishonorable mention to the entire final drive of the 1st half. Sidney Rice did not try to get out of bounds, he instead cut the ball inside and kept the clock running. The offense wasted 30 seconds off the clock trying to set up a play rather than calling a timeout. JR Sweezy missed his block leading to Russell Wilson being sacked on the final play of the half. All of that added up to the Seahawks running out of time an unable to get any points before the half. Unfortunately that is what we are left with, the what ifs. It is time to switch the focus to what could be. Go Seahawks! On a side note Gus Bradley was just named the new head coach of the Jaguars. The Seahawks brought back former defensive line coach Dan Quinn to replace Gus as defensive coordinator. Quinn had been the defensive coordinator for Florida since leaving the Seahawks. The Seahawks were able to sweeten Darrell Bevell's contract to keep him as their offensive coordinator for at least one more season. I like the move, the offense really started to click during the second half of the season. It also gives Wilson some continuity in the near future while he is still learning the game. CLICK HERE TO CHECK OUT THE SEAHAWKS BLOG PAGE IN OUR CLUBHOUSE SECTION AT NWSB!
Original Story:
http://www.nwsportsbeat.com/seahawks/...
THE BACKYARD
BEST OF MAXIM
RELATED ARTICLES
LET'S TALK
Russell Wilson's representatives are reportedly seeking a new contract from the Seahawks, but will the current CBA allow it?
Seattle coach Pete Carroll is still feeling the heat for outsmarting himself and icing kicker Matt Bryant during last Sunday's divisional playoff game against Atlanta, who missed his first attempt. Carroll acted surprised after the miss like 'who called the timeout?'You did Pete. On national television in plain sight of the cameras, Carroll instructed the official on...
With their season now over, Seattle Seahawks safety Kam Chancellor and defensive end Chris Clemons underwent surgery yesterday to help repair injuries sustained during the year, according to Curtis Crabtree of Pro Football Talk. Chancellor's surgery was for an undisclosed injury in his lower right leg. He has been placed in a walking boot, but the procedure itself is not considered...
Seattle Seahawks safety Kam Chancellor underwent surgery on an undisclosed injury to his right leg and defensive end Chris Clemons had his torn ACL surgically repaired. Chancellor and Clemons confirmed their surgeries on Twitter. Surgery is Finally over and I feel like crap.. instagr.am/p/UmOtTPEY0P/ — Kameron (@Kam_Chancellor) January 17, 2013 Surgery was a success today, Thanksfor...
According to ESPN's Chris Mortensen via ProFootballTalk.com, a unamed representative of quarterback Russell Wilson has called the Seahawks "insisting that something be done" to adjust his current rookie contract. PFT stated taht Wilson and his rips will have to wait two years before he can get a raise. As we've mentioned plenty of times (and specifically in relation to...
Earlier today it was reported that the agent of Seahawks quarterback Russell Wilson contacted Seattle in hopes of getting his rookie contract adjusted to compensate his client for a great season. According to Ian Rapoport of NFL.com, Wilson's agent Bus Cook has denied that he asked the Seahawks for more money. http://profootballzone.com/wp-admin/post-new.php Need NFL Tickets? ...
First, let's make this point clear: The NFL's new collective bargaining agreement clearly states that rookie contracts can't be renegotiated until three of the mandatory four years of the contract have been completed. Moving on: ESPN's Chris Mortensen has reported that an "unnamed representative" of Russell Wilson has called the Seahawks "insisting that something be...
A Team Transformed Part 1 Defense >>> Many question marks surrounded the Seattle Seahawks' offense heading into the 2012-2013 season. The defense was expected to be elite – as well as the running game – but the passing game hadn't seen top 20 action in a few years. These questions were soon answered by the emergence of Russell Wilson. The offense began much like...
The 2012 NFL playoffs has been full of excitement from the young quarterbacks around the league.If not for some questionable play-calling by Seattle Seahawks head coach Pete Carroll, the NFC Championship would be headlined by two teams that have starting quarterbacks that are brand new to the league.Seattle Seahawks quarterback Russell Wilson, and San Francisco 49ers quarterback...
Bounced early, but still proud That headline says it all from my stand point on the Seahawks 2012 football season. They came up one game short from winning the division, a mighty step forward from the previous season, yet for some reason, it felt that we should still be playing this week. Yes I am bummed that we were knocked out in the second round of the playoffs, but, I'm more...
The idea was to eliminate a transition. Florida head coach Will Muschamp moved fast enough to avoid one. When former defensive coordinator Dan Quinn was announced as the new defensive coordinator for the Seattle Seahawks on Thursday afternoon, Muschamp didn't drag his feet. In just over an hour, his decision to promote linebackers coach D.J. Durkin was official. It was a part of the plan.
NFL News

Delivered to your inbox

You'll also receive Yardbarker's daily Top 10, featuring the best sports stories from around the web. Customize your newsletter to get articles on your favorite sports and teams. And the best part? It's free!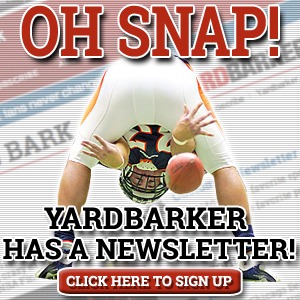 Latest Rumors
The Backyard

Today's Best Stuff

For Bloggers

Join the Yardbarker Network for more promotion, traffic, and money.

Company Info

Help

What is Yardbarker?

Yardbarker is the largest network of sports blogs and pro athlete blogs on the web. This site is the hub of the Yardbarker Network, where our editors and algorithms curate the best sports content from our network and beyond.