Found November 01, 2011 on Fox Sports Kansas City:
PLAYERS:
Ryan Succop
,
Philip Rivers
,
Andy Studebaker
,
Matt Cassel
,
Todd Haley
,
Jackie Battle
,
Dexter McCluster
,
Antonio Gates
,
Brandon Flowers
,
Tamba Hali
TEAMS:
Kansas City Chiefs
,
San Diego Chargers
About a minute before Ryan Succop knocked through the 30-yard field goal that handed the Chiefs an overtime victory Monday night, San Diego quarterback Philip Rivers stood on the sideline and clearly mouthed these words: "Worst night ever!" It's no surprise Rivers felt that way, considering he fumbled a snap on the Chiefs' 15-yard line with less than a minute to play in regulation -- and the Chargers running down the clock in preparation for a game-winning field goal. As for the entire game, well, it wasn't the worst ever particularly from the Chiefs' vantage point but it won't ever be displayed in the Louvre, either. The two teams combined for eight turnovers (tying an NFL game high for this season) and shared many moments of sheer confusion and ineptitude. But hey, who ever said pro football was about style points? KANSAS CITY 23, SAN DIEGO 20 (OVERTIME) 1. Oops! As we've already noted, the Chargers certainly should have won the game. So while the Chiefs wound up celebrating their surprise entrance into a three-way tie atop the AFC West with San Diego and Oakland, everyone knows the truth. "We've never had an issue with it," Rivers said of botched snap. "You do it for years and years without a problem. "This oneI guess I just dropped it." The result was an almost-miraculous recovery for the Chiefs, on two fronts. First, linebacker Andy Studebaker emerged from the scrum with the ball after Rivers' fumble and then QB Matt Cassel kicked an often-snoozing Chiefs offense into life, leading a drive into Succop's range for the OT winner. "It was a thrilling win," Cassel said, "especially since things looked so glum there for awhile." Glum was an understatement. The Chiefs had lostand then suddenly they hadn't. 2. What's the deal, Bill? Chiefs play-caller Bill Muir seems to spend large portions of games reading off an old chart and doing it slowly. The offense is predictable and uninspiring, and the coaches are often late getting plays communicated to everyone in the huddle and at the line of scrimmage. The result is a mess, and it went on Monday night through the entire second and third quarters. In that 30-minute stretch, the Chiefs managed exactly two first downs. What's REALLY mysterious is how Muir perhaps with coach Todd Haley's input suddenly falls into rhythm once in awhile, and the Chiefs just zoom down the field. In the first quarter and again with the game on the line, the Chiefs mixed up their offense getting Jackie Battle and Dexter McCluster into spots where they can succeed running the ball, and giving Cassel workable play-action passes. Is there some reason they can't do all this for longer periods of time? 3. Somebody help Tamba Victory hides a lot of deficiencies. So do some of your own strengths, come to think of it. For most of the game, the Chiefs secondary played tight man-to-man against Rivers and his receivers, double-teaming tight end Antonio Gates and letting Brandon Flowers play anyone in single coverage without much fear. So despite Rivers completing 26 of 41 passes for 369 yards, the Chargers didn't produce a lot of points. Nine trips inside the Chiefs' 35-yard line, and San Diego managed just one TD. The biggest reason was incredible coverage and crisp tackling when the Chargers did complete a pass. What's the problem, then? Well, the Chiefs mounted almost no pass rush beyond the one-man crusade of Tamba Hali. Jumping all over the defensive front, Hali produced two more sacks, forced a fumble, accounted for at least two holding penalties and probably a couple of false starts. But the rest of the Chiefs have managed only one other sack so far. Hali will get more and more attention as the season goes on so somebody else has to pick up the slack. Teams that make playoff runs ALWAYS mount a big pass rush at crunch time. At the moment, the Chiefs can't do it and that's got to change. 4. Why not stay angry, Matt? It's becoming obvious that Cassel is more likely to be efficient when he gets upset and says, "I'm just gonna play the darn game." Remember how Cassel reacted after that furious sideline argument with Haley? The same thing happened Monday night, when Matt became utterly frustrated with how slowly plays were getting to him from the coaches. Cassel waved his arms, shouted, stamped his feet and then started to take command of the football game. Frankly, I'm almost wondering if the Chiefs wouldn't be better off if Cassel called ALL the plays himself. Teams did let their quarterbacks do that for about a hundred years, you know. In any event, Cassel was calm in the pocket and relentlessly efficient once his face got red. When he spends all that time waiting for play calls, sorting out formations and then rushing to beat the play clock, Cassel sometimes looks flustered and his throws often reflect it He's actually a tough competitor who might be better off taking charge of the offense and letting his instincts produce results. At least he wouldn't waste timeouts every couple of series. 5. Were you ready for some football? Oh, sorry to make any reference to the longtime Monday night theme song now that Hank Williams Jr. has been dumped for an insane political joke that had something to do with Hitler. Not too bright. Even with ol' Hank and his music missing, however, there is still something special about Monday night especially at Arrowhead. The noise, a sellout crowd raising hell and waving towels, the fireworks, the whole scene. It still raises goosebumps and it still causes opposing teams to jump offside. The Chiefs haven't been spotlighted in prime time very often in recent years, so maybe we've forgotten what a spectacle is created when the nation zeroes in on Arrowhead. "It wasn't too pretty," Haley said of the Monday night win. The coach was talking about clean football execution, but heck, plenty of things looked just terrific as the Chargers managed to throw away a victory. Besides, national games at Arrowhead almost always toss up something unique. This time it was Ryan Succop hitting an OT winner for the third straight year one in each season since he was the last player drafted in 2009. Not only that, but home teams had lost nine straight overtime games in the NFLa streak that dated back to Succop's winning field goal against Buffalo last year. There's just something about Monday night at Arrowhead. Always will be, I guess.
Original Story:
http://www.foxsportskansascity.com/11...
THE BACKYARD
BEST OF MAXIM
RELATED ARTICLES
Philip Rivers wants to set the record straight. TV cameras appeared to catch Rivers saying ''This is the worst day ever,'' moments after he fumbled away the snap on Monday night at Kansas City as the San Diego Chargers were driving to what appeared to be certain victory in the last minute of regulation. Instead, the Chiefs recovered and went on to win 23-20 in overtime...
SCOTT JACOBS Philip Rivers has had what many would consider a brilliant NFL career. Since taking the reigns as starter 6 years ago, he's become one of the NFL's best QBs. But he's failed to lead the talented Chargers to the Super Bowl, and on Monday Night threw his league leading 11th interception of the season. Adding insult to injury he then mishandled Nick Hardwick's...
The television cameras zoomed in on Philip Rivers just after he had fumbled away the San Diego Chargers' chance to beat the Kansas City Chiefs in regulation. It didn't take a professional lip-reader for the message to come across. ''This,'' Rivers said on the sideline, ''is the worst day ever.'' Only for the Chargers. It was awfully good...
If you own one of these two guys in fantasy football, TRADE THEM NOW! It's over my friends. I know the season is not even half over, but get rid of these toxic assets as soon as possible. Philip Rivers threw for 369 yards last night. Sounds great right? Not so much. The guy threw two interceptions and lost a fumble without throwing a touchdown. To be quite honest, the Chargers...
Philip Rivers put his hands under center and called for the snap, one that would have moved the San Diego Chargers to the brink of victory. They had trailed Kansas City the whole game, but with the ball at the Chiefs 15-yard line and Nick Novak's right leg warmed up, they were poised to escape with a win on the road. Then everything went wrong. The ball squirted loose before...
Philip Rivers might have had more difficult games from a statistical perspective, but Monday night's loss had to be emotionally draining. Whatever the reason for his poor play, Rivers' slide leaves the Chargers in a precarious situation in the deadlocked AFC West.
It was an all-time NFL blunder, the kind that will show up on "SportsCenter" countdowns and career retrospectives for years. With his team preparing to run down the clock and set up a chip-shot, game-winning field goal, San Diego Chargers quarterback Philip Rivers mishandled a routine snap on a kneel-down play, fumbled the ball and handed possession to the Kansas City Chiefs...
Unlike the past few years, the San Diego Chargers started their season strong; leading the AFC West Division and racking up four wins early in the season. For a team that started last season at 0-1 before quickly sliding to 3-5 by this time last year, that's a great record. The game against the New York Jets looked promising with the Bolts taking an early lead and ending the...
Ryan Succop kicked a 30-yard field goal in overtime, giving the Kansas City a 23-20 victory over the San Diego Chiefs on Monday night and moving the Chiefs into an improbable tie atop the AFC West.
Up and down the sideline, the Kansas City Chiefs were telling each other the game wasn't over. Didn't matter that Philip Rivers was under center with less than a minute left, and that Nick Novak was poised to kick the winning field goal for San Diego.
NFL News

Delivered to your inbox

You'll also receive Yardbarker's daily Top 10, featuring the best sports stories from around the web. Customize your newsletter to get articles on your favorite sports and teams. And the best part? It's free!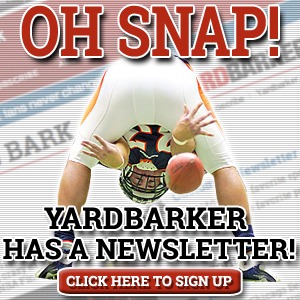 Latest Rumors
The Backyard

Today's Best Stuff

For Bloggers

Join the Yardbarker Network for more promotion, traffic, and money.

Company Info

Help

What is Yardbarker?

Yardbarker is the largest network of sports blogs and pro athlete blogs on the web. This site is the hub of the Yardbarker Network, where our editors and algorithms curate the best sports content from our network and beyond.