Found November 06, 2011 on Fox Sports Kansas City:
PLAYERS:
Todd Haley
,
Matt Cassel
,
Matt Moore
,
Tamba Hali
,
Dwayne Bowe
,
Scott Pioli
,
Jon Asamoah
,
Clark Hunt
,
Eric Berry
,
Leonard Pope
,
Tony Moeaki
,
Jamaal Charles
TEAMS:
Kansas City Chiefs
,
Miami Dolphins
It's hard to pick out all the items that deserve attention in this week's "Five-Point Blitz." A 31-3 defeat at home to a team that came in 0-7 puts a lot of issues on the table. It also brings back memories of the late John McKay, who coached the expansion Tampa Bay Bucs in their inaugural season. Those hapless Bucs went 0-14. After one particular awful loss, McKay was asked at his post-game press conference what he thought of his team's execution. "I think it's a good idea," replied McKay. And on that cheery note, let's wade into the quicksand of this week's "Blitz." MIAMI 31, KANSAS CITY 3 1. Block and tackle! There are plenty of things for coach Todd Haley to address right now including his own performance and that of his staff but maybe the best place to start would be at the line scrimmage. And we're talking BOTH sides of the ball. The Chiefs offensive line simply got overwhelmed by a Miami group that was more physical, more aggressive, more creative the whole ball of wax. As a result, the Chiefs couldn't run the ball with any consistency and we know they're dead when that happens. QB Matt Cassel, wellhe was darn near chased right out of the stadium. On defense, the Chiefs have only nine sacks in eight games and you simply can't win in this league without pressure on quarterbacks. Miami's Matt Moore could have placed a couple of phone calls before unloading the ball on some plays. Imagine if anything happened to Tamba Hali, the Chiefs' only legit pass rusher. Yikes! 2. Cassel This problem needs to be addressed repeatedly, because I'm afraid the Chiefs management actually believes that Cassel is a quarterback who can take a team to Super Bowl if only he's surrounded by a few more key players. No. He's not, and he won't. Cassel certainly didn't lose the Miami game by himself almost everyone was awful but this debacle DID highlight his two most glaring deficiencies. The guy cannot throw if he has to move in the pocket, and he's hopeless when trying to throw on the run. Remember that fourth-down play inside the Dolphins' 3-yard line, when Cassel only needed to take a few steps to his right and flip the ball to Dwayne Bowe for an easy first down and most likely, a touchdown. Cassel can wing it through the eye on a needle when standing tall in the pocket, bracing on his back foot and stepping into his throws. But moving, in any direction? Just those few little steps put him off balance and he tossed the ball over Bowe's head. That's not a winning NFL quarterback, folks. 3. Will you come back, Brian? There are a lot of theories about the departure of Pro Bowl guard Brian Waters, who was released not traded, just unloaded -- prior to training camp. Haley and GM Scott Pioli have said, in so many words, than Waters was getting older, that he'd gotten out of shape during the work stoppage and that he struggled for fitness even in the good years, etc. Beyond that, Haley insisted it was time to let second-year guard Jon Asamoah take over a starting spot. Hmmm. Asamoah has been OK, at best. He was torched by the Dolphins' interior linemen Sunday, who often zoomed past him en route to Cassel. And Waters, who supposedly was over the hill? He's starting and, by all accounts, playing very well for New England. Perhaps rumors of a rift stemming from Waters' involvement with the players union at the same time Clark Hunt was negotiating for the owners have some foundation. Whatever reason Waters was dismissed, it's a shame he's gone. The Chiefs could use him right now. 4. Yes, injuries matter. As the Chiefs somehow stitched together a four-game winning streak, it was easy to forget the value of their three seriously injured stars. When you get blown out at home, can't move the ball and get burned in the secondary, however, you remember just how much talent is sitting on IR. Miami torched the Chiefs quite a few times, throwing at the safeties and you have to believe Eric Berry would have made an impact in those situations. Offensively, tight end Leonard Pope subbing for the injured Tony Moeaki doesn't have the speed or agility to get open. Of course, that might not matter because Pope struggles to catch the ball, anyhow. And finally, there's Jamaal Charles. I refuse to believe that ANY team is going to hold the Chiefs (with a healthy Charles) to a single field goal at Arrowhead not to mention stopping them twice on drives that died inside the 5-yard line. Charles would have added the explosiveness the Chiefs lack and other teams exploit it by playing everyone tight. Watch and see the difference when Charles comes back next year. 5. Please forget the playoffs! Yes, despite being pounded to death at home by a previously winless team, the Chiefs remain tied for first place in the AFC West. True. Kansas City is 4-4, and so are San Diego and Oakland. Even Denver at 3-5 probably considers itself a division title contender. But let's be reasonable: One of these terribly flawed teams probably San Diego unless Darren McFadden gets healthy soon in Oakland will be handed a spot in the playoffs. We know how that goes when you aren't really a playoff-caliber team, though. Remember the "champion" Chiefs getting schooled by Baltimore in the first round last year? In some ways, it's better NOT to win a conference like the "AFC Worst" -- because that play-off spot convinces management that the basic roster really is doggone good, and only one or two holes needs to be filled. The Chiefs, even if all the injured stars return, are miles from a serious run deep into the playoffs. Wouldn't you rather face the truth, and have the people in charge face it, too? That's the only way to take a big step forward.
Original Story:
http://www.foxsportskansascity.com/11...
THE BACKYARD
BEST OF MAXIM
RELATED ARTICLES
Chiefs linebacker Derrick Johnson was the only player to utter what everyone must have been thinking Sunday afternoon: Kansas City's 31-3 loss to Miami looked awfully familiar. It was only a couple months ago that the Chiefs were getting outscored 89-10 while dropping their first two games of the season. There's a difference between Sunday's loss at Miami and those...
KANSAS CITY, Mo. -- Coach Todd Haley will be moving into the final year of his contract next year, and while general...
The Kansas City Chiefs didn't have one of their memorable performances this week as they lost to the Miami Dolphins who got their first win all season. However, Kansas City running back Dexter McCluster gets high marks for this impressive leap over a Dolphins defender:
KANSAS CITY, Mo. The Miami Dolphins had been searching for a way to avoid fourth-quarter meltdowns. After all, they've been building leads all season and watching them disappear in the final period or overtime during a nightmare 0-7 start. They tried a unique new approach Sunday afternoon in Kansas City, piling up a huge lead over the Chiefs and at last smiling their way...
(source feed provided no summary content for this entry)
Join the Sun Sentinel for a live chat during the game between the Miami Dolphins and Kansas City Chiefs, starting at 1 p.m. at Arrowhead Stadium. Live Chat Software
Which was the worst home loss on Sunday? - Was it the Chiefs getting buried at home by the Dolphins (more on that in a moment)? - Did it happen in Oakland, where the Raiders succumbed to Tim Tebow? - How about the Steelers, Patriots, Chargers or Bills? You get the point. Rooting for the home team had its moments (San Diego fans enjoyed watching their fantasy lineups), but hundreds...
Two pass interference penalties helped put the Bills defense in position to surrender touchdowns. Pressure on Chiefs QB Matt Cassel came early and often from the Dolphins defense. The Patriots didn't put DT Albert Haynesworth back on the field after Brandon Jacobs scored a touchdown early in the third quarter. Said Jets DT Sione Pouha,…
NFL News

Delivered to your inbox

You'll also receive Yardbarker's daily Top 10, featuring the best sports stories from around the web. Customize your newsletter to get articles on your favorite sports and teams. And the best part? It's free!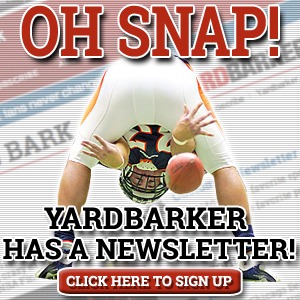 Latest Rumors
The Backyard

Today's Best Stuff

For Bloggers

Join the Yardbarker Network for more promotion, traffic, and money.

Company Info

Help

What is Yardbarker?

Yardbarker is the largest network of sports blogs and pro athlete blogs on the web. This site is the hub of the Yardbarker Network, where our editors and algorithms curate the best sports content from our network and beyond.