Found August 29, 2012 on Rams Herd:
Try! I'm known for trying to do almost anything when it comes to the St. Louis Rams. In doing so, I've learned a great deal. For instance, Photoshop doesn't really capture the majesty of a Rams game ticket, or at least that's what the guys at the stadium entrance have told me on more than one occasion… Call it Kismet or Karma, I'm left with tailgating in the parking lot of the Edward Jones Dome most Sundays, though the quick chats with law enforcement before I'm politely escorted away after presenting my current ticket "masterpiece" have become kind of a ritual… "So you actually paid a guy for this?" The nice St. Louis policeman waved the ticket I'd tried to use in my face. "Yup! I paid a guy named Will Horton…He's over there somewhere," I pointed vaguely off in several directions. The policeman's rookie partner followed the wavering line of my pointing hand. "You should go find him. When I left he was selling tickets to a bus load of Nuns… Can I get a refund for my ticket?" The veteran cop elbowed his newbie partner who was still scanning the crowd for the now infamous "Will". "You want a refund for this?" He rolled his eye, "This ticket is worse than the last time you tried this…" He pointed at a few minor glitches in the ticket's appearance. "…For instance, most tickets have the name of the opposing team printed on them?" I took a quick look at the ticket he held two inches in front of my face. "St. Louis Rams vs.
THEM
. I don't see a problem," I replied. All opposing teams are "THEM", aren't they? "Then there's the ticket price," He forced himself not to smile. The stadium officials had caught this nut case at every home game for the last ten years. It had become a minor tradition at the Dome, and his picture was posted at every entrance. Over the years, even the police department had started a small betting pool on what this whack job from New Mexico would come up next. They'd stopped arresting him a few years ago. His forged tickets were now part of a commemorative mural somewhere inside the Dome. I studied the ticket price, which seemed fair since I'd planned on prime seating. "Yeah, who do I talk to about ticket prices? They're getting a little steep, don't you think?" I fixed my face with a "concerned consumer" look. The rookie glanced at the ticket and gasped, "$11-dee jillion?" He looked at me, then wistfully at the front doors to the Dome. This earned him another elbow in the ribs from his partner. "Yup! It's gettin' a little steep if you ask me… and that doesn't include parking. But I'm a fan, so… About that refund?" I felt sweat begin to trickle down my back. "Well, according to you, you get a lot for your eleven-dee jillion bucks. Your ticket says you're seated in Stan Kroenke's suite with ten cheerleaders? It also has something about calling plays?" The struggle not to laugh was made worse by the arrival of more officers. They'd heard the call go out that their fellow officer had won the pool by catching the guy who'd become known as "Ticket Dummy". "Call me crazy," I said. I wondered why the growing numbers of officers were all nodding their heads. "But when I attend games, I want the full experience." I pointed at the ticket's addition information on the back of the ticket. "You forgot to mention the sideline Jacuzzi and unlimited beer." I nodded with satisfaction, "Game stress management like that is worth every penny, don't you think? Plus, the play calling thing just makes the game special, am I right?" My nodding head was on a swivel now as I searched for an ally in the group of officers. I counted twenty now, and I could see a few police cars, with their lights flashing, screaming toward my little group. The officer tapped the ticket on his other hand as he considered what to do next. "Where are you parked? He asked, though he'd heard an officer on his chest mounted mike say, "I found it! It's in the same spot as last year…" Damn! They'd found my Yugo! "I'd be glad to show you gentlemen. If you'll follow me…" He grabbed my shirt collar as I tried to make a half step dash to freedom. He couldn't keep the smile of his face any longer. He knew this guy was harmless enough, plus if he'd brought with him what he had in the past… "OK, let's go. Did you bring the shredded green chili chicken or the Carne Asada this time?" "Both, plus I have a new low calorie option for those straining against the pistol belts…" I gave his stomach a light back hand slap, then broke through the now laughing crowd of policemen as they teased their friend. I began the long walk to my car, half the St. Louis Police Department in my wake. I glance over my shoulder at the Edward Jones Dome. I could hear the announcer introducing the Rams' players. "We need to hurry guys!" I yelled at my law enforcement entourage. "It'll take me a few minutes to set up the TV dish." I broke into a run toward my trusty Yugo. The rookie looked at his partner, "Isn't the game blacked out here?" His partner nodded, along with the rest of the officers who were all smiling now. "Why do you think we don't arrest him every year?" The rookie shrugged. This earned him a light slap to the back of his head by the senior cop. "It's because as bad as he is at forging a game ticket, he's a freakin' wizard at pirating a game signal. He has a 50" plasma screen TV in his car. Plus, the guy knows how to cook great Mexican food." All the other officers in the group started nodding their heads at the mention of food. Then one by one, they all began to sprint toward the rusty Yugo in the far corner of the Edward Jones parking lot.
Once again,
I'd like to thank Will for inviting me to pop in here at RamsHerd. For those that don't know me, I'm a life long Rams fan, and an Editor at Turf Show Times. I'm also the author of my new novel - Devin Briar. It's available at Amazon in paperback and Kindle, Barnes & Noble, Apple iBookstore, Smashword.com, and any other site where great books can be found. I appreciate your support!
Original Story:
http://www.ramsherd.com/2012-articles...
THE BACKYARD
BEST OF MAXIM
RELATED ARTICLES
Many NFL fans will probably never remember the ongoing eight year stellar career of St. Louis Rams running back Steven Jackson, but Rams fans certainly will. Steven Jackson should join an elite list of running backs whose careers were underrated because they played for mediocre teams.
The Saint Louis Rams are once again ready to begin the regular season with a receiving core that looks like the extra's names at the end of the movie. With the exception of Steve Smith, the Rams receiving core is literally unknown, and for good reason. Terrell Owens can catch the ball, is in great shape and the Rams could use the publicity.
ST. LOUIS It figures to be a nervous couple of days around Rams Park this week. After 15 players were trimmed from the roster by Monday's deadline, the Rams still have to make 22 additional cuts by Friday at 3 p.m. to reach the regular season limit of 53 players. And with their final preseason game set for Thursday night at 6 p.m. against the Baltimore Ravens, the next few...
(Updates.) Scott Wells has had a busy offseason. After signing a four-year, $24 million contract with the St. Louis Rams, the former Green Bay Packers center had knee surgery that kept him from most of the team's activities. While rehabbing, Wells and his wife recently completed the adoption of three orphans from Uganda, a process that took nearly 18 months. As they prepare...
St. Louis Rams rookie defensive tackle Michael Brockers injured his right ankle near the end of the first quarter of the preseason finale. Brockers, the team's first-round draft pick, was injured when he got tangled up with the Ravens' Jah Reid with 4 seconds to go in the quarter Thursday night. He was helped off the field by two trainers but was able to put weight on the...
After a year away, Jeff Fisher returned to the NFL refreshed, renewed and best of all, patient. Rebuilding the St. Louis Rams might take time. Fisher inherits a handful of key veterans from a 2-14 season that got coach Steve Spagnuolo and general manager Billy Devaney fired. Surrounding quarterback Sam Bradford, middle linebacker James Laurinaitis, defensive end Chris Long and select...
Filed to ESPN: #Jets close to finalizing deal for Rams RT Jason Smith, league sources. RT Wayne Hunter part of deal. Smith, No. 2 pick '09. — Rich Cimini (@RichCimini) August 28, 2012 And with that, the de-evolution of the Rams' tackle position is finally complete. It cannot possibly get any worse. From having a future Hall of Famer in Orlando Pace in his prime just...
The Jets and Rams have completed their swap of struggling right tackles, with New York acquiring Jason Smith from St. Louis for Wayne Hunter. Both Smith, the No. 2 overall pick by the Rams in the 2009 draft, and Hunter had lost their starting jobs and the trade gives both a chance to rejuvenate their careers elsewhere. Smith was due $4 million this season, but a person familiar...
The New York Jets have acquired Jason Smith from the St. Louis Rams for Wayne Hunter in a swap of disappointing right tackles. Kenny Zuckerman, Hunter's agent, confirmed the deal Monday night, telling The Associated Press it was pending physicals on Tuesday. Smith was the No. 2 overall pick by the Rams (No. 28 in the AP Pro32) in the 2009 draft, but failed to live up to lofty...
The Ravens have fallen behind the St. Louis Rams in their final (hooray!) preseason game in the first quarter. Sam Bradford led the Rams on a drive from under the shadow of his own field goal posts. The drive was aided by a long pass play in which Jimmy Smith fell down in coverage. On the next Ravens' offensive possession Tyrod Taylor lost a fumble. The Ravens are down 14-0 in the first quarter.
The roller coaster that is the St. Louis Rams' preseason continued Saturday night, hitting another dip after losing 20-19 to the Dallas Cowboys at Cowboys Stadium. Although the game was close on the scoreboard, the Cowboys were firmly in control throughout, despite starters Demarcus Ware, Miles Austin, Jason Witten, and Dez Bryant all missing the game. The Rams again flashed their...
Rams News

Delivered to your inbox

You'll also receive Yardbarker's daily Top 10, featuring the best sports stories from around the web. Customize your newsletter to get articles on your favorite sports and teams. And the best part? It's free!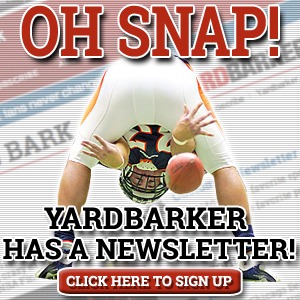 Latest Rumors
Best of Yardbarker

Today's Best Stuff

For Bloggers

Join the Yardbarker Network for more promotion, traffic, and money.

Company Info

Help

What is Yardbarker?

Yardbarker is the largest network of sports blogs and pro athlete blogs on the web. This site is the hub of the Yardbarker Network, where our editors and algorithms curate the best sports content from our network and beyond.