Found November 20, 2012 on State of the Texans:
On Sunday, the Houston Texans hosted the Jacksonville Jaguars in their second and final matchup of the regular season. The Texans won the first matchup 27-7 in Jacksonville the second week of the season. This game appeared to be a warm up game for the Thanksgiving game, but the Jaguars had another type of game in mind. The Texans had no idea that the Jaguars would come into this game and bring all they had. Fortunately for the Texans, the Jaguars "A" game wasn't enough to beat them.   FINAL SCORE: Texans 43 Jaguars 37   TEXANS REGULAR SEASON RECORD: 9-1 TEXANS DIVISIONAL RECORD: 3-0 TEXANS AFC CONFERENCE RECORD: 8-0 TEXANS VS NFC CONFERENCE RECORD:  1-1   GAME SUMMARY Texans Total Yards: 640 Jaguars Total Yards: 458   Texans Passing Yards: 504 Jaguars Passing Yards: 372   Texans Rushing Yards: 136 Jaguars Rushing Yards: 86   Texans TOP: 41:40 Jaguars TOP: 31:19   GAME HIGHLIGHTS   THE GOOD The most exciting game of the season came against an unsuspecting opponent. In a supercharged shootout filled with explosive plays, it was the record breaking play of Matt Schaub and Andre Johnson that stole the show. Schaub, in an effort to bring his team from a 14 point deficit, passed for over 500 yards en route to tying Warren Moon for second all-time in yards for a game. Johnson eclipsed his previous high in receptions of 12 with 14 and yards of 207 with 273. It was a tremendous display by Johnson which put all of his critics on notice that he was still the same Andre of ole.   THE BAD  The Bulls on Parade looked like the Bulls on Vacation. The Texans vaunted defense looked very uninspired and out of sorts. The secondary had such a fantastic game against the Bears, but for whatever reason they couldn't seem to get it together versus the Jaguars. There is a possibility that the Texans were caught looking ahead, or they just had no film to prepare for Chad Henne. Whatever the case may be, this is something that the Texans must address before the upcoming game against the Lions. Another area that the Texans must address is the lack of an effective pass rush by the defensive lineman outside of JJ Watt. If things stand as they are, then the Texans pass rush will not be as effective as last year. By Watt being doubled on every play should open up more one on one matchups across the defensive line and someone else needs to step up and win those one on ones.   THE UGLY The offense was responsible for 3 turnovers which is very uncharacteristic of them. The defense didn't have it's customary shutdown game and the offense carried this team to the win this week. Although the Texans didn't play well, they showed their resiliency in coming from behind and winning the game when they could have easily given up. *Injury Note: Johnathan Joseph slightly pulled his hamstring during the latter part of the fourth quarter. An MRI was scheduled and as of now Joseph is day to day. We'll keep an eye on Joseph and Dobbins, because both could sit out the game on Thursday. Tim Dobbins left the game with a shoulder injury. See more analysis and highlights of the game here.
Original Story:
http://www.stateofthetexans.com/?p=9253
THE BACKYARD
BEST OF MAXIM
RELATED ARTICLES
This was the scene as Houston Texans WR Andre Johnson leaped into the Reliant Stadium stands after his game winning catch and run against the Jags on Sunday in overtime. In a game in which one of the teams lost their starting QB to injury, and the other had their all pro running back struggle to get it going all game. There was still a total yardage mark of 1098 and 9 TD's the...
Texans wide receiver Andre Johnson delivered a receiving performance for the ages Sunday in a win against Jacksonville. He brought in 14 catches for a career-high 273 yards.Fantasy Spin:His last catch went for a 48-yard touchdown and sealed the win for Houston in overtime. While it would be silly to expect Johnson to have another week like this, it's certainly good to see that...
HOUSTON - The Texans have developed a reputation as a strong defensive team, but on Sunday at Reliant Stadium, with their defense under siege from Jacksonville backup quarterback Chad Henne and rookie receiver Justin Blackmon, the Texans needed their offense to bail them out. Quarterback Matt Schaub set a franchise record for completions while receiver Andre Johnson enjoyed a...
Andre Johnson caught a screen pass from Matt Schaub and ran 48 yards for the winning touchdown in overtime as the Houston Texans rallied to beat Jacksonville 43-37 on Sunday. Schaub threw a career-high five touchdown passes, completed a franchise-record 43 passes and finished with 527 yards passing, second most in NFL history. Warren Moon also threw for 527 yards for the Houston...
Texans QB Matt Schaub registered an amazing 527 yards passing and five touchdowns Sunday against the Jaguars.Fantasy Spin:The 527 yards tied Warren Moon for the second-most ever in an NFL game. If Schaub wasn't on the fantasy radar before this game he certainly will be now.
It didn't take long for our quick look at Matt Schaub's 527-yard passing performance against the Jaguars to start trending in the Houston market Sunday night.
 In a game that saw Matt Schaub throw for a career-high five touchdown passes and 547 yards, which equaled Warren Moon's mark for second most in NFL history, the Houston Texans rallied for a thrilling 43-37 victory in overtime.The game undoubtedly answered some questions but perhaps raised a few more. Here's what we learned from this game:Justin Blackmon will be a pain in Houston's...
Talk about one of the wildest games we have seen the Houston Texans involved in, but this shootout was one that Texans' fans can be proud of. It provided 640 yards of offense for the Texans and a game for the franchise history book for Andre Johnson. The defense had another off day but provided enough stops in overtime to put together a win to push the Texans' record to 9-1...
HOUSTON What's that people say about the best teams being able to win any kind of game? A week after surviving a sloppy, muddy slugfest in Chicago, the Houston Texans moved to 9-1 by outracing the Jacksonville Jaguars for 73 minutes in a 43-37 overtime win Sunday at Reliant Stadium. "We found a way to win a game another way," coach Gary Kubiak said. "We talk...
It's almost Turkey Day, ladies and gents, so let's get right down to business.QUARTERBACKSQuarterbacks continued to pour on the points this week with a whopping EIGHT different signal-callers racking up three or more touchdowns. However, one man stood head and shoulders above the rest-- a man who had more than five times the amount of passing yards and five times the number of...
It's just about NFL Turkey time but before we look forward to stuffing our face and watching the Cowboys and Lions play its time to recap the breakout Week 11 performances. Many of these performances will push people into the fantasy football playoffs while ending other seasons wishing they hadn't faced these week 11 studs. Here are your Week 11 Rock Stars. RG3: 14/15 – 200...
Maybe the funnest day in the NFL, stuffing our faces with turkey, mashed potatoes and all sorts of food that will help contribute to weight gain and other serious medical conditions. I will take my chances. Have a safe and blessed Thanksgiving! Record coming in 55-23 Game 1: Hou over Det Johnson vs Johnson in this high flying battle, but at the end of the day Houston has the better...
NFL News

Delivered to your inbox

You'll also receive Yardbarker's daily Top 10, featuring the best sports stories from around the web. Customize your newsletter to get articles on your favorite sports and teams. And the best part? It's free!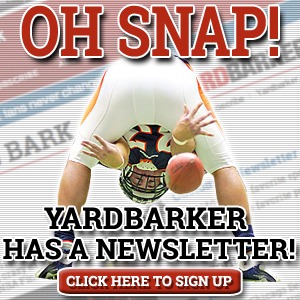 Latest Rumors
Best of Yardbarker

Today's Best Stuff

For Bloggers

Join the Yardbarker Network for more promotion, traffic, and money.

Company Info

Help

What is Yardbarker?

Yardbarker is the largest network of sports blogs and pro athlete blogs on the web. This site is the hub of the Yardbarker Network, where our editors and algorithms curate the best sports content from our network and beyond.