Found August 01, 2012 on Grits Blitz:
Albert Breer of the NFL Network has changed from being generally insufferable to being awesome because he visited Falcons camp.  Breer believes the new coordinators, Mike Nolan and Dirk Koetter, reflect the belief that Atlanta needs more of a "gun slinger mentality." Certainly there was need for change after Atlanta schemed to lose in the playoffs the last few years.
New Falcons with full swagger?  Check.
Finding out about the new coordinators and badmouthing the old ones, after the jump.
"I don't think we'll be as vanilla," said defensive end John Abraham.  "That's not knocking who we had before. It's just a little bit more diverse with more people coming in the D-ends and the linebackers."  That sure sounds like a knock on the guy who was here before.  He may as well have said people with mustaches cannot coordinate at this level.  
Abraham dropped into coverage on zone blitzes more often than any defensive lineman in the entire league.  That may sound crazy to anyone who has not watched the Brian VanGorder defense the past few years, but the Mustache was always happiest when dropping players into coverage and preventing anyone from nearing the opposing quarterback.  

I'll just be happy when Jon Gruden cannot immediately dissect our defensive scheme on national television and call it too basic.  I do not blame VanGorder for Atlanta's problems the past few years but I do blame Mike Mularkey.  By all appearances Jason Kirk of SBN may despise Mularkey as much as myself and had a few choice words for the old coordinator.

Dirk Koetter is an absolute upgrade over Mike Mularkey in literally every way a human could be an upgrade over another human (mentally, artistically, spiritually, in the vertical and horizontal and hypothetical passing games, at video games, at football in general, at parenting, in all matters of physical fitness and grooming and hungedness, at using wide receivers, in his sense of humor and manners, at not calling the same goddamn goal line play four times in one game).
 
Hey, that sums it up for me!  The new coordinators with their new schemes are bringing about change in Atlanta.  According to Mr. Breer's article, Atlanta will finally use more spread principles with the offense.  Yes, tell me exactly what I want to hear.  Less bunch formations should spread out defenses and give the offense a bit more operational space while taking pressure off the offensive line.  Including more screen passes should slow down the pass rush as well, potentially making Sam Baker look like less of a train wreck.  Maybe a more applicable comparison would be Baker being only a Japanese level nuclear disaster as opposed to a full-fledged Chernobyl disaster.  I tentatively expect Jacquizz Rodgers to improve on his one caught screen pass last year.

Breer believes Nolan is the most important addition to the Falcons this year, and his ability to bring in new ideas and get the most out of a talented roster will be the difference between getting that elusive playoff win.  Atlanta had basically ran the same offensive and defensive scheme for four years but received diminishing returns on new talent.  Nolan is one with a history of tailoring his defense to available talent.  One similar defensive situation mentioned in Flowery Branch was the quick turn around Wade Phillips made with a historically poor Houston Texans defense.  
The new coordinators, 2nd year wide receiver Julio Jones, and new defensive addition Asante Samuel have been improving Atlanta's "swagger."  While this is something I support, do the kids still say swagger?  I need to check my totally tubular Friendster account to stay on top of all the cool kid lingo.  Terminology aside, the injection of some cahones is important after some have said our old coordinators had beat the swagger out of our players.

Maybe I am not the only one who believes the right coordinator can be the shot in the arm/kick in the butt needed to improve a team, and the Falcons have high hopes for Koetter and Nolan. 
Original Story:
http://www.gritsblitz.com/2012-articl...
THE BACKYARD
BEST OF MAXIM
RELATED ARTICLES
FLOWERY BRANCH, Ga. In one of his innumerably colorful moments less than a week into Falcons training camp, cornerback Asante Samuel volleyed a comment across the divide that separates offense and defense in the direction of new offensive coordinator Dirk Koetter. After an incomplete pass, Samuel's words were to the effect that Koetter should check the spacing between the receivers...
ESPN.com NFC South beat writer Pat Yasinkas said he thinks the Atlanta Falcons have big plans for second-year pro Jacquizz Rodgers at running back.Fantasy Spin:Falcons coach Mike Smith said Rodgers has the skill set to play on all three downs. He also praised Rodgers' pass protecting ability. While it remains to be seen what value Rodgers will have in fantasy leagues, it is looking...
Matt Ryan has accomplished a lot in his career. He won the Offensive Rookie of the Year award in 2008, was a Pro Bowl selection in 2010 and has led the Falcons to the playoffs three times in the last four years. So that should make him one of the top 100 players in the NFL, right? Well, not necessarily, because when the league came out with their top 100 list, 13 quarterbacks made...
Roddy White and Julio Jones believe they can become the NFL's top receiving tandem. That's not to say White and Jones are promising that success will come easily. The Atlanta Falcons' offense is still a work in progress. Entering his eighth season, White has reached several personal goals such as becoming the eighth NFL receiver to catch at least 80 passes for 1,000...
Matt Ryan entered the league with a very similar scouting report as Peyton Manning: scouts praised his football IQ and accuracy, touted him as a pro-readyquarterback, but questioned his arm strength. Both quarterbacks started from day one and are at their best when in the no-huddle offense. Much like Manning early in his career, Ryan has been branded as a quarterback who is a regular...
FLOWERY BRANCH, Ga. It's a rare receiver who catches 100 balls and then returns the next season feeling as if he has something significant to improve upon. But on Thursday Falcons wide receiver Roddy White himself referenced his biggest shortcoming in 2011. "I led the league in drops last year, so I got to fix that problem," said White, the franchise's all-time...
Wide receiver Julio Jones recorded five receptions for 71 yards in his pro debut, including a team long 32-year reception against the Chicago Bears.  He finished his rookie campaign with 54 catches for 959 yards and eight touchdowns despite missing three games with an injury. Jones posted the best season by a rookie in franchise history, notching more yards and touchdowns than any...
For one of the most talkative players around, Asante Samuel doesn't have much to say when the media are ready to listen. That's just fine with the Atlanta Falcons, who hope their new cornerback just keeps chatting - and ball-hawking - on the field. Traded from the Philadelphia Eagles to the Falcons in April, Samuel has met with local reporters just a few times since then...
Comments on the Atlanta Falcons by the AP Pro32 panel (ranking in parentheses): ATLANTA FALCONS (13) John Lynch (Fox Sports, 7): A model organization from Arthur Blank to Mike Smith to Matt Ryan on down, and it now has to man up in playoffs. Alex Marvez (Foxsports.com, 8): Falcons are hoping change of offensive and defensive coordinators leads to first playoff win under head coach...
NFL News

Delivered to your inbox

You'll also receive Yardbarker's daily Top 10, featuring the best sports stories from around the web. Customize your newsletter to get articles on your favorite sports and teams. And the best part? It's free!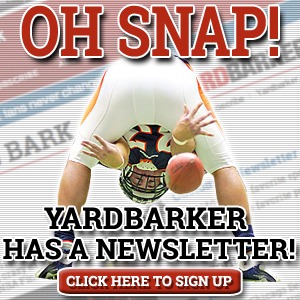 Latest Rumors
Best of Yardbarker

Today's Best Stuff

For Bloggers

Join the Yardbarker Network for more promotion, traffic, and money.

Company Info

Help

What is Yardbarker?

Yardbarker is the largest network of sports blogs and pro athlete blogs on the web. This site is the hub of the Yardbarker Network, where our editors and algorithms curate the best sports content from our network and beyond.