Found January 04, 2012 on Turn On The Jets:
PLAYERS:
Wayne Hunter
,
Damien Woody
,
Pete Kendall
,
Chad Pennington
,
Kellen Clemens
,
Anthony Clement
,
Adrien Clarke
,
Nnamdi Asomugha
,
Darrelle Revis
,
Eric Smith
,
Braylon Edwards
,
Plaxico Burress
,
Mark Sanchez
,
Jerricho Cotchery
,
Derrick Mason
,
Santonio Holmes
,
Shaun Ellis
,
Tony Richardson
,
Rex Ryan
,
Bill Belichick
,
Shonn Greene
,
Matthew Mulligan
,
Bart Scott
,
Calvin Pace
,
Nick Folk
,
Woody Johnson
,
Mike Tannenbaum
,
Greg McElroy
TEAMS:
New York Jets
,
Miami Dolphins
,
Philadelphia Eagles
,
Pittsburgh Steelers
,
New England Patriots
The New York Jets failed from the top down this year. It started in the off-season with a handful of perplexing and ultimately season killing decisions. First off, Mike Tannenabum evaluated Wayne Hunter capable of starting at right tackle and cut ties with Damien Woody. Tannenbaum failed to learn from a previous mistake of undervaluing a veteran lineman, when he did the same thing with Pete Kendall prior to the 2007 season and nearly got both Chad Pennington and Kellen Clemens killed. Nevermind in that same year, Tannenbaum underestimated the value of a right tackle by starting Anthony Clement all season, who combined with Kendall's replacement, Adrien Clarke, to add to the quarterback's pain. Second, the Jets got caught up in "names" instead of "needs" in free agency. They didn't need Nnamdi Asomugha but they chased him to the last second anyway because it sounded exciting to pair him with Darrelle Revis. This failed chase cost the Jets valuable time and assets in the free agency period. They settled to stand pat at safety by bringing Eric Smith back, despite him coming off an average at best season. Then, even after his market value had made him affordable, they replaced Braylon Edwards with Plaxico Burress. Burress provided a better story. Edwards provided better production. I don't give a damn what anybody says about Edwards after his disappointing year in San Francisco, he had chemistry with Mark Sanchez and produced in the Jets offense as a downfield threat. You build continuity with your young quarterback, you don't switch his starting receivers every single year. Later the Jets exacerbated this mistake by replacing Jerricho Cotchery with Derrick Mason. Cotchery should have been handed the starting job opposite Santonio Holmes, while Burress should have came in as a role player who needed to earn more time. Yet, the Jets went the opposite route and isolated themselves from one of their most respected players in the locker room and instead brought in a known trouble maker in Mason. The New York Jets then got cheap on defense and shuttled off one of the last respected veterans in the locker room, Shaun Ellis. No Woody. A retired Tony Richardson. No Cotchery and now no Ellis, there went four of your key leaders from the year before. Finally, Rex Ryan clumsily threw around captaincies instead of letting members of the team vote on it. He made Santonio Holmes his pet project and Holmes failed him and the team miserably. It is easy to be a good locker room guy when you are winning, not so much when the team is struggling and needs you to set an example. Putting Holmes as a captain started out a disappointing and mismanaged year by Ryan, who admittedly never had the pulse of his team and remained too entrenched on one side of the ball. Can you imagine Bill Belichick expressing confusion over why his team threw 59 times when they are supposed to run first, or not knowing why his number one receiver was pulled off the field? The days of being a defensive coordinator are over Rex. It is time to coach your entire team and know every detail of what is going on with every unit. I don't buy the caricature people want to paint of Rex as a bumbling clown because those two AFC Championship appearances in his first two years mean something, but he played into the stereotype this year and needs to earn some credibility now in 2012. The failures of Tannenabum and Ryan were matched by the players they assembled on this year's roster, starting with quarterback Mark Sanchez. I spent a good chunk of this season, even up to the previous few weeks defending the Jets often unfairly criticized quarterback. Yes, Sanchez progressed in a number of statistical categories, despite playing behind a weak offensive line, wit underachieving wide receivers, and an awful offensive coordinator but if you want to sweep Sanchez's statistical shortcomings from previous years under the rug because of his ability to win the big game and play big in clutch spots, you better be ready to rip him for failing in all those spots this year. The quarterback turned in three of his worst performances in the three must win games to end the season. He also clearly hasn't asserted enough leadership in the offensive huddle yet. Do you think Saints or Packers players would be bickering on the field in their huddle? Sanchez isn't the only one who underachieved on offense. Holmes couldn't handle the double teams and pressures that come with being a true number one receiver. Burress couldn't get any separation between the 20s. Mason was a disaster on and off the field. Shonn Greene looked very ordinary in the lead back role and never broke any big plays. D'Brickashaw Ferguson had a down year. Wayne Hunter was awful at right tackle. Matthew Mulligan caused more problems than any number two tight end should be able to. The defense wasn't without their letdowns. Bart Scott fell from being a very good run stopping inside linebacker, to a below average situational player. Calvin Pace was paid to sack the quarterback and he never did that. All of the safeties, namely Eric Smith, had abysmal seasons. Special teams chipped in too by muffing an uncountably high number of kicks and having Nick Folk always come up with untimely misses. This was a team wide failure that started at the top and has no carried into the off-season. Santonio Holmes quitting performance at the end of the Miami game led to a chain reaction of criticism of both him and a cancerous locker room that was likely spearheaded by his actions. When your third string rookie quarterback is talking about how selfish and disastrous your locker room is, the problems likely go past one guy. The Jets failed all the way from the top, Woody Johnson and Mike Tannenbaum, down to the bottom, Greg McElroy, who has no business throwing his teammates under the bus to the press. They failed and so did just about everybody in-between. So what now? That is what the off-season is for and is an article for another day. It will start with a long look at the organizational culture around this team and it will end with some much needed releases and an infusion of not just youth, speed, and talent but also character. Some of that character will have to come from players on the team growing up and asserting their presence over the locker room to prevent a situation like this from ever happening again, I am looking at you Mark Sanchez and Darrelle Revis, and some of it will have to come from new individuals being brought on the roster. The grace period is over Rex, Mike T and Mark. This is New York and the seat is hot in 2012.
Original Story:
http://turnonthejets.com/2012/01/the-...
THE BACKYARD
BEST OF MAXIM
RELATED ARTICLES
Tannenbaum says, "No, he didn't play well."
New York Jets general manager Mike Tannenbaum reiterated Monday that the franchise would stick with Mark Sanchez as the quarterback in 2012.Sanchez was a lightning rod in his third season at the helm, throwing for nearly 3,500 yards and a career-best 26 touchdowns but failing to lead the team back to the postseason.The 25-year-old had mixed results on the ground, rushing for six...
Ryan and Tannenbaum Have the Chance to Let Their Actions Speak Volumes They say winning cures all ills. Well, losing, or falling way short of expectations, sure does a helluva job of shining a blinding spotlight on those ills. Whether it's respected HOF-bound veterans like LaDainian Tomlinson or a rookie who spent the season on IR, the dirty laundry has been aired regarding the...
FLORHAM PARK–Originally just Rex Ryan was scheduled to talk. Generally, the head coach speaks on the final day and GM Mike Tannenbaum speaks to the media later in the week. Today, the schedule was moved so that Tannenbaum could join Ryan. There was speculation that some sort of big news might be coming. Alas, that was not to be. Both Ryan and Tannenbaum voiced strong support for...
Jets coach Rex Ryan and general manager Mike Tannenbaum delivered some curious answers regarding Brian Schottenheimer yesterday, and while it appears as if Schottenheimer will not be fired, it doesn't sound as if he is assured of being the offensive coordinator next season.Tannenbaum said the Jets "expect" Schottenheimer...
Boomer Esiason rips Mark Sanchez [ESPN] Mike Tannenbaum says Mark Sanchez 'the right guy' but wants faster rate of growth [NJ] Chargers are "unlikely" to place the franchise tag on Vincent Jackson [Rotoworld] Looking for a legit No. 2 QB [ESPN] Rex Ryan becomes the punch line as Gang Green turn into a joke [NYDailyNews] Jets should Manning up [Boston Herald]
Judging by his body of work this past season, it's safe to assume that Plaxico Burress is intent on playing a fourteenth season in the NFL. It just won't be with Gang Green, who are likely one and done with the former Super Bowl hero. Per ESPNNewYork.com, Burress, who's set to become an unrestricted free agent, will not return to the Jets in 2012. The Jets signed Plax to a...
The New York Jets have declared Mark Sanchez their starting quarterback going forward - but they'd like a better No. 2 option behind him.The Jets are moving on from Mark Brunell, whose contract expires at the end of the season. The 41-year-old likely won't be brought back.Jets general manager Mike Tannenbaum said Sanchez will go into the season as the team's No. 1 option...
The man who traded up in the 2009 NFL draft to select Mark Sanchez says it's time for Sanchez to play better. Jets G.M. Mike Tannenbaum was blunt in an interview with Mike Francesa on WFAN, saying Sanchez's growth as a quarterback "isn't where it needs to be" and adding, "No, he didn't play well."…
Even if Peyton Manning becomes available in an offseason trade, Jets general manager Mike Tannenbaum can declare with certainty Mark Sanchez will be the starting quarterback to open next season. Tannenbaum did not speak about Manning specifically yesterday, but when asked whether he could say definitively that Sanchez would be...
NFL News

Delivered to your inbox

You'll also receive Yardbarker's daily Top 10, featuring the best sports stories from around the web. Customize your newsletter to get articles on your favorite sports and teams. And the best part? It's free!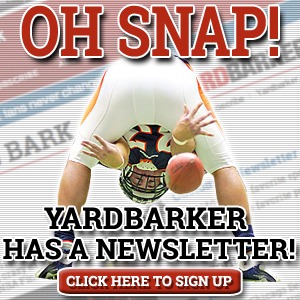 Latest Rumors
Best of Yardbarker

Today's Best Stuff

For Bloggers

Join the Yardbarker Network for more promotion, traffic, and money.

Company Info

Help

What is Yardbarker?

Yardbarker is the largest network of sports blogs and pro athlete blogs on the web. This site is the hub of the Yardbarker Network, where our editors and algorithms curate the best sports content from our network and beyond.