Found June 18, 2012 on Turn On The Jets:
PLAYERS:
Mario Williams
,
Mark Anderson
,
Stephon Gilmore
,
Darrelle Revis
,
Yeremiah Bell
,
LaRon Landry
,
Quinton Coples
,
Demario Davis
,
Rex Ryan
,
Mike Pettine
,
Ryan Fitzpatrick
,
Mark Sanchez
,
Nick Mangold
,
Fred Jackson
,
C.J. Spiller
TEAMS:
Buffalo Bills
,
New York Jets
,
New England Patriots
An ongoing narrative this off-season in the NFL has been a love affair with the Buffalo Bills, who have been crowned by many as New England's biggest threat in the AFC East and a sleeper Super Bowl contender. The consensus seems to be that the New York Jets window has closed and the Bills are ready to overtake them in the divisional standings. Where does the logic of this thinking come from?
Apparently Buffalo is going to have an elite defense this year despite finishing 26th in team defense last season. The reason? They signed Mario Williams and Mark Anderson to boost their defensive line and drafted corner Stephon Gilmore in the first round.
The problem is that Williams received the largest contract in NFL history for a defensive player despite having his tackles, sacks and forced fumbles decline every single year since 2008, while his missed games increased simultaneously.
2008 – 53 tackles, 12 sacks, 4 forced fumbles (missed 0 games)
2009 – 43 tackles, 9 sacks, 2 forced fumbles (missed 0 games)
2010 – 28 tackles, 8.5 sacks, 1 forced fumble (missed 3 games due to injury)
2011 – 11 tackles, 5 sacks, 1 forced fumble (missed 11 games due to injury)
Mark Anderson had 10 sacks last season for the New England Patriots but the red flag is that in the five seasons before he totaled 13.5 sacks. Kind of sounds like a one year Belichick wonder, no? Gilmore is a rookie and even Darrelle Revis, the best corner in the NFL didn't have an enormous impact in his rookie season…certainly not enough to carry a defensive unit from 26th to the top five.
You can excuse my hesitance in crowning the Bills as an elite defense, especially when comparing them to the Jets. In case you were under some other misconception, the Jets finished 5th in the NFL in total defense last season and they added Yeremiah Bell, LaRon Landry, Quinton Coples in the first round and Demario Davis in the third round. They are also coached by Rex Ryan and Mike Pettine who have a bit more of an impressive defensive pedigree in the NFL than Dave Wannstedt, the Bills current defensive coordinator.
Logic says the Jets will have a better defense than the Buffalo Bills. So the Bills must have a clear advantage on offense, right? Funny enough, everybody talks about the questions the Jets have at quarterback while ignoring the glaring question mark Buffalo has. Here are two sets of stats -
Quarterback 1
2009 – 8 starts, 4-4 record, 1,422 yards, 9 TDs, 10 INTs
2010 – 13 starts, 4-9 record, 3,000 yards, 23 TDs, 15 INTs
2011 – 16 starts, 6-10 record, 3,832 yards, 24 TDs, 23 INTs
Quarterback 2
2009 – 15 starts, 8-7 record, 2,444 yards, 12 TDs, 20 INTs – 2 road playoff wins
2010 – 16 starts, 10-6 record, 3,291 yards, 17 TDs, 13 INTs – 2 road playoff wins
2011 – 16 starts, 8-8 record, 3,474 yards, 26 TDs, 18 INTs
Shouldn't there be more questions about quarterback 1 than quarterback 2? Ryan Fitzpatrick's career highlights are playing 3 good games in September last season and he is considered a sure thing at quarterback? I'll take Mark Sanchez, who didn't just out-perform Fitzpatrick statistically last season but beat him twice head to head and has four road playoff wins to boot.
Surrounding Fitzpatrick, Buffalo has an average group of receivers, and an offensive line that doesn't have anybody near Nick Mangold or D'Brickashaw Ferguson's caliber of talent, and a very good duo of running backs in Fred Jackson and CJ Spiller who have durability issues.
On the whole, everybody is falling in love with a team who lost 8 of their last 9 games last season, hasn't had a winning record since 2004, went 1-5 against the AFC East last season and is led by a Head Coach who has never won a playoff game. Buffalo is 2-10 over the past two years in the division and they are supposed to pressure New England this season?
If you remove the anti-Sanchez/I hate Rex Ryan because he talks too much bias, there is no logical reason to pick Buffalo to finish ahead of the Jets this season. The Jets project to have a better defense, a better quarterback, a better offensive line, a better group of receivers and to play better in the division.
Original Story:
http://turnonthejets.com/2012/06/the-...
THE BACKYARD
BEST OF MAXIM
RELATED ARTICLES
  According to the New York Post, the ship has sailed for bringing back Braylon Edwards.  The team is pleased with the receivers they have currently and with Braylon rehabbing an injury, the question is will he land with any team for the 2012 season? The Jets have ruled out bringing back the wide receiver, The Post has learned. The team is happy with the group of receivers...
Amid the growing concern over NFL players' health issues after they leave the game, recently retired running back and soon to be Hall-of-Famer LaDainian Tomlinson believes himself to be lucky. He is only 33 years old, still in good health, and never went under the knife for a serious surgery due to an injury. Not the type of health bill you'd expect from a back who had over 3...
The New York Post reported earlier today that the Jets have decided against bringing back wide receiver Braylon Edwards for a sequel this autumn in the swamps of Jersey. Since the 29-year-old Edwards was cut by the San Francisco 49ers … Continue reading →
LaDainian Tomlinson is calling it a career. The NFL's fifth all-time leading rusher will sign a deal and retire as a member of the San Diego Chargers, the team announced on Sunday. Tomlinson will hold a news conference at Chargers Park on Monday at 2 p.m. ET to announce his decision. Tomlinson amassed 13,684 yards over an 11-year career in NFL scoring 162 total touchdowns,...
LaDainian Tomlinson's career in the National Football League ended as it began, with the likely future Hall of Fame selection proudly holding up a San Diego Chargers jersey and displaying his charismatic smile. What happened between being drafted by the Chargers in 2001 and retiring as a Charger today was a lot of spectacular plays and thrilling moments. Tomlinson steps away...
HOW SWEET
As if it wasn't already clear that the media loves Tim Tebow, the writers have given him an award to make sure you knew it.
LaDainian Tomlinson was one of the best backs in the NFL for a long time – and he's not set to retire – but he always thought he was better than he was. He had the best blocking fullback in the league in front of him and an unreal offensive line. Once that stopped, he stopped being productive. His reputation of being one of the "classiest" palyers in the NFL is off base...
LaDainian Tomlinson— who was the NFL MVP in 2006 and is the fifth-leading rusher in league history— is retiring after 11 NFL seasons. The San Diego Chargers said Sunday that Tomlinson would re-sign with the team and announce  his retirement from the NFL during a Monday press conference. Tomlinson— who will turn 33 on Saturday— was the fifth pick out of TCU by the Chargers...
Happy retirement LaDainian Tomlinson. Congratulations to future Pro Football Hall of Fame running back LaDainian Tomlinson on retiring from a successful NFL career. Tomlinson retired Monday as the fifth all-time leading rusher and second on the rushing touchdown list in NFL history. Of course, before he became one of the top running backs in the pros Tomlinson was lighting up defenses...
NFL News

Delivered to your inbox

You'll also receive Yardbarker's daily Top 10, featuring the best sports stories from around the web. Customize your newsletter to get articles on your favorite sports and teams. And the best part? It's free!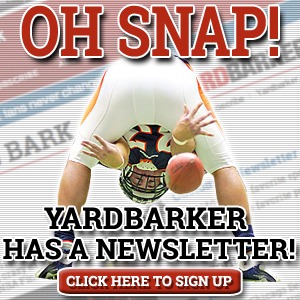 Latest Rumors
The Backyard

Today's Best Stuff

For Bloggers

Join the Yardbarker Network for more promotion, traffic, and money.

Company Info

Help

What is Yardbarker?

Yardbarker is the largest network of sports blogs and pro athlete blogs on the web. This site is the hub of the Yardbarker Network, where our editors and algorithms curate the best sports content from our network and beyond.