Found March 10, 2012 on Player Perspective:
When most of us heard about the NY Jets extending Sanchez's contract, this is the face we made. As most of the football world was trying to decide if the Washington Redskins gave up too much to the St. Louis Rams to move up to the 2nd pick and grab Robert Griffin III, the Jets surprised everyone by extending their QB Mark Sanchez's contract by 3 years and 40.5 million dollars. This came, of course, after the Jets expressed an interest in Peyton Manning who was officially released by the Colts last week. I think the general consensus is that this is a move to smooth things over with Sanchez so that he doesn't feel so jilted knowing that the Jets have pursued a replacement. I don't understand this move. Yes, I understand the intention behind it. And I'd love it if someone would apologize to me with 20 million dollars in guaranteed money. But I think it's one of a slew of mixed messages the NY Jets have ushered into the atmosphere. Last season, Mark Sanchez definitely wasn't the only problem. As I'm typing this, the Jets are are shopping OL Wayne Hunter in hopes that someone, ANYONE, will take the backup-cum-whiffing-starter off their hands. And certainly Sanchez's receivers deserved some blame as did a defense that was so scattered they were easily overcome by the Broncos late in the season. But this extension is sort of like telling the whole team "it's not Sanchez, it's YOU" and that's obviously not the case. Sanchez has shown he's about as fragile as they come. Any lick of a pass rush seems to put his nerves on edge. The psychological moves the Jets keep trying in an effort to motivate Sanchez (like giving Mark Brunell extra reps)  are becoming the stuff of legend. At some point the game on the field has to take precedence over these mental ones. If Sanchez had one year left on his contract it might make sense to throw him a little more security. But he had two years left and I don't think it would have been too much to ask to have him complete next season without an extension given how he's played so far. If he couldn't do that without crumbling into a pile then he's probably not the guy you want anyway. Now you have a situation where Sachez's APY is right below Roethlisberger's and slightly above Aaron Rodgers'. Regardless of whether there is an "out" (like when the Skins tried to fool the world with the McNabb extension),  if contracts are an indication of how a team feels about its QB the Jets just told the world he's our guy and there's no questions about it. Except, there are questions. Which makes this extension a puzzling move to everyone on the outside.
Original Story:
http://feedproxy.google.com/~r/Player...
THE BACKYARD
BEST OF MAXIM
RELATED ARTICLES
The New York Jets rewarded quarterback Mark Sanchez with a three-year contract extension worth $40.5 million after a 31-22 record over his first three years. But coming off the heels of their pursuit of Peyton, how does this move effect the team next season? Mark Sanchez came out of his safe house Friday with a fistful of cash and an optimistic outlook. After enduring his most trying...
Mark Sanchez signs contract extension Mark Sanchez has signed a contract extension with the New York Jets, per a media conference call with Mike Tannenbaum. The Sanchez's contract extension is a 5-year extension, including the 2 years remaining on his rookie deal, plus 3 additional years. The Jets official Twitter informed fans and media of the Sanchez contract extension with...
For Mark Sanchez and the New York Jets, something has to give in 2012. After a painful end to this past season, the Jets have to move on and commit to getting back to the potential Super Bowl contender they were in prior seasons which gave hope to a long-suffering fan base. In order to give support to their much-maligned quarterback, the Jets announced that Sanchez would receive...
The New York Jets and quarterback Mark Sanchez agreed on a three-year contract extension.The team announced the extension for the quarterback in a conference call Friday night. Sanchez will be paid $13.5 million per year, according to ESPN NFL Insider Adam Schefter.Sanchez had two years remaining on the deal he signed when the Jets made him a first-round draft pick in 2009 and is...
Forget all that Peyton Manning talk. The Jets are sticking with Mark Sanchez. No hard feelings, either. Sanchez's ego is just fine - and so is his wallet. After New York ''looked into'' pursuing Manning, Jets general manager Mike Tannenbaum announced Friday night that the team extended Sanchez's contract by three years. The move ended speculation the Jets...
News came out late Friday night that New York Jets quarterback signed a three-year contract extension. It has $20.5 million guaranteed. How does that impact the talks for Baltimore quarterback Joe Flacco? The short answer is Flacco and his agent will want more than the Jets gave Sanchez. And they should. Flacco is a more accomplished quarterback than the Jets' third-year player...
Mark Sanchez. Peyton Manning. Mark Sanchez's feelings. Peyton Manning's neck. Mark Sanchez's attitude. Peyton Manning's flights. Chad Henne. Jason Campbell. And so the cycle continues, let's talk about the New York Jets quarterback position - 1. It certainly sounds like the New York Jets are just about out of the Peyton Manning sweepstakes. Is it over? Of course not but...
The New York Jets learned fairly quickly once Peyton Manning became a free agent that he didn't want to go play there. Who knows the reasons why, but there wasn't a planned visit after the Jets put feelers out for them.  But the because the Jets showed interest in him, that had to have shaken the confidence of Mark Sanchez, their starting QB the last 3 years. The #5 overall...
Fans that were itching to see the Peyton and Eli Manning compete for the love of the Big Apple are going to be a little disappointed. The New York Jets effectively took themselves out of the running for the elder Manning's services by giving their current quarterback, Mark Sanchez, a contract extension. "To find out that I could come back for three more years means the world...
Mayor Mike Bloomberg showed his love for New York Jets quarterback Mark Sanchez after a caller pleaded with hizzoner to to help recruit free agent Peyton Manning to Gang Green on the mayor's weekly radio show today. "We have a Manning playing for the Giants," said Bloomberg, referring to Peyton's younger brother, Eli, who plays for the other New York football team...
Four years ago days before the Fourth of July holiday, Green Bay Packers great Brett Favre was reconsidering retirement. After wasting everyone's time with a teary-eyed good-bye in March of 2008, Favre told the Packers that he wanted to come back. However, at that point in the year the Packers were prepared to move forward with Aaron Rodgers as training camp was just a couple weeks...
Over the past few weeks, the New York Jets were counted as one of the teams that would go after Peyton Manning upon his release from the Indianapolis Colts. Manning started making the rounds on Friday, first in Denver to meet with the Broncos, with an expected visit with the Cardinals and possibly Chiefs. Many thought the Jets would still make an effort, but nothing, no word from...
NFL News

Delivered to your inbox

You'll also receive Yardbarker's daily Top 10, featuring the best sports stories from around the web. Customize your newsletter to get articles on your favorite sports and teams. And the best part? It's free!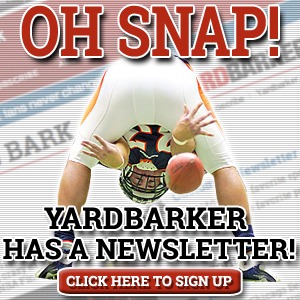 Latest Rumors
Best of Yardbarker

Today's Best Stuff

For Bloggers

Join the Yardbarker Network for more promotion, traffic, and money.

Company Info

Help

What is Yardbarker?

Yardbarker is the largest network of sports blogs and pro athlete blogs on the web. This site is the hub of the Yardbarker Network, where our editors and algorithms curate the best sports content from our network and beyond.