Found June 16, 2013 on Football and Futbol:
If you are a Raiders fan and have tuned into sports talk within the past few months, you likely haven't heard much positivity. You hear the firing of the PR director, Hayden having a (very common) follow-up procedure to his college injury, or about a very bad QB day in OTA's. Despite these, the arrow is very much pointing up for Raider Nation. With a clean sweep of the defense and retooling of the offense, the Raiders could easily be the surprise team of the 2013 season. Let's focus on the offense for now, though, and see two reasons why the 2013 Raiders could be one of the more explosive offenses in the league.   1. The Raiders have this season's Alfred Morris in Latavius Murray. Entering the offseason, it was clear that the Raiders needed some kind of change in their backfield. The abysmal playcalling and ZBS that was forced upon the Raiders last season is gone, and our new offensive coordinator has promised to return to a power-blocking scheme. Good news for McFadden, who consistently ran into his blockers while posting an abysmal 3.3 yards per carry (down from 5.4 yards per carry in the previous year) and only scoring two TD's. Seeing that McFadden clearly couldn't bear a workload all on his own, Reggie signed Rashad Jennings…a 28-year old career backup that proved that he couldn't bear a workload on his own with Jones-Drew sidelined most of the year. So where is the optimism for the run game coming from? The 181st pick of the 2013 NFL Draft, Latavius Murray. Murray is bigger than any other Raiders back at 6'3", 228 lbs, while still possessing the speed that the Al Davis Raiders would've loved, clocking a 4.38 40 at the combine. Murray comes from the University of Central Florida, who has actually contributed a decent amount of NFL-caliber talent for being a smaller school; stars such as Brandon Marshall (CHI), Asante Samuel (ATL), Kevin Smith (DET), and Bruce Miller (SF) have been drafted from UCF in the past decade alone. Late-round and undrafted finds at the RB position in recent years, such as Arian Foster and Alfred Morris, have shown that the position has been undervalued on the draft boards, which means that the chances of a late-round steal are extremely possible. Not all big runningbacks play like big runningbacks, but Murray knows how to use his size to move the chains (100.5 rushing yards per game in 2012 with 5.6 yards per carry) while still displaying incredible ball security (his one career lost fumble came back in 2008 and he hasn't fumbled at all in his past 407 attempts) and soft hands as a receiver. He has been winning over the coaching staff with his ability to pass protect and run crisp routes out of the backfield, two keys for a rookie to earn playing time. Although there isn't much film of UCF, the two games that I have seen have shown all of this and then some. All of these could mean nothing, however, if McFadden plays the way that he is supposed to. He is only one year removed from a season where he was playing at an MVP level while healthy, and perhaps it is possible that he finally keeps it together for a full season and plays lights out. If he can't, which I suspect will happen for at least a few games, expect Murray to be the starting runningback. Either way, don't expect the Raiders run game to be as painful as it was for most of last season.   2. The WR position has playmakers across the board. It has been interesting to watch how the Raiders' receivers have changed so much from year to year. It has seemed like every year has produced one more piece to the puzzle, but it just hasn't come together yet for some reason or another. Through injuries, inconsistent hands, or sluggish routes, the Raiders have struggled to field an experienced and stable group of WR's…until now. With Jacoby Ford returning from his Lisfranc injury, the position is deeper than it has been since the '02 team. Denarius Moore has shown glimpses of being a playmaker, but has also shown tendencies to lose focus. His 34 catches for 575 yards and 5 TD's in the first eight games of the season show that he can be a viable starting weapon, but he needs to work on being consistent. Undrafted WR Rod Streater left Temple as a mystery, but flourished for the Raiders, eventually earning a starting role and leading all Raiders WR's with 39 catches for 584 yards and 3 TD's. I wouldn't be surprised if Streater ends up being the reliable #1 receiver that has been missing since Tim Brown. Fifth-rounder Juron Criner had a lot of preseason hype, but started the season slow before catching 14 passes for 122 yards and a TD as a red-zone threat in the last five weeks of the season. With visions of Jacoby Ford destroying the Chiefs in mind, there has been potential for this group to break out and truly be one of the best in the NFL. To cover for any of the WR injuries that seem to inevitably pop up every season, the Raiders also drafted Brice Butler and signed Connor Vernon, two very different WR's. Butler is seen more as a burner of a WR, but with the depth at the position and his general lack of experience, it is tough to see him making an impact this season. I am personally much more excited about Vernon's possibilities. He improved every year he was in college, culminating to 85 catches for 1074 yards and 8 TD's in 2012.  He rewrote the ACC record book, setting new records in career pass receptions (283), career receiving yardage (3,722), most consecutive games with at least one pass reception (48), and most seasons with 50+ receptions (4) as well as with 70+ receptions (3). Most importantly, his tape shows a physical, tough receiver that will catch anything thrown his way. He isn't particularly big or fast, but the Raiders are full of players that are big and fast; what they haven't had until now is a steady WR capable of being a reliable target to move the chains, and I expect to see Vernon as a 3rd-down WR4 by the time the regular season starts, possibly even supplanting Ford if he doesn't return well from his injury. The Raiders also insured that they wouldn't suck as much on special teams if Ford isn't okay by signing Josh Cribbs, the ex-Cleveland Brown return ace. I do not expect Cribbs to contribute much, if at all, on offense, but gone are the days where Coye Francis is returning a kick and fails to reach the 20 yard line. Cribbs averaged over 4 yards a carry more than the Raiders' kick return team last season, and astonishingly, almost 7 yards a carry more on punt returns than any Raiders return man. While Ford definitely would've helped with those numbers, it is a relief to have a player on the team who has made a career out of being an amazing special teams player so Ford can stick to being a dynamic slot WR.   Much has been made about the unimpressive QB competition to date. Flynn, Wilson, and Pryor have failed to separate from the pack, but most of the media has failed to ignore the positive possibilities of this offense. With a revamped offensive line and a coordinator that actually runs a scheme to fit his players, don't be surprised if the Raiders put together an explosive offense when you see them in September.
Original Story:
http://www.footballandfutbol.com/the-...
THE BACKYARD
BEST OF MAXIM
RELATED ARTICLES
According to Steve Corkran of the Contra Costa Times, the Raiders could end up making a run at free agent linebacker Desmond Bishop. #Raiders are deep at linebacker right now, but it's still possible that they make a run at released Packers LB Desmond Bishop. Solid player. — Steve Corkran (@CorkOnTheNFL) June 17, 2013 Need NFL Tickets? The post Raiders interested in Desmond...
What up RaiderNation? Welcome to this week's edition of My Two Cents, with your favorite cantankerous Raider fan, Old Timer. This week we are going to talk about Raider 3rd round draft pick, Sio Moore. Although UConn is well known for turning out quality basketball players, it is not exactly well known for turning out NFL quality players (only about [...]
The Oakland Raiders have a bunch of talented but unproven wide receivers throughout the roster. With quarterbacks Matt Flynn and Tyler Wilson fighting to become the starter it is time for the Raiders wide receivers to step-up. After a highlight-ridden rookie year many thought that Denarius Moore would have a monster season for the silver and black last season but like most of the...
  Over the last few five seasons, the Oakland Raiders could always count on a strong running game even when the rest of the team was falling apart. With the Darren McFadden and Michael Bush thunder-and-lightning duo carrying the ball opposing defenses were constantly on their heels. However last off-season the Raiders once vaunted running game fell apart with the departure of Michael...
  With the departure of Brandon Myers during free agency, the Oakland Raiders tight end position became the biggest question mark for the Raiders. The Raiders have promising tight end David Ausberry penciled in as the starter going into training camp and run blocking specialist Richard Gordon as a backup. However, Reggie McKenzie took Mychal Rivera and Nick Kasa in this year's...
Nick Kasa was the first of two tight ends taken by the Raiders in the sixth round of the 2013 NFL Draft. Kasa, a former defensive end that is still learning the position of tight end, stands an imposing 6'6" 269 lbs. That last sentence really sums up where Kasa is. Physically, he is very gifted – he has the height and build to compete well at the tight end position in the...
According to the Oakland Tribune, the Oakland Coliseum as a big problem.  Sewage is currently leaking into the baseball clubhouses. Steve Vucinich, the A's equipment manager, recalled it happening for the first time in 1975, when the stadium was 9 years old.   "They  repaired it then, but it's happened periodically since," Vucinich said. "It didn't happen when we had...
According to Jason La Canfora of CBS Sports, free agent defensive lineman Richard Seymour told him that after talking with the Atlanta Falcons, they were able to agree on a contract. Falcons were trying to sign DL Richard Seymour but he tells me they couldn't agree on contract terms. "I thank them for their efforts." — Jason La Canfora (@JasonLaCanfora) June 16, 2013...
Jason La Canfora of CBS Sports confirms that free agent DL Richard Seymour and the Atlanta Falcons are nowhere close to reaching an agreement and it appears as though talks between the two sides are dead. "I thank them for their efforts," Seymour explained to La Canfora. The Falcons have reportedly been in contact with Seymour for a number of weeks now, but Seymour's asking...
Raiders News

Delivered to your inbox

You'll also receive Yardbarker's daily Top 10, featuring the best sports stories from around the web. Customize your newsletter to get articles on your favorite sports and teams. And the best part? It's free!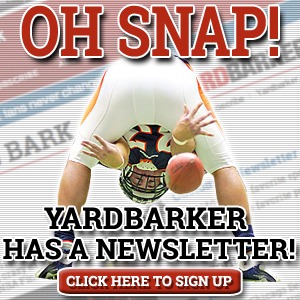 Latest Rumors
The Backyard

Today's Best Stuff

For Bloggers

Join the Yardbarker Network for more promotion, traffic, and money.

Company Info

Help

What is Yardbarker?

Yardbarker is the largest network of sports blogs and pro athlete blogs on the web. This site is the hub of the Yardbarker Network, where our editors and algorithms curate the best sports content from our network and beyond.