Found October 04, 2011 on The Victory Formation:
If you've ever walked out of a casino penniless you've likely felt Gambler's Regret.  You look back on what just happened trying to pinpoint where it all went wrong.  Maybe you were up a little bit at some point and thought about leaving, but ultimately pushed your luck a bit too far.  Maybe you played perfect strategy at a table, but then the dealer turned over a brutal card and you went broke.  Maybe that damned slot machine just kept missing by one reel.  Maybe it just wasn't your night and you should have stayed home.  Whatever it was that caused it, all gamblers have felt it.
Well that's more like it.  Finally, the record is where it should be.  What a fantastic week of picks, even if I hate the Eagles more now than possibly at any previous time in my life.  The Week 4 picks were 10-6, kicking the overall record up to 31-31-2.  I guess I can't really call that an "above .500" record, since it's exactly .500.  But it's better than it was before Friday…
Pick that was so easy I shouldn't really get credit for it: Tennessee (Pk) over BROWNS:  Never a doubt in my mind about this one.  In fact, I was so confident about this game that I added the Titans as an underdog (the line ended at CLE (-1) at kickoff) into two parlays just before the games started.  It paid off.
Pick I screwed up so badly that in hindsight it almost looks like I was picking the other team: (h/t to Pat on this one… ) EAGLES (-8.5) over 49ers.  I'm all done with Philly.  I didn't bet on them on the spread, but I did have them on the money line in two bets.  Thanks to Jeremy Maclin's soul-crushing fumble inside of two minutes, I lost both.  At least I wasn't the only one fooled by them this week – the final line at kickoff was a ridiculous PHI(-10).  Even I would have taken SF at that point.
Moment that had Las Vegas Sportsbooks EXPLODING:  How about that ridiculous Victor Cruz fumble/non-fumble as the Giants drove the field to complete a fourth-quarter comeback.  No matter how you bet on the game, that call probably swung you from a win to a loss, or vice versa.  Arizona was +2 at kickoff, and with the Giants' comeback the game moved from a 3-point Cardinals win to a 4-point Cardinals loss.
This is why we can't have nice things: Because Jeremy Maclin's hands are apparently coated with Crisco.  All he has to do in that situation is go to the ground, let the Eagles line back up and get roughly another 15-20 yards and kick a game-winning FG, and I cover two more parlays with the Philly money line. A five teamer at 25 units that paid just shy of 250, and a 3-teamer on the big favorite money lines for 100 units paying about 130.  Instead, the ball popped free, the Niners ran out the clock, and I vowed to never put another cent on the Eagles in 2011.
Line I wrote that I wish I could delete from the Interwebs: From Steelers (+4) over TEXANS: "Because I can't find a single reason that Pittsburgh won't win outright."  The reason was pretty simple – it's hard to win a football game without an offensive line.  Pittsburgh is going to have their work cut out for them, but luckily there's only three games that look tough the rest of the way – TEN this week, NE in a month and BAL the week after.  And all three are home games.
Line I wrote that I should probably pat myself on the back for:  From BENGALS (+3) over BILLS: "Because if this isn't the definition of a letdown game, nothing is."  You'd be hard pressed to find too many other people backing the Bengals in Week 4.  Not only did I pick them here, but I backed it up with a money line bet on the Bengals as underdogs.  Unfortunately, I parlayed it with the Steelers.
Real life moment that crushed my fantasy hopes and dreams: I'm in shock.  I went 4-0 in fantasy football leagues this week.  Seriously.  I can't believe it either.  Perhaps most importantly, I won in the TVF Fantasy Football Extravaganza league (even with the benching of Cam Newton and the Baltimore defense to play Matt Ryan and Philly), moving me from dead last place just two weeks ago up to Top-7 status.  Granted, there are only 10 teams.  But still, it's something…
The Quarterpole Fab Five: Four games into the season, there are a few things we know about the league.  Like… which teams are really good, and which teams aren't.  And everybody loves lists, so… here's one man's thoughts:
            1)   Green Bay: Just perfect on offense.  Firing on all cylinders, and almost completely healthy (for now).  The defense isn't there, yet, but it's not bad enough to knock them off the top.
            2)  New Orleans: Week One notwithstanding, they've been pretty damned good.
            3)  Detroit: Three NFC teams atop the league?  Damned straight.
            4)  Baltimore: If they had any semblance of an offense, they'd be 1B behind the Packers.
            5)  New England: If they had any semblance of a defense, they'd be 1C behind the Ravens.
Best text message sent or received: Another week, another disheartening Jets loss, another text lamenting the team's performance.  Just after the final Baltimore defensive TD (more on that in a second) I took an opportunity to needle Pat a bit more.  Pat didn't respond…
D: "Well, at least now you can get to bed early."
Snap Judgment of the week, #1:  Atlanta ain't making the playoffs without some serious changes. That's a bad football team right now.
Snap Judgment of the week, #2: There's going to be an 11-win AFC Team that misses the playoffs as a Wild Card, and an 8-win (at best) NFC team that makes it as a division winner.  Something's broken in the system.
Snap Judgment of the week, #3: I misjudged the AFC North while writing the Two-A-Days back in August.  That is not a good, overall division.
Snap Judgment of the week, #4: The Sunday Night game between the Ravens and the Jets might have been the worst statistical QB game I've ever had the displeasure of watching.  What a ********.
PatPhish vs. Big D Weekly "I Bet You" Update: We both kind of forgot about it this week.  We texted back and forth and finally settled on two props regarding yards gained this past Sunday.  A Darren McFadden/Michael Turner more rushing yards prop (McFadden won, 75-70) and an alternating pick combined QB passing yards…
Pat took Brees first of the four – that would have been enough by itself.  Brees had more yards than any of the other two QBs combined, so I never had a chance.  Thanks Pat.
Original Story:
http://www.thevictoryformation.com/20...
THE BACKYARD
BEST OF MAXIM
NFL News

Delivered to your inbox

You'll also receive Yardbarker's daily Top 10, featuring the best sports stories from around the web. Customize your newsletter to get articles on your favorite sports and teams. And the best part? It's free!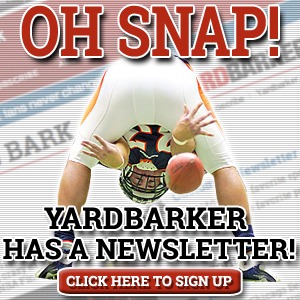 Latest Rumors
Best of Yardbarker

Today's Best Stuff

For Bloggers

Join the Yardbarker Network for more promotion, traffic, and money.

Company Info

Help

What is Yardbarker?

Yardbarker is the largest network of sports blogs and pro athlete blogs on the web. This site is the hub of the Yardbarker Network, where our editors and algorithms curate the best sports content from our network and beyond.