Found April 09, 2010 on Blog Down Chicago Bears:
I realize this has absolutely nothing to do with my 'Schadenfreude' postings or our beloved Bears after briefly mentioning Mr. Ryan Leaf is my post about the Bengals I felt that I had to tell our reader(s) about my interaction with him.

This happened in the month immediately after I graduated college. Two of my friends and I decided to put off the responsibility of becoming 'adults' to travel Europe for a month to sight see get pants ******** drunk. This incident happened on a ferry from Bari, Italy to Patras, Greece. What follows is 100% truthful and can be validated by Mr. Leaf himself….you know, if he wasn't living in Canada, hawking timeshares.
So myself and my two friends (let's call them Brian and Peter) are on this overnight ferry trip to get to Greece. In the previous three weeks we managed to drink our way from London to Italy with only two conversations with police. We didn't book rooms on the boat, lest we waste precious drinking EU dollars. So we put our stuff in what looks like a big movie theater. It had huge, soft reclining chairs, decent space to stretch our legs and it wasn't overly crowded. We decided to go to the only place to grab a drink, "The Yacht Club" which was overrun by drunk 16 year old's and their ****** parents. We grab a booth and soon after my two buddies leave me to watch the table while they get booze from the duty free shop.
I'm sitting there looking at pictures on my camera when this mammoth dude walks up to me, taps my leg and asks, "Do you speak English?". I say that I do and he introduces himself as Ryan. We make small talk and even though I'm a bit tipsy and can't shake the thought that I've seen this guy somewhere. He tells me his cousin just graduated from Montana so he's taking him all over Europe. It finally clicks when Ryan tells me he went to Washington State. "Holy ****!!" I think to myself. This guy was the biggest bust in NFL history!!! I hold it together and tell him it was nice chatting but I gotta go meet my friends. He parts with, "Cool man. Hey, I'll buy you a shot later." "Um, okay", I manage to say then find my two friends chatting up some 18 year old's (SCORE!! Amirite????). I figure he'll avoid me all night. WRONG.
No more than ten minutes later I hear, "MATTY!!! GET UP HERE!!!!!!" It's my pal Ryan. I look around and give him the "who, me?" look and slowly walk up to the bar. He asks me what I want and I tell him that since he's buying it his choice. "Two shots of Jack!" FUUUUUUUUUUUUUUUCCCCCCCCK. (Side note: I can drink. I can drink Jack Daniels. But after three weeks of getting absolutely piss-pounded night after night I was actually looking forward to taking it a bit easy. ) Immediately after the first shot goes down he orders another and this time calls his cousin up.  I ask him why all the whiskey? Why Jack Daniels? "I'm from Montana man!!! That's how we DO IT!!!!!" Okay then. The three of us do another one and after getting back to my table and telling my buddies who I just did shots with I figured the night with Ryan was over. So. Completely. Wrong.
After about seven shots of JD, (on this night I was in the ******* ZONE) Leaf puking all over the place, Leaf breaking a shot glass and slicing his thumb open and numerous stories about his Czech ex-wife (WTF?!?!) the 'bar' was closing. I ask if I can help pay. Ryan replies with, "It's cool, I got this" and whips out his AmEx Black Card. (GAH!!!) I am completely stupefied.
(Since we're all ****-faced I decide to ask him the question I think everyone wanted to know in 2001, "Hey man, what happened to you??" I can't believe he didn't break my face. He basically told me that he had a ****** attitude and didn't put in the work to get any better. Then he told he to put my finger on his left wrist. He then moved it back and forth and there was a few sickening 'pops'. Grossed out I asked him what was wrong and apparently started at WSU. When he would throw a pass his ligament would pop out of place or something like that. At least that's what I recall from my drunken haze.)
Anyway, throughout the course of the evening Leaf claimed that his room that he and his cousin were in was huge; with a few TV's and two bathrooms and that we should all (girls included) go and party back in his room. We all agree. After following a maze of hallways we arrive at the room. Oddly enough, it wasn't the presidential suite, and when we walked in, it was about the size of a powder room. 10 inch TV, two 'beds' (cots is a better description) and an airplane sized bathroom. Faster than you can say 'statutory rape' girls and my pal Brian bolt. Leaf's cousin passes out on his bed and my buddy Peter passes out underneath it. Ryan, however does not want to stop partying. Of course I don't either.
He grabs his iPod and tells me I have to listen to this song. We go out of the room in search of a party of some kind. He's got his arm around me, one earbud in his ear and another in mine. We're listening to that Jay-Z/Linkin Park mashup CD and he is SCREAMING all the words. Also he's about 6 inches taller than me so my head is awkwardly cocked to one side so the earbuds wouldn't fall out. (The mental picture is quite hilarious) After wandering around for sometime, periodically stopping in areas with people sleeping so Ryan can see if ANYONE WANTS TO RAGE, I tell him that we should probably call it a night. "Yeah bro, we rock to ******* hard for these people!!!" Sure, whatever, just let me sleep. So we head back to his room and I realize that I have no clue where I am. We get inside and he flops down on his bed and I stand there like a chode. After a few seconds he opens his eyes and says, "Here take this" and tosses me a sweatshirt. I pass out on the floor.
After what I'm sure was only a few hours Peter taps me on the shoulder and asks "Where the **** are we??" I realize where we are and we GTFO and find our way back to where our stuff is. Peter and Brian go get breakfast and I pass the **** out across some chairs. I wake up sometime later to Ryan Leaf staring at me (HOW DID HE FIND ME?!?!?). Literally, the first thing I see when I open my eyes is his face with a big Cheshire Cat grin on it.
"Great time last night man" he says, a little to enthusiastically. "Uh, yeah. Can I get some of that water?" I chug as much as possible and we sit in uncomfortable silence for a few minutes. It's like those few moments after you wake up and realize you had a once night stand with that fugly chick from 2E. You don't really know what to say. Eventually we start laughing about the previous night. About how he still goes on Spring Break at 28. About how his ex-wife in Prague is a *****. (Seriously how does that happen?!?!) About Jay-Z and Linkin Park, you know, the whole shebang. As the boat pulls into port he asked me where I'm headed. I tell him I'm going to Athens and he says he's going to Prague. "Cool", I say, "it was nice hanging out and thanks for the shots." "You bet man!" Ryan says, "Peace dude!" like he was going to see me later that night.
So that's my story. Just felt I should share that with the interwebz. Got a story about hanging out with an athlete? Send it to blogdownchicagobears@gmail.com and if it's good we'll publish it.
Original Story:
http://feedproxy.google.com/~r/blogdo...
THE BACKYARD
BEST OF MAXIM
NFL News

Delivered to your inbox

You'll also receive Yardbarker's daily Top 10, featuring the best sports stories from around the web. Customize your newsletter to get articles on your favorite sports and teams. And the best part? It's free!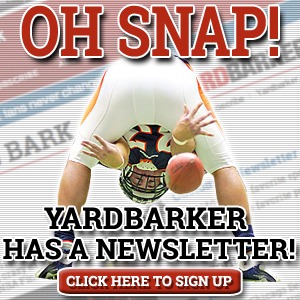 Latest Rumors
The Backyard

Today's Best Stuff

For Bloggers

Join the Yardbarker Network for more promotion, traffic, and money.

Company Info

Help

What is Yardbarker?

Yardbarker is the largest network of sports blogs and pro athlete blogs on the web. This site is the hub of the Yardbarker Network, where our editors and algorithms curate the best sports content from our network and beyond.