Found August 10, 2013 on State of the Texans:
PLAYERS:
Matt Schaub
,
T.J. Yates
,
DeAndre Hopkins
,
Case Keenum
,
Derek Newton
,
David Quessenberry
,
Willie Jefferson
,
Justin Tuggle
,
Ryan Griffin
,
Owen Daniels
,
Earl Mitchell
,
A.J. Bouye
,
Roc Carmichael
,
Lestar Jean
,
Jeff Maehl
,
Eddie Pleasant
,
Ed Reed
,
Cody White
,
Zach Boren
,
Dennis Johnson
,
Cierre Wood
,
Darryl Sharpton
,
Joe Mays
,
Mike Mohamed
TEAMS:
Houston Texans
,
Minnesota Vikings
The first preseason game ended in a 27-13 win for the Houston Texans over the Minnesota Vikings. The Texans did not play 20 of their players and were missing some key starters on the offensive and defensive side of the ball. Plenty of positives came out of the game and it was a good step to see the Texans without plenty of their core players on the field.     The Rundown - The Houston Texans' quarterbacks looked good as a group.  Combined, they went 31/44 for 310 yards and 2 touchdowns. Matt Schaub was a perfect 5 for 5 through the air in the short amount of time he was in the first quarter. T.J. Yates got off to a slow start but heated up late and finished 13/21 for 151 yards and a highlight touchdown pass to DeAndre Hopkins. This is the first considerable amount of football Yates has seen since last preseason, so it was good to see him get going in the offense. The big winner was Case Keenum who came out and made some big plays and really was impressive when he was on the move. Keenum ended his night 13/18 for 125 yards and a touchdown, but his numbers could have been better but his wide receivers had some drops and one would have been a touchdown. - Right tackle Derek Newton looked good for his first real action since his knee issue from the offseason. He looks much more comfortable in the run game and he was opening up some running lanes for the running backs. With plenty of criticism with Newton and how he performed late last season, he looks like a better player but time will tell as we move on. - Rookie wide receiver DeAndre Hopkins had his rookie moments running routes short of the first down, tripping on a screen pass and dropping a pass he usually catches. After the drop, Hopkins showed what he has been doing at camp since he arrived when he went on a 9 route and snagged a ball from the hand of Yates on a 34-yard touchdown pass. Hopkins elevated over the defenders and high pointed the football for a great touchdown catch. Many of his veteran teammates who were not playing came to congratulate him after the catch. - Rookie offensive lineman David Quessenberry looked like one of the better rookies of the night. He played left guard and left tackle and was impressive in the trenches and it was easy to see his understanding of the offense. He has the right skill set for this offense and had it on full display last night. He will be a key piece of the offense in the future. - Both rookies Willie Jefferson and Justin Tuggle had nice debuts in the defense. Jefferson could be a good situational player early on and he showed he can get to the quarterback in a hurry. He covers ground so well and it was impressive to see him drop into coverage. Jefferson is the true definition of a "raw" player. Even with the little time that Jefferson has spent learning what the outside linebacker position asks for in this defense, he had a great start for his preseason. Tuggle is a different linebacker than Jefferson and they compliment each other well, and Tuggle let the NFL bloodlines show last night. Tuggle has a natural feel on how to play defense and the one thing that he did well was "strike" opponents with a purpose. He stuck his nose into one ball carrier on a tackle and totally ran over a running back trying to pass protect against him. Like Jefferson, Tuggle could be a sleeper that could possibly sneak onto this team before the week one opener. - Rookie mistakes will happen but tight end Ryan Griffin was solid in his pro debut. Griffin had 4 catches for 37 yards and showed he can block against the better competition. He got some time with the first team offense with Owen Daniels not playing. He is solidifying his future here as a tight end and with his ability could be a talented player. - Earl Mitchell was a one man wrecking crew at nose tackle. No one on the Vikings' offensive line could stop the starter and he was making plays in the backfield. His stat line says it all with 4 total tackles, 3 tackles for loss, 1 sack and a 1 quarterback hit all in less than a quarter of play. See Mitchell when he talked to us at camp.  - Rookie cornerback A.J. Bouye had a strong game but it could have been even bigger if he would have finshed some plays. Bouye missed two interceptions and on one he just froze when it fell just out of his reach on a high pass. He was in position all night and he showed what made him successful at camp, being a technician in coverage. Bouye also had a nice play on special teams when he kept the ball from going into the endzone on a punt to down the Vikings inside the 10 yard line. - Red Flags for concern Roc Carmichael had some issues in coverage, gave up a big reception and didn't really look interested in tackling anyone. Carmichael needs to put this game behind him, especially with growing competition on this team pushing for his roster spot. Lestar Jean Lestar Jean had a touchdown catch but it did not cover up some big drops from him. With his big frame, he should be catching the ball away from his body, but he just doesn't. Plenty of talk on what he should be but the truth is there has been four wide receivers drafted since his arrival three years ago. Jeff Maehl had two passes his direction that ended up as two dropped touchdowns in consecutive plays. That was disappointing especially knowing that every chance he now gets is very important.  After three seasons here, it is time for him to put it together. Eddie Pleasant had a disappointing day and this was despite an interception that was ripe for the pickings. He had a bad special teams penalty that cost 15 yards and a missed tackle on the long touchdown reception. The Texans need Pleasant to step up his play especially with Ed Reed not completely healthy at the moment. Offensive lineman Cody White struggled on the inside with playing high and being pushed around by the Vikings defensive line. White has a chance to be a key backup for the season but he has to improve his technique especially against the bigger defensive linemen.   Zach Boren, #45 - Hard not to like what rookie fullback Zach Boren did yesterday as a lead blocker. He was laying some serious blocks on linebackers and even showed he can catch out of the backfield. His hard work during training camp paid off yesterday in his first game. - The matchup for the third runningback has been set. Dennis Johnson and Cierre Wood both had plenty of time on the field last night. Both showed they can pass protect and they stuck blitzing linebackers before they got to the quarterbacks. Johnson has a great skill set but at times he gave up on his blocking too soon. As for Wood, his vision and knowledge of the zone scheme was evident last night when he planted and got downhill with the football. - The Texans inside linebackers looked active last night. Darryl Sharpton and Joe Mays were solid together on the field. Mays took on blockers with a purpose and pulling guards and fullbacks were met immediately in the hole. Sharpton also played physical at the point of attack for the defense. Also, rookie Ja'Gared Davis and Mike Mohamed played solid inside the box and were in plenty of plays. Mohamed struggled to get sideline to sideline but he had a good feel on the inside taking on blockers and making plays. You can follow Patrick on Twitter.  He is the Editor of State of the Texans.  
Original Story:
http://www.stateofthetexans.com/the-r...
THE BACKYARD
BEST OF MAXIM
RELATED ARTICLES
Texans Offensive POG: Case Keenum Case Keenum This should be a no brainer to most. The home town native, Case Keenum has made a huge step this offseason and he showed it of Friday night. With the highest passer rating of the night of all Texans quarterbacks (109.7), Keenum went 13/18 for 125 yards and a touchdown. Keenum showed off what he did so well at the University of Houston...
Chris Myers, Wade Smith, David Hunter and Ben Jones In a single day, the Wade Smith Foundation made a huge difference in the educational opportunity for over thousands and thousands of Houston-area children. The Houston Texans left guard has been giving back to not only the Houston community but his hometown of Dallas as well, for years. With the mission "to facilitate the growth...
DeAndre Hopkins and Cordarrelle Patterson both showed off their first-round talent. Hopkins caught a 34-yard touchdown pass for the Houston Texans in a 27-13 preseason victory on Friday over Minnesota. The Vikings also showcased their rookie wide receiver, too, during a flashy first half by Patterson. Hopkins, the 27th overall pick in the draft, had four receptions for 52 yards...
And here we go again with another edition of Free Style Friday with the Houston Texans cheerleaders. Have I tired of the cheerleaders…
The Minnesota Vikings paid a hefty price to trade back into the first round in April to grab Tennessee receiver Cordarrelle Patterson. General manager Rick Spielman believed Patterson's size, speed and ability to run after the catch would help the Vikings move on from star Percy Harvin, who was traded to Seattle. Patterson showed flashes of what intrigued the Vikings so much...
Minnesota Vikings WR Corradelle Patterson had four catches for 54 yards in addition to that 50 yard return in the Minnesota Vikings' 27-13 loss to the Texans in the preseason opener on Friday night. While he was in the game, Patterson was able to put on display the speed, versatility and athletic that made the Vikings select him in the first round of the 2013 NFL Draft. First...
Happy Friday and even more importantly, Happy Vikings Gameday! Below is my insight and overall gut feelings as to what to expect and look for come tonight's game and this 2013 season. Again, this is purely based off of what I observed during my time at training camp and my instincts/gut feelings. Take it for what it's worth… although, keep in mind… I did predict Ponder to...
Woohoo! Football is back! And I don't even care that it's the preseason. You better believe I'll be at this game tonight YELLING at the stupid refs for giving the Vikings crap calls and doing their damnedest to make sure the Texans win. BIASED!!  Of course, the outcome of this game doesn't matter. Nerdy sports writers will tell you that this preseason is the...
The Vikings would adjust if the NFL were to shorten the preseason, something Leslie Frazier wasn't interested in discussing, saying his opinion wouldn't matter to the NFL.
Former NFL coach Mike Tice may have found a more lucrative -- albeit rsiky -- way to make a living. The former head coach of the Minnesota Vikings connected big time at Del Mar Surfside Race Place on Thursday, nailing the only winning ticket on the Pick Six. The payoff was more than $100,000. Former Seahawk Mike Tice had the only winning Pick Six ticket Thursday at Del Mar, worth...
Leslie Frazier made a big impression on his defensive players when he flashed the statistics correlating turnovers to wins in the NFL. Maybe he emphasized that at the beginning of training camp because the Vikings have been bad with interceptions the last four years. How bad? The rankings tell the story and the players relayed the statistical impressions.
NFL News

Delivered to your inbox

You'll also receive Yardbarker's daily Top 10, featuring the best sports stories from around the web. Customize your newsletter to get articles on your favorite sports and teams. And the best part? It's free!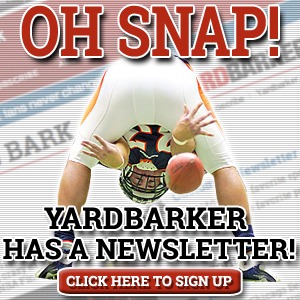 Latest Rumors
Best of Yardbarker

Today's Best Stuff

For Bloggers

Join the Yardbarker Network for more promotion, traffic, and money.

Company Info

Help

What is Yardbarker?

Yardbarker is the largest network of sports blogs and pro athlete blogs on the web. This site is the hub of the Yardbarker Network, where our editors and algorithms curate the best sports content from our network and beyond.