Found October 27, 2012 on Thoughts from the Dark Side:
Once upon a time the Oakland Raiders drafted Darren Mcfadden (Arkansas) fourth overall in the 2008 NFL Draft. He was to be paired with the flappy-armed, candy-assed jug of a mammoth in Jamarcus Russell. That didn't work out. Mainly because Russell was a Wilson -- and was cast away. McFadden has had multiple foot injuries since becoming a Raider, yet he's also managed to make a significant impression. He came to life under Raiders former head coach Hue Jackson – and was even a MVP candidate just twelve short months ago. Now fantasy owners panic in fright, as Darren Mcfadden has gained half the yards he had last year at this point.   Is it a coincidence McFadden was last injured by Kansas City? Will he return to form this week, or continue to play sh!##y? OC Greg Knapp is the biggest change this year And like a magician, he's made Run DMC disappear Out with the power, in with the zone McFadden was on a high so why spill the bong? Got a top ten talent quarterback in Carson Palmer If they stay with this scheme, DMac could be a goner. OK. Enough with the poor rhyming. What I'm getting at is this – will this year be the last we see of Darren Mcfadden? 'Run DMC' this year looks more like pony than the hungry workhorse we saw galloping down-field running over people at will the past couple years. Some of that is his fault (he could try to be a little more patient hitting the hole) and some of that is Greg Knapp's fault. The Raiders ninth-best offense of last year seems like a dream at this point. Somebody needs to shake a dream catcher or SOMETHING. The offensive line looked like it was headed in a great direction, maybe even a top-ten caliber line. But there's been regression and it could kill this year's chance of improvement if somebody doesn't do something. Most people around the league recognize Darren Mcfadden as a top talent not just as a running back, but overall as a player. And that player's talents have not been executed well. Even hobo's on bath salts would dodge Mcfadden right now. He stinks THAT bad. That's piss-poor grooming right there on the Raiders part. Unless there's a dramatic change in the running game, McFadden's gone after the season. If D.A. sticks with Greg Knapp going forward – there's rookie backs that will come cheap. Raiders could trade Mcfadden and draft a rookie to come in here and do at very least what Mcfadden is doing now. And the prospect of picking up a draft pick or two in the process has to look appealing to Reggie Mckenzie. One thing to keep in mind is that next season will be the last year of Mcfadden's rookie contract – so there's kind of that sparkling-looking, prime-time feeling that he COULD ball-- out like never before in a contract year. Trick or treat? That's something to think about. Will McFadden turn it around under Greg Knapp this year? Or will he be traded after this season and replaced cheap? Is the 2012 Raiders season going to end up toting a good ball or not? So what say you, Nation?   A) Mcfadden will get it going, Gangnam Style B) Mcfadden will not get it going, in any style C) Mcfadden should just be traded, man D) Greg Knapp should be zoned out and cast away - without any kind of Wilson to keep him company E) I miss that bushwhacker that left for Chicago This content of this article comes from the twisted mind of AJ DeMello and is for entertainment and comedy purposes only. For more of his jokes and one liners follow A.J. @humorousfiend  
Original Story:
http://www.tfdssports.com/2012-articl...
THE BACKYARD
BEST OF MAXIM
RELATED ARTICLES
The Oakland Raiders this week have listed 20, yes 20, of their players on the final official injury report before Sunday's game vs. the Chiefs.  You'll see key players like Darren McFadden, Matt Shaughnessy, and Sebastian Janikowski on the list.  Apparently Reggie McKenzie reads the news and would rather be safe than sorry after the Ravens were fined $20,000 for [...]
The Oakland Raiders want to be a run first team on offense. However with new offense coordinator Greg Knapp, they have been unable to get consistent production on the ground. As the team travels to the Kansas City Chiefs this Sunday, they will try to find a balance on offense they can use the rest of the season and establish their identity as an offense. Because of the amount of...
To no surprise, the media is still negative when it comes to the Oakland Raiders when mentioning the team. They have had a decade-long drought, but the media blasts them as if they were an annual playoff team the last couple of years and have just fallen off. As if they have nothing else to discuss, the Carson Palmer trade, which was made out of whack, is the centerpiece to all discussions...
When the Oakland Raiders drafted outside linebacker Miles Burris in the fourth round of the 2012 NFL Draft, they thought he would make an impact this season. With the injury to starter Aaron Curry, Burris was thrown straight into the fire in preseason and played his way into the starting line-up. So far he has been one of the most surprising members of the defense. "I thought...
Does anyone really think the Raiders can win the Super Bowl?  This team is made up of a bunch of pieces.  Some of the pieces are really good and some are not.  The bottom line is that the pieces don't all fit together. Here's a look at their remaining schedule, predictions and a look at their division. @ KC - Win Tampa - Win @ Baltimore - Loss New...
When the Oakland Raiders signed Shawntae Spencer as a free agent in March, coach Dennis Allen and general manager Reggie McKenzie hoped the veteran cornerback could help stabilize a secondary that underwent significant changes in the offseason. Instead, Spencer has spent more time in the trainer's room getting treatment for a sprained right foot than he has on the field. He...
Carson Palmer has heard the talk that the Oakland Raiders should simply be done with the whole idea of huddling up. Palmer has done some of his best work in a no-huddle offense, including a 26-23 overtime win over the Jacksonville Jaguars. Fans prefer it in part because they're frustrated with offensive coordinator Greg Knapp, who has retooled the offense that was gaining...
As the heat of the spotlight glare glistens off of my aviators, I have but one thing to say… THAT'S MY QUARTERBACK! (In Terrell Owens crying form) This is an interesting year to be a Raider. To go on and on about what has happened and who has come and gone would take all page. We all know of the [...]
A former NFL first-round draft pick has been sentenced to more than a year in prison for taking part in a fraud scheme. Michael Bennett was sentenced to 15 months on Friday in federal court in Fort Lauderdale, Fla. He pleaded guilty to wire fraud three months ago. The 34-year-old Bennett was drafted 27th overall by the Minnesota Vikings in 2001 out of the University of Wisconsin...
Its Chiefs week for the Raiders and the Raider Nation, and both teams need this win. All the better for this historic rivalry to continue. Coming off of a win last week against Jacksonville, the Raiders will look for their first back to back wins of the year, and get some momentum going as the AFC West race continues to [...]
After the Oakland Raiders set NFL records in 2011 for penalties and penalty yards, rookie coach Dennis Allen made it a top priority to get his team more disciplined Until recently, the plan seemed to be working. That's why several Oakland players were caught off guard by comments made this week by Kansas City Chiefs linebacker Tamba Hali. Hali told a Kansas City newspaper that...
Oakland Raiders (2-4) at Kansas City Chiefs (1-5) Before the bye, I made a big play on the Chiefs to win in Tampa Bay because I felt they were undervalued because of their terrible turnover differential. I noted how they were on a record worst pace in turnover differential and that, at the very least, [...]
Raiders News

Delivered to your inbox

You'll also receive Yardbarker's daily Top 10, featuring the best sports stories from around the web. Customize your newsletter to get articles on your favorite sports and teams. And the best part? It's free!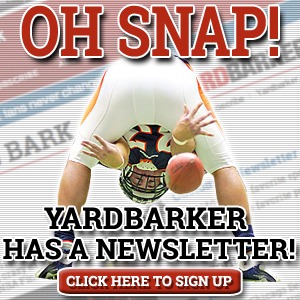 Latest Rumors
The Backyard

Today's Best Stuff

For Bloggers

Join the Yardbarker Network for more promotion, traffic, and money.

Company Info

Help

What is Yardbarker?

Yardbarker is the largest network of sports blogs and pro athlete blogs on the web. This site is the hub of the Yardbarker Network, where our editors and algorithms curate the best sports content from our network and beyond.