Found May 04, 2012 on State of the Texans:
PLAYERS:
Duane Brown
,
Connor Barwin
,
Matt Schaub
,
Eric Winston
,
DeMeco Ryans
,
Jacoby Jones
,
Wade Phillips
,
Whitney Mercilus
,
T.J. Yates
,
Case Keenum
,
Rashad Butler
TEAMS:
Houston Texans
,
Kansas City Chiefs
,
Philadelphia Eagles
With the draft talk starting to die down, sadly, things have begun to shift to the current roster for the Texans. And after an offseason of multiple free agent losses, the primary concern has fallen on a trio of upcoming 2013 free agents that fans are already worried about losing. In what I've labeled "The Trifecta," these three players are left tackle Duane Brown, outside linebacker Connor Barwin and quarterback Matt Schaub. After the release of right tackle Eric Winston, the trading of DeMeco Ryans and Jacoby Jones being handed his walking papers, Houston has undoubtedly cleared up double digits in cap space going forward. So it is time to address the 800 pound elephant in the room and talk about extending the trifecta listed above. First, lets submit that there hasn't been enough space cleared up to do new deals for all three. Next, if there is enough to do two of the three, who gets left out? Finally, in looking at the draft the Texans just had, can we see if it tells us anything about the future plans of these three in Houston. Let's take each player one by one. Connor Barwin – While I was late in jumping on the Barwin bandwagon last year, there is no denying that he had what is the epitome of a "breakout season." Netting 11.5 sacks will do that for anyone. He's only 25 and seems to get the scheme, therefore making him someone Wade Phillips undoubtedly would like to keep around. But the team wanted to keep Mario around, too. Not that they're comparable or will draw even close to the same type of paychecks a year from now. But, personally, I need to see one more year like 2011 out of Barwin before I give him serious coin. Before you jump all over me about that statement, remember that I'm just playing Devil's Advocate here. Barwin had a good season, but let's consider that through the first half of the 2011 season, he only compiled 2 sacks total. Obviously, that makes the second half look huge by comparison, but take into account that 4 of those sacks he had in the second half were on the Jags' Blaine Gabbert, who was a shell-shocked rookie quarterback on high heels all last year and was sacked 40 times in 14 games in 2011. Lastly, the Texans drafted another pass rusher at Barwin's position in the first round of the draft. If Whitney Mercilus takes to this scheme as many predict that he will, it's doubtful that Houston is ready to shell out serious cash for Barwin if he repeats his 2011 performance. Being a great team means you have to let some good players walk once in awhile. I'd like to keep Barwin, but he might be the odd man out in the trifecta if he has a good market in free agency. Matt Schaub – This one is a no-brainer. If he is recovered from his lisfranc injury that ended his 2011 season and he shows no ill-effects in 2012, a deal gets done. Players some and go, but when you don't have a franchise quarterback..well, you're the Dolphins. The only way I think Matt Schaub isn't a Houston Texan in 2013 is if he has another season-ending injury and the team decides to go in a new direction. Matt is a scheme fit and a system guy and he knows it. I doubt he has little interest to get bigger money to go play for Cleveland to end his career. He won't be cheap to retain, quarterbacks never are. But I don't think he'll be a problem in getting a deal done with. And if he does, the team will franchise him. He's going nowhere if he's healthy and with only T.J. Yates and Case Keenum on the roster behind him, he is the safest guy on the trifecta and will likely sign an extension before the season ends. Duane Brown – I still remember when everyone hated the pick of Duane Brown back in 2008. Everyone whined about our offensive line, but whined louder when they took a tackle in the first round. But, in the end, it has worked out. In fact, it might have worked out so well that Houston is going to be on the hook for top 5 left tackle money in 2013. It would be folly to argue that Brown doesn't deserve the huge salary raise. I might be mistaken, but I believe that he only gave up one sack all of 2011 and he was a monster in the blocking game. He was an immovable object all year and he has never missed a game with injury in his four years in the league. With Houston drafting a couple of guards and a center, none of who project to a tackle, and have Rashad Butler looking at free agency in 2013, it's safe to assume that Houston wants to keep Brown around and they haven't begun to prepare for life without him. They cut Winston and let Brisiel walk, but retained Myers and I believe they'll do the same with Duane Brown. But if the team isn't in talks with his agent right now about an extension, they could be in trouble. Say Houston has a huge season and even makes a Super Bowl visit; his price tag just went up. Many have argued with me via twitter that he would be foolish not to test the market, players always want their long-term stability sooner rather than later. What if he has a season0ending injury in week 15? That's not going to look good on the market. No, you take the money as soon as you can get it unless your current team is just completely low-balling you. With the mystery still surrounding the cap number and what it will look like for the Texans in 2013, perhaps all three guys can be brought back. In a perfect world, that's how it works. But in reality, this past offseason shows that it is far from a perfect world.
Original Story:
http://www.stateofthetexans.com/?p=4452
THE BACKYARD
BEST OF MAXIM
RELATED ARTICLES
  Now that the Houston Texans have taken the next step and made the playoffs for the first time we as fans and NFL analysts expect the Texans to be a consistent contender for years to come. This is new territory for a team that hasn't been in this position before. Have the Texans truly arrived? Are they on the precipice of greatness, or are they just a one year wonder? For the...
Here are the new twitter handles of all the new Houston Texans Rookies   Whitney Mercilus @Merci380 DeVier Posey @DPo8 Ben Jones @benjones60 Keshawn Martin @KeshawnMartin82 Jared Crick @JrodVCrick Randy Bullock @randybullock28 Nick Mondek @Mondek62 Dwight Jones @Jones83_ Phillip Supernaw  @PSupernaw11 Mario Louis @meezy_uno Tracy Robertson  @breakingboizoff Nate Menkin...
Usually it is Bob McNair, the owner, in the locker room after the game talking to reporters. The job suits him. He's got that whole old-guy Texas way about him, with the slow, pebbled drawl. Then it goes to Gary Kubiak, the coach, another native Houstonian. He's younger, but he's got that thing, too. And then there is Rick Smith, the general manager. He's not from...
Round 1, Pick 26 – Whitney Mercilus (OLB/DE) With their first pick, Houston selected Whitney Mercilus, OLB from Illinois. Mercilus is a speed demon. He will bring an unrivaled amount of athleticism to the defensive front, and provide consistent pressure on the quarterback. Mercilus may not be an immediate starter, but expect to see him rotate in and get substantial playing time...
NFL News

Delivered to your inbox

You'll also receive Yardbarker's daily Top 10, featuring the best sports stories from around the web. Customize your newsletter to get articles on your favorite sports and teams. And the best part? It's free!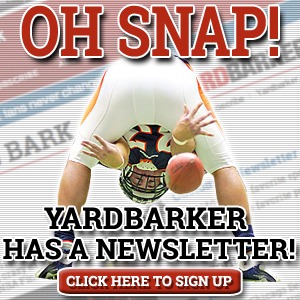 Latest Rumors
Best of Yardbarker

Today's Best Stuff

For Bloggers

Join the Yardbarker Network for more promotion, traffic, and money.

Company Info

Help

What is Yardbarker?

Yardbarker is the largest network of sports blogs and pro athlete blogs on the web. This site is the hub of the Yardbarker Network, where our editors and algorithms curate the best sports content from our network and beyond.