Found April 18, 2013 on Ravens Football Machine:
We will update this article with the news about the 2013 NFL Schedule... as I write this, the rumor is very strong concerning the Ravens opening on a Thursday night at Denver---all because of a scheduling conflict in Baltimore with the Orioles. We'll know by the end of this blurb... We all know QB Joe Flacco needs a steady influx of high-quality receivers if he is to play his best game possible. There's a tendency to look at some of the flashy and speedy wideouts coming out in the draft and think maybe Ozzie might reach for one of them if they fall down the board a little. I'm talking about guys like West Virginia's Tavon Austin, a Dunbar High School graduate, regarded by many experts as the top receiver in the draft and a likely top-16 pick. The other players widely regarded as the top wideouts are Tennessee's Cordarrelle Patterson and Justin Hunter. "Obviously, Tavon, who everyone is familiar with in this city, and then the Tennessee wideouts are talented guys who have some explosive playmaking ability," Ravens Director of College Scouting Joe Hortiz said. Austin, Patterson and Hunter are likely expected to be gone by the time Baltimore picks...unless one of them falls down the board unexpectedly. That's why Hortiz and the Ravens have their eyes on this guy:          Robert Woods, WR, USC Height: 6'1″ Weight: 190 Grade: 7.6 Scouting Report (courtesy of nepatriotsdraft.com): Athleticism + Great speed, likely to run in the mid to low 4.4s, shows the straight line speed to run by most CBs + All-State Track Star in HS – Ran a 21.01 200m and a 46.17 400m, both of which were top times in the state + Athletic frame with good muslce tone in the upper body + Possesses a 6'1″ frame with long arms and big hands, with very good leaping ability + Exhibits explosive burst off the line, can accelerate quickly reaching top speed after a couple strides + Is faster than quick, but displays good change of direction ability. + Often catches the ball going one way, but can stop change direction and get back up to speed quickly + Elusive in the open field, has had multiple touchdowns with 20+ YAC + Has a second gear, when it clicks in he separates easily and can run by "off" defenders and the deep safety + One of the best athletes in college football, will test well at the combine - Woods weight has been reported anywhere from 185-190 pounds, he needs to add muscle and strength - Not afraid to give out and take contact, leaves himself exposed to much and vulnerable to big hit Hands/Catching + Has some of the best hands in America + Large soft hands, watches the ball in and does a good job at maintaining focus and adjusting to the ball + Makes the tough catches look easy, will go after every ball and put his body on the line + Catches the ball well in tight spaces, will go over the middle and lay out + Presents large catching target due to leaping ability and ability to go get it + Knows how to use his body to shield the defender from the ball + Will drift toward sideline to create separation on deep sideline/fade routes - Has an occasional concentration drop, which he needs to clean up - Sometimes he leaps or leaves his feet when it's not necessary while the ball is being deliver Route Running + Stong route runner, crisp clean breaks, explosive when running double moves + Doesn't lose speed when coming in and out of breaks + Creates separation with long strides and sudden, quick breaks + Accelerates at the top of his routes and is fluid in change of direction + Well developed route tree, USC moves him all across the formation, including slot + Is lethel when running fade routes and red zone combinations + Does a good job of maintaining control and balance of his body and never looks out of control + Works back to the ball and keeps moving when the play breaks down + Is utilized in the short passing game a lot – quick passes, 3 step slants, bubble screens. + Can make things happen after the catch + Possession type WR, but also has the ability to be a home run threat + When running vertical routes, Woods attacks the DB + Woods does a very good job of stemming his routes and getting position on the DB + Beats press coverage at the line with quickness and elusiveness - Can and will struggle against stronger and more physical cornerbacks who can get their hands on him quickly - He can clean up some of the unnessary shake and jukes while running routes and try to make each route look the same Intelligence + Recognizes and understands different coverages + Finds soft spots in zone and works his way open + Has a great rapport with QB Matt Barkley, can adjust and break off a route based on coverages + Knows what the down and situation is and has shown good "in game" situational awareness Leadership + Is an extreme competitor + Very tough on himself and thinks he should make each play + If he drops the ball or doesn't make a play he can be seen yelling at himself - Bitterly threw his USC coaching staff under the bus while declaring for draft Blocking + Shows a willingness to block, but lacks technique and form - Needs to add some strength to his frame Overview: Robert Woods is one of the best NFL prospects in college football. He is a well rounded and explosive wide receiving talent. On one play he could stretch the field over the top for a 60 yard touchdown. On the next play he can run a three yard slant over the middle and convert a first down. He is a player that has a polished route tree and understands how to get open. He is exciting with the ball in his hand and he can turn a five yard bubble screen into a 50 yard gain. Woods will leave it all out on the field, selling out his body to make a play. He excels in the red zone where he uses his close quarters explosiveness to get open. Woods will give the team everything he has and has high expectations for himself. He is the type of player who wants the ball in the biggest situations and knows how to make the big play. Scouting Notes vs Notre Dame He is able to get in and out of breaks so quickly, and always has a crispness to them. No rounding them off here. He has the ability to play every receiver spot on the field and USC uses him that way. Whether he lines up as the X, Y, slot, boundary, or field WR he produces. Robert Woods is an example of a late 1st or early 2nd rounder who would fit into the Ravens plan quite nicely without having to reach for a big risk/big reward type guy at an earlier pick. Woods was once regarded as a likely top-10 pick after putting up more than 1,200 receiving yards as a sophomore in 2011. His production trailed off slightly last year – he still had 74 catches for 849 yards and 11 touchdowns – and now he's expected to get picked at the end of the first or early in the second. All of this projection is based, of course, on the assumption that the Ravens would grab a top-flight prospect at WR with their first pick. They may opt for a defensive position pick (ILB ?) and settle instead for a wideout prospect in the middle rounds. Hortiz is very high on mid-rounders this year--- California's Keenan Allen and Clemson's DeAndre Hopkins come to mind...even a relative unknown like Chris Harper from Kansas State, who's got that Anquan Boldin look about him.  
Original Story:
http://www.ravensfootballmachine.com/...
THE BACKYARD
BEST OF MAXIM
RELATED ARTICLES
After Baltimore Ravens' quarterback Joe Flacco won the Super Bowl, they had no choice other than to pay the man. In 2013, the Ravens will welcome Aaron Rodgers and the Green Bay Packers to Baltimore in the battle of the top paid quarterbacks in the NFL. Flacco signed a six-year, $120.6 million contract making him the highest paid player. His 20.1 million average yearly salary...
Chris Canty has not had the opportunity to make a statement for the Baltimore Ravens on the field. He is however, wasting no time in making his presence felt within the community. Canty got together with the Verizon Foundation and A Call to Men for a four-hour seminar on Tuesday at a local hotel to promote stronger and more respectful bonds with women by athletes. Please click...
The Baltimore Ravens remain in contact with free agent offensive lineman Bryant McKinnie, and general manager Ozzie Newsome told reporters – including Matt Zenitz of The Carroll County Times – that the team could still re-sign the veteran to be the team's starting left tackle. "Could he [McKinnie] be our left tackle? He potentially could be," Newsome said. &quot...
The Ravens running back continues to show that his off-the-field abilities match, if not exceed, those inside the white chalk lines. Rice has used his Facebook page in the past to share his thoughts on bullying and this morning used the platform to (rightfully) call out the people who verbally abused the staff of his Ray Rice Football Day camp. Free football camps from any professional...
Brendon Ayanbadejo is a 10-year NFL veteran who last played with the Super Bowl XLVII champion Baltimore Ravens and is a staunch supporter of same-sex marriage rights. In August 2012, Maryland state delegate Emmett Burns Jr. wrote an open letter to Ravens owner Steve Bisciotti requesting Ayanbadejo cease and desist all public support of marriage equality after Ayanbadejo donated...
The complete regular season NFL schedule is will be released later today.  We've now found out who the defending Super Bowl champion Baltimore Ravens will play to open their season up.According to Jason La Canfora of CBS Sports, the Ravens will open up the season on the road against the Broncos.The Ravens will open the 2013 season at Denver in a Thurs night kickoff. Full NFL schedule...
The Super Bowl champion Baltimore Ravens will open the 2013 season at Denver in the now-traditional Thursday night kickoff game.
By now it's not news after winning the Super Bowl the Baltimore Ravens will be opening the season on the road playing their first game in Denver, since the Orioles have a home game on September 5. The NFL and the MLB couldn't work out an agreement which would grant the Ravens to opportunity to play at home, so a decision was made. The Ravens, although they would want to play...
The Ravens will have to open up the 2013 NFL season on the road because of a scheduling conflict with the Baltimore Orioles, and the NFL couldn't be happier with the opponent or location. Yahoo Sports is reporting that the Ravens will travel to Denver to battle the Broncos and Peyton Manning to kickoff the regular season on Thursday September 5. Since 2002 the winner of the Super...
NFL News

Delivered to your inbox

You'll also receive Yardbarker's daily Top 10, featuring the best sports stories from around the web. Customize your newsletter to get articles on your favorite sports and teams. And the best part? It's free!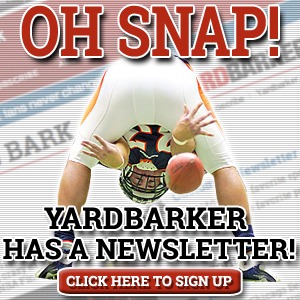 Latest Rumors
The Backyard

Today's Best Stuff

For Bloggers

Join the Yardbarker Network for more promotion, traffic, and money.

Company Info

Help

What is Yardbarker?

Yardbarker is the largest network of sports blogs and pro athlete blogs on the web. This site is the hub of the Yardbarker Network, where our editors and algorithms curate the best sports content from our network and beyond.