Found January 17, 2013 on Justice is Coming:
Wow, there was time when Philip could actually throw on the run--sort of.  This shot is obviously from the 2007 win at Indianapolis.  In many ways, it's the game that ended up leading us where we are right now.  I noticed in the comments from my last post that Daniel Chang thought Norv was being faulted with "breaking Rivers."  Philip mentioned in his interview with Darren Smith that he takes issue with the suggestion that he needs fixing.  However, I think it's pretty accurate.  Like many of the guys being hired right now, Norv was known as a "QB guru."  There is no question whatsover that Rivers has regressed beyond belief over the last two seasons.  I wouldn't roll my eyes so much at the suggestion that it was due to the poor pass protection, lack of a running game and self-induced pressure if he hadn't come off another ****** season in 2011. But Rivers is our guy and we can only hope that the three-headed monster of Wisenhunt, McCoy and Reich will make the difference.  I don't know if Norval will be a better playcaller in Cleveland and quite frankly I don't give a ****.  I am sure that the players you have impact your performance as a coach and coordinator.  McCoy won't be calling the plays and trying to run the show.  He's already spoken about how he and Tom Telesco have "some tough decisions to make."  There is no question that one way or another the Chargers need to finally establish a run game.  In the end, it won't matter whether Ryan Mathews is too unreliable on the field or simply too injury-prone to be the guy.  No one is expecting Philip Rivers to suddenly start running "the pistol" formation.  But any successful team needs to have some balance.  I've been saying that since 2009.  Was Norv at fault for trying to run LT into the Jets line in the playoff game?  Should Sproles have been used more?  Why did Tomlinson look so rejuvenated after leaving?  Was Brain Schottenheimer simply using his strengths at that stage of his career by using him mostly on 3rd downs?  At this point, it seems like every player gets better upon leaving San Diego.  I guess Mike Tolbert was the exception unless you're accounting for the four quarters he played against the Chargers.  Then again, maybe we should be thanking him for helping us finally rid ourselves of Norv.  I read that Eric Weddle was in Foxboro last weekend to support Steve Gregory.  Much like Rodney Harrison, Gregory has been a lot better now that he doesn't really need to cover.  He can simply sit back and lay the wood, like Rodney.  I assume he's also clean now.  As I recall, Harrison had a supplement-fueled suspension during his time with the Patriots.  Since acquiring a real cover corner, Gregory has certianly been freed up.  There is no question in my mind that both Cason and Jammer need to be replaced.  If Pagano wants to use Jammer at safety, I could live with it.  But the way Acee was reporting it before the season finale, he was playing his last game in San Diego.  Jammer has been saying that he'd be willing to make the switch for years now.  Why didn't it happen?  Just another unexplained outcome from the Age of Norv.  I'm sure some other team will pick him up and use there. I saw on Twitter that Kassim Osgood joked about "coming home" now that Mike McCoy is in charge.  I wonder now that AJ is gone too if players will be any more likely to come to San Diego.  Everyone had such wonderful things to say about him when he was GM.  I know I haven't really commented on the hires, because I have no idea how they'll turn out.  I knew that we weren't hiring Gruden or Cowher.  I probably thought Holmgren was a minute possibilty and not just because of Ron Wolf's involvement.  It just seemed like he felt the fire to return more openly than the other two guys.  I don't know if Deano simply didn't want to spend the money or not.  I have to believe that he gauged Gruden's intererest in some fashion.  I was concerned that we'd end up going the retread route, no matter how much Kevin Acee reported to the contrary.  As much ass as he kisses, he still doesn't have the best track record of accuracy. I was a little let down at first upon hearing that we hired McCoy so quickly after Denver's loss.  Like many, I didn't exactly assoicate their offensive performance with excellence last Monday.  I heard Pat Kirwin on Sirius' Moving The Chains saying he was surprised at the hire, but that it was good for McCoy.  That didn't excite me since I am only concerned with whether it's good for us.  I guess Kirwin heard that McCoy might have trouble in the interview, but obviously Telesco and Deano were wowed. I was happy that we passed on Arians, since I don't think his one unorthodox interim success story neccessarily makes him head coaching material.  I heard Charley Casserly and his crazy Ken doll hair say that he polled teams last season and asked them who the candidate was that they were most impressed with that didn't get the job.  Mike McCoy's name came back again and again. Finding a coach reminds me a lot of the process that leads up to the draft.  It's really a crapshoot.  I can't believe that both the GM and Head Coach of the Chargers are both younger than I am.  I'm only a few months from 42, by the way.  I like the fact that Wisenhunt has come on board as OC.  I wondered if it would be a weird dynamic taking the coordinator job after interviewing for the head spot.  If the Ravens hadn't won, Wisenhunt might have been our coach.  But after listening to his interview on the Scott and BR Show, it sounds like it won't be too awkward.  McCoy and Wisenhunt seem to already have a good rapport.  I had no idea that Frank Reich was Peyton Manning's QB coach, but I am in favor of anything that gets Rivers to hold onto the ball and stop throwing such asanine interceptions.  If he could finally learn how to throw the ball away properly and not slide so that he appears to suddenly be going backwards, that would be a plus. So, in all, I'd say I'm happy with the Bolts' new blood.  At least I can't accuse Spanos of sticking to the same ******** about "continuity."  We wanted change and we got it.  Whether it will be the right change will only be told in time.  I haven't uploaded any tunes in a bit, but I've attached an excellent transfer of The Justice Is Coming House Band's Summer Solstice concert of 1980.  It was actually held during the band's only trip to Alaska.  It was in a high school auditorium and you can listen to it here.  I'll certainly be back to post after the Super Bowl.  In the meantime, look for some occasional contributions over at Bleacher Report.  This installment of Justice Is Coming is dedicated to Conrad Bain.  I was happy to see that his role in the first scene of Bananas turned up in his obituary.  The "Execusizor" may be an invented whose time has finally come. Enjoy the weekend.  I can't call it Championship Sunday unless we're the ones playing for a championship.  Plus, the next time we get there I am more concerned that we are the last ones standing to "party with the Lombardi." JIC, RLW
Original Story:
http://www.justiceiscoming.com/charge...
THE BACKYARD
BEST OF MAXIM
RELATED ARTICLES
 Recently hired Head Coach of the San Diego Chargers Mike McCoy will have to rebuild a crumbling franchise in 2013, but his most important task in achieving that goal, will be the revitalization of Philip Rivers. It's safe to say, that the face of the San Diego Chargers is Philip Rivers, and the success or failure of the Chargers depends on his play. Since 2009, Philip Rivers...
What happened to the San Diego Chargers? It wasn't long ago that they were Super Bowl contenders and now they find themselves in the cellar of the AFC. Poor coaching, subpar quarterback play, an ineffective ground game and an injury riddled offensive line can collectively be listed as legitimate reasons for the Chargers decline. The good news for San Diego fans is that several...
According to ESPN's Adam Schefter, former Cardinals head coach Ken Whisenhunt will be named the San Diego Chargers' new offensive coordinator now that they brought in Mike McCoy as their new head coach. Former Cardinals HC Ken Whisenhunt will become offensive coordinator for the San Diego Chargers. — Adam Schefter (@AdamSchefter) January 17, 2013   Need NFL Tickets? var...
The Browns made official Thursday what had been reported for a week longtime NFL coach Norv Turner will be the teams offensive coordinator. Turner is a strong hire, with 15 years experience as a head coach and seven as a coordinator. Word of Turners hiring broke at almost the exact same moment as the hiring of Rob Chudzinski as coach but was not made official by the Browns until...
The San Diego Chargers announced Friday that they are retaining defensive coordinator John Pagano and three other assistants as part of new head coach Mike McCoy's staff. Pagano, Don Johnson (defensive line), Joe Barry (linebackers) and Greg Williams (assistant linebackers) are returning. Pagano has been with the Chargers since 2002 and completed his first season as the team...
The San Diego Chargers hired former Arizona Cardinals head coach Ken Whisenhunt on Thursday to serve as the team's offensive coordinator. New Chargers coach Mike McCoy lauded Whisenhunt's experience with the Cardinals and the Pittsburgh Steelers, saying Whisenhunt has a ''very creative mind'' and will be a great asset for San Diego. Whisenhunt was fired...
SAN DIEGO (AP) -- The Chargers hired former Cardinals head coach Ken Whisenhunt on Thursday to serve as the team's offensive coordinator. New San Diego coach Mike McCoy lauded Whisenhunt's experience with Arizona and Pittsburgh, saying Whisenhunt has a "very creative mind" and will be a great asset for the Chargers. Whisenhunt was fired by the Cardinals...
The Browns today released a statement that Norv Turner has been hired (officially) as the new Offensive Coordinator. "The Cleveland Browns today named Norv Turner as Offensive Coordinator. Turner was one of six additions to the coaching staff, which also includes Brad Roll (Strength & Conditioning), Mike Sullivan (Offensive Line) and Scott Turner (Wide Receivers). In addition...
The Cleveland Browns have officially announced the hiring of Norv Turner as their offensive coordinator. Turner was fired following another disappointing season as the head coach of the Chargers. Turner is widely regarded as one of the leagues best offensive play-callers and will now join Rob Chudzinski in Cleveland. Former Buccaneers head coach Raheem Morris is interviewing...
NFL News

Delivered to your inbox

You'll also receive Yardbarker's daily Top 10, featuring the best sports stories from around the web. Customize your newsletter to get articles on your favorite sports and teams. And the best part? It's free!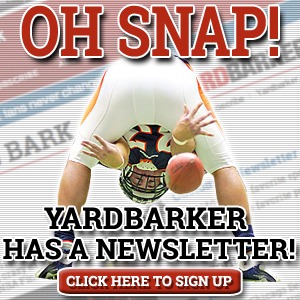 Latest Rumors
Best of Yardbarker

Today's Best Stuff

For Bloggers

Join the Yardbarker Network for more promotion, traffic, and money.

Company Info

Help

What is Yardbarker?

Yardbarker is the largest network of sports blogs and pro athlete blogs on the web. This site is the hub of the Yardbarker Network, where our editors and algorithms curate the best sports content from our network and beyond.