Found August 22, 2013 on NorthWest Sports Beat:
The 12th Man Makes Its Debut Consider me late to the party, but I'm still trying to wrap my head around what happened on Saturday. You had the upstart Seattle Seahawks, just now starting to come into their own as a legitimate contender in the NFC and beyond, measuring themselves up (apparently) against the Denver Broncos. The once-in-a-decade quarterback talent against the diminutive underdog. He who set the record for rookie touchdown passes with 26, against the only quarterback to tie it since. While the Broncos had little in the way of validation as a contender to gain, they had plenty to lose and the Seahawks were more than happy to take it. Youth was served, and in a big way. Sure it was just a preseason game, but it had all the hallmarks of regular season outing at Century Link: the crowd was deafening, the defense physical and the bounces were all in Seattle's favor. They stumbled out of the gate, much like they did for parts of last season, and the defense did just enough to keep them in the game. Then the dam broke. The offense started to sustain some pressure, the defense was forcing turnovers and the rest, as they say, is history. Time to be optimistic about Sean McGrath. (Photo: John Froschauer/AP) While the final score does much to suggest otherwise, the Seahawks were much less dominant in this game than they were in San Diego in week 1 of the preseason. It's going to be moderately more difficult to find the three Seahawks who made the largest mark on this game or management's personnel decisions, but hey, this is my job or something, right?  TE Sean McGrath I have a difficult time sharing some people's (Hawkblogger, in particular) affection for Sean McGrath, but his performance on Saturday did wonders for their cause — whatever it may be. While McGrath is generally considered to play the tight end position a little more like a Zack Miller than say an Anthony McCoy and or Luke Willson, he showed that he's no one-trick pony either. Playing in nearly a third of the team's offensive snaps, 19 according to ProFootballFocus, McGrath's mark on the game wasn't as large as one would hope it would be, but let's not split hairs. Darrell Bevell, who is still looking for a receiving option at tight end due to Miller's lisfranc injury and McCoy being on the IR, tried his best to make Willson a featured part of this offense through the earlier parts of this game. He looked largely out of place and was a complete non-factor, failing to reel in the one pass sent in his direction. With his struggles came McGraths opportunities. On the very first drive of the game, subbing in for Willson, McGrath helped the Seahawks move deep into Broncos territory with a 23-yard reception. He displayed great awareness and balance as he stumbled awkwardly through and between Broncos defenders to secure a new set of downs, and an easier finish to a long drive. Jesse Williams His next and final catch, this one in the second quarter, resulted in a Seahawks touchdown. Small sample size, sure, but I'm cautiously optimistic that McGrath gave us a glimpse of what he can offer this offense. Jesse Williams It's not all sunshine and rainbows in Seattle, and you can thank Jesse Williams for that. Here we are watching the Seahawks be dominant in nearly every phase of the football game, and Williams decides to – I'd even go so far as to say he DARES to – be so bold as to play poorly.  Hell, poorly is an understatement. Of all the Seahawks' later-round picks in their 2013 draft class, few drew as much hype as Williams. Concerns surrounding his knee and lower-body strength were the only things that kept him from being taken in the first round, according to some. For that reason, many 12s, myself included, were all too stoked to see him get snagged in the fifth round. So far, the results have been a little underwhelming. In San Diego, Williams was largely invincible, but I let it slide due to the fact that for much of the night he was drawing a lot of attention from the Chargers offensive line. In Seattle, he was just plain awful. Conventional statistics are enough to make one think Williams wasn't even playing, as he drew blanks across the board. Luckily for me I've got ProFootballFocus' grading system to help quantify how truly awful he was, as they graded his performance as the lowest on the entire Seahawks defense at -2.0 on the night. Amazing what one offseason can do for a receiver. 1. Jermaine Kearse Amazing what one offseason and eye surgery can do for a receiver. Take Jermaine Kearse for example. His contributions last year were almost exclusively on special teams, be it in the preseason or otherwise. To this point, Kearse is making it perfectly clear he can offer considerably more than that. Offensively Kearse's performance in Seattle was no better than the one he had in San Diego. As a matter of fact, you could make the case for it having been even worse, if you really wanted to be mean. Where Kearse made his largest impact was in special teams, as he solidified his spot in the open competition for the honor of returning kicks. He only had one kick to return, and oh how he returned it. Starting seven yards deep in his own end zone, Kearse defied conventional wisdom and ran the ball out with a full head of steam. It didn't take much in the way of moves, but a few cuts later and Kearse was starting to see daylight on the left sideline. With a thundering stiff-arm he put the kicker in his place and strolled jauntily into the end-zone. It really was that simple. What made this 107-yard return look so easy was the straight away speed and decisiveness with which Kearse runs. I already felt that he'd earned an increased role in this offense, but after a return like that I almost feel guilty for counting him out as more than a tackler or blocker on special teams. Luckily for the Seahawks, it's Pete Carroll who got to decide both. CLICK HERE TO CHECK OUT THE SEAHAWKS BLOG PAGE IN OUR CLUBHOUSE SECTION AT NWSB!
Original Story:
http://www.nwsportsbeat.com/seahawks/...
THE BACKYARD
BEST OF MAXIM
RELATED ARTICLES
Seahawks running back Christine Michael certainly hasn't let anyone down this preseason. Michael put together another good game on Friday night by racking up 97 yards on 11 carries and a touchdown. Michael is up to 27 preseason carries for 186 yards (6.89 YPC) with the one catch. The second-round pick needs to clean up his pass pro, but there is no question he's a more skilled...
Stephen Cohen of SeattlePI.com believes Seahawks wide receiver Golden Tate still looks like he's ready for a  break season in 2013. Cohen believes that without Percy Harvin,  Seattle will be fine.  And I happen to agree with him. Even without Sidney Rice and Percy Harvin, the Hawks' receivers stood out. Kearse caught his second touchdown pass of the preseason, as did Williams...
According to Local21News.com,  Seahawks defensive tackle Jordan Hill has a partially torn biceps muscle and will miss about 3-6 weeks. Hill's injury was believed to be much more serious, but an MRI taken was negative for a complete tear and he will not require surgery, according to a source with knowledge of the injury. The Seahawks have yet to announce the injury. A team spokesman...
MAYBE HATE A LITTLE
We all know what happened when the Seattle Seahawks controversially "beat" the Green Bay Packers at home in week three last season, but who knows how things will play out when the Packers host the Seahawks in tonight's preseason game?  I'm sure the reception won't be too warm for Seahawks wide receiver Golden Tate, who made the controversial simultaneous catch to beat...
According to Jason Bristol of CBS 21, Seattle Seahawks DT Hill could miss up to 3-6 weeks with a partially torn biceps. An MRI was negative for a total tear and will not require surgery. Defensive tackle Jordan Hill was unable to finish practice with the team on Tuesday after suffering the injury.
Check out this motorcycle the Seahawks are auctioning off. Next Impulse Sports and Shutdown corner have the details. The Seahawks are auctioning off this customized motorcycle for charity and, for a $50 donation, you can have a chance to mount the ol' hog. The bike is a 2005 Harley Davidson Road King, which was chosen because that was the year Seattle won the NFC championship and...
There is nothing but good vibes in Seattle as the Seahawks undergo training camp off of a playoff season.  Stemming from head coach Pete Carroll, the team is buying into some unconventional practices that could have the league turning heads, but just as quickly jumping on the bandwagon.  Looks like they are having some fun too, making this year's training camp seem more like...
Seattle Seahawks defensive tackle Jordan Hill has suffered a partially torn biceps, an injury that will sideline him for three to six weeks, according to Jason Bristol of CBS 21. The Seahawks initially believed Hill's injury was much more serious and would result in a longer absence. However, an MRI taken recently didn't reveal a complete tear of Hill's biceps muscle, but...
The Seattle Seahawks will get their first look at DT Tony McDaniel this Friday against the Green Bay Packers, according to Eric D. Williams of the News Tribune. McDaniel was acquired by Seattle this offseason as a free agent and was expected to provide an immediate boost to the Seahawks defensive line and possibly even push for a starting job. However, McDaniel suffered a groin...
The Seattle Seahawks have ruled out wide receiver Sidney Rice and tight end Zach Miller for their next preseason game against the Green Bay Packers, according to ESPN.com's Terry Blount. Seattle appears to be taking every precaution with their offensive weapons as Rice spent all week running full speed in practice and Miller has since told reporters he is completely healthy at...
Mired by mistakes, the Seattle Seahawks still slogged out a win at Lambeau Field. After steamrolling over their first two preseason opponents, the Seahawks nearly tripped themselves up in a 17-10 victory over the Green Bay Packers on Friday night. All the pushing and shoving, and the penalties -- 14 for Seattle, and 22 for both teams -- in part overshadowed Seattle's victory...
The Seattle Seahawks' offensive juggernaut hit a speed bump at Lambeau Field. The Green Bay Packers weren't exactly lighting up the scoreboard, either. Christine Michael ran for 97 yards on 11 carries and Stephen Williams snatched a ball away from cornerback Loyce Means in the end zone for a 42-yard touchdown catch and the go-ahead score in the Seahawks' 17-10 preseason...
NFL News

Delivered to your inbox

You'll also receive Yardbarker's daily Top 10, featuring the best sports stories from around the web. Customize your newsletter to get articles on your favorite sports and teams. And the best part? It's free!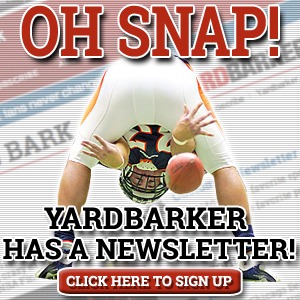 Latest Rumors
The Backyard

Today's Best Stuff

For Bloggers

Join the Yardbarker Network for more promotion, traffic, and money.

Company Info

Help

What is Yardbarker?

Yardbarker is the largest network of sports blogs and pro athlete blogs on the web. This site is the hub of the Yardbarker Network, where our editors and algorithms curate the best sports content from our network and beyond.