Found January 03, 2012 on Know Your Dallas Cowboys: The Blog:
PLAYERS:
Tony Romo
,
Roger Staubach
,
Mike Ditka
,
Troy Aikman
,
Michael Irvin
,
Jason Witten
,
Terry Glenn
,
Patrick Crayton
,
Miles Austin
,
Aaron Ross
TEAMS:
Dallas Cowboys
,
San Diego Chargers
,
New York Giants
What images do we remember about Roger Staubach?
Oh, let's try: throwing a touchdown pass to Mike Ditka to put away Super Bowl VI against Miami; scrambling for his life and launching himself headfirst for first downs and touchdowns; the Hail Mary; throwing a bomb into the outstretched arms of Butch Johnson in Super Bowl XII; tossing up his final regular-season touchdown pass to Tony Hill to put away the Redskins in the season finale in 1979.
What images do we remember about Troy Aikman?
Plenty: laser-like accuracy while hitting Michael Irvin on a skinny post or a deep out; the perfect throw on the crossing pattern to Alvin Harper on a play that secured the team's win in the 1992 NFC Championship Game; running off the field with his arms in the air during three Super Bowl wins.
My point today: What images will we remember when it comes to Tony Romo? What plays have established his legacy as the franchise quarterback?
My goal isn't to attack him or say we need to find a new QB. That isn't going to happen, and I am not convinced that the team can't win with him at QB, especially if the team's line and running game improves next year.
But consider this: Romo has completed 1752 regular-season and playoff passes. He's thrown 153 touchdowns with only 74 interceptions. That's damn good.
However, unless this team wins with him, his legacy will be defined by a small handful of plays he didn't make.  Sure, we could go through each one of his interceptions, including those atrocious passes he threw against the Jets and Lions this season.
But there were other plays that he simply didn't make—perhaps more the result of misfortune than bad play—that continue to haunt his career.
Of the many plays, consider these three:
January 6, 2007: Dallas vs. Seattle
You might think I would mention the botched hold that cost the team a win over the Seahawks, but that's not the play I'm thinking of here. Instead, it was a pass play on 3rd-and-7 with less than two minutes remaining. Seattle had only one timeout remaining. Romo completed a pass to Jason Witten for what appeared to be a first down at the Seattle 1-yard line. Had this been the case, Dallas could have run the clock down and attempted a field goal with only seconds remaining. And since Dallas could have attempted the field goal on third down, Romo could have botched the snap, simply fallen on the ball, and still have given the team another attempt.
Instead, the officials reversed the call and only gave Witten six yards, setting Dallas up with a 4th-and-1. The Cowboys attempted a field goal, and you know the rest.
Romo had driven the Cowboys to what appeared to be the game-winning drive in his first playoff game. We couldn't have asked for more. The pass to Witten was excellent, and it put the Cowboys in great shape to secure that win. But when the team lost a yard on the review, everything fell apart, and Romo wouldn't win his first playoff game for another three years.
January 13, 2008: N.Y. Giants vs. Dallas
The Cowboys trailed the Giants 21-17 late in the fourth quarter. Romo could have been a hero. Some remember Romo's pass towards Terry Glenn in the end zone on the final offensive play of the game for Dallas, but it was the previous play that has haunted Romo's career.
Patrick Crayton had dropped what might have been a long touchdown earlier in the game. Later, with 21 seconds remaining and Dallas holding the ball at the Giant 23, Romo threw what should have been a touchdown on a fade pass to Crayton. It was the type of play that Staubach would have made. Even Aikman. Heck, perhaps even Danny White.
Instead, Crayton hesitated just long enough that the pass sailed over his head.
It was like Drew Pearson dropping the Hail Mary. Or Alvin Harper tripping and falling instead of catching the pass on the crossing route in the '92 title game. Those were moments that made careers because the players came through rather than fail.
In Crayton's case, his missed his chance at greatness with one moment of hesitation. And in Romo's case, he yet again could not win a playoff game.
Patrick Crayton's hesitation cost the team a shot at a win over the Giants in 2007.
December 11, 2011: N.Y. Giants vs. Dallas
There were plenty of passes we won't want to remember from the 2011 season, even though Romo otherwise had a pretty good year. However, the pass that proved to be as costly as any other was not an interception but rather a miss on what should have been the game-clinching touchdown.
3rd and 5 from the Dallas 25. Dallas led at that point, 34-29. Miles Austin ran right past Aaron Ross, and it looked as if the play would be a touchdown. Instead (and it may have been Austin's fault), the pass sailed over Austin's head. Dallas punted, the Giants scored, and Dallas lost its division lead.
In all likelihood, the Cowboys would have won the division had they won that game. Instead, the Giants won that game along with their final two, including the win over Dallas, and the Cowboys' season ended.
This might appear to be an odd choice for one of the three worst plays in Romo's career, given the costly picks earlier in the season. However, it captures in a nutshell his problems as a quarterback and the team's problems as a whole.
He can complete 65, or 70, or 75 percent of his passes. He can throw three, four, or five touchdowns in a game. He can avoid turnovers and other mistakes.
But with the game on the line, and the Cowboys needing five yards for a first down in a game that could mean a division title, could Romo and the Dallas offense convert?
Too often, the answer has been no. And given that this play occurred in December, it further illustrates shortcomings that have crushed our hopes for late-season success for several seasons.
Original Story:
http://feedproxy.google.com/~r/ThinkY...
THE BACKYARD
BEST OF MAXIM
RELATED ARTICLES
Cowboys quarterback Tony Romo had both a brilliant play and a dumb play on the same play in Sunday night's loss to the Giants, and afterward he was kicking himself over it. With the Cowboys facing third-and-5 at the Giants' 39-yard line, trailing 14-0 late in the second quarter, Romo dropped back to pass and…
(source feed provided no summary content for this entry)
EAST RUTHERFORD, N.J. - Tony Romo was hurting after the game, but it had nothing to do with his hand. Romo's injured...
Tony Romo said his bruised throwing hand bothered him slightly against the Giants but had no effect on the 31-14 loss.
Round 1, Pick 9: Tyron Smith (OT, Southern Cal) He more than lived up to expectations at right tackle. Was the team's best offensive lineman and will likely move to left tackle next season to help protect Tony Romo's blind side.
The Cowboys' off-season failures came back to haunt them in their biggest game of the season. Turn the clock back a full year. What were the Cowboys' biggest needs heading into the 2011 off-season? In no particular order they were offensive line and defensive backfield. What killed the Cowboys the most in Sunday's 31-14 loss to the Giants? The O-line and the secondary...
Things We (Re)Learned This Sunday The Jets season is officially over. Their performance did show us something. Many things. Many bad, bad things. The loss was illuminating, but it revealed plenty we already knew. In fact, there were many universal laws of NFL nature that were confirmed this Sunday. We hold these truths to be self evident…according to us. 1. Though Shalt Recognize...
With Osi Umenyiora returning from a sprained ankle, the Giants chased Tony Romo all around the field.
The Dallas Cowboys. What can be said about a season that ended as disastrously as it began? It seems like it was just a short time ago that they were in the driver's seat of the NFC East. Everything was in its right place. The Giants were sputtering, the Eagles making a case for being the most overrated team in the history of teams, the Cowboys stood tall. Then, it all fell...
NFL News

Delivered to your inbox

You'll also receive Yardbarker's daily Top 10, featuring the best sports stories from around the web. Customize your newsletter to get articles on your favorite sports and teams. And the best part? It's free!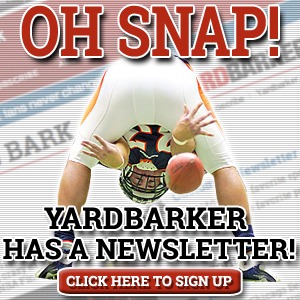 Latest Rumors
The Backyard

Today's Best Stuff

For Bloggers

Join the Yardbarker Network for more promotion, traffic, and money.

Company Info

Help

What is Yardbarker?

Yardbarker is the largest network of sports blogs and pro athlete blogs on the web. This site is the hub of the Yardbarker Network, where our editors and algorithms curate the best sports content from our network and beyond.