Found June 13, 2012 on isportsweb.com:
Welcome to the first article in my new weekly series called Three Point Stance, in which we will be looking at a hot topic surrounding our Dallas Cowboys and presenting three positives for that situation, and likewise, three negatives. Topics will range from roster changes to Super Bowl runs to opinion polls. This series will be posted every Wednesday during both the offseason and regular season.
Today, we will be looking at the advantages and disadvantages of either trading or releasing CB Mike Jenkins. With the recent news that Mike Jenkins has not disclosed to the Cowboys the extent or severity of his shoulder injury, the Cowboys are at a bit of a standstill with how to handle the whole situation, which is slowly becoming a media circus.
Mike Jenkins (AP)
To give some background, Jenkins injured the shoulder last season, claimed it healed, then re-injured it. He didn't report for team workouts or OTAs, but has reported to mini-camps, despite not participating due to his injury and his demands for a trade. When Jason Garrett was asked about the shoulder injury, all he would claim was that it was "a little complicated," which is more than can be said about the current situation the Cowboys find themselves in.
One would think that Jenkins would be smart about this, and disclose his injury information, especially seeing as how he is the one demanding to be traded, and the Cowboys are willing to give in to those demands. But without the team knowing how bad the injury is, they are forced to keep Jenkins at this point.
With that said, the shoulder plays a big role in the fate of Jenkins, and his role on the Cowboys. The fact remains though, that right now his role is non-existent, and it would almost benefit the Cowboys to get rid of him. Almost.
I can think of three positive reasons for trading him, and three reasons why they shouldn't- or better yet, can't - shoulder notwithstanding.
Three Points for Trading/Releasing Mike Jenkins
Depth: The Dallas Cowboys finally have depth at cornerback through the drafting of Morris Claiborne and the free agent signing of Brandon Carr. This depth is what made Jenkins a liability in the first place, coupled with his inconsistent play over his four years in the NFL. During that time, Jenkins has gone from being hyped as a premier corner to being an overrated corner. He tends to get very lax on defense and he blows many coverages. Jenkins was supposed to be a shutdown corner, and he was for the first two years, but has since devolved into nothing more than another body taking space on the field. Now he is a body taking up space on the roster. Because of Orlando Scandrick, and the ability of three safeties (Barry Church, Danny McCray, and Akwasi Owusu-Ansah) to play the cornerback position, this depth gives the Cowboys another body to trade and get some help in other areas of the team.
Youth: Jenkins is a young player. He is entering his 5th year in the NFL and is 27 years old. Jenkins is at his peak and he can start on most teams as a solid cornerback. He has great speed and athleticism, and can fight for the ball with some of the best receivers in the game. Jenkins easily has another 6 or 7 very productive years left in this league before age starts to take its toll – if injuries don't get to him first – and with the short success window that is present in the NFL what with coaches getting the boot after 3 years, six years is ample time. His conditioning is great, so that could also add some time to his NFL lifespan. As for any injury concerns, he has missed a total of 6 games over his four years, so strength and health shouldn't be much of a factor. He would be a good addition to a team looking to rebuild and get younger.
There are other pressing needs: The Cowboys don't have the best secondary in the NFL, but their offseason moves at the cornerback position are a big step towards getting back to having a suffocating secondary to anchor the front seven. FootballOutsiders.com did a comprehensive overview of special teams rankings and the Cowboys came in 25th. They clearly have needs in kick and punt returns, as well as coverage. They also have needs at wide receiver, as there is no clear cut #3 yet, an asset any team must have in this pass-happy era of the NFL. The offensive line could also use some help. Yes, they are young and still developing, but trading for a veteran lineman could provide an anchor on that O-line.
Overall, trading Mike Jenkins has its benefits. But, as with any decision, there are drawbacks.
Three Points that would hinder a Trade/Release of Mike Jenkins
Attitude: Now I understand that athletes get disgruntled all the time and will either hold out on contracts, act like a diva, or other such reprehensible actions, but that's not the reason I am flagging Jenkins' attitude. It's not just his attitude toward his place on the field, it's the attitude he exudes while on the field. As I mentioned before, he has the tendency to blow coverasges, be lax out on the field, and just flat out not be in the right spot. Now don't get me wrong, he has shown signs of brilliance, but why would a team take a chance on a guy who is consistently known for blowing plays rather than making them?
This was a common sight for Cowboys fans to see last year when it came to Mike Jenkins.
Production, or lack thereof: To deny he blows plays would also just be ridiculous. He went from having 51 tackles in 2010 to 21 last year, in 4 less games. If he played those 4 games last year, he would have needed to average 7.5 tackles to match his 2010 numbers, which are his career high. Cowboys fans also consistently saw the name of his jersey on their televisions as he was always seemingly trying to run down receivers he was supposed to be covering. The only year where he had less than 21 tackles? His rookie season of 2008 when he had 19.
Ok, so tackles aren't the be all and end all. So let's look at interceptions. He had 1 in 2008, 5 in 2009, 1 in 2010, and 1 in 2011. Out of those seasons, which one was the only one in which the Cowboys made the playoffs? 2009. Is that a coincidence? Hardly.Now it's unfair to blame all of the Cowboys woes on Mike Jenkins, but he was part of a Swiss cheese secondary that has accounted for most of the reasons why this team hasn't sniffed a Super Bowl in 17 years.
The unknown shoulder: Yes, that's a bit of a cheesy pun there, but it's very a propos to what I want to discuss here, and that's injuries. This shoulder issue isn't even known to the Cowboys, let alone another team. No other team will want to take a risk when the primary bread and butter for a cornerback is their arms. They bump the receivers, tip passes, gain interceptions, make tackles, all with their arms. At least, those defenders not named James Harrison. Couple that with the fact that this mystery shoulder injury will put Jenkins on the PUP list, and that also would steer teams away. A healthy Jenkins would only garner a solid player and maybe a 3rd or 4th round pick. An injured Jenkins? Try 6th or 7th round pick, and a backup. Not what the Cowboys would need in a trade scenario, nor what they are looking for. Jenkins is best served to reveal everything there is to know now about this injury, so the Cowboys can pull the trigger if they want to.
It all boils down to this: any team, not just the Cowboys, needs to decide whether the risk of having Jenkins is greater than the reward, and vice versa. The Cowboys need to swiftly nip this in the bud before this snowballs any further. The locker room doesn't need any T.O.-sized distractions, and the Cowboys need to move on with preparing for their season. Right now, they are preparing as if Mike Jenkins won't be there, and if Jenkins gets his way, that would be a good thing for the Cowboys.
Take Our Poll
Original Story:
http://isportsweb.com/2012/06/13/thre...
THE BACKYARD
BEST OF MAXIM
RELATED ARTICLES
Getty Images Dallas Cowboys owner Jerry Jones was very happy to see cornerback Mike Jenkins show up for the beginning of this week's mandatory minicamp.  He once again reiterated that Jenkins won't be traded. "We're not going to trade Jenkins," Jones said. "I'm excited about the fact that we've got this kind of corner situation. We'll maximize it for our team and...
With organized team activities and mini-camp completed this is an ideal time to analyze what has been witnessed at Valley Ranch and Cowboys Stadium during the offseason. Here are my thoughts. 1.) As he should, Tony Romo has looked sharp. It's not breaking news that the Cowboys' franchise quarterback has been accurate. After all, he's one of the top 10 players at the...
Bryan McCray has been fine on special teams, but he is not a better #40 than Bill Bates. Sorry for the delay between posts. This is the latest update to the greatest Dallas Cowboys by their jersey numbers. This entry focuses on numbers 36 through 40. #36 Vince Albritton is not one of the great names in Cowboys history, but few notable players have worn number 36. He received 45...
The Dallas Cowboys opened mini-camp on Tuesday with more than one gaping void on their roster. First, cornerback Mike Jenkins, who was missing from OTAs, showed up to mini-camps, but did not participate due to an undisclosed shoulder injury. Then, there... [[ This is a content summary only. Visit my website for full links, other content, and more! ]]
Cowboys cornerback Mike Jenkins reported to Valley Ranch for the start of a three-day minicamp. Jenkins is recovering from shoulder surgery and won't participate in on-field drills. The Cowboys have resisted overtures from multiple teams seeking to acquire Jenkins after Dallas traded up to draft Morris Claiborne in the 2012 draft and signed Brandon Carr to a $50 million deal...
Entering his third season in the NFL, the Dallas Cowboys are looking for WR Dez Bryant to step up and become a more dominant wide receiver. Despite handing a mega-contract to fellow receiver Miles Austin, the Dallas Cowboys believe it is time for Bryant to step up and become the team's leading receiver. Speaking to ESPN Dallas, Cowboys COO Stephen Jones expressed his desire to...
ARLINGTON, Texas -- As of Thursday night, cornerback Morris Claiborne was the only draft pick from the Dallas Cowboys' 2012 class yet to agree to a contract. Cowboys owner and general manager Jerry Jones said Tuesday that he expects to have the sixth overall selection signed by the time training camp begins in late July. Cowboys executive vice president Stephen Jones said Wednesday...
IRVING, Texas The most colorful personality on the Dallas Cowboys' roster will be lucky if he averages one carry per game. Houston Texans castoff Lawrence Vickers has quickly emerged as one of the most entertaining voices at Valley Ranch. Cowboys owner Jerry Jones has seen enough from the battering ram this offseason to compare him to the great Daryl "Moose" Johnston...
Sorry for the delay between posts. This is the latest update to the greatest Dallas Cowboys by their jersey numbers. This entry focuses on numbers 36 through 40. #36 Vince Albritton is not one of the great names in Cowboys history, but few notable players have worn number 36. He received 45% of the vote in 2008. Since then, three players have worn #36, including Michael...
Cowboys News

Delivered to your inbox

You'll also receive Yardbarker's daily Top 10, featuring the best sports stories from around the web. Customize your newsletter to get articles on your favorite sports and teams. And the best part? It's free!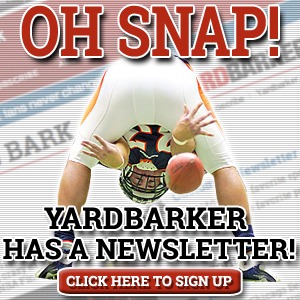 Latest Rumors
The Backyard

Today's Best Stuff

For Bloggers

Join the Yardbarker Network for more promotion, traffic, and money.

Company Info

Help

What is Yardbarker?

Yardbarker is the largest network of sports blogs and pro athlete blogs on the web. This site is the hub of the Yardbarker Network, where our editors and algorithms curate the best sports content from our network and beyond.