Found November 15, 2012 on RotoAsk:
PLAYERS:
Ryan Fitzpatrick
,
C.J. Spiller
,
Fred Jackson
,
Reggie Bush
,
Jake Long
,
Mario Williams
,
Ryan Tannehill
,
Brian Hartline
,
Dan Carpenter
,
Anthony Fasano
TEAMS:
Miami Dolphins
,
Buffalo Bills
Welcome football fans to Week 11! The first battle of the post season push is the (4-5) Miami Dolphin travelling to New York to take on the (3-6) Buffalo Bills. This battle of AFC rivals features two teams which have been hard to predict this year. Two weeks ago, we were talking about what a surprise the Dolphins have been before they dropped two straight, including getting dismantled by the Titans on Sunday. The Bills have at least been competitive in their struggles, pushing the Goliath Patriots to the brink in Foxboro. In a weakened AFC, and with injuries and reeling teams all over the map, this is a must win for either team to even think about playoffs. The Bills have proved that they can score points behind quarterback Ryan Fitzpatrick and running back CJ Spiller. They will be without RB Fred Jackson, who will be sidelined with a concussion. They will need to rack up some points against a very good defense in Miami, who was outclassed by the Titans a weak ago. Reggie Bush will look to run wild on Prime Time tonight! The Dolphins feature a young offence, with the best OL-man in the game in left tackle Jake Long. He will be out to neutralize the pass-rushing of big money linebacker Mario Williams, who will be out to pressure rookie QB Ryan Tannehill into making costly decisions. The Titans proved that rattling Tannehill is the key to success as he was awful in that game, and truly looked like a rookie. For the Dolphins to win: The need to execute on offense, and need more than Reggie Bush to do so. Tannehill needs to get Bush 25-30 touches tonight, and spread the ball to Brian Hartline, who has been their most consistent receiver this season. The also need to shut down the Bills on 3rd down and use their defense to come up with some big plays when Ftizpatrick gets trigger happy in the pocket. For the Bills to win: We know that they will be able to score points, as they average 24 pts a game. However, they are averaging 31pts/game allowed, so if they have any chance of winning this game – that defense needs to make some plays, and not let Tannehill get comfortable and pick them apart. They are letting teams convert on 3rd down at a scary rate of 47%! Even a rookie QB can have a field day with those percentages! So what happens? The Bills get the ball in the hands of CJ Spiller and Stevie Johnson early and often and win by 10. They will do "just enough" on defense to limit Tannehill and the offense and continue the trend of home team dominance on Thursday Night Football Big Game – Ryan Fitzpatrick, CJ Spiller, Stevie Johnson, Dan Carpenter, Reggie Bush Forgets to show up -Anthony Fasano  
Original Story:
http://rotoask.com/fantasy-football/t...
THE BACKYARD
BEST OF MAXIM
RELATED ARTICLES
GIVING HIM SOME LIP
Yes, yes he did. As the postgame interview with C.J. Spiller was wrapping up, Irvin was congratulating him and saying his goodbyes. Then for some reason, the hung and handshake weren't enough. Irvin thought it appropriate to go in for the double kiss. By the way, the Bills won 19-14 and are now in second place in the AFC East. Filed under: Football, NFL, Video
DAVIE, Fla. (AP) -- Nothing comes easily these days for the Miami Dolphins. The lone touchdown scored by their offense in the past 2 games was awarded only after a replay review. The unit led by rookie Ryan Tannehill has stalled during a three-game losing streak, and so has the franchise's turnaround under first-year coach Joe Philbin. A 19-14 loss Thursday at Buffalo dropped...
  C.J. Spiller is a must start tonight against Miami. Hello fellow fantasy footballers, week 11 of the National Football League season is here and the stretch run to the fantasy playoffs has begun. Regardless of whether you are chasing a playoff berth, a division title or a bye in the first round of the playoffs, every week is important at this point as you try to yourself in position...
In case you didn't catch Thursday's AFC East matchup between the Buffalo Bills and the Miami Dolphins, you missed a few exciting returns in the game. This particular one was returned 79-yards by Buffalo's Leodis McKelvin to give the Bills the first points of the game. The Bills are looking to get back on track and had a showing of decent defense that held Miami in check for...
NEW YORK (AP) -- Referee Tony Corrente has been fined one game check by the NFL for uttering some obscenities with his microphone on during a Nov. 4 game in Indianapolis between the Colts and Miami Dolphins. The fine was issued Friday by NFL officiating director Carl Johnson. A referee of Corrente's experience -- 18 seasons -- earns approximately 9,000 a game. In the fourth...
Rian Lindell, the 36 year old kicker for the Buffalo Bills is in the midst of a solid night. As I type this he's heading into halftime with 13 points and a 100% success rate on his field goals, and yet I feel compelled to ask the question. During the second quarter drive on which Lindell would hit his 3rd field goal, this one from 42 yards, NFL Network announcers Mike Mayock and...
I didn't get to see last week's game, and it seems that was a good thing. I don't think I would have liked what I saw. It was one of those games that people simply want to forget about. Any time a... Come here for the best Miami Dolphins blog on the web. We have all of the most up to date new and opinions on the Dolphins organization for its fans.
It may not have been perfect, but it was still a win for Buffalo.Thursday night at a chilly Ralph Wilson Stadium, the Bills welcomed in longtime rivals, the Miami Dolphins, and came away with their first victory in the division this year, 19-14, stopping a three-game losing streak and putting Buffalo in a tie with said Dolphins in the AFC East.It didn't scream, "We're back...
Referee Tony Corrente has been fined one game check by the NFL for uttering some obscenities with his microphone on during a Nov. 4 game in Indianapolis between the Colts and Miami Dolphins. The fine was issued Friday by NFL officiating director Carl Johnson. A referee of Corrente's experience earns approximately $9,000 a game. In the fourth quarter of the game, Corrente inadvertently...
If you read Grantland, you would have come across an interesting piece on the Bills that was equal parts inspiring, depressing and gut wrenching. Among the many topics that the story covers is how Buffalo's youth is moving away from their affiliation with the Bills and rooting for other NFL teams. That will happen with 12 years of no playoffs and beyond mediocre teams. ...
I have not come to bury the Buffalo Bills.  No, they have done a fine job of that themselves as usual, thank you. Don't get me wrong – I want to.  For the kajillionth time in this still young century, the local football team is realistically out of playoff contention before Thanksgiving (but not before wall-to-wall Christmas music.  Gee, thanks STAR 102.5!  Go suck on...
NFL News

Delivered to your inbox

You'll also receive Yardbarker's daily Top 10, featuring the best sports stories from around the web. Customize your newsletter to get articles on your favorite sports and teams. And the best part? It's free!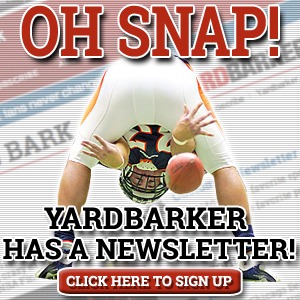 Latest Rumors
Best of Yardbarker

Today's Best Stuff

For Bloggers

Join the Yardbarker Network for more promotion, traffic, and money.

Company Info

Help

What is Yardbarker?

Yardbarker is the largest network of sports blogs and pro athlete blogs on the web. This site is the hub of the Yardbarker Network, where our editors and algorithms curate the best sports content from our network and beyond.