Found July 12, 2012 on Fox Sports North:
PLAYERS:
Kyle Rudolph
,
John Carlson
,
Rhett Ellison
,
Allen Reisner
,
Visanthe Shiancoe
,
Christian Ponder
,
Jim Kleinsasser
,
Jermichael Finley
,
Brandon Pettigrew
,
Tony Scheffler
,
Kellen Davis
,
Matt Spaeth
TEAMS:
Minnesota Vikings
,
Seattle Seahawks
,
Miami Dolphins
,
Green Bay Packers
,
Detroit Lions
,
Chicago Bears
,
Notre Dame Fighting Irish
This is the fourth in a series of 13 previews leading up to the Minnesota Vikings' July 27 start of camp.July 10: Quarterbacks July 11: Running backs July 12: Wide receivers July 13: Tight ends July 16: Offensive linemen July 17: Defensive linemen July 18: Linebackers July 19: Safeties July 20: Cornerbacks July 23: Specialists July 24: Coaches July 25: 5 things to accomplish in camp July 26: Fans' guide to campTODAY'S POSITION: TIGHT ENDSRating (1-to-10 scale): 6Projected starters: Kyle Rudolph (second year) and John Carlson (fourth year)Backups (asterisks indicate players expected to make the roster): Rhett Ellison, Allen Reisner, Mickey ShulerThe breakdown: Coming into last season, Minnesota and new offensive coordinator Bill Musgrave was expected to feature the tight ends heavily in two tight-end sets. All of the talk became just that as the Vikings' quarterbacks couldn't take advantage of the talents of Rudolph and veteran Visanthe Shiancoe. Shiancoe was third on the team with 36 catches for 409 yards. The two should have been big targets in the red-zone as well, but they combined for just six touchdowns.Rudolph took some time, but did demonstrate growth during his rookie season. His usage patterns were curious though. He would be missing for large chunks of the offensive snaps, and despite strong hands and good heighth, he wasn't a part of several red-zone packages. He had 26 catches for 249 yards and three touchdowns, including a highlight-reel grab, reaching over a Denver defender, showing the type of talent he has. Rudolph says he is faster this season, finally recovered from the torn hamstring he suffered in his final collegiate season at Notre Dame. Rudolph and quarterback Christian Ponder, both second-year players, have a good rapport and are best friends off the field. Rudolph will certainly be used more this season and could have a breakout-type year.Carlson, another former Notre Dame standout, was brought in to replace the aging Shiancoe and should start in two tight-end sets with Rudolph. The two give Minnesota a strong pass-catching tandem, but will need to show they can handle the blocking assignments as well. Though Carlson, 28, is a veteran compared to Rudolph, he's still a relatively unknown.Carlson missed the entire 2011 season due to injury, though he's said he is fully healthy entering training camp. Carlson was a second-round pick by the Seattle Seahawks in the 2008 draft and appeared to be an emerging young talent at the position after catching 106 passes his first two seasons, adding 12 total touchdowns. Then he slipped in 2010 to 31 catches and just one touchdown before missing all of last season. The Vikings thought enough of Carlson to make him their priority signing when free agency started. He will have to reward that faith.Ellison was drafted and should assume the blocking role left vacant when Jim Kleinsasser retired. Ellison was a surprise draft pick in the fourth round, but the Vikings believe he has the type of blocking potential, both as a tight end and fullback, to justify the pick.Best position battle: With Rudolph and Carlson starting, and Ellison being a fourth-round draft pick, that only leaves Reisner and Shuler left to compete for the likely final spot among tight ends, and the three behind Rudolph and Carlson will need to be able to play special teams as well. Reisner was a surprise as an undrafted free agent last year, showing ability as a pass-catcher. He ended up being active for six games and had one catch. Reisner has also been spending a lot of time off the field with Ponder this offseason, perhaps growing more of a bond which could transfer to the field. Shuler has been of interest to the Vikings' staff for years. He was drafted in the seventh round by Minnesota in 2010. He made the 53-man roster at the beginning of the season, but was later cut and signed on with the Miami Dolphins. The Vikings brought him back last November when he was a free agent, and he eventually made the active roster for Minnesota. This is likely a neck-and-neck competition heading into training camp, though Reisner has perhaps shown the most during his brief time.Ranking against the rest of the NFC North: 1. Lions; 2. Packers; 3. Vikings; 4 Bears. The top two teams use their tight ends mostly in the receiving game. Minnesota hopes for dual-purpose blockers and receivers. Chicago rarely targets tight ends in the passing game. The top tight end in the division belongs to Green Bay in Jermichael Finley, but he's so athletic and is used on the outside so much, he's almost a pseudo wide receiver. So, the nod to the best group goes to Detroit which uses two tight ends at times with Brandon Pettigrew and Tony Scheffler. Pettigrew developed into one of the best young tight ends in the game last year with 83 catches, 777 yards receiving and five touchdowns. Scheffler added 26 catches. The Vikings' young group has potential and will be targeted more heavily this season in Musgrave's attack, but right now it's more potential than production. Chicago starter Kellen Davis topped out with just 18 catches, but he's a strong blocker. Backup Matt Spaeth had seven catches, but again is used more for his blocking.Carlson says: "I'm excited because Kyle is here and to be able to play with another tight end like that, you've seen it around the league, it's possible to use two guys at the tight end position on the field at the same time and to have success. So I'm excited about that. I'm excited about how young the offense is and what they're building here. I'm excited about the running game, like I said. What my role will be, I'm not sure, but my goal is always to be a well-rounded tight end and contribute in the running game and contribute in the pass game catching the ball, then to pass block when I'm asked to. So if I continue to improve in those areas, my role will kind of be revealed as the season goes, as our offense develops and identity." Follow Brian Hall on Twitter.
Original Story:
http://www.foxsportsnorth.com/07/12/1...
THE BACKYARD
BEST OF MAXIM
RELATED ARTICLES
According to ESPN 1500 Twin Cities, Christian Ponder has added 20 pounds of bulk to his frame this offseason and now stands at 6-2 233. The added muscle will definitely help with two weaknesses of his game, his durability and his arm strength. Ponder has also received praise all offseason for his improvement, including quarterbacks coach Craig Johnson and NFL Film's Greg Cosell...
The plot thickens in the Adrian Peterson arrest case at a Houston night club early Saturday morning. A patron shot a video of Peterson being escorted out of the club but didn't capture the events leading up his apprehension. What it did show was a very crowded club with quite a bit of commotion, no surprise, considering most were well aware of Peterson's stature.  ...
DON'T BE A FOOL
The Vikings brought a former strip club owner in to speak to the team and warn them about all the pitfalls they should avoid.
Minnesota Vikings running back Adrian Peterson wasn't the aggressor and was hit multiple times by arresting officers when he was arrested last weekend, attorney Rusty Hardin told NFL Network. A police spokesperson said Sunday that Peterson pushed an off-duty police officer working security. He was arrested for resisting arrest, fined $1,000 and stayed in jail for several hours...
Getty Images According to Tom Pelissero of 1500 ESPN Radio in Minneapolis, Vikings wide receiver Percy Harvin doesn't plan on playing out the final year of his current deal, in 2013.  Which means he's going to want a new deal once this season is over. My guess is that Harvin will either try to force a trade out-of-town or hold out if the Vikings aren't will to send him packing...
Adrian Peterson appeared in Harris County Criminal Court, where his next court date was set for Aug. 6. The Vikings' running back was charged with resisting arrest and fined $1,000 for the disturbance as Live! At Bayou Place in Houston was closing early Saturday morning. His attorney, Rusty Hardin, said the initial reports of Peterson being the aggressor were false. Hardin...
Minnesota Vikings running back Adrian Peterson is having to defend himself from both a charge of resisting arrest by the Houston Police Department and public criticism as he heads to his first court hearing Friday.But he won't show up in a Houston courtroom alone. Not after hiring high-profile attorney Rusty Hardin, who has been telling Peterson's side of the story all week...
AP Photo Sean Bishop is considered the strip club prince of Daytona Beach, Fla.  He recently took some time out of his day to stop by the  Minnesota Vikings team facility and warn their rookie players of guys like him. "I tell them I am a scumbag club owner who will use and abuse you," Bishop told the St. Paul Pioneer Press. "I just don't want to see any of them ruin...
HOUSTON (AP) -- Prosecutors have agreed to reset Adrian Peterson's court date to Aug. 6 on a misdemeanor charge stemming from an incident at a Houston nightclub. The Minnesota Vikings star running back was charged with resisting arrest early Saturday. He was handcuffed and briefly jailed after a confrontation with an off-duty police officer at the club. He was released on a...
Dr. Neil Ghodadra, a noted orthopedic surgeon, joined Jason Smith Wednesday on NFL Network to discuss Minnesota Vikings running back Adrian Peterson and his recovery from a torn ACL suffered last season. The same analysis that Ghodadra gave on Peterson can also be applied to Pittsburgh Steelers running back Rashard Mendenhall, who tore his right ACL in the regular season finale against...
During training camp last year, as new coach Leslie Frazier was busy putting his stamp of authority on the team, and some veteran players were weighing the franchise down with their bloated asses and contracts, it was decided that Charlie Johnson was actually a better option at left tackle than Bryant McKinnie. I know, it seems crazy, but it may have been the right move. McKinnie...
After Purple Jesus was tricked by the Devil this week and got arrested, I saw some crazy stat online that said something like, since 2000, the Minnesota Vikings are the NFL team with the most arrests, which I am both proud of and embarrassed by all at once. I don't know if this is really true - because, ****, the Bengals and Tampa Bay are still out there, right? - but it sure...
NFL News

Delivered to your inbox

You'll also receive Yardbarker's daily Top 10, featuring the best sports stories from around the web. Customize your newsletter to get articles on your favorite sports and teams. And the best part? It's free!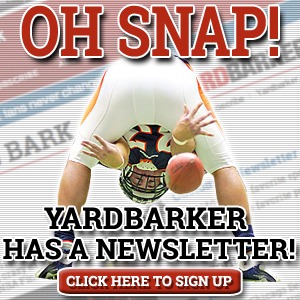 Latest Rumors
The Backyard

Today's Best Stuff

For Bloggers

Join the Yardbarker Network for more promotion, traffic, and money.

Company Info

Help

What is Yardbarker?

Yardbarker is the largest network of sports blogs and pro athlete blogs on the web. This site is the hub of the Yardbarker Network, where our editors and algorithms curate the best sports content from our network and beyond.