Found September 08, 2012 on Steel City Sports Report:
When people think of the elite quarterbacks in the league, they think of names like Rodgers, Brady, Brees and Stafford.  They see 5000 yard seasons and 40+ touchdowns leading explosive offensives with impressive arm strength and pinpoint accuracy.
What often gets overlooked is how poor their own defenses are in the rankings.  What do Aaron Rodgers, Tom Brady, Drew Brees and Matthew Stafford all have in common? Their team defenses are ranked 32nd, 31st, 24th, and 23rd in total defense, respectively.  Despite these deficiencies, these four quarterbacks combine to own five Super Bowl rings and three MVP awards.  They are the epitome of team leaders.
That is the next step for Ben Roethlisberger.
For decades, the Pittsburgh Steelers have defined championship teams by the strength of their defense.  When you ask someone what their first thoughts are when they think of the Steelers -aside from rivalry-fueled vulgarity- the first word is usually defense.  The franchise became ignited with a dynastic run in the 1970's, led by the Steel Curtain, arguably the greatest front four linemen to this day.  The tradition has carried over the last few decades with the 2008 Steelers winning a league-record sixth ring.
But those days are gone now; at least for this year.  The Steelers defense showed signs of aging last year and they haven't looked much younger this year, either.  With most of the unit approaching their mid-30's, it's time for the offense to lead the charge and that starts with Roethlisberger.
The Steelers offense has a lot in common with that of Detroit, Green Bay, and New England.  Other than the offensive line (which Roethlisberger is responsible for as well) the Steelers have the same weapons as other elite passing teams.  They have explosive wide receivers, they have a quarterback with elite-level talent; they just need to put it all together.
If everything clicks on offense for Pittsburgh, they still have a chance to take one more shot at a championship on what has been deemed a closed window.  It is certainly a tall order to fill; asking a young offense under a new offensive coordinator to instantly go from 23rd in the league in scoring to top 5 may be asking for a miracle.  Also, Roethlisberger has only eclipsed 30 touchdowns once in his career.  Nevertheless, if this is Ben Roethlisberger's team, if he is ready to take his career to the next Hall of Fame level, then he needs to be the one to execute the turnaround for the Steelers.
Perhaps Sunday night's game could be the perfect test for Roethlisberger.  With Ryan Clark and James Harrison likely to sit out, the defense will have to stop arguably the greatest quarterback in NFL history.  Chances are, that won't happen.  So, it is on Roethlisberger and the Steelers offense to pick up the slack and to lead the team, even if it means winning in a shootout.
Original Story:
http://www.steelcitysportsreport.com/...
THE BACKYARD
BEST OF MAXIM
RELATED ARTICLES
Tom Brady vs. the NFL | Sean Glennon: New Patriots book alert!!!
TOM BRADY - 2012/13 - PROMO (by CelticsPatriotsman) Wowowowowow! Anybody feel like GIF'ing that last shot!?!? Please!
HIS BEAUTIFUL FACE!
Blood, sweat and touchdowns. Tom Brady obviously subscribes to that theory, leading the Patriots to a convincing victory over the Titans on Sunday despite getting his nose busted up in the first half. "I never mind a little blood," Brady said after the game. "[It's] not my usual look. That was the only good [hit] I took. It's always fun winning." Brady...
With football season finally in full swing and fans all over the country getting ready for tailgating and fantasy football leagues. Lets take a moment to honor the awesome foundation that Dree Brees and his wife started. You can feel good about the fact that some of your hard-earned dollars that you put forth in [...]
To borrow a Buddhist concept, Aaron Rodgers has achieved NFL enlightenment. He is the league's reigning Most Valuable Player. He possesses complete understanding of opposing defensive schemes. His knowledge of Green Bay's own West Coast offense is so comprehensive that it has allowed head coach Mike McCarthy to add even more concepts into an already complex playbook. &quot...
Quarterback Tom Brady was solid in New England's season-opening win over the Titans. He completed 23 of 31 passes for 236 yards and two touchdowns. Brady did not throw an interception.Fantasy Spin:That computes to a quarterback rating of 117.1. Brady's most targeted receiver Sunday was Brandon Lloyd, who he threw to on eight occasions. Next up for Brady and company will be...
New Orleans Saints quarterback Drew Brees salvaged a lousy day with two fourth-quarter touchdown passes.Fantasy Spin:Brees finished with 339 yards on 52 passing attempts, three touchdowns and two picks. He completed just 46.2 percent of his passes.
A revamped defense didn't look revamped. A revived running game didn't look revived. And not even Aaron Rodgers could bail out the Green Bay Packers. Rodgers' attempt at a fourth-quarter rally fell short and the Packers were handed a harsh reality check Sunday, opening the season with a 30-22 loss to the San Francisco 49ers. It was an unsettling start for a team that...
The AFC East will be one of the weakest divisions in 2012, with only the New England Patriots posing any kind of threat to go deep in the playoffs. However, even the Patriots will not be as dominant as they have been in years past due to a below average offensive line, a concept that was previously foreign to Tom Brady.Over the last decade, the formula for having success against...
Will Brandon Lloyd become another 1,000 yard receiver for Tom Brady and the Patriots Offense? With the 2012 NFL regular season officially underway, rosters are set and new stars are ready to be born.  For every emerging star, however, comes a player who won't live up to expectations and takes a step back from their previous success.  Each team across the league will experience...
In the marquee matchup of the day, the San Francisco 49ers came into Lambeau Field and left with a 30-22 win over the Green Bay Packers. The 49ers defense harassed MVP Aaron Rodgers all day long, sacking him three times (a fourth came passed the line of scrimmage), and picked him off once (a second one dropped). The Packers had no ground game at all, and after a season where they...
Patrick Willis, NaVorro Bowman, Aldon Smith and Ahmad Brooks form "the best tandem of 3-4 linebackers in the league," quarterback Aaron Rodgers said. Willis and Bowman combined for 235 tackles and Smith and Brooks tallied 21 sacks.
NFL News

Delivered to your inbox

You'll also receive Yardbarker's daily Top 10, featuring the best sports stories from around the web. Customize your newsletter to get articles on your favorite sports and teams. And the best part? It's free!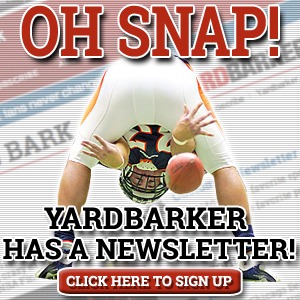 Latest Rumors
The Backyard

Today's Best Stuff

For Bloggers

Join the Yardbarker Network for more promotion, traffic, and money.

Company Info

Help

What is Yardbarker?

Yardbarker is the largest network of sports blogs and pro athlete blogs on the web. This site is the hub of the Yardbarker Network, where our editors and algorithms curate the best sports content from our network and beyond.