Found December 28, 2011 on With Leather:
He's won the Heisman Trophy, two BCS National Championships and had his pants sell for $5,000 on eBay, but now Denver Broncos sorta-quarterback Tim Tebow is winning the awards that really matter … like the fifth annual Zillow Celebrity Neighbor Survey. Yes, that is a thing. It "asks Americans which celebrities they would most like to have as their neighbor, as well as celebs with whom they wouldn't dare share a fence" and Tebow is on top. The Jersey Shore people are on the bottom, as usual.
From People, with a hat tip to Sportress Of Blogitude:
U.S. adults would most like to be neighbors with Denver Broncos quarterback Tim Tebow, whose unshakable attitude and consistent displays of faith during games (a.k.a. "Tebowing") has bolstered much media attention during the last year. The survey showed the 24-year-old athlete's popularity was significantly higher among males (14 percent) compared to females (7 percent).

Celebrity super couples Angelina Jolie and Brad Pitt and Jennifer Aniston and Justin Theroux received 10 percent and 9 percent of the vote, respectively.
He's a kindhearted gentleman and you get an endless supply of footballs lost in your yard!
Also, how funny is it that Justin Theroux is considered one-half of a "celebrity super couple"? I get that he's dating a lady who was on 'Friends', but damn, being Leslie Knope's worst boyfriend for four episodes and playing a cowboy in Romy and Michele's High School Reunion don't make you an A-lister. I agree with most of the rest of the list (including Nancy Grace ranking on both lists, because whatever, people are stupid in both directions), but I would love to have Lindsay Lohan as a neighbor. She's never home, and when she IS there's a chance she'll be naked and falling all over me. Also, it would mean I'm rich enough to live in Lindsay Lohan's neighborhood.
Original Story:
http://feedproxy.google.com/~r/uproxx...
THE BACKYARD
BEST OF MAXIM
RELATED ARTICLES
These days – and by these days I mean the last several years – there's more than enough Tim Tebow to go around. The former Florida Gators' superstar hasn't seen a day go by without his name plastered throughout the media. Whether it is his supporters or his critics, everyone has something to say about Tebow and his quest to be a career NFL quarterback. The Tim Tebow phenomenon...
Just when you thought the positive Tim Tebow news would come to end. Maybe more people would be comfortable with him being referred to as the Phoenix. Ya know, the mythical bird that rises from its own ashes? Nah, we can't do that. Because then he wouldn't be able to qualify as the #1 religion author 2011. The Denver Broncos QB's Christian life story, Through My Eyes, is...
Can Tim Tebow pull his team out of a tailspin? After winning seven out of eight games (a staggering SIX straight), the Denver Tebow's are on a two game losing streak. New England is one thing where Tebow had a 50% completion rating, 287 total yards, two touchdowns, and (the all important) 0 picks. Against a 5-9 Bills team Tebow was atrocious! Tim had a 43% passer rating, threw...
Pressure? What pressure? Broncos quarterback Tim Tebow on Wednesday called the prospect of possibly having to beat visiting Kansas City on Sunday for a playoff berth "exciting."
He's revived a foundering franchise with last-minute magic and put the buzz back in the Broncos. Tim Tebow's next challenge is rebounding from the worst game of his career.
U.S. adults would most like to be neighbors with Denver Broncos quarterback Tim Tebow if given a choice of celebrity neighbors, according to a nationwide survey released today.
The AFC race has been pretty wild this season. Buffalo started hot with a 5-2 record, San Diego stormed back into contention in December, and quarterback Tim Tebow lead Denver to a six game winning streak. Of those teams only Denver remains in playoff contention. The AFC East and South have already been locked up by New England and Houston, with New England also securing a first...
Two weeks ago, the New England Patriots walked all over the Denver Broncos in a 41-23 win. More importantly, Mayweather got rich—well, richer. The Las Vegas Review-Journal reports that Mayweather had $1 million on the Patriots. The director of the Cantor Gaming sports book at the M Resort, Mike Colbert, refused to confirm or deny the report, but...
Broncos News

Delivered to your inbox

You'll also receive Yardbarker's daily Top 10, featuring the best sports stories from around the web. Customize your newsletter to get articles on your favorite sports and teams. And the best part? It's free!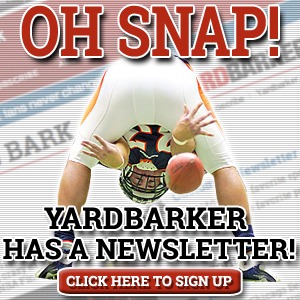 Latest Rumors
Best of Yardbarker

Today's Best Stuff

For Bloggers

Join the Yardbarker Network for more promotion, traffic, and money.

Company Info

Help

What is Yardbarker?

Yardbarker is the largest network of sports blogs and pro athlete blogs on the web. This site is the hub of the Yardbarker Network, where our editors and algorithms curate the best sports content from our network and beyond.