Found September 06, 2012 on The Jersey Jets Fan:
Tim Tebow "On a Mission" Documentary A few days ago, a guy named Josh reached about to me about a new documentary about Tim Tebow entitled "Tim Tebow: On a Mission". Josh, who is the PR manager on the film was nice enough to grant me a full-access sneak peak to the film, which I watched in full. "Tim Tebow: On a Mission" is actually being released to the public on September 11th via DVD through Amazon, but I figured give you Jets fans a little bit of an introduction to the film. Below I've written a small review and included the official details of the documentary. After watching this film, it's really hard not to like or root for Tim Tebow. It's obvious that Tebow is a special player, who has been a unique talent ever since he was a young kid. "Tim Tebow On a Mission" is an interesting look at the entire lifespan of Tebow so far, including his high school and college football days, his faith and religion, and more. It features tons of interviews from people who have interacted with Tebow in various capacities, including former coaches/teammates and media members. There is a lot of information on Tim Tebow's religious beliefs and faith towards the later half of the documentary, so if that kind of things offend you, that may be something to consider. However, If you're a Tebow fan in any capacity, I'd definitely recommend taking a look at this documentary once it's officially released. Distribution Company: Screen Media Films DVD Release Date: September 11, 2012 (currently available for pre-order) AMAZON: $9.99 Directed by: Adam Friedman Features Interviews With: Tim Tebow's former high school coaches and teammates (WR Ryan P. Ellis, OT Travis Crowley, assistant football coach Jeff Stevens) and journalists who have covered him in college and the pros (Michael Dirocco from ESPN.com Gator Nation, Mike Klis from Denver Post, Tom McDonald from NY1) Running Time: 60 minutes Synopsis: An in-depth look at what makes Tim Tebow the popular and polarizing figure today, TIM TEBOW: ON A MISSION chronicles how his hard work and faith have guided him to collegiate success and NFL stardom. From being born on a mission through his astonishing playoff run and trade to New York, the film explores his life through insightful interviews and rare footage few have ever seen.
Original Story:
http://feedproxy.google.com/~r/TheJer...
THE BACKYARD
BEST OF MAXIM
RELATED ARTICLES
TEAMMATES
How did Mark Sanchez react to the news that the Jets had acquired Tim Tebow? Maybe not quite as well as we've been led to believe.
The good folks at NOC TV have created a nifty Tebow/Sanchez-themed spin on Maroon 5′s "Payphone". Check out the below video of a song that you really never want to hear, but the video makes it worth it. Lyrics: I'm in the end zone watching Tim Tebow Hoping that someone helps with his aim Don't care that Rex is playing Mark Sanchez Jesus is trying to win some games Yeah...
BY SAM HITCHCOCK NEWJERSEYNEWSROOM.COM COMMENTARY A ruling government is like a coaching regime. Each exists until its people/players become saturated by the demagogy/message. Eventually, what was working to keep the constituency centralized and stable transitions into something much different, and then that becomes aggrandized until everything collapses like a Jenga puzzle. From...
When ESPN couldn't show Olympic highlights, they did the next logical thing - made Tim Tebow and the Jets their Olympics.  And boy, did they go for the gold.  Remember those days when SportsCenter transformed into JetsCenter and ESPN slapped the fancy "DEVELOPING STORY" or "BREAKING NEWS" tags on someone sneezing in Cortland?  Remember when Sal Paolantonio...
The Jets haven't even opened their regular season, the circus is already in full effect. The biggest storyline for this year's version of Gang Green centers around the men under center -- the quarterbacks. The Jets grabbed back page supremacy this offseason by trading for Tim Tebow. It was a move that garnered plenty of fanfare, while also putting some pressure on incumbent...
Mark Sanchez or Tim Tebow, play-action pass, run or wildcat formation: Mario Williams isn't worried about what the New York Jets might have in store for the Buffalo Bills defense this weekend. Whatever it might be, the defensive end can't see how it'll blunt the Bills' new-look and high-priced pass rush. ''No,'' Williams said, repeating the word...
By Jeffrey Beall A couple of days ago, New York Jets wide receiver Santonio Holmes came out and stated that quarterback Mark Sanchez was rattled when Tim Tebow was acquired in the offseason. Sanchez went on the radio and told Larry Hardesty of ESPN New York 98.7-FM that Holmes made everything seem more dramatic than it really was. "I think (Holmes) made it a little more dramatic...
The TOJ Staff gives their predictions for the New York Jets regular season opener against the Buffalo Bills. Make sure to give everybody a follow on Twitter Joe Caporoso - 12 Pack Chris Gross - Jets 19 Bills 10 – Don't expect this game to be very pretty in terms of offensive fire power. Each of these teams are built on defense and running the ball. The Jets play their first...
Finally, someone has perfectly captured the utter circus that is the New York Jets.  Leave it to the New York Post to finally remember which New York team is the defending Super Bowl champs... and which New York team scores more points with their mouths than on the scoreboards.  Yea, yea, yea, we know Rex, this is the best team you've ever coached, yada, yada, yada.  Seriously...
By Jeffrey Beall New York Jets head coach Rex Ryan told the New York Daily News if there comes a time in which the fans are calling for Tim Tebow to start, he plans on sticking with Mark Sanchez no matter what. "I don't care what I hear," Ryan told the Daily News on Thursday. "So it doesn't matter. They can yell, they can do all they want. Mark is our quarterback and that's...
The regular season has arrived and we're days away from the Buffalo Bills kicking off the 2012 season against the New York Jets! With the game on the horizon, here are ten things I Bill-ieve about the Bills Week One match-up. 1. The Bills will cause three turnovers on the New York Jets. This is just a hunch, but the defensive line is going to cause a lot of havoc week one. I think...
NFL News

Delivered to your inbox

You'll also receive Yardbarker's daily Top 10, featuring the best sports stories from around the web. Customize your newsletter to get articles on your favorite sports and teams. And the best part? It's free!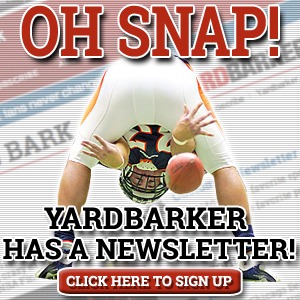 Latest Rumors
Best of Yardbarker

Today's Best Stuff

For Bloggers

Join the Yardbarker Network for more promotion, traffic, and money.

Company Info

Help

What is Yardbarker?

Yardbarker is the largest network of sports blogs and pro athlete blogs on the web. This site is the hub of the Yardbarker Network, where our editors and algorithms curate the best sports content from our network and beyond.