Found November 22, 2011 on Midwest Sports Fans:
Jake Plummer said in a radio interview that he wished Tim Tebow would curb his references about Jesus Christ. Ok, just take religion out of it. Or better yet, pretend Plummer is saying this about your personal religious beliefs. What gives Plummer the right to tell Tebow to knock it off? Plummer gave up playing so he could sit in his van down by the river and fish while sporting an awful mustache. Plummer's opinion means zilch to me. Here's how Tebow responded on ESPN's First Take, via USA Today.
"If you're married, and you have a wife, and you really love your wife, is it good enough to only say to your wife 'I love her' the day you get married? Or should you tell her every single day when you wake up and every opportunity? And that's how I feel about my relationship with Jesus Christ is that it is the most important thing in my life. So any time I get an opportunity to tell him that I love him or given an opportunity to shout him out on national TV, I'm gonna take that opportunity. And so I look at it as a relationship that I have with him that I want to give him the honor and glory anytime I have the opportunity. And then right after I give him the honor and glory, I always try to give my teammates the honor and glory. And that's how it works because Christ comes first in my life, and then my family, and then my teammates. I respect Jake's opinion, and I really appreciate his compliment of calling me a winner. But I feel like anytime I get the opportunity to give the Lord some praise, he is due for it."
I love Tebow's analogy. Anyone who is married knows he is spot on here. And if you are serious about your faith like Tebow is, you have the right to free speech and to express yourself. So Jake Plummer, go back to drinking beer at 11 a.m. in your van down by the river.
Original Story:
http://www.midwestsportsfans.com/2011...
THE BACKYARD
BEST OF MAXIM
RELATED ARTICLES
Jake Plummer and Tim Tebow actually have a fair amount in common, if you think about it. Both played quarterback for the Denver Broncos, and both won games in ways that were not always described as "pretty." But Plummer seems to have run out of patience with Tebow's prayer routine and wishes that the Broncos' current QB would tone it down a bit. "Tebow, regardless...
GOOD LORD
The former Broncos' QB is a fan of the current Broncos QB, but just wishes he'd keep his beliefs to himself a little more often.
Jake Plummer made headlines on Monday by coming out and saying what many people already thought: that Tim Tebow goes a bit overboard with his talk about Jesus Christ and the Christian faith.  Naturally, Tebow was asked about Plummer's comments on Tuesday.  You probably already have a solid idea of what his response was without [...]
Jake Plummer truly is a snake. Hiding in the grass since mere hardship steered him into an early retirement, Plummer plummeted onto the scene this week by calling out current Broncos quarterback Tim Tebow for his beliefs. While everyone enjoys a good Tebow ribbing these days, Plummer's background makes him an easy target for backlash. When asked about the Broncos QB recently...
Former Denver Broncos QB Jake Plummer has weighed in on Tim Tebow.  In an interview with XTRA Sports 910 in Phoenix, Plummer praised Tebow's ability as a winner and a "baller", but expressed his thoughts on Tebow's overt Christianity as well. "Tebow, regardless of whether I wish he'd just shut up after a game and go hug his teammates, I think he's a winner and I respect...
When I posted Jake Plummer's critical comments about Mike Shanahan earlier this week, a bunch of people found it distasteful, and asked if I will now obsessively post every negative thing any former Shanahan player says about their former coach. So, to those readers, I give you this. It's Jake Plummer, talking to Fox Sports Arizona during the Arizona-Arizona State game. Reporter...
There hasn't been much talk about Jake Plummer since he abruptly retired after being traded to the Tampa Bay Bucs in 2006 but he was on the radio in Phoenix the other day and the talk turned to one of his former teams, the Broncos and the play of the Football Jesus himself, Tim Tebow.It seems that Jake the Snake is, like myself, not such a fan of Tebow's constant Jesus talk...
Broncos quarterback Tim Tebow is a Christian, as he rarely misses an opportunity to say. Former Broncos quarterback Jake Plummer says he's heard it enough from Tebow that he doesn't need to hear it any more. In an interview with 910-AM in Phoenix, Plummer said that he thinks highly of the way Tebow is winning…
Former Broncos quarterback Jake Plummer recently offered a critique of current Broncos quarterback Tim Tebow, not because of the way Tebow plays the game but because of the way Tebow expresses his religious beliefs before, during and after every game. Today Tebow responded. In an interview on ESPN First Take, Tebow was asked about Plummer…
John Elway isn't fully sold on Tim Tebow being a franchise QB, and Jake Plummer believes Tebow expresses his faith too much on the field. But Tebow isn't bothered by either critic.
A filly sired by 2000 Kentucky Derby winner Fusaichi Pegasus will run with the most heavenly name this side of Gabriel and Michael. "Tebowing," they'll call her. After the horse's original moniker was denied by the Jockey Club for sounding too much like another's, the founders of a thoroughbred racing team called Little Red Feather decided to name the young...
NFL News

Delivered to your inbox

You'll also receive Yardbarker's daily Top 10, featuring the best sports stories from around the web. Customize your newsletter to get articles on your favorite sports and teams. And the best part? It's free!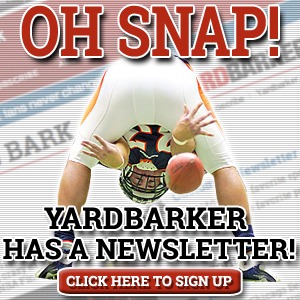 Latest Rumors
Best of Yardbarker

Today's Best Stuff

For Bloggers

Join the Yardbarker Network for more promotion, traffic, and money.

Company Info

Help

What is Yardbarker?

Yardbarker is the largest network of sports blogs and pro athlete blogs on the web. This site is the hub of the Yardbarker Network, where our editors and algorithms curate the best sports content from our network and beyond.