Found November 19, 2012 on Steel City Sports Report:
In the aftermath following the Steelers 13-10 loss to the Ravens Sunday night, one thing stands out for this franchise going forward. The head coach needs to do more than provide dull quotes and tireless rhetoric.Since his arrival to Pittsburgh in 2007, Mike Tomlin has been extremely good at handling the locker room and entertaining a room full of reporters.  The former being crucial for a head coach in any professional sport, especially, football where egos are larger than the multi-million dollar houses.As for the latter, Tomlin has been a walking book of clichés.  Some of his best include "that's the nature of the business" and "next man up."  His best quote from this past week when discussing how the team will deal with injuries, "excuses are tools for the incompetent."  If that's true coach, then what's your excuse?What excuse can you provide for allowing Byron Leftwich to stay in the game with what appeared to be two cracked ribs and a shoulder injury?  According to Alan Robinson of the Trib, Tomlin shrugged off the injury simply stating, "He sustained some hits but that's football."What?Leftwich broke two ribs and injured his throwing shoulder.  Considering the arm throws the ball and the midsection requires torque to produce velocity on a throw, you could argue those are somewhat important areas to injure.  All facetiousness aside, the fact that Leftwich was remained in the game despite suffering the injury on the third offensive series is mind blowing.  If Tomlin -along with everyone else on the sideline- didn't see Leftwich grimacing and wincing after every play, all they had to do was look at the ball.  The "zip" on Byron's passes were missing with the most glaring example occurring late in the game on a 3rd and long.  Leftwich bounced a ten yard pass to Wallace.Where is the authoritative figure?  Where is the head coach who is supposed to be skilled at making quick decisions?He waited and then did nothing. Here's another poor decision: The Steelers are driving down the field and find themselves in the red zone with a chance to retake the lead.  With the game still in the third quarter, the Steelers burn two crucial timeouts in a matter of minutes.  In the end, they had to settle for a field goal while the timeouts came back to haunt them when they had the ball with a minute remaining in the game and couldn't move into field goal range.  A good coach, a competent coach, organizes his team and makes sure those timeouts aren't wasted.  Even if they have to burn one early, there's no excuse to call another one two plays later, especially at home.Mike Tomlin might not like giving excuses, but he is surely showing signs of incompetence.  He's drafted four Pro Bowl players in six combined drafts.  Even if he's not involved in the drafting process, he is involved in developing those players, many of whom have been cut.Last season, instead of firing his offensive coordinator like most coaches, he forced Bruce Arians to back out of Pittsburgh with a faux retirement which further complicated the situation.  Then, he fired his special teams coach after the Steelers had one of their better performances on special teams the year before. Jacoby Jones says thank you, by the way.The Pittsburgh Steelers missed Ben Roethlisberger, Antonio Brown, and Troy Polamalu this past Sunday and still, they had multiple chances to win.  The Ravens have an old, banged-up defense and an offense that was stuck in mud; however, due to a lack of focus, leadership, and organization by the Steelers and their brain trust, the Ravens went home with another win.  You would like to think it was an off-game, but this has been a trend for several seasons.  Even wins against inferior teams like the Eagles and Chiefs prove to be a constant struggle.It is time for Mike Tomlin to stop preaching on Tuesdays and start applying his coaching on Sundays.  The Steelers are still in the playoff hunt despite their injuries, but they need better coaching to stay in contention.
Original Story:
http://www.steelcitysportsreport.com/...
THE BACKYARD
BEST OF MAXIM
RELATED ARTICLES
Pittsburgh Steelers head coach Mike Tomlin met the media for his post game press conference following the 13-10 loss Sunday night to the Baltimore Ravens. Tomlin called it a nip and tuck game and that his team did not make the significant play in the game, especially in the waning moments in any of the three phases to be a difference. Tomlin discussed the injuries suffered by the...
Pittsburgh Steelers head coach Mike Tomlin told the media that he was very impressed with Plaxico Burress' work out and says he's in good shape. "He's in really good physical condition based on the workout I just saw," said Tomlin, per Steelers.com. "He's got very good body control for a big man. He can drop his weight at break points. Obviously, he's no stranger...
Pittsburgh Steelers running back Rashard Mendenhall will see his first action Sunday night against the Baltimore Ravens since injuring his Achilles back in week 5 against the Tennessee Titans. Mendenhall, as expected, will start according to head coach Mike Tomlin, but he won't be the only running back to tote the rock. "Rashard Mendenhall is going to start tonight,&quot...
There is no argument when it comes to head coaches in the NFL, Mike Tomlin is at the top of the class, but his decision making this Sunday may have cost the Pittsburgh Steelers an important win. During the fourth quarter against the Baltimore Ravens it was apparent Byron Leftwich was in pain. There were times where Leftwich would adjust his pads and pull at them trying to separate...
I'm spoiled and you're spoiled and all of Steelers' Nation is spoiled right? Six Super Bowl titles and eight Super Bowl appearances when there are teams out there dying for just a playoff berth. Yup, we're spoiled alright and we should just be happy to have a team with such stability in the front office and on the sidelines and we all need to just shut up. Is that what we...
Mike Tomlin labeled Byron Leftwich's performance as "gritty," but Mike Prisuta points out that "gritty" wasn't enough with all of the other mistakes being made.
Pittsburgh Steelers head coach Mike Tomlin met the media on Tuesday for his weekly press conference and updated the injuries heading into the week as the team prepares to play the Cleveland Browns this coming Sunday in Cleveland. Tomlin said that wide receiver Jerricho Cotchery (rib) will be out  this week with multiple rib fractures that he sustained late in the game against...
Pittsburgh Steelers head coach Mike Tomlin comfirmed during his Tuesday press conference that the team will indeed sign one quarterback and one wide receiver to the roster today. Several media outlets are reporting that free agent wide receiver Plaxico Burress and quarterback Brian Hoyer are the players that will sign after they worked out for the team earlier in the day. The...
The Steelers brought back a big name (and body) from the past. Mike Tomlin also had some encouraging news about Ben Roethlisberger and Troy Polamalu at his weekly press conference.
Pittsburgh Steelers head coach Mike Tomlin met the media for his post game press conference following the 13-10 loss Sunday night to the Baltimore Ravens. Tomlin gave an injury recap and said that defensive end Ziggy Hood suffered a lower back injury. Running back Isaac Redman suffered a concussion. Running back Baron Batch suffered a foot injury and wide receiver Jerricho Cotchery...
The 63 yard punt return for a touchdown by Baltimore Ravens wide receiver Jacoby Jones was certainly a huge play in the game as it gave them the lead for good against the Pittsburgh Steelers. Head coach Mike Tomlin was asked about the return after the game and if the Ravens did anything special on the play. "It was a good effort by him," said Tomlin. "They did...
The Pittsburgh Steelers will officially announce later today that have signed wide receiver Plaxico Burress and quarterback Brian Hoyer to the 53 man roster and they will need to make corresponding roster moves to accommodate both of them. Head coach Mike Tomlin said during his Tuesday press conference that he didn't believe that the rib injuries suffered by quarterback Byron...
NFL News

Delivered to your inbox

You'll also receive Yardbarker's daily Top 10, featuring the best sports stories from around the web. Customize your newsletter to get articles on your favorite sports and teams. And the best part? It's free!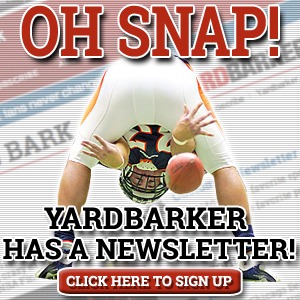 Latest Rumors
The Backyard

Today's Best Stuff

For Bloggers

Join the Yardbarker Network for more promotion, traffic, and money.

Company Info

Help

What is Yardbarker?

Yardbarker is the largest network of sports blogs and pro athlete blogs on the web. This site is the hub of the Yardbarker Network, where our editors and algorithms curate the best sports content from our network and beyond.