Found August 02, 2012 on CJ Sports NFL Talk:
The longest tenured coach in the NFL right now is Andy Reid. He has been the coach in Philadelphia since 1999. Since he has taken over the Eagles, they have won 6 division titles. Been to the NFC Championship game 5 times(which he is 1-4), and has made it to the Super Bowl just 1 time (which he lost to New England 24-21). Since 1999 the rival Giants have made it to the Super Bowl 3 times, and winning twice. That doesn't really sit well with Eagles fans. Philadelphia has lost their last 3 playoff games, and even worse not even making the playoffs last season. The 2011 season may have been the most disappointing season for Reid and the Eagles. After the lockout all eyes were on the "Dream Team", and everyone was picking them to not only win the division, but make it to the Super Bowl. A promising first win of the year against St. Louis, was quickly forgotten after 4 straight losses. Heading into their bye week the heat was starting to turn up on Reid. After finishing 8-8 and missing the playoffs for the first time since 2007 to say the season was a disappointment was an understatement. This season is put up or shut up time for Reid and the Eagles. Since 2001 even though his official title is executive vice president of football operations he is really the general manager. No player wearing a Eagles uniform doesn't have his stamp of approval. On paper the Eagles should win the division and compete again for the super bowl title. This will be the Eagles 80th season of football, only twice have they made the Super Bowl, losing both times. Even though he has the highest winning percentage of any Eagles coach, ask any Eagles fan and they will tell you they could careless about the regular season. We judge coaches about wins and losses in the postseason. With a 10-9 postseason record and 0 super bowl wins anything short of a super bowl win this season again will be a disappointment. How many more disappointments can Eagles fans take. If Philadelphia gets off to a slow start expect the heat to be turned up on high for Reid. If I know anything about Eagles fans they don't accept failure, they expect their teams to win every season.   Related articles
Will Michael Vick jinx the Philadelphia Eagles season? (110sportztalk.com)
NFL Division Breakdown Series: NFC East (110sportztalk.com)
The NFL Season Has Arrived: Are the Saints Ready? (110sportztalk.com)
Original Story:
http://110sportztalk.com/time-to-put-...
THE BACKYARD
BEST OF MAXIM
RELATED ARTICLES
As Philadelphia Eagles training camp continues, the contenders and pretenders for roster spots are starting to separate themselves a little bit.  Nothing is settled yet, of course, but there are a few new players who have a legitimate chance of making this team. By new players, I'm not referring to any of the Eagles' draft picks because for the most part, they are all virtual...
One by one, the Eagles' starting defensive line has been picked off by injuries, and all four of them watched Thursday's practice, including defensive tackle Cullen Jenkins, who injured his hamstring Wednesday. "We have our defensive line meetings in the training room," Jenkins joked Thursday. Jenkins said the injury is mild and the "tweak" would likely...
Throughout the NFL, the injury bug is biting down...Hard. Just days into camp, receiver Ron Johnson endured a dislocated ankle and Riley Cooper suffered a broken left collarbone. Philadelphia Eagles' head coach, Andy Reid, has yet to confirm the addition of any replacement free-agent receivers.  If the Eagles are serious about winning, then they should bring in their old friend...
The Philadelphia Eagles have traded linebackers Moise Fokou and Greg Lloyd to the Indianapolis Colts for cornerback Kevin Thomas and a conditional seven-round pick in the 2013 draft. Thomas, a third-round pick in 2010, played in nine games last season with the Colts, starting five. He had 33 tackles and three knockdowns. Thomas spent his rookies season on injured reserve because...
Amidst the all the news swirling around about Eagles training camp, and injuries and what not, I couldn't help but notice that Andy Reid is approaching Ron Jeremy status with his walrus-like mustache (if it even qualifies as a mustache), and is quickly closing in on one of the worst mustaches of all time, right up there with Geraldo Rivera. Someone should tell Big Red that the...
The Philadelphia Eagles acquired cornerback Kevin Thomas and a conditional seventh-round draft pick in a trade with the Indianapolis Colts that sent linebackers Moise Fokou and Greg Lloyd to the Colts. Colts general manager Ryan Grigson had been the Eagles director of player personnel before being hired by Indianapolis in January, and this is the second trade he's made with...
No matter what I say or do, I won't be able to convince owners who drafted Michael Vick last year that they should take him again this year. The damage has been done. It's irreparable. Fantasy owners don't forget, and they hold grudges. It's part of our game. But for the other 11 owners in any given league, Vick and other post-hype players are ripe for the picking. The five...
Players are feeling the heat at Lehigh–literally. It's one of the toughest training camps in member for the Philadelphia Eagles. Head coach Andy Reid is running players ragged. Yhough they love the game of football they are tired. How tired? The photo below of Brandon Graham, posted to Instagram on Friday, tells you a bit about that. Want more Philly Sports Muse? You can find...
Eagles News

Delivered to your inbox

You'll also receive Yardbarker's daily Top 10, featuring the best sports stories from around the web. Customize your newsletter to get articles on your favorite sports and teams. And the best part? It's free!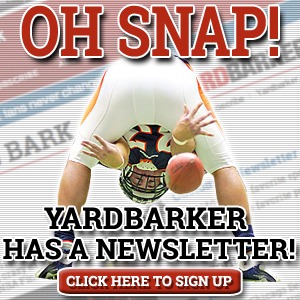 Latest Rumors
Best of Yardbarker

Today's Best Stuff

For Bloggers

Join the Yardbarker Network for more promotion, traffic, and money.

Company Info

Help

What is Yardbarker?

Yardbarker is the largest network of sports blogs and pro athlete blogs on the web. This site is the hub of the Yardbarker Network, where our editors and algorithms curate the best sports content from our network and beyond.